Do you want to bind your books and calendars with a quality wire binder?
Then you will find useful information here. We bring you some tips and tricks before you purchase your perfect machine. When you read the buying guide, check out the best machines we found on the market.
Our Top Picks
5 Best Wire Binding Machines
Best Of Best Wire Binder
TruBind TB-W20A Wire Machine
Easy-to-use
The Trubind TB-W20A wire machine measures 17 x 8 x 14 inches. It weighs 18 pounds. With this manual machine, you can bind the books and documents easily. On top of the notebook binding machine, there is inserted 3:1 wire-loop binding, ti provides convenient loading.
Twin-loop Wire
There are twin-loop wire O-binding spines that ensure a professional look for any book or documents you need to bind. The TruBind features a full handlebar, it is sturdy and you need to apply steady pressure to punch holes. It is suitable for left- and right-handed people.
Paper Of Any Size
You can punch up to 20 sheets at a time and bind up to 120 sheets of paper per single operation. The size of your book or documents isn't important. This twin loop wire binding machine allows you to punch and bind papers of any size. Just modify side and depth margin adjustment.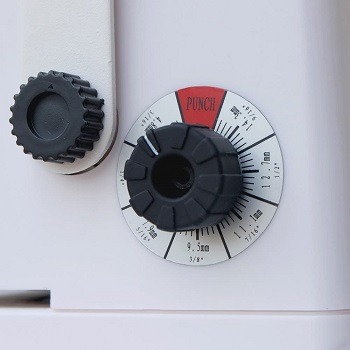 2-year Warranty
TruBind features open throat design which allows you to insert non-standard document sizes, like calendars. Also, the pins are fully disengaged, you can control where you want to punch holes. There is no mess and half punched holes. The price is affordable and the warranty lasts 2 years.
Highlighted Points:
affordable wire binding machine with 3:1 pitch
sturdy handlebar for easy punching
calendar spiral binding machine
punch up to 20 sheets of paper
bind up to 120 papers at a time
the margins are adjustable
Best Electric Wire Binding Machine
GBC Multibind Wire Binding Machine
2 In 1 Machine
The GBC Multibind 230 is a machine of 21.46 x 19.29 x 9.25 inches and its weight is 37 pounds. It is a heavy-duty device with quality built. This is 2 in 1 machine, it features a 2:1 loop wire and standard plastic comb. So you can create comb or wire bound papers.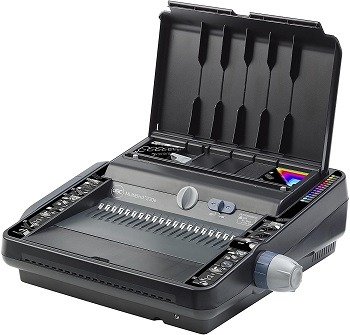 Binding Capacity
This wire binder has the ability to bind up to 125 sheets of paper if you use a wire of 21mm. If you use a comb spine of 51mm you can bind up to 450 sheets at a time. The electronic punching capacity is 30 sheets of paper per single operation.
Paper Separator
This electric wire binding machine is suitable for A4, A3 and A5 document formats. If you want to bind A5 papers, use A5 combs or 21 loop wires. For A4 or A3 paper sizes, you should use A4 combs or 21 loop wires. The paper separator divides the pages into stacks of 30 sheets.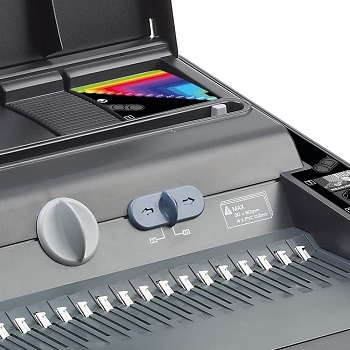 Auto-centring Feature
This machine has many useful features, and there is one more – auto-centering. You don't have to align the documents or books by yourself, this feature will align the papers perfectly. The wire closer is a built-in into the machine. The Comb Selector allows you to choose the appropriate comb size.
Highlighted Points:
2 in 1 machine made of sturdy materials
it handles 2:1 wires and standard plastic combs
paper separator quickly divider pages
auto-center feature for accurate alignment
suitable for different documents sizes
Best Heavy-duty Wire Binding Machine
Akiles DuoMac Binding Machine
Combo Machine
The Akiles DouMac C31 is a combo machine. You can bind the papers with plastics combs or with 3:1 loop wire. It includes comb punch, comb opener/closer and wire closer. This powerful machine is able to punch up to 20 sheets at a time. Its price is high and the warranty lasts 1 year.
Heavy And Large
This heavy-duty wire binding machine measures 21 x 27 x 20 inches. It takes much space, so measure your desk before you buy it. The Akiles is designed for medium-sized offices. Moreover, it weighs 64 pounds. If you want to move it to another place, ask your colleagues for help.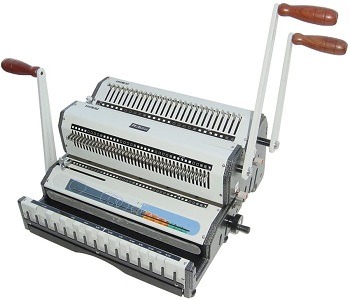 500 Sheets At A Time
The construction is made of metal, so once you buy it, it will last for many years. Akiles is able to bind up to 500 sheets of paper at a time. There are two independent punchings die sets. The pins are disengaged, use the number of pins you need for a certain document size.
Master Selector
The punching length is 14 inches or 13 inches for the coil. The open end or open throat design allows you to insert larger documents. The margin depth is also adjustable. With the Master selector, you can determine the accurate wire diameter, closing position, depth margins and wire pitch.
Highlighted Points:
heavy duty machine with two punching sets
the pins are disengaged for the different sized paper
it binds up to 500 sheets of paper
use the plastic comb or wire
side and depth margin adjustment
ideal for copy centers, offices, print shops
Best Manual Wire Binder
Fellowes Quasar Manual Wire Binder
User-friendly Design
Fellowes Quasar is a manual wire binding machine designed for personal or small business use. This machine has a compact design and measures 15.38 x 18.13 x 5.13 inches. Fits in every work desk. It weighs 19 pounds. The user-friendly design improves using.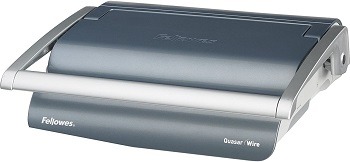 Edge Guide
Quasar punches up to 15 sheets of paper at a time and it is able to bind up to 130 pages with 9/16" wire. Also, you can use it continuously and finish your job faster than before. With an adjustable edge guide, you can easily center and align your documents, calendars or books.
Vertical Loading
This wire binder has a vertical loading. This loading type makes alignment more accurate. Within the device, there is a small waste tray. During the punching process, it collects paper pieces, so there is no mess on your desk. The storage tray is included, you can store wire combs and use wire measurement for the correct size.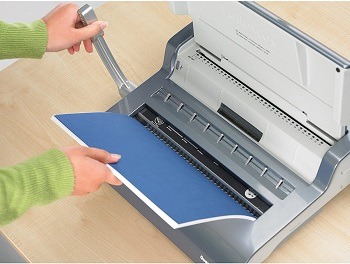 Waste Tray
The Fellowes Quasar machine features a see-through window that shows you if it's time to empty the waste tray. The price is affordable and the warranty for the last two years. If you need a machine for heavy-duty tasks, consider Fellowes's electric binding machine.
Highlighted Points:
lightweight manual wire binder
it punches up to 15 sheets of paper
ability to bind up to 130 documents
waste tray for paper pieces
vertical alignment for more accuracy
Best Cheap Wire Binder
Vevor Binding Machine
Wear-resistant Device
Vevor is a coil binding machine with a heavy-duty structure. It is made of high-quality metal materials and hard alloy blades. You can't damage it easily and it will last for many years. The product dimensions are 17 x 8 x 11 inches or in centimeters – 44 x 21 x 28.5. It weighs 17 pounds/8kg.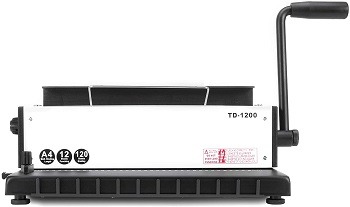 Edge Distance Adjuster
This machine stands stable in one place, it features non-slip feet. At the left of the device, you can find the edge distance adjuster. You can pull it left or right to set the right distance. There are three options: 3mm, 5mm or 7mm. The knob lock is positioned on the front.
Rotary Knob
Use that knob for the symmetry of the paper. When you set it up, the binding will be accurate. There is one more knob – rotary knob, you should turn it to the scale you need to press. The Vevor features a long and convenient handle for fast punching.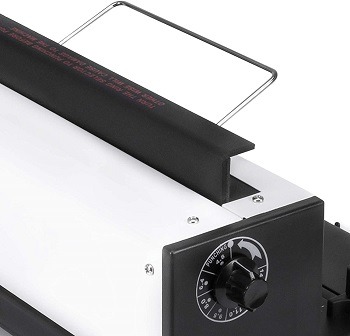 34 Holes
It has a 3:1 pitch and 34 holes. The punching capacity is 12 sheets of paper and the binding capacity is 120 pages. The maximal punch size this machine accepts is A4 format. The drawer waste box collects the mess during the punching process. Use this machine in schools and offices.
Highlighted Points:
all-metal structure wire binder
non-slip feet for more stability
convenient handle operation
punching capacity – 12 sheets
it binds up to 120 papers
edge distance adjuster for a professional finish
Things To Know About Wire Binding Machines
If you want to learn more about wire binding machines, you need to know how documents look when you bound them, also there are two main types of these machines. Take a look at this information.
Wire Binding Characteristics – The wire binding machines provide a more professional and aesthetically better finish than plastic comb binding machines. When you bind the documents with a wire bonding machine, they lie flat and documents could be turned through 360 degrees on the spine. You can't edit documents once you bound them.
3:1 Or 2:1 Pitch – The wire binding machines come in two different hole patterns. There are wire binding machines that punch 3:1 pitch or 32 hole pattern. These machines are intended for documents of 11 inches of length. The 2:1 machines are available for larger documents. Most machines have both.
Document Size – Many documents are in A4 size. But maybe you'll need to bind the larger or smaller documents. There aren't many models for A3, A2 or A1 formats. Often, these machines are intended for professional use and have a bulky design.
Office/Home Use – If you looking for a binding machine for your personal use, consider the one with a binding capacity of 30 to 50 pages. For more frequent use, the machine with the capacity of 300+ sheets of paper. The heavy-duty machines are capable to bind on daily basis.
Machine Maintenance – Every device requires some kind of maintenance. If you maintain it properly, the binding machine will last for a long time. The machine with a mechanical system needs lubrication. Avoid humidity places or sources, because they will cause rust.
Final Verdict
To conclude, we think that the TruBind TB-W20A wire binding machine is a very good choice. The TruBind machine uses 3:1 pitch, it punches up to 20 sheets and binds up to 120 sheets. You can bind the books of any size. If you find this post useful, you can take a look at the post about paper binding machines. Some binding machine uses heat for binding, learn more in thermal binders review.