Are you interested to buy an industrial vinyl cutter?
Then you should read this article! Here you can compare the 6 best models between different categories and choose which is most suitable for your business or hobby. Also, you can find out more info on technical specifications in the buying guide.
Our Top Picks
Best 6 Industrial Vinyl Cutters
BEST OF BEST INDUSTRIAL VINYL CUTTER
Graphtec CE7000-60 Vinyl Cutter
Automation With Datalinks
If you need a machine with a high-quality structure and functions suitable for creating many projects – this is the right model. It has a unique function called datalink barcodes that connects the system with barcodes in files on the computer. When you set this process, it automatically starts to cut all the files with these barcodes.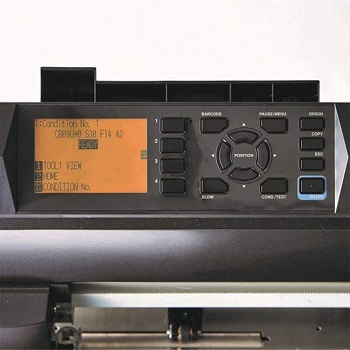 Contour And Die-Cutting
In that way, you can plan the projects you need to cut, attach them to barcodes, and live machine to do automatic work without your intervention. Another unique function of this industrial vinyl cutter is Contour and Die cut which separates tool positions for contour and die-cutting which ensures the longevity of blades and cutting strep.
Software With Plug-Ins
The blades are made from industrial-grade metal and the maximum paper feed is 24". The unit can cut all types of materials that are up to 24" wide. The software included with the machine is Graphtec Studio. It works with both Mac and Windows operating systems. Also, it can be upgraded with the Cutting Master 4 plug-in that's included in the package.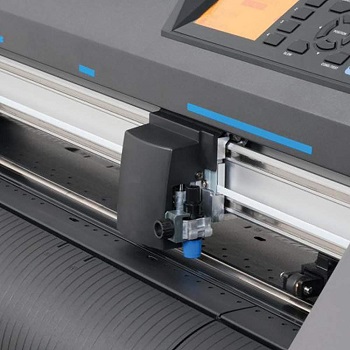 ARMS And Accessories
ARMS 8.0 system is allowing precise cuts around printed lines. This contour vinyl cutter is very cost-effective and reduces material waste. It can be used in many industries for making stickers, decals, windows signage, heat transfer apparel, window tint film, etc.  The machine comes with a stand, blade with a holder, loupe, fiber-tip pen holder, water-based fiber tip pen, power cord, and USB cable.
Highlighted Points:
the maximum cutting width is 24"
Graphtec Studio for Mac and Windows
ARMS 8.0 contour cutting
Contour and Die cut function
datalink barcodes
BEST LARGE INDUSTRIAL VINYL CUTTER
USCutter 28" SC2 Vinyl Cutter
Runs On Stepper Motor
This industrial vinyl cutter runs on the Stepper motor that's upgraded so its noise level is reduced and operation is faster. Cutting speed and force are high enough to cut a variety of materials. Another user-friendly feature is the auto memory of settings.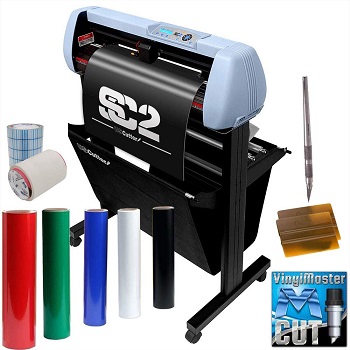 High-Precision Cutting
In that way, you can save settings for the next project. Inertial rotating blade holder makes precise cuts.  The control panel has buttons to adjust settings and an LCD with a blue and yellow backlight for easy navigation. The emergency button can stop or restart the machine during the cutting.
Basket For Catching Material
It's great for use with long vinyl rolls or for cutting multiple projects automatically without attendance. The large vinyl cutter has a metal stand with a catch basket that prevents materials from falling to the ground and damaging. The inner memory is 128 MB so you can save many images on the machine.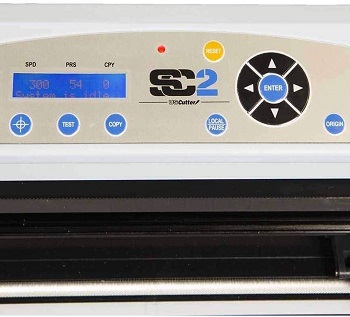 Internal Memory And Software
The last job automatically stores in internal RAM that can hold up to 99 copies. The motherboard is upgraded and efficient. The machine can connect to your computer with a USB 2.0 interface. The system works with VinylMaster Cut software that's suitable for Windows only.  Accessories set is included.
Highlighted Points:
reduced noise level
auto-memory of speed and pressure
inertial rotating blade holder
stand with catch basket
VinylMaster Cut software for Windows
BEST DESKTOP INDUSTRIAL VINYL CUTTER
Vevor 14" Vinyl Cutting Machine
Compact And Lightweight
This is an ideal industrial vinyl cutting machine for limited working space. It's compact and space-saving, while still offering high-quality features.  It's 23.6" long, 14" wide, and 14.6" high. The nit weighs only 23.2 pounds so it's lightweight and easy to transport. The maximum paper feed is 14", while the maximum cutting width is 11.2".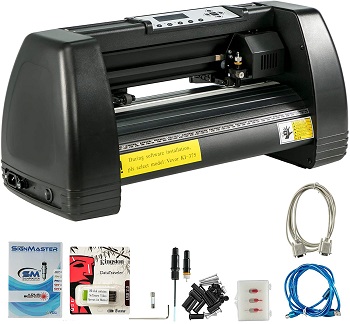 Cuts Thin And Thick Materials
Standard blades and Roland compatible blade holders are making clear and fast cuts on a variety of materials. Since the cutting speed and range are wide, this industrial vinyl cutter can work with thick materials such as vinyl, stencil vinyl, fabric, leather, and thin materials such as craft paper, paper, cardstock, etc.
Fast And Precise Cuts
The cutting speed range is between 0.4-31.5 ips and the cutting downforce range is from 0.4 ounces to 17.64 ounces. This vinyl cutting machine for crafts has a cutting precision of 0.0004" which is high repetition accuracy. The paper feed has 2 adjustable pinch-rollers so the guide rail can be set according to different material widths.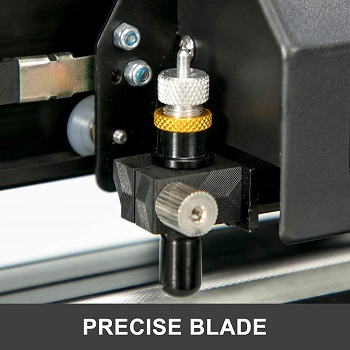 For Windows
Its cutting width can create only small to medium projects. The interface is a USB port and the machine can connect with any computer, but it will work only on the Windows operating system because Signmaster software doesn't work with Mac OS. It works with DM-PL and HP-GL. Internal memory ranges between 128K and 2M.
Highlighted Points:
11.2" maximum cutting width
0.0004" repetition accuracy
Signmaster software for Windows
23.6" long, 14" wide and 14.6" high
31.5 ips maximum cutting speed
BEST LASER INDUSTRIAL VINYL CUTTER
USCutter 28" Laserpoint 3 Machine
Print And Cut Function
This is a high-quality industrial laser with a unique laser function that allows precise cutting, and it's ideal for making detailed logos, monograms, stickers, and letters. You can use the Print And Cut function, which means the machine feeds printed images and then cuts them out of the vinyl or other material.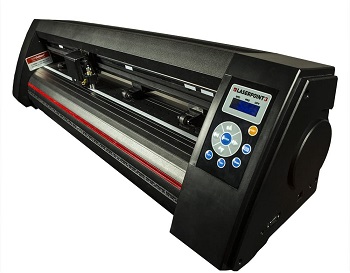 High Cutting Precision 
It has an optical eye that allows the blade to cut around printed eyes. This system high-tech advanced feature used in contour cutting called ARMS (Automatic Registration Mark Sensor). The repetition accuracy is 0.005" which is lower in comparison to other models on the market, but it's still high enough to make clear cuts.
Long Paper Feed
The laser vinyl cutter has a control panel at the side with buttons to adjust cutting pressure and speed. LCD with backlight shows all the settings and allows easy navigation. The maximum cutting width is 24" and the maximum paper feed is 28".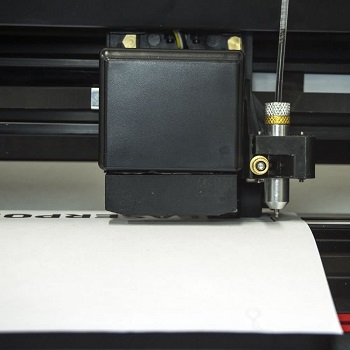 Pinch-Rollers For Adjustments
The feed has grit-rollers and pinch-rollers that keep the material stable and maintain it straight throughout the cutting process. Also, they're adjustable so the guide rail can be moved and set according to the material width. Available interfaces are serial port and USB 2.0. The system works with VinylMaster Cut software compatible with Windows OS.
Highlighted Points:
Print And Cut function
ARMS contour cutting
0.005" precision in cutting
24" maximum cutting width
VinylMaster Cut for Windows
BEST SMALL INDUSTRIAL VINYL CUTTER
Roland Stika SV-8 Vinyl Cutter
Portable With Low Speed
This mini vinyl cutter is 17.6" long, 11.3" wide and 7.68" high. It's compact, space-saving, and portable. It's suitable for a desk or any other working surface and weighs only 7.53 pounds. The model has Standard Roland blades with a cutting speed range from 0.47 ips to 1.57 ips.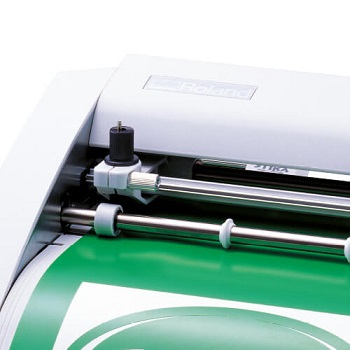 For Small Projects
It doesn't have a very fast and strong blade to cut any material, but it can cut vinyl, PVC, and any label that has up to 0.004" thick.  The great user-friendly feature of this industrial vinyl cutter is low noise level with a maximum of 60 dB. The maximum paper feed is 8".
Windows And Mac Compatible
Optimal working environment temperature is from 41°F to 104°F, while humidity ranges between 35% and 80%. The included software is CutStudio Design that's suitable for both Windows 98/2000/Me/XP and Mac 9 and above operating systems. The package also includes CD-ROM for plug-ins: Corel-Draw 10/11/12, Adobe Illustrator 9/10, CS, and Windows Navi utility.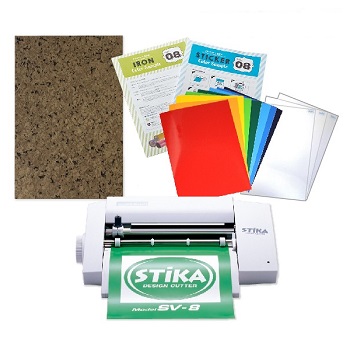 Package Content
CutStudio Design works with BMP, JPG, STX, AI, and EPS image formats and has vectorization tools to resize photos without losing quality. The package includes an AC adapter, power cord, USB cable, replacement blades with blade protector and holder, a pen, application tape, and materials for test cuts.  All parts are covered with a 1-year limited warranty.
Highlighted Points:
CutStudio Design for Windows and Max
8" maximum cutting width
low cutting speed
low noise level
1-year limited warranty
BEST COMMERCIAL INDUSTRIAL VINYL CUTTER
Instahibit 28" MH Vinyl Cutter
Stable Feed With 3 Rollers
This industrial vinyl machine 28" long paper feed. The guide rail on a feed can be adjusted with 3 pinch-rollers so you can use material of different width.  The maximum cutting width is 24". The blade holder is Roland compatible, therefore you can use economical blades.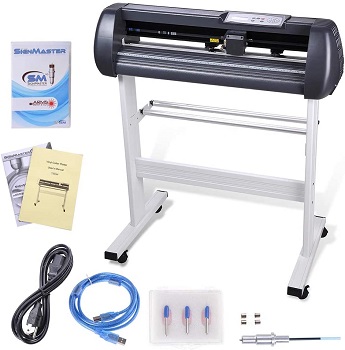 Emergency Restart And Inertial Blade
The speed and downforce can be adjusted on the control panel with an LCD. The inertial rotating blade holder is ensuring high-quality precise cuts so this industrial vinyl cutter is great for making detailed stickers, monograms, banners, letters, logos, etc.  The panel also features an emergency stop and start function.
Cutting Speed And Pressure
So you can restart the machine anytime during the work. The cutting speed can be adjusted between 0.4 ips and 31.5 ips while cutting pressure ranges between 0.4 and 17.6 ounces. These settings can be remembered and applied again with the next project using the auto-memory function.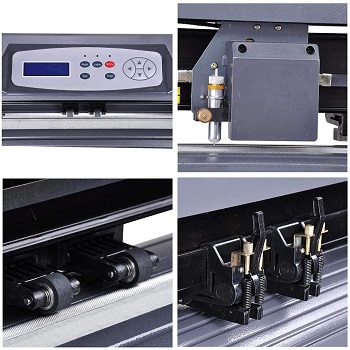 Interfaces And Software Compatibility
The system runs on a Stepper motor. The commercial vinyl cutter machine can be connected to any device through an RS-232 serial interface or with a USB cable. The machine includes Signmaster Cut basic software, but it's suitable for many others: SignLab, Flexi, SignCut,  ArtCut, WinPCSign, and CorelDraw. It works on Windows only.
Highlighted Points:
the maximum cutting width is 24"
inertial rotating blade for high precision
auto-memory of cutting speed and force
Signmaster Cut basic software for Windows
17.6 ounces maximum cutting force
Things To Know About Industrial Vinyl Cutters
Industrial vinyl cutters are used for professional projects in big companies and industries. They should have a strong blade with high cutting speed and downforce and additional high-tech functions that allow automated and precise work. Here I'll give a detailed description of some of these features.
Motor Type – Servo motor is faster and stronger than a stepper motor, therefore if you need fast and precision cutting for your business, the models with the servo motor will be a better choice. However, there are many stepper models with high cutting speed and range (above 15 ips and 10 ounces).
Blades – The industrial-grade blade will last longer, however, it's important to have the right blade for certain materials. For example, an htv vinyl cutter will have a rotating blade to cut something thicker than vinyl such as adhesive vinyl, while the knife blade is more suitable for very thick material such as wood.
User-Friendly Features – ARMS contour cutting is a great laser function that ensures cutting pre-printed images. The datalink barcodes are linking images to the machine for automatic cutting. Catching baskets and stands are needed to protect finished projects from damage. Pinch-rollers maintain the material straight throughout the work process.
Software Tools – Vectorization tools are great because the software changes the size of an image without reducing quality. Also, make sure the software is compatible with your computer. CutStudio Design, Graphtec Studio, and Sure Cuts A Lot Pro are common with industrial models and suitable for both Mac and Windows. Other software will work on Windows only.
Material Feed – Pinch rollers adjust guide rail to paper width, so machine cuts projects of different sizes. Cutting feed that is wide above 20" will be suitable for making both big and small images. For example, vinyl letter cutting machines have less wide feed for small to medium projects.