Are you looking for a quality and easy to use adhesive label printer?
Find the right printer for yourself no matter if you make vinyl decals, price tag stickers, and barcodes, or for you use it for your personal needs. The reviewed models are classified to be easy for you to find the printer you need.
Our Top Picks
Best 6 Adhesive Sticker Inkjet Printers
Best Of Best Adhesive Label Printer
Dymo 1752267 Label Maker
Two Inputs Built-In
The Dymo label maker has a black and silver design. Its shape makes it unique and similar to the cute label makers. However, this model is bigger than mini cute printers for labels. It's big enough to ensure space for two inputs. The inputs differ for the size so for the purpose as well.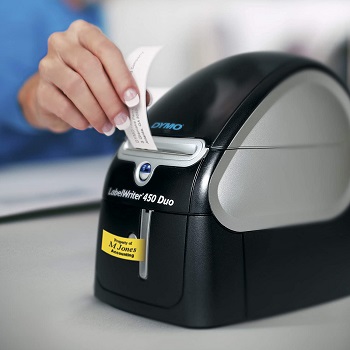 Small Or Big Kind Of Label
The upper input of this adhesive label printer is bigger than the lower one. Therefore, it's purposed for bigger stickers such as address labels while the smaller input is great for small barcodes for jewelry and so on. These two kinds of input make the label maker multifunctional.
About 70 Labels For A While
The label maker is fast enough to be useful in everyday office work. The machine creates about 70 labels in a minute. You can make address labels, name tags, barcode labels, file folder labels, and much more. It requires connectivity with the Windows or Mac computer via USB cable.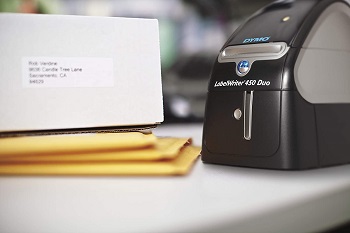 Label Roll Inside
This label printer uses a thermal print head so it produces black print only. You can use adhesive stickers suitable for a lot of materials such as paper, metal, wood, glass, plastic, and so on. The printer has enough inner space for a label roll with up to 350 labels.
Highlighted Points:
two inputs for small and big labels
prints about 70 labels per minute
needs connection with computer
big enough for the roll with 350 adhesive labels
compatible with Mac or Windows
Best Small Adhesive Label Printer
Primera LX500 Label Maker
Full-Color Printer
The Primera label printer comes in white color and small size. It's suitable for every office desk. You can print the various sticker labels but not in black only, but you can make labels in vivid colors. It's a full-color printer so it includes a lot of ink cartridges.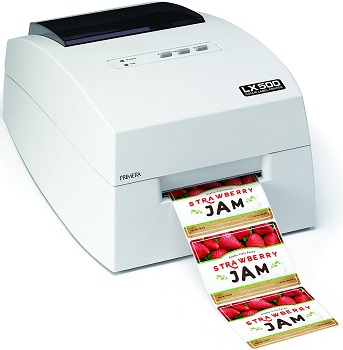 Change The Ink
This sticker inkjet printer requires color ink so you will have to change the ink from time to time when you notice there's no ink anymore. For that reason, the label maker requires additional investment, unlike thermal printers. However, you will get creative color stickers as a great result.
Simple Operating System
The label printer is easy to use. You don't need a lot of instructions. There are 3 buttons on the top and 2 indicator lights. The simple operating system allows ordinary people to use it at home. With this craft label maker, you can decorate your home or organize the pantry, kitchen, bedroom, and so on.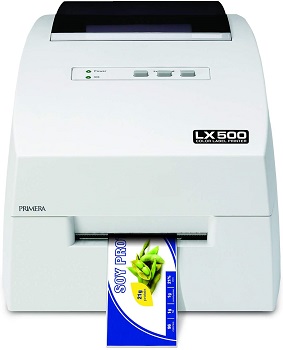 4 Inches Maximally
Except for the adhesive labels, you can use also other materials. Polyester, synthetic, and paper are a few of the materials this label printer supports. According to the input size, the machine supports labels of up to 4 inches in width. You need to connect it with Mac or Windows OS.
Highlighted Points:
supports adhesive labels, polyester, and synthetic
connectable with Windows and Mac OS
the input holds the labels up to 4 incehs wide
3 buttons and 2 indicator lights
prints in all the vivid colors
inkjet type of printer
Best Large Adhesive Label Printer
Canon Pixma Pro-100 Printer
Inkjet Large Model
The Canon label printer is a model that has a different design and side than the previous models but the same printing functions and mechanism. This model is also an inkjet printer like the previous one. That means you can get labels in color printing with this printer.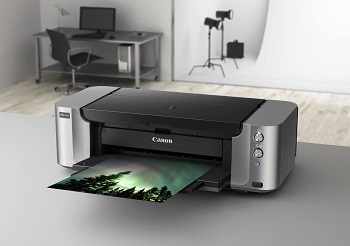 Wireless Network Connectivity
One of the best advantages of this label maker is wireless connectivity. You can connect it with your PC using a wireless network. For that reason, you don't need any cables and you can carry the printer and place it no matter the position of the computer. It's portable just like the Bluetooth label printers.
Big Format And Resolution
This is the best adhesive vinyl printer because its input is wide enough to support vinyl paper. You can make vinyl decals in various sizes. Since it prints wide-format materials, its resolution is 4800 dpi. You can print the stickers with a length of up to 19 incehs and up to 13 inches wide.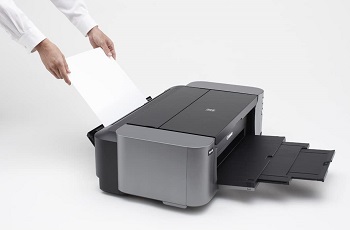 Makes Clear Photos
Since it's a printer in color, you can make clear photos as well. The tray of this label printer supports up to 150 paper sheets. You can use the printer also for letters so it's an appropriate machine for the office. It's an inkjet printer so it includes ink tanks. You can print black, magenta, cyan, yellow, and gray colors.
Highlighted Points:
includes the tray for up to 150 sheets
the resolution is 4800 dpi
maximal label length is 19 inches
wireless connection with computer
inkjet printer with about 5 color ink tanks
Best Barcode Adhesive Printer
LHYCM Thermal Label Printer
Thermal Printing System
This adhesive printer has a compact design ideal for an office. Unlike the previous two models, this one is a thermal label printer. The main advantage of thermal printing is the less investment you'd spend on ink. Only black and white print might be a disadvantage for you.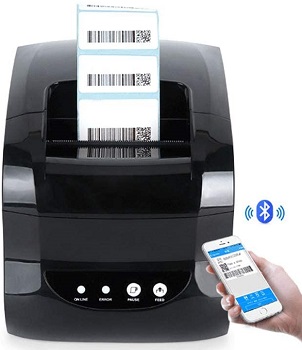 Limited Label Width Range
The label maker is adjustable so you can use adhesive paper rolls of different sizes. The width range of the labels is 20-80 mm. For example, you can make small barcode labels you can stick on the stuff in your store. You can make the labels quickly thanks to the speed of 5 inches per second.
Cuts The Labels Automatically
Since the labels are small, the resolution of 203 dpi is high enough to make the label stickers clear. The label maker includes the automatic cutter function. It makes the whole printing process faster so the label maker is ideal for commercial purposes such as in the warehouse.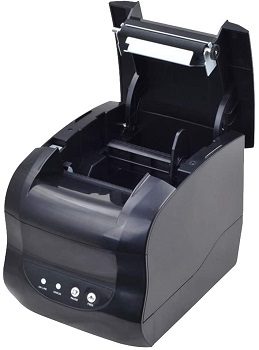 Two Kinds Of Connectivity
One more useful specification of this label maker is a Bluetooth connection that gives portability to this machine. If you prefer a USB connection, you can insert the cable into the USB port as well. You can choose receipt or label mode so you can use both paper and adhesive label rolls.
Highlighted Points:
thermal printing system
about 5 incehs per second is the speed
USB or Bluetooth connection offered
the average resolution is 203 dpi
20-80 mm of the label width supported
automatic cutting option included
receipt paper mode or label sticker mode
Best Commercial Adhesive Printer
ClariSafe Color Label Printer
Variety Of Colors
The ClariSafe is one more sticker inkjet printer so it prints in color. You need color ink to print in red, orange, yellow, blue, and more colors. Thanks to a wide specter of colors, you can make GHS labels, medical labels or some else labels for commercial purposes but in small size.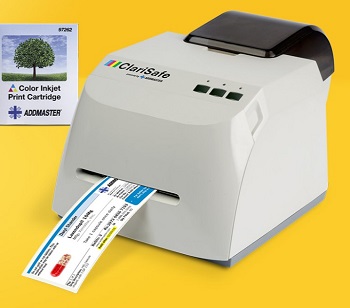 Needs Small Adhesive Tape
The size of the label maker is 10 incehs of the length approximately, and about 7 incehs of the width and height. That means the input is small so you can print labels on the adhesive tape with the width of around 4 incehs. The small size makes the machine easy to operate with it.
Catalog With Labels
Since it's purposed for commercial labels, you will get the catalog in the package. The catalog includes more than 100 warning labels. It's especially profitable to buy this label printer if you create the labels for small medicament bottles. You can print both text and small photos or graphics such as barcodes.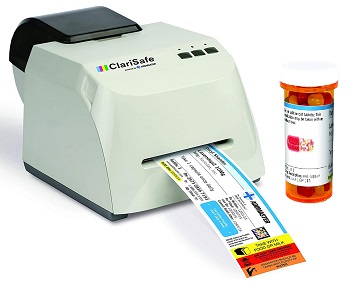 Relocate It Easily
It's fast and easy to use which are useful characteristics when it comes to commercial label printers. One more good thing about this machine is its compact size. Thanks to this design, you can relocate it easily from office to office according to the needs of the employees.
Highlighted Points:
about 10 incehs big label maker
prints small labels in multiple colors
easy to relocate it thanks to the compact design
comes with catalog with about 100 warning labels
ideal for medical and GHS sticking labels
Best Clear Adhesive Label Printer
Toptoo GP-3120TL Label Printer
Small-Format Labels
The Toptoo label printer has a compact black design. The input is small but wide enough to support the labels of up to 80 mm of the width. The minimal width of the labels is 23 mm. The label printer is easy to use. You need to switch it out and send the label templates from the computer.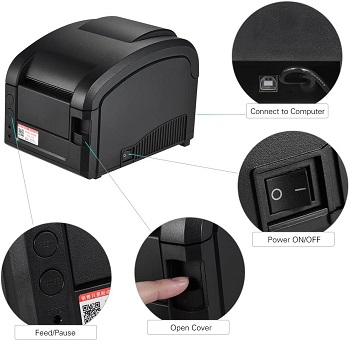 No Ink Needed
Unlike the previous model, this adhesive label printer is monochrome instead of a color printer. That's because it's a thermal printer and thermal models don't include ink. It might be good for you because you don't have to spend money on toner and ink. You never have to think about the ink capacity.
Clear Barcodes Guaranteed
You can use this label maker is a store or similar business. it's a perfect printer for small businesses. Since it's monochrome, the label maker creates clear barcodes and price tag labels. The resolution of this model is 203 dpi just like most models with the same mechanism.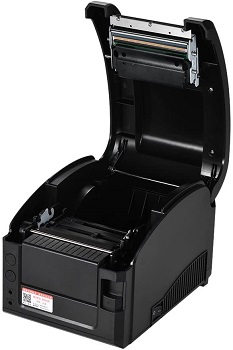 USB Cable Included
The printing speed of this label maker is 5 incehs per second. It takes a while to send the label templates from the computer to this label maker. It comes with USB and power cables so you will get all that you need for connection with the Windows computer.
Highlighted Points:
direct thermal printing method
20-80 mm of the label width supported
up to 5 inches per second of the printing speed
203 dpi is the resolution of the labels
monochrome print ideal for barcodes
connectable with a computer using USB cable
supports Windows operating system
Things To Know About Adhesive Sticker Inkjet Printers
Depending on the label type you need, you can choose between two types of adhesive printers. There are also a few kinds of papers appropriate for this type of printer. Keep reading to see if you need a black or color model, inkjet or thermal, and to check the price of the printers.
Inkjet Technology – Since most stickers are in color, most label printers for adhesive stickers use inkjet technology. The thermal models are purposed for barcodes primarily since they don't use ink. Inkjet printers use ink or toner as well as ribbon or cartridges, so these models require investment from time to time.
Sticking Paper – To make adhesive labels, you need an appropriate printer and appropriate adhesive paper. The most common paper is vinyl paper you can use to make sticker labels with a wider format. There are also standard sticking papers with small size for price tags and similar things.
Color Or Black – You can choose if you want a color printer for adhesive stickers or a monochrome model. If you use the printer for creative stickers or GHS labels, the color printers are for you. If you need barcode labels or price tag stickers, a monochrome printer that prints only black will meet your needs.
Two Kind Of Prices – Just like most color label printers, the adhesive printers in color also have a high price. It's 1000 dollars or more. On the other hand, the monochrome printers for stickers cost around 200 or 300 dollars just like usual monochrome label makers.
Best Offer On Webshops – The best place for buying label makers is a webshop. If you're searching for a webshop with free delivery and a wide offer, this is Amazon. Checking this webshop, you can find the model in accordance with your needs and budget. Color printers are more expensive than monochrome models.