Do you run a store or other business and you need a fast and practical commercial label printer?
If you are here, you surely need suggestions about which model to buy. Well, you're definitely in the right place. In the continuation, you will find 6 models ideal for the business described in detail to make your decision easier.
Our Top Picks
Best 6 Commercial Labeling Machines
Best Of Best Commercial Labeling Machine
Rollo Label Printer
Takes Little Space
The Rollo model is a small label printer in a grey color. The printer is about 6 inches long and 4 inches wide. You don't need a lot of space on your desk or shop stand. It's practical for making labels with barcodes, pricetag tickets, shipping labels, and more.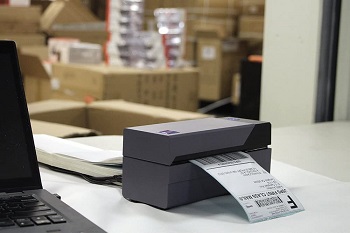 Direct Thermal Technology
This small printer has a speed of 150 mm per second. This is a thermal label printer with thermal direct technology that allows you to print with no toner. Since its injects is 4 inches long, the printer makes the labels 4 inches wide maximally and 2 inches minimally.
Easy To Remove Roll
You need to connect this commercial label maker with a roller stand and use the label roll. If it sticks inside or you want to change the roll, you can open the printer easily and remove it. To get the most quality labels, you need to use thermal supported materials.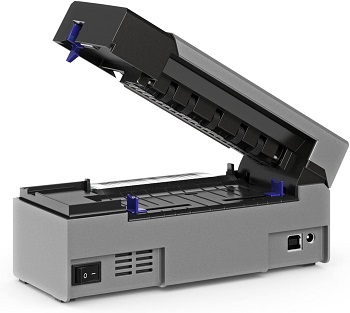 Like Standard Printer
The printer has an automatic label identification system. That means it detects the material and size of the label and adjusts the printing. It functions like standard paper printers which means you can print the materials made in Microsoft Word or Adobe PDF. You can use it simply but professionally.
Highlighted Points:
direct thermal printing technology
the speed is 150 mm per second
monochrome printer output type
purposed for barcodes, shipping labels, and more
automatic material and size recognition system
small construction with 6×4 dimensions
Best Color Commercial Labeling Machine
Brother QL-800 Label Printer
Two Colors Available
This Brother model is different than other models because it's a commercial color label printer. It can print the receipts and various types of labels in two colors. They are black and red. The exterior of the printer is black and white. There are 4 buttons on the top and 2 indicator lights.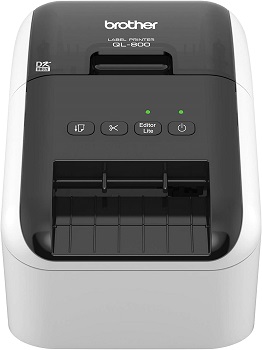 Connecting It Without Cables
You can use this commercial label printer for a wide specter of labels. It's practical for making name badges, package labels, postage labels, and more. You can use this printer by connecting it with your PC using wireless technology. It's practical because the cords are not needed.
Clear Graphics And Text
The speed depends if you use monochrome or color mode. The color printing is slower than black and white printing. The machine can print 93 standard address labels per minute. The text and graphics of the labels this printer makes stand out for high resolution which means you can see them clearly.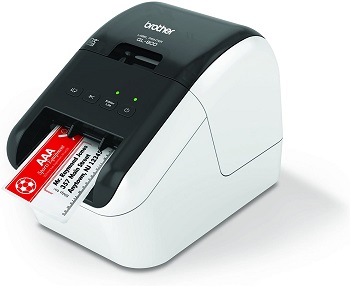 Compatible With Standard Systems
Just like the previous model, this one is also simple to use since you can print label schemes made in Word, Excel, Outlook, and more. The printer is compatible with Mac or Windows. You can connect it to your PC using the USB cable.
Highlighted Points:
it can create 93 standard address labels per min
compatible with Windows and Mac
prints labels made in Word, Outlook, and Excel
prints labels in red and black colors
the wireless connection between printer and PC
Best Sticker Commercial Label Maker
Nemonic Label Sticky Note Printer
Small And White
The Nemonic model is the best commercial sticker printing machine. It makes stickers used in small businesses such as shops or cafes. This printer is also small like most label makers. It comes in white color that suits any office or workplace. You can place it anywhere.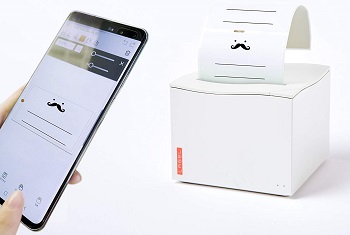 Water-Resistant Cartridges
This model uses the thermal printing method to make stickers and other types of labels. It uses waterproof label cartridges. You can use the label material in 4 different sizes from 3 to 4 inches. You will get the water-resistant label cartridge with a size of 3×2 inches.
USB Or Bluetooth
This label maker is compatible with many devices. Not only PC but you can use also smartphones with Android or iPhone systems. You can connect the printer using the USB cable or you can connect it via Bluetooth. The Bluetooth label printers are practical because you can keep the workspace neat.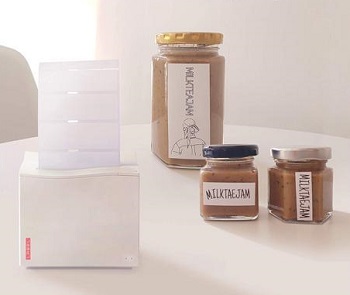 Compatible Nemonic Labels
You can use the papers in color to make stickers with this commercial label maker but it prints only in black and white colors. The printer is compatible only with Nemonic label cartridges that come in a plastic case. Other models from the market are not supported.
Highlighted Points:
the compact white design of the printer
includes water-resistant label cartridges
functions with Bluetooth and USB connection
prints sticking labels in 4 sizes
compatible with PC, Android, and iPhone
Best Handheld Commercial Label Maker
Phomemo-M110 Label Maker
Compact Size Ideal For Hand
Most commercial label makers are small but this model is especially compact which makes it handheld. You can hold it in your hand and make labels for cloth while walking through your shop. You can distance from the PC and make labels since it's a Bluetooth printer for labels.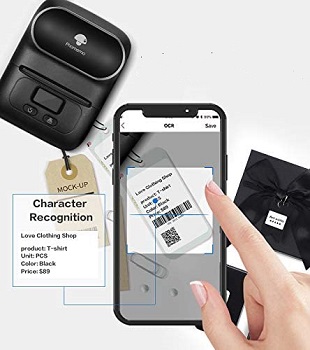 Photo/Text Converter
Using the Bluetooth connection, you can make labels saved on your Android or iPhone phone. You can use the app that converts the photos into text. You can print price labels, address labels, or folder labels but the shipping labels are not supported.
No Paper Jam
It's needed to press only one button and the thermal printing method activates. You can print the labels with a width of 48 mm maximally. You can print text and small graphics but only in black and white colors. The paper holder is integrated into the printer. Its function is to prevent paper jams.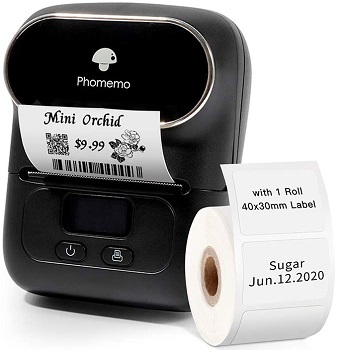 Rechargeable Battery
It's possible to move with the label printer in your hand because it works with the batteries. You will get the 1500mAh battery included in the printer. The battery is rechargeable so you don't need to replace the battery often. If you charge it fully, you can use the printer for up to a week.
Highlighted Points:
lithium-ion chargeable batteries included
limited run time with a full charge is a week
small handheld model purposed for carrying
compatible with Android and iOS
Bluetooth connection available
ideal for clothing labels with barcodes
Best Small Commercial Label Printer
MFLABEL Label Printer
Takes Small Space
This model has a compact size and black in color. The design makes it a cute label maker. It's practical for use because it doesn't require a lot of space. You can hold it in your hand comfortably. However, it's not practical for carrying through the shop since it needs a USB connection.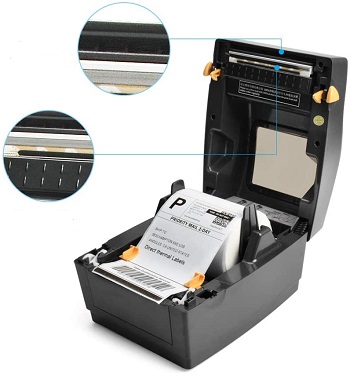 Thermal Print Head
It's a commercial labeling machine so it has advanced technology that prevents label material jams. The ink is not needed since it's a thermal model. It uses a thermal print head to make white and black labels with high resolution and durability.
Wide Format Labels
You need to connect this label printer with a computer that uses Windows while the Mac operating system is not supported. The printer makes wide-format labels. The maximal width of the labels is 108 mm which is around 4 inches. The maximal length is up to 6 inches.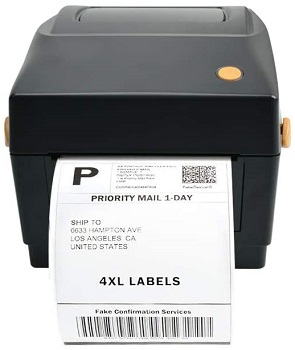 Wide Range Of Application
You can make labels with barcode, warehouse labels, shipping labels, ID labels, and more. It's a multifunctional and useful machine. You can use the simple button system to open the printer and change the label roll. On the back part, there is the switch on/off button and ports.
Highlighted Points:
thermal no ink printing system
paper jam prevented while printing
runs connected with Windows PC only
up to 4 inches of the label width
purposed for barcodes, warehouse, and shipping purposes
Best Barcode Commercial Label Printer
Freeum Bluetooth Label Printer
Best For Barcodes
The Freeum printer machine comes in a neutral white color. Just like most commercial printers, it's small and it's practical to make barcode labels. You can print in black color since it's a monochrome printer. The inject is 4 inches wide so it's the best for making 4×6 labels.
Wireless Connection System
The printer includes a USB port so you need to use the cables and it decreases the portability of this label printer. However, you can use also a Bluetooth connection to make it more portable. The wireless network is not supported for the transfer.
Practicality Of High Speed
You can connect it wirelessly with Windows computers or smartphones but only with the iOS system. This printer has a high speed of about 160 mm per second which makes it one of the best commercial label printer machines. When you add the label roll, the machine will detect its size.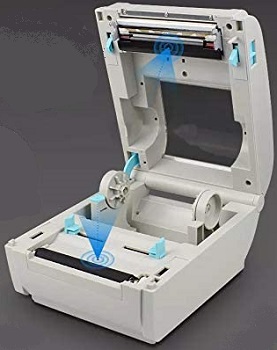 Easy To Operate
You can download the app purposed for this printer and use a lot of useful tools. The printer is easy to operate. There are a few buttons that are marked clearly. The indicator lights are also there. It's easy to open the printer to change the roll.
Highlighted Points:
monochrome label printer ideal for barcodes
compatible with Windows and iOS
prints with a speed of 160 mm per sec
mobile app available for download
USB and Bluetooth connection available
includes 4 inches wide inject
Things To Know About Commercial Labeling Machines
The printers for labels have a few typical characteristics that make them convenient for stores primarily. These are compact size practical for relocating, the speed that makes the business go fast, and a simple operating system that also contributes to fast use. The commercial models are designed to make the business easier.
Primarily For Shops – The commercial purpose means the printer is used in the shop, warehouse, restaurants, and other places where the receipts or labels with barcodes are needed. Most printers are monochrome so the receipts, shipping labels, or price tags are black and white.
Compact Size – Since it's purposed for business, the commercial printer has a small size to be easy to operate with it and easy to carry. The average size of the printer is 5 inches since its average inject length is 4 inches. That means the maximal label width is 4 inches on average.
High Speed – Label printer used for commercial purposes has a high speed to ensure fast work. The printing speed is 100 mm per second on average which is about 4 inches per second. The label used for commercial purposes has small dimensions so it's printed for 1-2 minutes or faster.
Simple System – The label printers you use for business have a simple operating system to be easy to use for workers. Simple operating means also a quick use which is important for the business. The operating system includes 1-3 programmable buttons to run the printer. The roll with the label has a simple changing system.
Portability Ensured – The commercial label makers require portability since work in the shop or warehouse bases on tasks all over the workplace. It's practical to move the label printer holding it in the hand thanks to a wireless connection with a PC or smartphone. Most models support Bluetooth connection.