Do you want to buy a Bluetooth label maker and get rid of the cables?
Then this post is just for you because here is all the information you need to know about this type of label maker. Read the best model list, then their detailed descriptions, and finally, the guide with useful info.
Our Top Picks
Best 6 Bluetooth Label Maker Printers
Best Of Best Bluetooth Label Maker
Dymo Mobilelabeler Label Maker
Different Cube Design
This Dymo Bluetooth label printer has a specific shape. It has a cube design and doesn't seem like the classic label maker. There is a small inject where small sticker labels get out. The machine comes in silver color. The package includes the printer and tape rolls come optionally.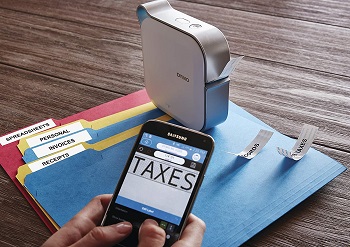 Dymo Mobile App
The label maker has a Bluetooth connectivity option that you can use for Android or iPhone. All the smartphones with the Bluetooth option are compatible with this machine. You can download the Dymo mobile app and use it on both Android and iPhone. The app provides you with the label templates.
Text Converter And More
Using the app is the best way to create quality labels because the app offers options such as spell check, voice to text converter, and more. You can use Google and Apple font libraries. The label maker prints monochrome text but you can use tapes in various colors.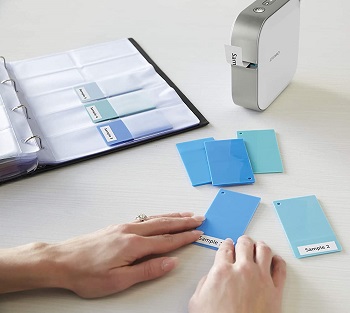 Chargeable Label Maker
The tape you use can be from 0,4 to 1 inch wide and up to 10 feet long. The Bluetooth label maker works on chargeable lithium batteries. It allows you to carry the printer anywhere. You will get the AC adapter and USB cable for charging.
Highlighted Points:
the cube-like silver external design
crates thin labels with 0,4-1 inch width
the 10 ft long tape, AC adapter, and USB cable included
mobile app with plenty of customization tools
Bluetooth connection with Android and iOS
works on the rechargeable battery
Best Android Bluetooth Label Printer
Brother P-Touch Cube PTP300BT Maker
Cube White/Blue Design
This Brother cube Bluetooth label maker is similar to the previous model for the shape. This model is also cube-shaped and comes in white color. You can purchase it also in blue color. You can use it to make small labels that you create in a mobile app.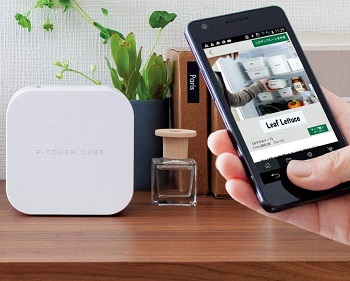 Wireless Network Or Bluetooth
It's a Bluetooth label printer Android as well as iPhone compatible. You can use also tablets with this printer model and connect them with a wireless network instead of Bluetooth. The smartphones are connectable via Bluetooth. You can install the mobile app and use a wide specter of label templates.
Over A Hundred Templates
You can create labels with 450 systems and more than 60 frames. Connected with the label printer, you need to send the created labels to it and print the labels with a width of up to 0,4 inches. The press is monochrome while you can use the tapes in vivid colors.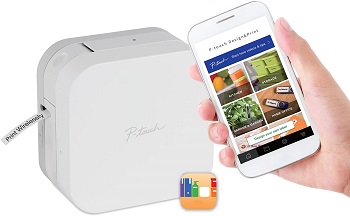 Takes Small Space
These thin labels are practical to signify the ware or documents in the office. This function makes them similar to the label makers for professional organizers. The label maker has a small design so you can place it in an office of any size. The machine doesn't take a lot of space on the desk.
Highlighted Points:
compatible with Android and iPhone
connects also with tables via a wireless network
up to 1 inch of the label width
print app with templates available for download
monochrome print on colored tapes
Best Barcode Bluetooth Label Maker
Nyear NP58-WB Label Printer
Bluetooth And USB
The Nyear label printer is a multifunctional machine when it comes to connectivity with devices. That means you can connect the label printer with a PC using the USB cable and with the smartphone via Bluetooth connection. The printer is compatible with Android and iOS.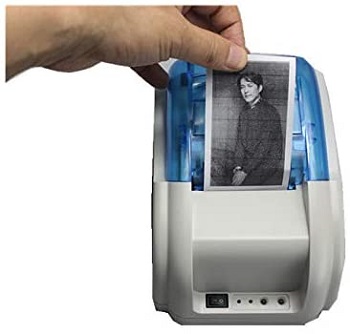 Monochrome Receipt Print
This is a Bluetooth thermal label printer just like the color thermal label makers but this one doesn't make the colored press. This Bluetooth label printer is monochrome which makes it ideal for barcodes. You can use it in the store to print receipts. You can connect it with the computer in three ways.
Long-Distance Connection
The wireless network, Bluetooth, and USB connections are available. The printer and other devices can be connected at a distance of up to 40 meters. If you use a mobile phone, you can use Nyearlabel software to edit and print various labels. The app is available for both smartphone systems and it's easy to use.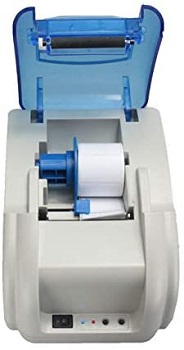 Receipt Roll Paper
You can use 30×40 label paper to print receipts, medical labels, supermarket labels, and more. You will get the rolling label paper and rolling receipt paper in the Bluetooth label maker package. The USB cable and US standard adapter are also included in the package. You will get the instructions that will make the first use easier.
Highlighted Points:
Bluetooth, wireless, and USB connections
the machine uses the thermal printing method
compatible with Windows, Android, and iOS
Bluetooth connectivity on up to 40-meter distance
optimal for 40×30 rolling receipt paper
USB cable and adapter included
Best Portable Bluetooth Label Printer
PUQU Label Printer
Small And Cute
The PUQU Bluetooth label printer is a small machine that suits an average hand. The printer comes in an attractive blue color and small size which makes it one of the cute label makers. You can choose also the white color model. Both versions are Bluetooth connectable.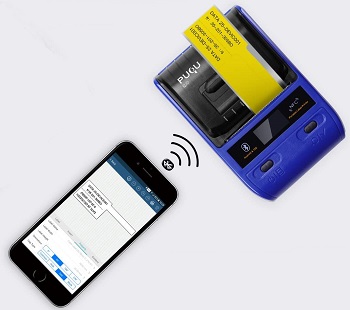 Battery-Powered Machine
Since its input is small, the label maker prints the labels of 2-3 inch width. This size is ideal for receipts, addresses, cables, jewelry, and more labels except for shipping labels. The Bluetooth label maker uses the battery. You can charge it and use it limitlessly.
Character And Picture
You can connect the label maker with Android or an iOS mobile phone. This label printer uses a thermal print head to make high-resolution labels. The label content can be characters or pictures. You can make various labels with a printing speed is up to 35 mm per second.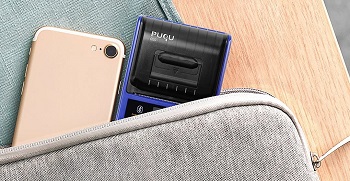 Black And White Press
This Bluetooth thermal label printer can print also one-dimensional and two-dimensional barcodes. Just like most label makers, this one is also monochrome so you can get the labels in black and white. You can use the appropriate mobile app to get the label templates and to create the labels.
Highlighted Points:
makes 2-3 inches wide labels
small and portable design
the maximal speed is 35 mm per second
prints character and picture labels
Bluetooth connection with Android and iPhone
ideal for one and two-dimensional barcodes
Best Shipping Label Bluetooth Label Maker
GeceNinov Portable Label Maker
Small But Multifunctional
This model has a small size but big enough to make shipping labels as well as jewelry labels, clothing labels, and more. The small size is practical because you can relocate the machine easily according to your business needs. The Bluetooth connection makes the machine portable.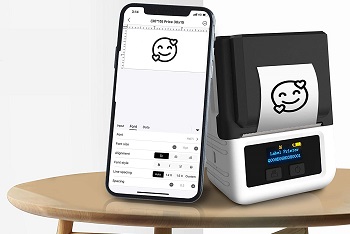 Strong Bluetooth Connection
The Bluetooth label printer is in the group of under 100 dollar printers so it's the cheap shipping label maker. Considering the affordable price and a lot of functions, this Bluetooth shipping label printer is a good investment. It offers Bluetooth 4.0. strong connection with smartphones and computers. You can use the computers with Windows 7-10 systems.
Fast Thermal Printing
The printing speed is from 20 to 45 mm per second. Considering the maximal label width of 20-50 mm, the print speed allows you to make labels for a short time. Since it's a Bluetooth thermal label printer, you don't need to use ink. The printer works on the battery.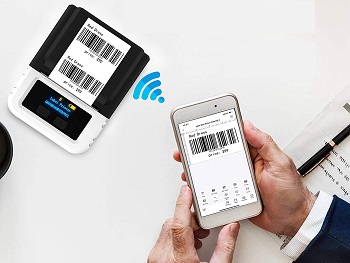 Up To 5 Hours
The battery this printer use is lithium which means you can charge it and you again instead of replacing it. With the battery, the Bluetooth label maker can work for up to 5 hours in the continuity. The charging time is 2,5 hours if the battery is completely empty.
Highlighted Points:
connectable with mobile phone and computer
Android, iOS, and Windows 7,8,10
includes the lithium chargeable battery
continuous working time is 5 hours
20-50 mm print width supported
works with the speed of 20-45 mm per second
Best Sticker Bluetooth Label Printer
Phomemo M110 Label Printer
Compact And Portable
The Phememo is one more portable label printer model. It has a small size and black design. You can replace the black version with an orange or white color model. You can hold it in your hand and carry it anywhere. It's ideal for business trips or working in many offices.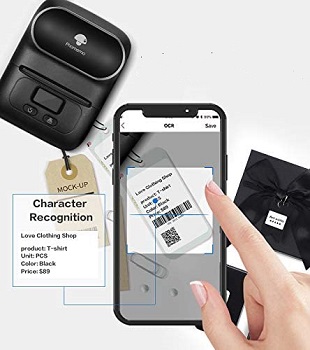 Various Label Templates
You can relocate this small machine from the office or store to home and more places. It's simple to use as well which makes it the best label maker for home use. You can use this model to make address, cable, barcode, and sticker labels. The supported label width is 20-50 mm for this Bluetooth label maker.
Black Press On Colored Tape
You can use this Bluetooth sticker printer to make multicolor stickers. To make a sticker in color, you need to use colored tape while the press is black only. The labels you print can include text, image, barcode, and other content. You can connect the label maker with Android and iOS systems.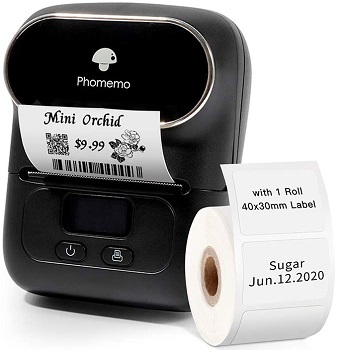 24 Hours In Continuity
The Phomemo mobile app is available for download. Just like all the Bluetooth label printers, this model also works on batteries. You can use it for 24 hours in the continuity. The 1500mAh battery is built-in. It's changeable so you can use one battery for a long time.
Highlighted Points:
Bluetooth connectivity with iOS and Android
made for stickers, address labels, barcodes, and more
prints the labels with the width of 20-50 mm
battery-powered and chargeable machine
lightweight and portable design
Things To Know About Bluetooth Label Maker
The Bluetooth connection has an influence on the portability of the label maker. The Bluetooth label prinsters are compatible primarily with smartphones, unlike most standard label printers. Moreover, the label makers with Bluetooth works with mobile apps. The printer prices are smaller than the average label printer price and they are available for buying online.
Wireless Connection – The Bluetooth connection is a kind of wireless connection between the printer and smartphone or, in some cases, a computer so the cables are not needed. Usually, the Android and iPhone are supported smartphone systems while Windows is supported PC operating system.
Mobile App Available – Since the printers use Bluetooth to connect with smartphones, each model comes with an available mobile app. It includes the label templates ready for printing. The mobile app is usually free. Each app is unique and offers different functions in accordance with each label printer functions.
Portable Models – The wireless Bluetooth connectivity is the main factor that makes the label printer portable. The distance range between the printer and mobile phone is usually up to 50 meters. There is also the size factor. Some models have a hand size and some are about 4 inches wide.
Under 100 Dollars – The Bluetooth label makers usually cost up to 100 dollars. This price range makes these models cheap in comparison with standard label makers with an average size of 300 dollars. The small size is the main reason for the small price of this label maker type.
Online Shop Offer – The label makers with Bluetooth connection with the price under 100 dollars are available in online stores. The most common webshops that offer Bluetooth printer for labels are Amazon, Wayfair, e-Bay, Alibaba, and more. Amazon has the widest offer of label makers as well as free shipping.