Do you want to stop spending money on ink and toner so you're searching for the best thermal label printer for you?
To be sure which thermal printer is the right machine for your store, warehouse, office, or home, check the best models we have reviewed for you. Here you can find also the things to know about thermal printing.
Our Top Picks
6 Best Thermal Label Printers
Best Of Best Thermal Label Printer
Zebra GK420d Label Maker
Desktop Printer Design
This best Zebra label printer comes in black color and has an average size. It's suitable for every office desk no matter the size. There is enough space inside the label maker for a thermal paper roll this label printer requires. It's a desktop machine and needs a connection with the computer.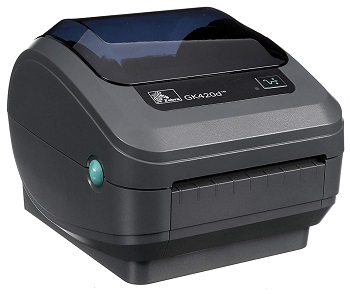 Monochrome Graphics
This is the best thermal label printer for any store since it's ideal for printing receipts and shipping labels. The thermal printing system makes this printer monochrome. You can print not only text but also graphics so it's ideal for barcodes. You can make also address labels, mailing or postage labels, and more.
Three Ports Built-In
It's a computer label maker with 3 ports for connection. You can connect it with the computer using a USB port, serial port, or parallel one. Before you start printing, make sure you've added the appropriate paper roll to the label maker. The maximal roll diameter is 5 inches.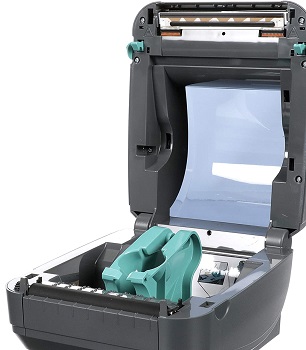 Average Resolution
With the speed of 5 incehs per second, you can make a lot of labels in a short time. The speed is high while the resolution is average. The resolution is 203 dpi. This label maker model is Energy Star certificated. You can use it to print the labels with a width of 4 inches maximally.
Highlighted Points:
prints the labels with the maximal width of 4 inches
the average printing speed is 5 inches
connects to the computer using the cable
USB, Parallel, and Serial ports built-in
the printing resolution is 203 dpi
the model with Energy Star certification
Best For Shipping Thermal Label Printer
Rollo Label Printer
Monochrome Print As Result
The Rollo label maker comes in grey color and rectangular compact design. Just like all the best thermal printers, this one also uses a direct thermal printing method and monochrome labels come as result. To achieve maximal efficiency, you can purchase the roll holder and use it as additional accessories.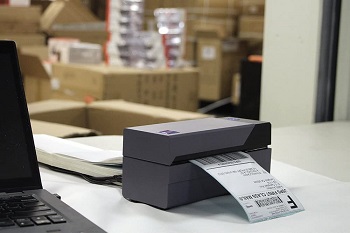 Specified For Shipping Labels
The Rollo model is the best thermal printer for shipping labels. It's compatible with most shipping platforms which makes this printer specified for shipping labels. Some of the compatible shipping platforms are Shopify, eBay, Etsy, ShipStation, Amazon, and more. You can print directly from the platforms.
Commercial-Grade Construction
The label maker prints with a speed of 6 incehs maximally. The construction of the label maker is strong which makes it a commercial label printer just like the high speed. With this label printer, you can make up to 5 thousand labels per day.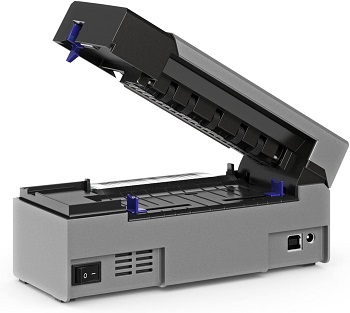 Most Common OS
This best 4×6 thermal label printer supports two operating systems of PC. You can use Windows or Mac systems. These two PC systems are the most common compatible operating systems. The Windows XP and newer are suitable versions. Mac 10.9 and later versions are also compatible with this label maker.
Highlighted Points:
the speed is 6 inches per minute on average
compatible with many selling platforms
connects to Windows XP and newer computers
supports Mac 10.9 and newer systems
roll holder sold separately
Best Cheap Thermal Label Printer
Puqu Label Printer
Different Design And Size
This Puqu label printer is different than the models I reviewed before. It differs in design and size. You can choose between blue and white designs. The printer is so small that you can place it in your hand or pocket and carry it easily. The size makes it totally portable.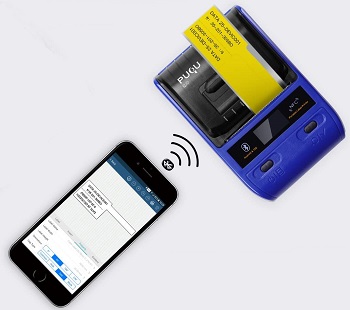 Size Makes It Affordable
This is one of the cheap thermal label printers. Its price is similar to the price of these cheap shipping label printers. The size is the main factor that makes the label maker affordable. However, all the functions of this model are the same as other printers.
Computer Is Not Necessary
This the best thermal label printer for flexible use. That's because this model includes the Bluetooth option so you can use it anywhere. A computer is not necessary but you can use also a smartphone. It supports both Android and iPhone smartphones. However, this printer doesn't support the standard shipping label format.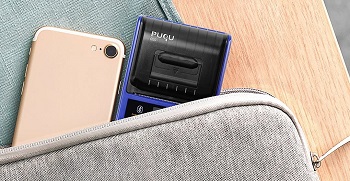 Smaller Than Shipping Labels
Instead of a shipping label format that has a width of 4 inches, this printer makes smaller labels with a maximal width of about 3 inches. No matter it makes smaller labels, the machine makes barcodes and graphics of a high-resolution thanks to the direct thermal printing method.
Highlighted Points:
about 3 inches of the input width
the pocket size makes it portable
suitable for Android and iOs
includes Bluetooth connection option
purposed for small barcodes
Best 4×6 Thermal Printer
Fangtek Label Printer
Automatic Suction Function
The Fangtek label printer comes in a black color design with green details. It's easy to open the cover and place the label paper sheet in the right position. You need to purchase the paper holder separately. The printer has an automatic paper suction function so the printing is going fluently.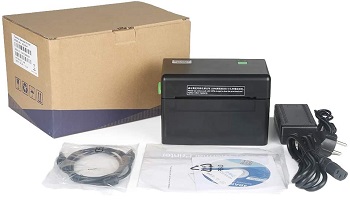 Most Common Platforms
This is the best 4×6 thermal label printer so it's also one of the best printers for printing shipping labels. It has the option for connecting with the most common shipping platforms. You can print the shipping labels from Etsy, eBay, Amazon, and more platforms.
New-Design Print Head
This best thermal label printer has a speed of 5 inches per second when you print standard 4×6 shipping labels. The printer makes clear barcodes using a new-design print head for direct thermal printing. This printing system saves you the money you'd spend on various inks.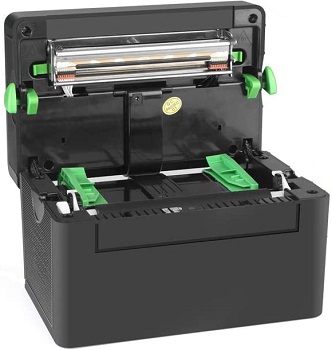 Full Package Ensured
You can connect the label maker with Windows computers. You will get the USB cable you need for connection with the PC. The adapter is also included in the package. In the box, there is also the CD with installation software so you will get all that you need for printing except for the paper holder.
Highlighted Points:
comes in the package with needed cables
about 5 inches per second of the speed
automatic suction function turned on
compatible with shipping platforms
input size suitable for 4×6 shipping labels
supports Windows operating system
Best For Mac Thermal Printer
Brother QL-800 Label Maker
Buttons And Lights
The Brother label maker is easy to use thanks to the programmable buttons placed on the top. There are not only the buttons but also the indicator lights. They show you the condition of the label maker. The input is wide like other best thermal printers so it's convenient for shipping labels.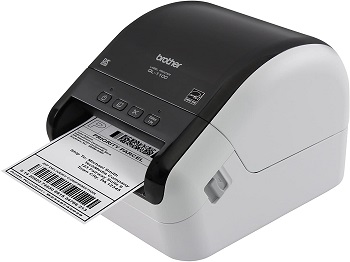 Cable Or Wireless
This is the best thermal printer for Mac but it's also compatible with Windows operating system. You need to connect the label printer with the computer using the cable and then print about 90 address labels in a minute. You can use also wireless connectivity if you prefer it.
Big Resolution
The barcodes and address text on the labels are clear thanks to 300 dpi of the printer resolution. It's pretty high resolution for a label printer for small businesses. Just like all the thermal printers, this one also makes labels in black colors only.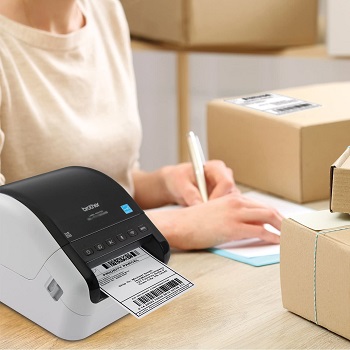 Useful Functions Included
One of the useful functions is a cutter. It activates automatically which increases the speed of the printing process. The printer includes also the "Plug And Label" function that works without installation but only on Windows computers. This label maker is a great tool for stores, restaurants, warehouses, and more.
Highlighted Points:
a compact black and white design
prints in black color only
USB or wireless connection with PC
supports Mac and Windows systems
prints about 90 labels in a minute
the resolution is up to 300 dpi
Best Wireless Thermal Label Printer
Star Micronics TSP143 Printer
Black Text And Graphics
The Star Micronics is one more label maker with a direct thermal printing system. Just like all the best thermal label printers, this one also prints black text and graphics on thermal paper. It's ideal for receipts so you can use it for connectional purposes.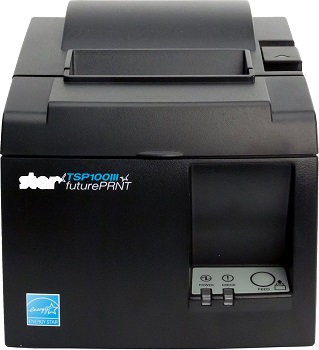 Works With Bluetooth
This model is the best wireless thermal label printer since it connects with smartphones and computers via Bluetooth. It functions the way other Bluetooth label makers work. You can connect the Android or iPhone smartphones to this label maker. It's possible also to use the computer but Windows is the only supported OS.
More Options For Connectivity
Instead of the Bluetooth option, you can choose Ethernet, Wi-Fi, or USB options. However, then you need to purchase other models. This model doesn't include all these options. On the bottom of the printer, there are the indicator lights that notify you if the error happened.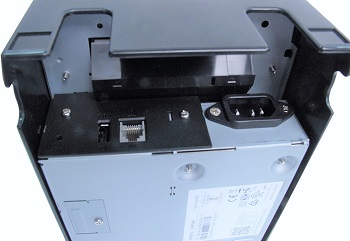 Incredible Speed
This model has an incredible speed of about 9 incehs per second. With this speed, you can make about 40 receipts per minute printing in continuity. The automatic cutter helps you during the printing process. The label maker supports the receipts and other labels with a width of 4 incehs on average.
Highlighted Points:
the speed is up to 9 incehs per second
offers a Bluetooth connection option
simple use with indicator lights
connectable with both Android and iPhone
Windows is the only supported PC system
Things To Know About Best Thermal Printers
Buying a thermal printer is the best way to save your money since you don't need toner or ink like inkjet printers. Thanks to the direct thermal printing system, you can print monochrome labels in the continuity. To get the best results, you need thermal paper and appropriate storage of the printed labels.
Direct Thermal Printing – There are two types of thermal printers. Most models are direct thermal printers while there are also thermal transfer printers. The direct thermal printer uses the thermal print head that gets heated and leaves a black trace on the paper shaped like text or graphics.
Monochrome Print – Since thermal printers don't use ink or toner, they can make black print only. There are a few thermal color label makers but there are rare. No ink means no cartridges or ribbons so the printer is functional all the time. Some models hold the label roll and some require an additional holder.
Thermal Labels Needed – The thermal print head is not functional if you use the wrong paper. You need thermal paper. This type of paper is chemically coated so it gets black under the heat. The paper comes in roll shape or as paper sheets. You need this kind that suits your printer design.
Labels Fade – The labels made with the best thermal label printer fades gradually if they are not stored well. That means the printed labels must not be under the heat or UV lights. Plastic bags are not an appropriate place to store the labels.
Commercial Use Mostly – The thermal printer is the best type for making barcode labels which includes shipping labels and receipts. The resolution of 203 dpi is enough high to make clear barcodes functional for commercial purposes. This is the average resolution of 4 incehs wide label format while smaller labels are clear also with lower resolution.