Are you looking for a 4×6 photo scanners for your photos?
Well, we find some great models on the market that scan that size of photos. Read about the item characteristics, resolution, speed and design. Check out our buying guide, there is a lot of useful information.
Our Top Picks
Best 4×6 Photo Scanners
Best Of Best 4×6 Photo Scanner
Plustek Photo Scanner
Compact Design
The Plustek ePhoto Z300 has an unusual design, it's a compact device. The size is 1.14 x 0.63 x 0.62 inches. This scanner is specially designed for photos and quick scanning. This USB powered item supports Mac and Windows operating systems.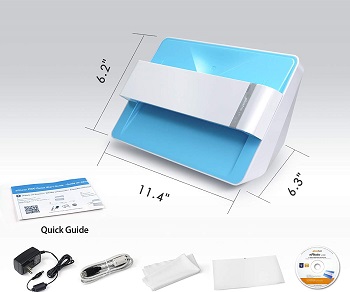 Two Settings
This scanner supports 3 x 5, 5 x 7, 8 x 10 and 4 x 6 photo sizes. Also, it is good for letter-sized and A4 papers. The scanner accepts cards and 0.24" thick documents. You can choose between two quality modes – 300 and 600 dots per inch. There is a CCD sensor for better resolution. The OCR is integrated.
Fast Scanner
It is a pretty fast scanner, it takes 2 seconds only to scan 4 x 6 photo. For a 5 x 7 photo, it needs 5 seconds. This is a photo scanner for old photos because it features a special soft roller single sheet feeding design that won't damage your old family photos.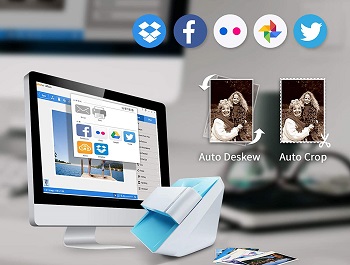 Bundled Software
The Plustek 4×6 photo scanner comes with customized software. It automatically resizes and deskews your photos. Moreover, you can adjust sharpness and contrast. You can save photos in various formats like JPEG, TIFF, PDF, or upload them to your cloud service.
Highlighted Points:
it features a space-saving design
supports various photo sizes
it takes 2 seconds to scan 4 x 6 photo
built-in Optical Character Recognition
save your photos in multiple formats
auto-crop and auto-deskew functions
Best Feeder 4×6 Photo Scanner
Epson FastFoto FF-680W Scanner
Wireless Scanner
The Epson FastFoto FF-680W is a wireless sheet-feed scanner intended for photos. The item dimensions are 6.7 x 11.7 x 6.9 inches. It weighs 8 pounds, so it isn't heavy. This scanner works well with Windows and Mac. The price is high, but it's a very quality scanner.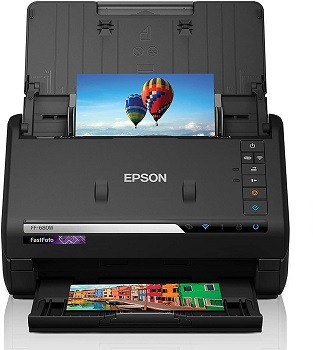 Fastest Scanner
This is currently the fastest photo scanner in the world, it takes just one second to scan a photo. You can scan postcards, polaroid photos, delicate photos, panoramas and 4 x 6 photos. The maximal photo width is 8.5 inches. It accepts very long photos.
SafeTouch Technology
This is an fast automatic feed scanner, so you can insert a stack of photos into the feeder, press the scan button and leave the device to finish. The SafeTouch technology protects your delicate photos from damage. With Epson's software, you can scan, restore, organize and share your photos.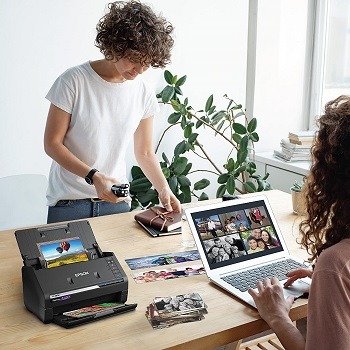 Single-Step Technology
If you need to scan both sides of the document, use the Single-Step technology. It captures both sides of the image, handwritten notes and documents. This 4×6 photo scanner with feeder has integrated Optical Character Recognition that allows you to convert your scans into searchable and editable formats.
Highlighted Points:
the fastest photo scanner on the market
use the automatic feeder for a stack of photos
SafeTouch technology protects delicate photos
Single Step technology captures both sides of the document
convert your scans into various formats
Best Portable 4×6 Photo Scanner
ClearClick 4×6 Photo Scanner
Batteries Or USB
The ClearClick is a small, handheld, portable photo scanner. It is able to run on batteries or USB power. The batteries aren't included in the package and if you decide to use them, buy 3 AA lithium batteries. It accepts photos and documents of up 8.5 inches in width and 47 inches in length.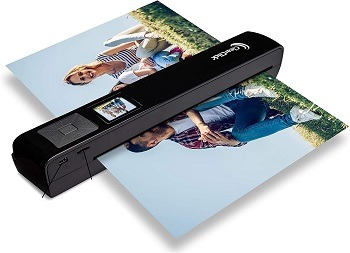 Up To 1200 DPI
You can easily scan photos and documents to digital JPG or PDF formats. The maximal optical resolution is up to 1200 dots per inch. The ClearClick needs only 1 second to scan and save photos. It features an auto feeder that is able to hold one photo or document per single pass.
1.4-inch Screen
This 4×6 photo scanner has a 1.4-inch screen, so you can preview your scans immediately after scanning. If you decide to buy this scanner, you'll get in the box a scanner, user's manual, carrying case, software download card and USB cable.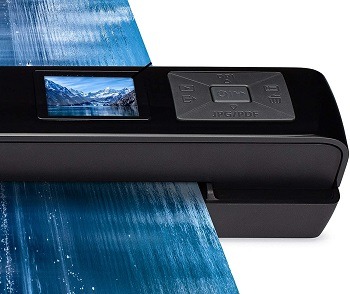 Scan Anywhere
If you buy a MicroSD memory card, you can scan anywhere. Just load the scanner with batteries and a memory card and save your scans. The max storage space is 32 GB. Then use the USB cable to transfer your photos to the computer. Also, you can use USB cable only, then you don't need batteries and memory cards.
Highlighted Points:
small and portable photo scanner
it delivers up to 1200 dots per inch
preview your scans on a 1.4-inch screen
use the batteries and memory card or USB cable
the auto feeder accepts one photo at a time
it accepts long photos of up to 47 inches
Best Automatic 4×6 Photo Scanner
Canon 4×6 Photo Scanner
USB Type-C Cable
The Canon CanoScan Lide 400 has a slim and elegant black design. This photo scanner features 7.7 x 14.5 x 0.4 inches. It is powered by USB. The Canon uses a USB Type-C cable, with this cable you can transfer data and power the device at the same time.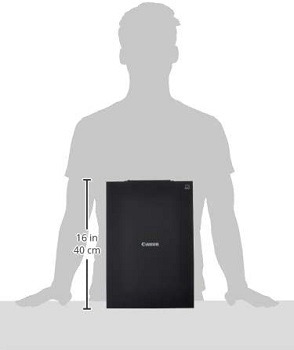 High Resolution
This 4×6 photo scanner delivers the maximal resolution of 4800 x 4800 dots per inch. It accepts different photo sizes, from 4 x 6 inches, 8.27 x 11.69 to 8.5 x 11.69 inches. It needs 8 seconds to scan photo. There are 5 EZ buttons for scan, copy, send to email or PDF format.
Two Positions
If you press Send to cloud, the professional photo scanner will immediately send your scans to Google Drive, OneDrive, DropBox or other cloud services. For people who don't have much free space on its desk, there is a solution – you can use this scanner in two positions, vertical or horizontal.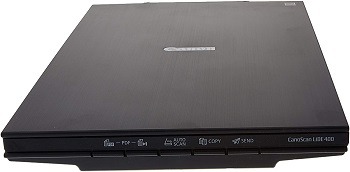 Image Enhancement
The OCR software is included, you can convert your photos into searchable and editable formats, like Word, Excel or PDF. The image enhancement provides auto-crop, auto-deskew, color restoration, dust removal and more. The auto scan mode will detect what you are scanning and adjust the settings.
Highlighted Points:
flatbed scanner with USB Type-C cable
the maximal resolution is 4800 dots per inch
user-friendly design with five EZ buttons
integrated Optical Character Recognition
image enhancement improves photo quality
the auto scan mode detect what you're scanning
Best Flatbed 4×6 Photo Scanner
Epson Perfection Photo Scanner
Transparency Unit
The Epson Perfection V600 is a great flatbed scanner with amazing features. It is good for color documents, photos, film and negatives. There is a built-in Transparency Unit, so you can scan slides, negatives and medium-format panoramic film.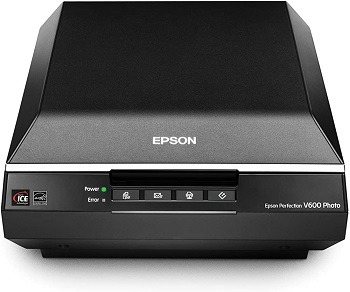 ReadyScan LED Technology
The dimensions of this 4×6 scanner are 19 x 11 x 4.6 inches. It features an outstanding resolution of 6400 x 9600 dots per inch. The maximal scan area has 8.5 inches in width and 11.7 inches in length. ReadyScan LED technology provides no warm-up time.
Digital ICE Technology
Both operating systems are compatible with this item, it's a good photo scanner for Mac and Windows. The Digital ICE technology automatically removes the dust and scratches from film and tears and creases from photos. With Easy Photo Fix you can restore faded color photos.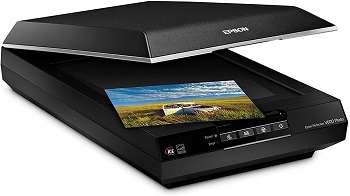 Versatile Scanner
Optical Character Recognition is included. The Epson features four buttons for scan, copy, scan to email and creates a PDF format. This scanner isn't good just for photos, you can scan documents, receipts, books and even 3D objects. It's an energy-efficient device.
Highlighted Points:
outstanding quality scans with 6400 x 9600 dpi
compatible with Mac and Windows OS
it uses Digital ICE technology for photos and film
ReadyScan LED technology to increase efficiency
Easy Photo Fix restores old photos
built-in Transparency Unit for slides and negatives
Best Large 4×6 Photo Scanner
Plustek OS 1180 Photo Scanner
Heavy-duty Tasks
The Plustek flatbed scanner OS 1180 comes in elegant white color. It fits in any office or home. It is designed for schools, libraries and offices so it is a great choice for a scanner for artwork. It measures 23.18  16.02 x 2.67 inches. It supports Windows and Mac OS and TWAIN and WIA drivers.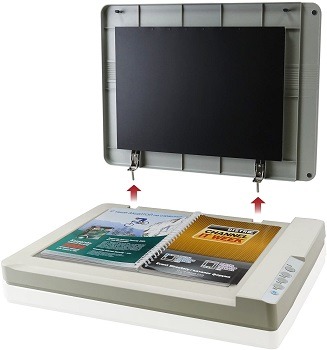 LED Light Source
There is an LED Light Source, so you can scan your photos whenever you need it. There is no warm-up time. The Plustek features a color depth of 48-bit and 16-bit of greyscale. The maximal scanning area is 11.69 x 17 inches, so use the scanner for panoramas, magazines, newspapers, legal-sized documents, etc.
Ease Of Use
For scanning the greyscale A3 document, the Plustek 4×6 photo scanner needs 9 seconds. For a color document, it takes 15 seconds. This photo scanner features four one-touch scan buttons, they are intended for scan, OCR, PDF and email. Convert your scans into editable and searchable formats.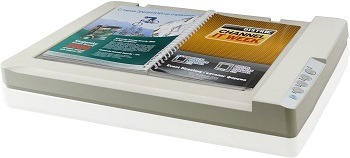 Intelligent Functions
The maximal optical resolution is 1200 dots per inch. The Plustek use DocAction for file sharing. This photo scanner uses some intelligent functions intended for scan corrections. That includes auto-rotate, background removal, denoise and character enhancement.
Highlighted Points:
large flatbed scanner for small and large photos
included advanced OCR software
the maximal optical resolution is 1200 dpi
it automatically improves photo quality
no warm-up time needed because of LED technology
it takes 15 seconds for color documents and photos
Things To Know About 4×6 Photo Scanner
These 4×6 photo scanners differ from document scanners, they have higher resolution, specific design and adjusted characteristics. Check out how to choose the best photo scanner for 4×6 photos.
Scanner's Resolution – Or usually called dots per inch. The photo scanner should have a higher resolution than document scanners. The minimal resolution for photo scanning is 300 dpi or 600 dpi. The high-quality photo scanners offer 1200 dpi or even 6400 dpi.
Flatbed Vs Sheet-feed – If you need to scan delicate photos, the better option is a large format flatbed scanner. You need to place the photo on the glass and scan it. You can't damage it. The sheet-feed scanners are intended for people who need to scan a stack of photos.
Auto-Correction – Many photo scanners have some image enhancement or intelligent auto function. This function is great because you don't need to edit your photos later. These functions offer auto-crop, auto-rotate, color detection, background removal and more.
File Formats – The photo scanners with integrated Optical Character Recognition permit you to convert your scans into various file formats, like JPEG, PDF, TIFF and more. If you digitalize your photos and save them into some format, they will be organized in one place and easy to find.
Scanning Speed – The scanners have a different photo scanning speed. The fastest photo scanner currently takes 1 second only to scan a photo. If you have a large volume of photos, consider faster scanners. Also, you need to check if the scanners are able to scan black and white photos.
Final Verdict
You won't regret it if you decide to buy any of these 4×6 photo scanners, but we recommend the Plustek Photo Scanner. It has a special design that accepts even old photos, two quality modes and integrated OCR. If you are interested in a flatbed scanner, check out the models in the review of flatbed photo scanners. If you want to use the scanner in your home occasionally, the post about the best home photo scanner will be useful for you.