Are you looking for a quality wood and metal file cabinet?
Here you can read about the best six file cabinets on the market. Find out more about their characteristics, design and other specifications. You can find useful information in our buying guide, so you'll be able to find the best file cabinet for your needs.
Our Top Picks
Best Wood And Metal File Cabinets
Best Of Best Wood And Metal File Cabinet
Bush Furniture Wood Cabinet
Vintage Design
This model comes from the Salinas collection that suits every home office or office. The model comes in three colors: vintage black, grey and antique white. The Bush file cabinet measures 31.73 x 20 x 29.96 inches. It weighs 82 pounds, so it isn't so light.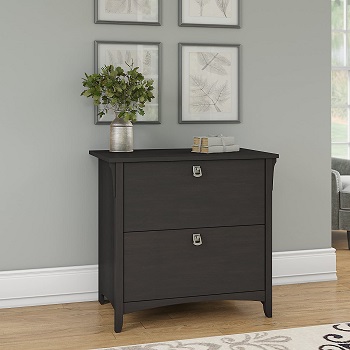 Wood Material
This is a wide file cabinet that is made of engineered wood. It stands on four legs that are 3.5 inches tall. There are two drawers that accommodate letter, legal and A4 sized documents. The file drawers feature full-extension ball-bearing slides for smooth open.
Metal Handles
If you want to extend your workplace, you can separately buy an L shaped desk with storage from the same brand. Their heights fit great. The Bush wood and metal file cabinet meet ANSI/SOHO quality standards for safety. On the drawers, there are two elegant metal handles.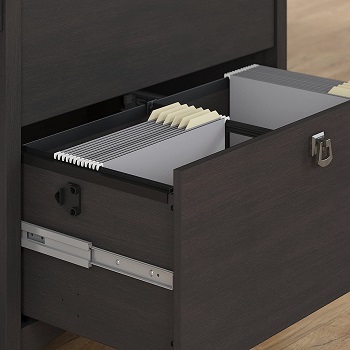 1-Year Warranty
The curved base rails and decorative wood details give the elegant look of this file cabinet. There is one bar in each drawer, so you can organize your files better than before. There is a 1-year warranty, so you can replace the cabinet or call the service if you have any questions.
Highlighted Points:
the model that fits in any home or office
curved base rails and decorative details
compatible with L-shaped desk
meets many safety standards
2 drawers with full extension slides
Best 3-drawer Wood And Metal File Cabinet
Modern Luxe Metal Cabinet
Lateral File Cabinet
Modern Luxe wood and metal file cabinet is available in two colors: black or white metal file cabinet. This file cabinet has 40.3 inches in height, 17.7 inches in depth and 35.4 inches in width and it is a pretty heavy file cabinet, there are 118 pounds. The lateral file cabinet is perfect for office use.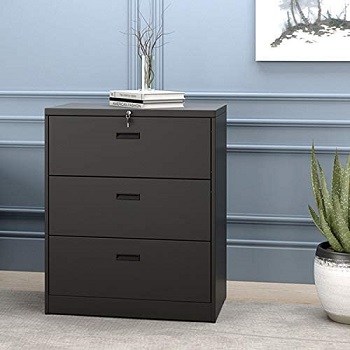 High Standard Welding
It is a very sturdy and durable file cabinet, it has electrostatic spraying and high standard welding. This material and finish prevent rust. The Modern Luxe is designed with three spacious drawers and each drawer has three steel hanging rails for document organization.
Lockable Design
The drawers can accommodate A4, legal-sized and letter-sized documents. All three drawers feature steel ball-bearing suspension, so you can open them smoothly and reach all documents. They have full extension. Above the upper drawer, there is a lock.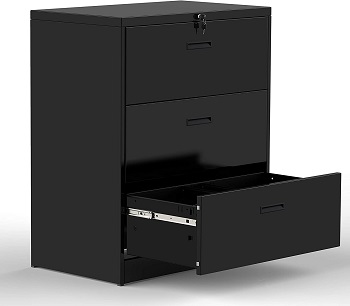 Anti-tilt Mechanism
The interlock drawer system allows you to open just one drawer while the other two are locked. That is also an anti-tipping mechanism. The package includes two keys. Each drawer has a capacity of 88 pounds. The drawer size is 32.9 inches in length, 15.3 inches in width and 9.7 inches in height.
Highlighted Points:
lateral file cabinet available in two colors
there are three spacious drawers
one lock secures all drawers
steel ball bearing for smooth opening
three adjustable drawer divider
great for A4, letter and legal sized documents
Best 2-drawer Wood And Metal File Cabinet
GreenForest Wood Cabinet
Vertical Cabinet
The GreenForest produces quality file cabinets for affordable prices. In this short review, we talk about the vertical filing cabinet. This model comes in two colors – walnut and black color. if you work in an office, the black version will be a better choice.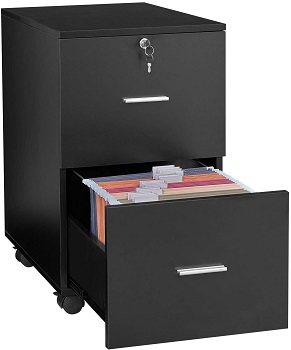 Four Wheels
This file cabinet is made of metal and engineered wood. It is a sturdy and durable product. The GreenForest features four 360° swivel wheels and there are brakes. These wheels provide smooth movement on a wooden floor or even carpet. The dimensions of the file cabinet are 15.75 x 18.9 x 26.14 inches.
Two Drawers
There are two drawers of the same size. The inner size of each drawer is 14.5 inches in depth, 9.44 inches in height and 12.5 inches in width. Load the drawers with A4 or letter-sized documents. The drawers are intended for hanging file folders.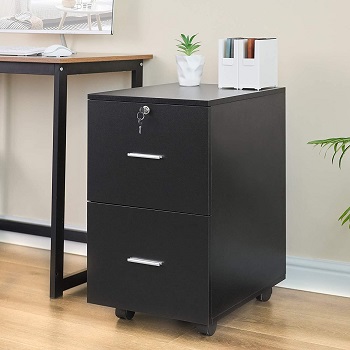 Secure Your Files
This 2-drawer wood and metal file cabinet is made of environmental MDF board and steel material. It is easy to clean this item, use the cleaning cloth and wipe it. There is a lock on the top drawer, use the key and protect your secure files from other people.
Highlighted Points:
portable vertical file cabinet
there are two drawers for letter-sized files
use the safety lock to protect your files
it's equipped with four wheels for mobility
instructions are included in the package
Best Office Wood And Metal File Cabinet
Lorell Metal File Cabinet
Affordable Item
The Lorell is an affordable wood and metal file cabinet intended for office use. You can choose between two colors, black and putty color. The model number is 14341. This budget-friendly file cabinet is compact and fits in any office. It is over 24 inches tall, 14.5 inches wide and 18 inches deep.
Glide Suspension
There are two drawers that are easy to open because of glide suspension. This metal file cabinet weighs 19 pounds when it's empty, so if you want to move it to another place, take out all files and then you can move it easily. Each drawer has a sturdy handle.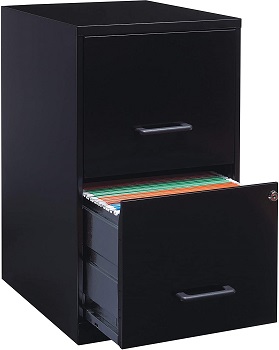 Letter-sized Files
Inside the drawers, there are tracks, so you can use hanging files for better document organization. The drawers accommodate letter-sized documents. Lock each drawer if you store secure documents. One lock is intended for two drawers.
5-year Warranty
This is a lightweight, sturdy and efficient file cabinet. The warranty lasts 5 years, therefore you can rely on this product, you can use it for many years. The instruction is included in the package, but the file cabinet comes assembled, you just need to screw in the handles.
Highlighted Points:
office metal cabinet at a reasonable price
long-lasting product with 5 years of warranty
2 drawers intended for letter-sized papers
lock the drawers with one key
choose between two colors – black and putty
Best Portable Wood And Metal File Cabinet
Devaise Metal File Cabinet
Solid Construction
The Devaise is a very popular brand that produces file cabinets. There are two basic colors, black and white. This file cabinet weighs 45 pounds and measures 23.6 inches in height, 18.9 inches in depth and 14.6 inches in width. It provides metal solid construction and ample storage space.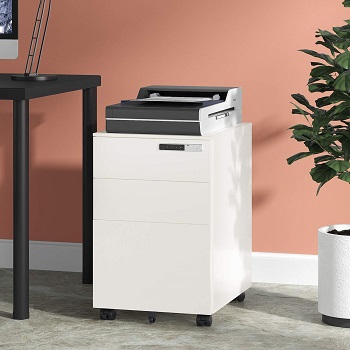 Three Drawers
This metal file drawer is equipped with two utility drawers and each drawer has 2.7 inches in height, 16.4 inches in depth and 12.2 inches in width. These drawers have full extension slides. There is one more stationery tray that provides space for other office supplies. You can lock the drawers.
Five Wheels
The wood and metal file cabinet comes fully assembled, all you need to do is install the wheels. There are five wheels, the front two wheels have braking function. The file cabinet stays stable in one place, it won't roll away. In the center of the cabinet, there is one caster that prevents tipping.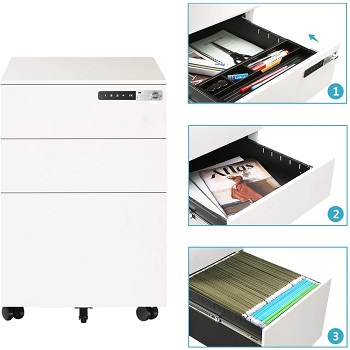 Weight Capacity
The maximum weight capacity that this metal file cabinet can bear is up to 330 pounds. The drawers have an adjustable pencil tray, you can move it wherever you want. Moreover, you can completely remove it from drawers, if it isn't necessary for your needs.
Highlighted Points:
solid metal construction
two drawers and one large stationery tray
there are five wheels, the center wheel is anti-tipping
the max weight capacity is 330 pounds
adjustable pencil tray for small things
lock your drawers with one key
Best Home Wood And Metal File Cabinet
JJS Wood File Cabinet
Sturdy Metal & Wood
The JJS file cabinet is made of engineered wood and metal parts. It's made to hold and endure. It is a vertical storage filling cabinet that is ideal for home office use. The top of the file cabinet is smooth and intended for heavy objects. You can easily clean this item.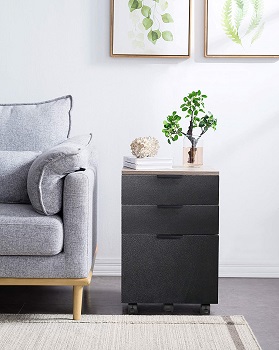 Assemble Needed
The item dimensions are 15.7 x 15.7 x 23.6 inches. You can place this file cabinet anywhere, it fits even under your work desk. In the package, you will get all parts and pieces and instructions. The product doesn't come assembled, you need to spend some time to assemble it.
Three Drawers
This wood and metal file cabinet features three drawers, there are two smaller drawers and a large one. This bottom drawer accepts A4 size and letter-sized documents. The whole cabinet is made of quality wooden MDF material and it is prepared with melamine. That protects from everyday wear and tear.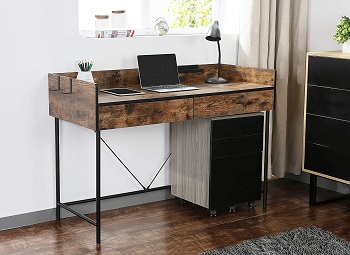 Rolling Casters
There are four rolling casters and two front casters are lockable. You can put your scanner, printer or something else on the top of the cabinet. It is easy to clean the item, use the wet cleaning cloth and wipe it. The JJS file cabinet comes in black and brown color.
Highlighted Points:
small home office file cabinet
two small drawers and a large one drawer
four casters with two lockable ones
made of quality wooden MDF and metal
the assemble is required
Things To Know About Wood And Metal File Cabinet
In this part of the article, you can find some useful information about wood and metal file cabinets. It will help you with the decision, plus you'll learn more about file cabinet design, construction, drawers, portability and more.
Solid Construction – You can find different file cabinets on the market. There are four main materials: metal, wood, aluminum and plastic. The file cabinets that are made of steel and wood provide durability, they are scratch-resistant and provide a natural look.
Drawers – The number of drawers depends on many factors. If you choose the vertical file cabinet, you can have more drawers with greater depth. They are ideal for small spaces. The lateral file cabinets usually have two or three drawers and they provide wider drawers.
Extension Types – There are three main drawer extension types: 3/4 extension file drawer, full extension and over-travel file drawers. The full-extension drawers can handle more weight, you can pull them easily and have better access to the whole drawer.
Lockability – If you need to protect your files, you can choose between various file cabinet lock options. There are two main types – physical key and keypad. If the file cabinet has a keypad, you don't have to worry about keys. Just type the key code and open the drawer.
Mobile File Cabinet – For those who work in an office and share workspace and interior, the ideal option is a mobile file cabinet. Usually, this kind of file cabinet has four rolling casters. The front two casters are lockable, so the cabinet won't roll away.