Are you looking for a portable scanner for pictures?
Then you are in the right place!
Keep reading, because this review talks about portable photo scanners. They are small, light and powerful. We decide to describe some important features, find them in our buying guide. On our list of the top six photo scanners, choose the best one for your needs.
Our Top Picks
6 Best Portable Photo Scanners
Best Of Best Portable Photo Scanner
Epson WorkForce ES-60W Scanner
Convenient Item
The Epson WorkForce ES-60W is a small and portable photo scanner. It weighs less than a pound and has 1.8 x 10.7 x 1.3 inches. You can store it wherever you want and carry it with you in your office or home. This scanner is ideal for on-the-go scanning.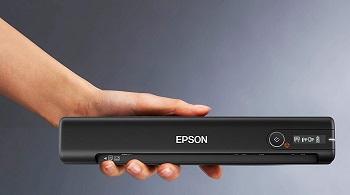 Wireless Scanning
It scans paper, receipts and photos. Choose between wireless battery or USB power. The Epson personal document scanner recognize when it is in wireless or USB mode. You can wirelessly scan to Mac, PC, iOS or Android devices. This scanner is great for business people who travel a lot. The scanning speed for a single page lasts 4 seconds.
A4 Format
The Contact Image Sensor produces 600 dots per inch. The Epson portable scanner has the ability to scans document or photo of A4 format, that's 8.5 x 11 inches. Moreover, it is capable to scan very long documents of up to 72 inches.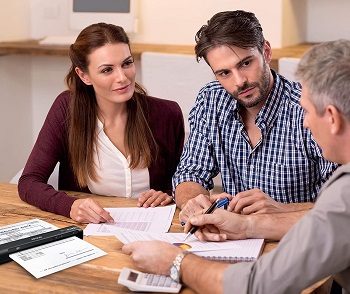 Automatic Features
The integrated auto-color detection recognizes the greyscale, color and black and white photos. The auto-crop feature will remove the blank or black space around your photos. Also, it will automatically rotate the photo. There is punch hole removal which is useful for documents.
Highlighted Points:
fast, small, light and portable scanner
it scans a single page in 4 seconds
built-in Optical Character Recognition
automatic features improve photo quality
ability to scan A4 and extra-long documents
Best Flatbed Portable Photo Scanner
Canon CanoScan LiDE 400 Scanner
Affordable Scanner
The Canon CanoScan LiDE 400 is a stylish flatbed scanner. But it's portable because of its size and weight. There are 14.5 x 9.9 x 1.7 inches and 3.6 pounds. This portable picture scanner works well with Windows and Mac operating systems. The price is affordable.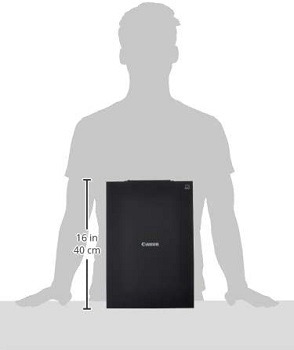 USB Type-C Port
The acceptable paper sizes are 8.27 x 11.69 or 8.50 x 11.69, which is letter-sized documents or photos. The package includes a USB Type-C cable and with this cable, you can power and transfer scans simultaneously. With the Send to Cloud feature, upload the photos to your cloud service.
High-Quality Scanning
This portable flatbed scanner for pictures delivers high-quality scans. Its resolution is 4800 x 4800 dpi. If you want to have detailed photos, this scanner is a great device for you. Furthermore, you can improve your scans with image enhancement, which includes color restore, dust removal, and other options.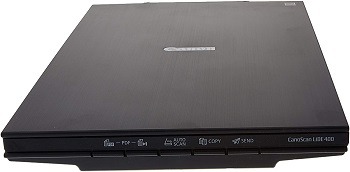 Upright Position
The Canon CanoScan includes a stand that enables vertical scanning. If you have limited space on your desk, set it upright. The interface has five EZ buttons, it's simple to use this scanner. The auto-scan mode automatically adjusts settings when you insert a document or photo.
Highlighted Points:
scan in two positions – horizontal and vertical
portable flatbed scanner with 4800 dots per inch
USB Type-C cable provides power and transfers
five EZ buttons on the interface for easy scanning
Auto-scan mode automatically adjusts settings
send your scans to cloud services
Best Handheld Portable Photo Scanner
ClearClick Portable Photo Scanner
Bundled Software
The ClearClick is a handheld photo scanner intended for photo and document scanning. It is a compact and lightweight item. The package includes a scanner, user's manual, software download card, carrying case and USB cable. The warranty lasts a year.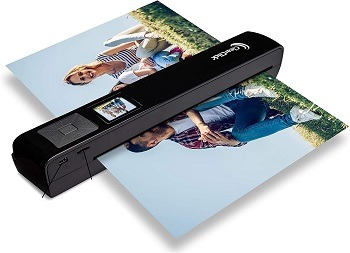 Battery Or USB
You can use a USB cable or three AA batteries. The lithium battery is recommended. It features an auto feeder, but you can insert one by one photo into the device. The maximal paper/photo size is 8.5 inches in width and 47 inches in length. You can scan panoramas.
1.4-inch Screen
You can convert your scans to JPG and PDF formats, the max resolution is 1200 dots per inch. The ClearClick provides fast scanning, it takes 3 seconds for a photo. You can immediately preview the scans on the 1.4-inch LCD screen.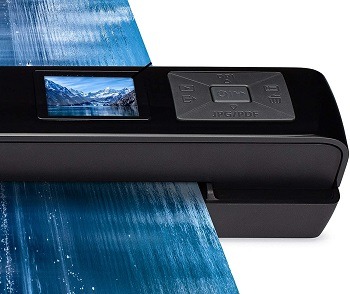 MicroSD Card Optional
There are two ways to use this portable photo scanner. The first way – you can scan to the MicroSD memory card. Then the computer isn't needed, you can use the scanner anywhere and save your scans to the memory card. The second way is to scan directly to the PC, then you don't need batteries or a memory card.
Highlighted Points:
best handheld photo scanner for panoramas
it runs on 3 AA batteries or a USB power adapter
built-in auto feeder scans 8.5 x 47-inch photos
scan your photos to memory card or directly to PC
high-quality scans of up to 1200 dots per inch
Best Office Portable Photo Scanner
Brother DS-620 Photo Scanner
Easy Portability
The Brother DS-620 is a compact and lightweight mobile scanner. It measuring 12 inches in length and weighing less than a pound. It is powered by a USB cable, you can connect it to your PC, laptop or tablet. Use it for papers, receipts, plastic and photos. It manages documents of up to 8.5 to 32 inches.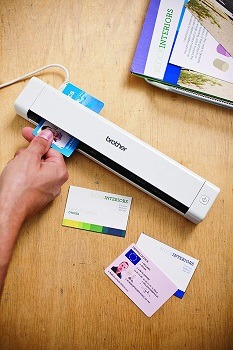 Industry-standard Drivers
The dimensions are 2.10 x 11.40 x 1.40 inches This portable scanner for pictures is equipped with industry-standard drivers, so it supports Mac, Windows and Linux OS. The carrier sheet is included, so you can scan delicate and old photos without worry.
8 Pages Per Minute
This is one of the best office scanners for small businesses. The DS-620 scans at up to 1200 x 1200 dots per inch (interpolated) and 600 x 600 dpi (optical). It achieves a speed of up to 8 pages per minute. This scanner allows you to different destinations, like email, shared folders, etc.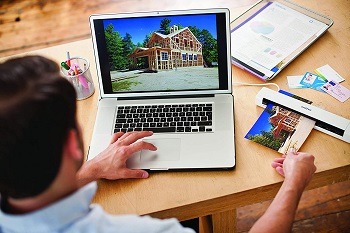 Merge Files
With the bundled software, you can scan, convert, organize and share PDF files. The DS-620 is capable to merge multiple files into one PDF file. The OCR software is integrated. Moreover, you can scan and export information from business cards.
Highlighted Points:
perfect scanner for limited-space office
it scans photos, receipts, business cards, documents
the interpolated resolution is 1200 dpi
integrated OCR software for searchable file creating
at a single minute, it scans 8 pages
Best Home Portable Scanner For Pictures
Plustek Ephoto Z300 Scanner
Documents & Photos
The Plustek is a compact home device specially designed for photo scanning. Its dimensions are 1.14 x 0.63 x 0.62 inches. It is lightweight, so you can easily carry it with you. The Plustek works well with Windows and Mac OS. Besides the photos, it scans documents, too.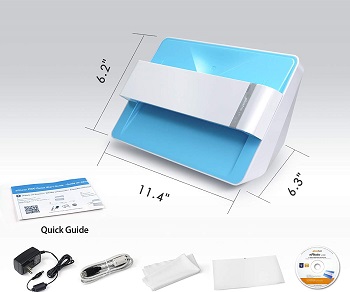 Supported Sizes
This portable photo scanner supports 3 x 5, 4 x 6, 5 x 7, 8 x 10 photo sizes. Plus, it's able to scan the letter-sized paper and A4 format. The maximal optical resolution is 600 dots per inch, but there are two settings – 300 and 600 dpi. Choose the lower resolution for document scanning.
Image Enhancement
It is a fast photo scanner, it takes 2 seconds for 4 x 6 photo and 5 seconds for 8 x 10 photo and documents. The integrated software automatically detects the paper size, then crop blank area and rotate the photo. The CCR sensor is included, it has the highest degree of reproduction for photos.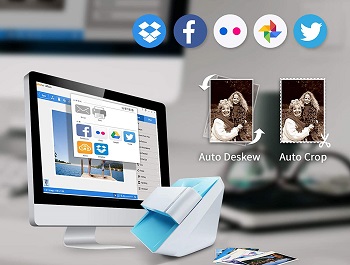 Various File Formats
After scanning, you can save photos in various file formats, like JPEG, PDF, TIFF and others. The Optical Character Recognition allows you to convert your scans into searchable PDFs. The Plustek uses a special soft roller single sheet feeding design that protects old photos.
Highlighted Points:
lightweight and compact home scanner
it scans photos in 2 seconds only
save your scans in multiple file formats
covert the photos into searchable PDFs
the maximal optical resolution is 600 dpi
special design that protects old photos
Best Small Portable Scanner For Pictures
Doxie Go SE Photo Scanner
Rechargeable Battery
The Doxie Go SE scanner fits anywhere, it is a portable receipt scanner type. It measures 12.25 x 2.25 x 1.75 inches. It has the ability to scan photos, documents and receipts. It is a battery-operated scanner and when the battery is fully charged, it scans up to 400 pages.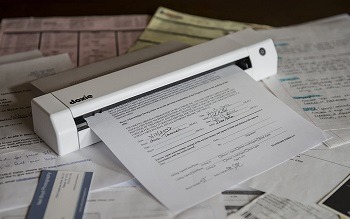 Expandable Memory
The expandable memory allows you to store up to 4000 photos before you need to sync. Then connect the handheld scanner with your computer, laptop or tablet with an integrated USB port. The Doxie isn't the fastest scanner, it scans 7 photos per single minute.
Auto-color Detection
The Doxie Go SE is able to scan A4 papers at 600 dots per inch. The auto-color detection distinguishes between black & white and color photos and automatically rotate the photos. There is also an auto-crop feature that removes the black and blank space around your photos.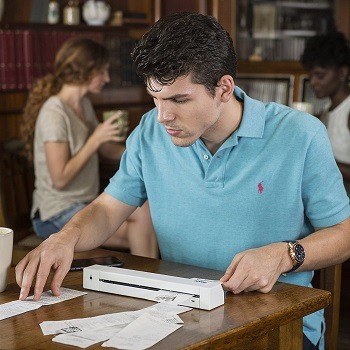 Deskew The Photos
Moreover, the scanner will automatically deskew the photos. The OCR software is integrated, which means you can organize your photos better by creating searchable PDFs and editable text documents. With integrated software, you can upload your scans to cloud services.
Highlighted Points:
user-friendly design – no need for special drivers
charge the battery and use the scanner anywhere
ABBYY OCR technology recognizes the text documents
automatically deskew, crop and detect colors
send your scans to Google Drive, OneDrive, DropBox
Things To Know About Portable Photo Scanner
These scanners have different dimensions, designs and features than scanners that are intended for receipts and documents. Check out what you need to look for and buy the most suitable scanner for your photos.
Resolution – These portable scanners should be high-quality photo scanners because the photos require higher resolution than documents. The resolution of 600 dots per inch is good for photos, but consider 4800 or higher resolution if you want to have outstanding scans.
Scanner's Design – The portable photo scanners come in many sizes. You can choose between flatbed and handheld scanners. The flatbed scanners offer better quality and they are great for old photo scanning. The handheld scanners are more practical and portable.
Image Enhancement – Many new high speed photo scanner models have integrated image enhancement. That means you don't have to edit your photos lately. That software has the ability to automatically crop, rotate, remove blank space. detect photo color and adjust settings.
Power Supply – These scanners use USB cable, wireless scanning and battery. The scanners with USB Type-C needs just this cable for power and transfers. If you choose a wireless scanner, you can send your scans to the remote devices. Use rechargeable batteries, so you don't have to buy new batteries.
Versatility – It is a very good idea to choose a versatile photo scanner. Besides the photos, it offers the ability to scan business and ID cards, documents, receipts and so on. It is important the check the minimal and maximal size of paper/photo that the scanner can handle.
Final Verdict
We recommend the Epson WorkForce ES-60W as the best portable photo scanner. It scans receipts, documents and photos, it provides fast scanning and has OCR software integrated. If you looking for a home scanner, check out the post about the best home photo scanners. For those that required automatic devices, the review of a high speed automatic scanner will provide useful information.