Do you want to scan your personal photos?
Then you need to consider a home photo scanner.
There are two main parts to this article. We suggest that you read the buying guide first, there is some basic information about a good photo scanner. Then the second part is the list of the best 6 models on the market.
Our Top Picks
6 Best Home Photo Scanners
Best Of Best Home Photo Scanner
Epson FastFoto Scanner
Fastest Scanner
The Epson FastFoto FF-680W is a wireless fast photo scanner. Actually, it is the world's fastest photo scanner that you can find on the market. For a single photo, it needs only a second. It delivers 300 dots per inch. This sheet-feed scanner measures 6.7 x 11.7 x 6.9 inches.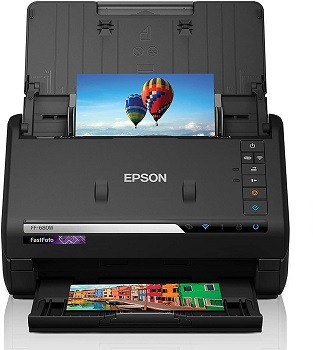 Single-Step Technology
The package includes the user's manual, super-speed USB 3.0 cable, AC adapter with power cable, carrier sheet and a cleaning cloth. Use this scanner for photos, polaroids, panoramas, documents, postcards, etc. The Single Step Technology captures both sides of the documents.
Quality Modes
This home photo scanner offers three quality modes, choose between 300, 600 and 1200 dots per inch. The Epson handles multiple sizes in one batch. You can use both connectivities – wireless and USB. The software is integrated so you can scan, organize and share your scans.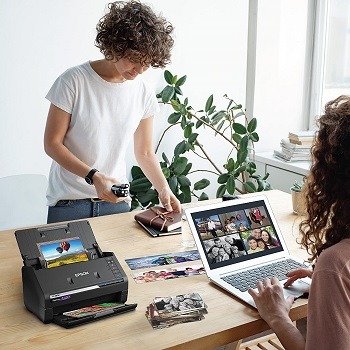 Picture Imaging System
There is included ScanSmart software with Optical Character Recognition. With OCR you can convert your scans into searchable and editable formats and have your documents and photos organized. The Picture imaging system provides auto enhancement like auto-crop, deskew, rotate, color restoration, etc.
Highlighted Points:
the fastest photo scanner in the world
three quality modes – 300, 600 and 1200 dpi
ScanSmart software with OCR feature
use USB or wireless connectivity
picture imaging system improves photo quality
Single Step technology provides duplex scanning
Best Automatic Home Photo Scanner
Canon CanoScan 9000F Scanner
Flatbed Scanner
The Canon CanoScan 9000F is a flatbed scanner that uses white LED lights and has low power consumption. The package includes a scanner, a user's guide, USB cable, power cord, included software and warranty card. It measures 18.9 x 10.7 x 4.4 inches and weighs 10 pounds.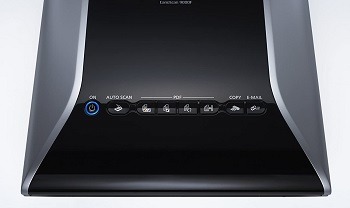 High Resolution
This high-quality photo scanner features a resolution of up to 9600 dpi and 4800 dpi for reflective media. The color depth is 48-bit, so you'll have accurate color reproduction. The maximal interpolated resolution is 19200 dpi. You can scan film, slides and negatives. It scans 35mm films.
Fare Level 3
The Canon home photo scanner is compatible with Mac and Windows operating system. Use the Auto-scan feature, it will automatically adjust the settings depends on what you need to scan. The Fare Level 3 automatically removes dust and scratches, also it corrects backlight and fading.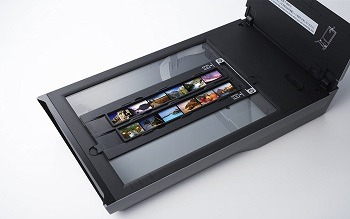 Photo & Document Fix
The Auto-document fix analyzes and corrects the text and image automatically. You'll have clear and quality scans. On the front of the device, there are seven EZ buttons for control. There is one more automatic feature, the Gutter Shadow Correction removes the shadow after you scanning book pages.
Highlighted Points:
superb scanning resolution of up to 9600 dpi
Fare Level 3 removes dust and scratches
the auto-document fix corrects text and image
the auto-scan feature automatically adjusts the settings
seven EZ buttons for fast scanning
good for films, negatives, photos and documents
Best Negative Home Photo Scanner
Epson Perfection V600 Scanner
Negative Holders
This is another flatbed photo scanner specialized for photos, negatives, slides, film and documents. It comes with holders that allow you to scan negatives and slides. The dimensions of this home photo scanner are 19 x 11 x 4.6 inches. This item is powered by USB.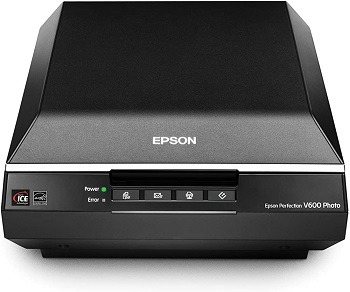 Digital ICE Technology
The Epson Perfection V600 is the best home negative scanner because it delivers outstanding resolution, there are 6400 x 9600 dots per inch. The scanning area has 8.5 x 11.7 inches, so it's good for letter-sized papers. The Digital ICE technology for film removes dust and scratches. Moreover, it removes tears and creases from photos.
Photo Fix Feature
The Photo fix feature restore faded colors with just one touch. This photo scanner for home use has ReadyScan LED light, which means there is no warm-up time. You can use the scanner whenever you need it. There is integrated ABBYY's FineReader with OCR.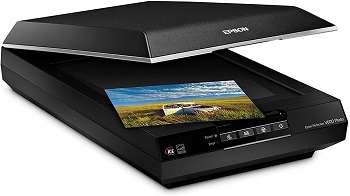 Automatic Scanning
With Optical Character Recognition software you can convert your scans into searchable and editable formats, like PDFs, Word or Excel. There is a user-friendly design with four customizable buttons for scan, copy, scan to email or create PDF formats. Moreover, the scanner features fully automatic scanning.
Highlighted Points:
built-in Transparency Unit for negatives and slides
high resolution of up to 6400 x 9600 dpi
Digital ICe technology corrects film and photo imperfections
user-friendly design with four buttons
integrated ABBYY's OCR technology
Best Portable Home Photo Scanner
Plustek Photo Scanner Z300
Compact Scanner
The Plustek Photo Z300 scanner si designed for fast photo scanning. It features a soft roller single sheet feeding design that protects your old photos. This scanner supports Mac and Windows operating systems. It measures 1.14 x 0.63 x 0.62 inches. It fits anywhere.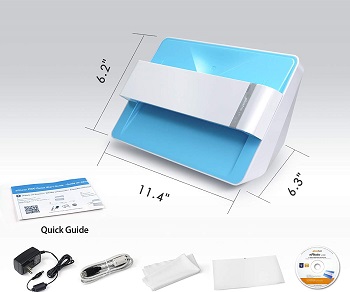 Letter-sized Photos
It is good for receipts, photos, letter-sized/A4 documents. The Plustek 4×6 photo scanner also supports 3 x 5, 5 x 7, 8 x 10 photo sizes. You can choose the resolution, there are two settings – 300 dpi and 600 dpi. It takes only 2 seconds for scanning photos.
Automatic Features
The CCD sensor provides that resolution. The Plustek home photo scanner has integrated software that automatically detects document or photo size, rotates it and crops blank areas. Moreover, it auto-deskew and merge photos, so you don't need to edit them later.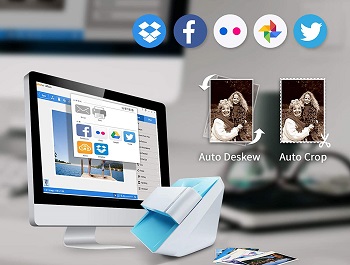 OCR Technology
You can share your scans to Facebook, Google Drive, DropBox, Twitter, email. Share your memories with your friends and family. The OCR software allows you to convert your photos and organize them. The Advance editing function restores the original photo quality.
Highlighted Points:
compact photo scanner for 4 x 6 photos
it scans documents, photos, receipts, etc.
Advance editing tool restores old photo quality
share your scans to cloud service, folder, email
two resolution settings – 300 and 600 dpi
it needs 2 seconds for photo scanning.
Best Handheld Home Photo Scanner
ClearClick Photo Scanner
In The Box
The ClearClick is a handheld photo scanner for home use. The box includes a scanner, a user's manual, CD with software and USB cable. You can also buy a microSD card – max is 32G and 3 AA batteries. The manufacturer recommends lithium batteries.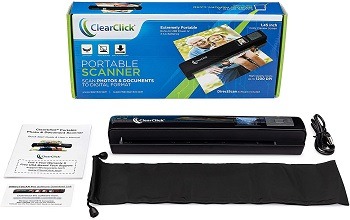 1.4-inch Screen
On the device, there is a small 1.4-inch LCD screen so you can preview scans. The ClearClick has an auto feeder, but it can take only 1 photo. The maximal document or photo size is 8.5 inches in width and 47 inches in length. That means you can scan panoramas.
1200 Dots Per Inch
The integrated software allows you to convert scans into searchable and editable formats. The delivered resolution is up to 1200 dots per inch. The price of this scanner is affordable and the warranty lasts 1 year. If you have any questions, call ClearClick support.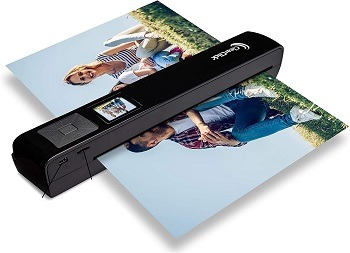 Two Ways
You can use this home photo scanner in two ways. With USB cable or with batteries. If you buy a microSD card, you can save your scans on it. The computer isn't required. If you want to scan directly to a PC, use the USB cable, connect it to the scanner and PC and then you don't need batteries or a memory card.
Highlighted Points:
handheld photo scanner with a 1.4-inch screen
the auto feeder holds up one photo
it accepts very long documents or photos
the max resolution is 1200 dpi
use USB cable or memory card
Best Professional Home Photo Scanner
Fujitsu ScanSnap Photo Scanner
Compatibility
The Fujitsu ScanSnap iX500 image scanner is a sheet-feed scanner. This model is pretty new and has an expensive price. The dimensions are 15.5 x 10.9 x 9.8 inches. It uses a USB cable, so connect it easily to your laptop or computer. It works with Mac, Linux and Windows OS.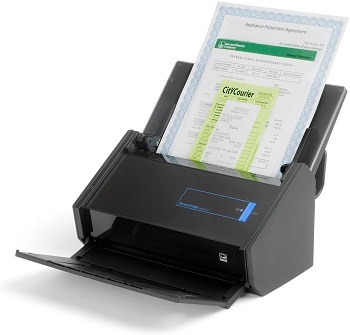 A3 Format
Moreover, you can wirelessly scan to your iPad/iPhone or Android devices. The Fujitsu has the ability to scan everyday documents, receipts, photos and business cards. You can easily scan A4 formats and even A3-sized papers. The scanning speed is 25 pages per minute.
Duplex Scanning
When you load the documents into this home photo scanner and printer, you can press the duplex scan button, so the device will scan both sides of the documents immediately. The carrier sheet is included in the package, use it for newspapers, magazines and photographs. The resolution is 1200 dpi.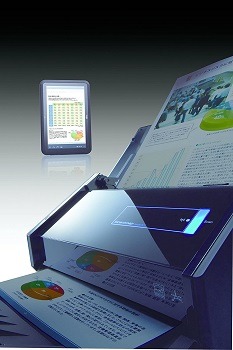 Intuitive Menu
On the Quick menu, you can add and organize your favorite and most common settings. This scanner is very good fro receipt scanning, there is a ScanSnap Receipt feature, you can easily extract information from receipts. This feature supports multiple languages.
Highlighted Points:
a sheet-feed scanner that works wirelessly
link directly to your smartphone
newly-developed GI processing engine
ScanSnap Receipt allows you to extract information
the resolution is 1200 dots per inch
use the carrier sheet for photos
Things To Know About Home Photo Scanner
The home photo scanner should have a higher resolution than document scanners. Which other features are important, check below. This information will help you to choose the best model.
Scanner Resolution – The resolution is measured in dots per inch. Choose the home scanner with at least 300 dots per inch. If you want to have more quality scans, then you need to consider 600 dpi and even more than that. Check out the color depth, too.
Flatbed Or Sheet-feed Scanner – There are few scanner types on the market. You can choose between flatbed, sheet-feed and so-called wand scanners. The flatbed scanners provide a high resolution, these are good photo scanner for old photos.
Photo Enhancement – Before purchase, check if your scanner has integrated software. Then look at the software features. It is useful if the scanner has auto-crop, auto-rotate, resize, color detection, blank area removal and other functions. You don't have to edit photos later.
Automatic Document Feeder – Some photo scanners even features automatic feeder for photos. That means you can load a stack of photos into the feeder, press the scan button and leave the device to scan all photos. If you have old and delicate photos, don't use the feeder.
Compatibility – Not all photo scanners are compatible with all operating systems. If you work on Mac OS, check if your favorite scanner is compatible with it. But almost all scanners work with Mac and Windows operating systems. The fewer models work with Linux OS.
Final Verdict
All of these home photo scanners have great features, but we recommend the Epson FastFoto ES-400 scanner. This is the fastest photo scanner on the market, features ScanSmart software with OCR and image enhancement. If you want more mobile scanner, check the review of a portable photo scanner. For those who require high quality, there is a post about a professional photo scanner.