Do you want to digitalize your old photos?
That will preserve your precious photos from damage.
In this review, we talk about the best photo scanners for old photos. They have a specific design that protects your photos, high resolution and many other amazing features. Learn how to pick the best scanner for your needs in our buying guide.
Our Top Picks
6 Best Photo Scanners For Old Photos
Best Of Best Photo Scanner For Old Photos
Epson FastFoto Scanner
Fastest Scanner
The Epson FastFoto 680W scanner is currently the fastest document scanner in the world. It takes a second to scan a photo at 300 dpi resolution. If you struggle with large stacks of photos, this scanner is the perfect solution for that issue. The price is a bit higher.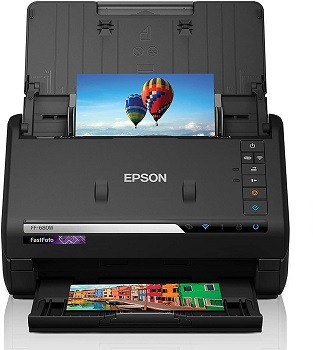 Automatic Document Feeder
It easily deals with a large volume of photos on daily basis. This the best photo scanner for old photos also has an automatic document feeder. The ADF provides batch scanning. If you scan at 300 dpi, Epson is able to scan 45 letter-sized pages per single minute and 90 photos per minute.
Flexible Connection
Of course, if the speed isn't the most important feature for you, you can scan your old photos in 1200 dots per inch. This resolution delivers more detailed and accurate scans. The Epson photo scanner for old photos has flexible connectivity – USB connection and WiFi.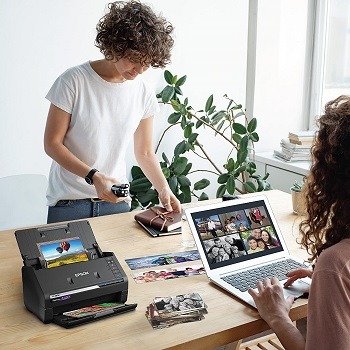 Single-Step Technology
The Single Step technology allows you to scan a document from both sides at the same time. You don't have to flip over the paper manually. The SafeTouch technology preserves your old photos from any damage. Furthermore, there is a photo enhancement technology.
Highlighted Points:
the fastest photo scanner in the world
the ability to scan a stack of photos
use USB connection or Wi-Fi
Single-Step Technology for duplex scanning
convenient photo editing software
SafeTouch technology protect your old photos
Best Automatic Photo Scanner For Old Photos
Canon CanoScan LiDE 700F Scanner
Three Positions
The Canon CanoScan LiDE 700F has an elegant design, it is a flatbed scanner. It measures 16.1 x 11.5 x 1.75 inches and it weighs 4.6 pounds. It is able to work in three different positions: portrait, landscape and upright position. If you don't have much space on your desk, set it upright.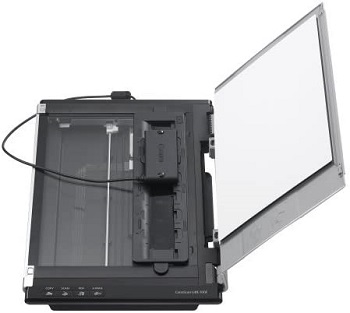 Auto Scan Mode
This is a USB powered device, use the USB 2.0 Hi-speed connection. Its maximal resolution is pretty high, there are 9600 dots per inch. You'll have high-quality photos. The auto-scan mode will automatically detect what you want to scan, adjust the settings and save the scan as a file.
Four EZ Buttons
These four EZ buttons make the scanning process easy and fast. Use them for scan, copy, create email attachment or PDF files. For letter-size color scanning, it takes approximately 12 seconds. Besides the resolution, the color depth is also high, it's 48-bit.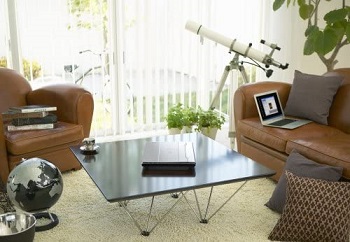 Green Initiative
This high color depth provides over 281 trillion colors. The Canon CanoScan LiDE 700F has low power consumption, so you don't have to worry about bills. You can use it for documents, business cards, photos and even books. This fast photo scanner makes your old photos look brand new with a film scanning guide frame.
Highlighted Points:
it uses USB 2.0 Hi-speed connection
the optical resolution is 9600 dots per inch
four buttons for scan, copy, create email and PDF files
high color depth – 48-bit
an energy-efficient device with low consumption
it works in three positions
Best Handheld Photo Scanner For Old Photos
Munbyn Photo Scanner
Affordable Price
The Munbyn is an affordable handheld document scanner intended for papers, photos, old photos, receipts, etc. It is a small device, you can carry it with you in your briefcase, purse and store it in your drawer. It features 10.04 x 1.1 x 0.98 inches. This scanner works as a wireless, battery-operated or USB-powered device.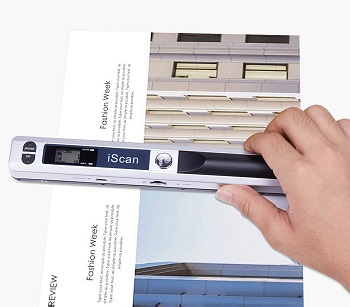 Black & White Photos
It supports different photo or document sizes, the maximal size is 8.5" in width and up to 9.8 inches. The Munbyn photo scanner scans color photos and even old photos in black and white colors. Set the resolution setting of scanning copy, select between 300, 600 and 900 dots per inch.
Compatibility
Use 900 dpi for photos and 600 dpi for documents. This photo scanner for old photos takes 5 seconds to scan a photo. After scanning, connect the scanner to your computer and transfer photos. It is important to note that the Munbyn is compatible with Mac, Windows and Linux OS.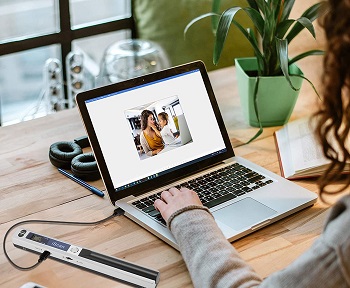 OCR Software
The Optical Character Recognition software is bundled. You can convert your scans into searchable PDF files and editable Word or Excel files. That will improve the organization of your scans. Moreover, you can share your old photos with your family and friends thanks to this best photo scanner for old photos. The memory card of 16G is included.
Highlighted Points:
portable handheld photo scanner for old photos
select between three resolution modes
the maximal photo size is 8.5 x 9.8 inches
for a single photo, it takes 5 seconds
works with Mac, Linux and Windows OS
built-in Optical Character Recognition
Best Portable Scanner For Old Photos
Plustek Photo Scanner
Compact & Lightweight
The Plustek ephoto Z300 is a scanner specially designed for photos. Its size is 1.14 x 0.63 x 0.62 inches. It is compact and lightweight. The Plustek is compatible with Windows and Mac operating systems. It is powered by USB. Connect it to your computer and transfer photos quickly.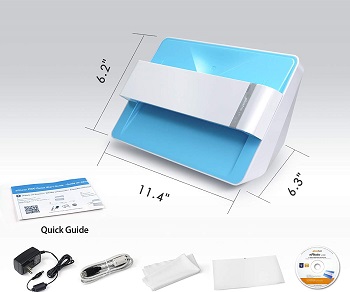 4" x 6" Photos
The most common size for most photographers is 4 x 6 inches. This portable photo scanner for old photos has a sheet-fed mechanism and it's a fast photo scanner, it scans photos in 2 seconds only. Moreover, if you have some documents to scan, this photo scanner is able to scan the A4 format in 5 seconds.
Photo Correction
The Plustek isn't intended for professional use, but it will digitalize your photos at 600 dots per inch. When you put the photos into the feeder, the software will automatically detect the paper size, crops blank area, deskew and crop it. You don't need to edit each photo by yourself.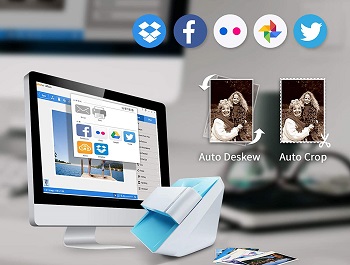 No Damage
The Plustek ephoto Z300 is designed to protect your photos, it won't damage your old photos. It features a unique feed design. The drive wheel brings the photo into the best photo scanner for old photos from the back of the photo and the front wheel doesn't exert force on your photos.
Highlighted Points:
compact and portable photo scanner
restore the quality of old photos
automatically improves the scans
the resolution is 600 dots per inch
unique design which protects old photos
Best Flatbed Scanner For Old Photos
Epson Perfection V600 Photo Scanner
Transparency Unit
The Epson Perfection V600 is a quality photo scanner for negatives, documents, film and photos. This is a flatbed scanner powered by USB. Its dimensions are 19 x 11 x 4.6 inches. There is an integrated Transparency Unit so you can scan slides, negatives and medium-format panoramic films.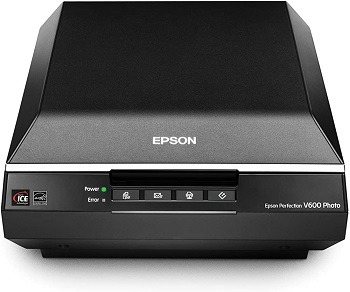 High Optical Resolution
This photo scanner for old photos has a high optical scan resolution of 6400 dots per inch. It produces quality digitalize representations of your old photos. With Digital ICE technology, this scanner can clean up older photos from scratches and dust.
ReadyScan LED Technology
The Epson Perfection has practical holders for photo negatives and old photo slides scanning. The exclusive ReadyScan LED technology increases productivity and energy efficiency. The device doesn't require warm-up time. Use four buttons for scan, copy, scant to email and create PDFs.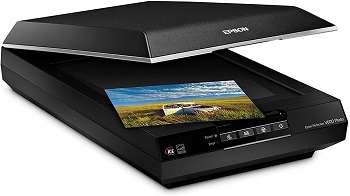 TWAIN Drivers
The included Optical Character Recognition software allows you to easily convert your scans into searchable and editable formats. You can connect this large format negative scanner to Mac and Windows PCs through a USB cable. The Epson supports TWAIN drivers.
Highlighted Points:
it delivers an extraordinary resolution of 6400 dpi
removes the dust, scratches, tears and creases from photos
Easy Photo Fix restore old photo quality
built-in Transparency Unit for slides and negatives
it supports OCR software
ReadyScan LED technology for more efficiency
Best Home Scanner For Old Photos
HP ScanJet Photo Scanner
Average Price
The HP ScanJet G3110 is intended for photos, slides, documents and negatives. This flatbed scanner has a stylish design and user-friendly interface. Its size is 12.01 x 17.91 x 2.76 inches and it weighs 6 pounds. This photo scanner for old pictures has an average price for this kind of device.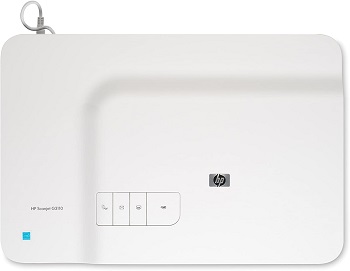 One-touch Buttons
On the interface, there are one-touch buttons for scan, copy, scan to email and scan to PDFs. The scan area accepts the paper or photo of 8.5 x 11.7 inches, which is letter-sized/A4 documents or photos. The HP ScanJet uses the USB cable for power and connection.
4800 Dots Per Inch
Because of the high resolution of 4800 dots per inch, this is the best home photo scanner to scan old photos. The color depth is 48-bit and it delivers over 281 trillion colors. The integrated software will automatically remove dust, scratches and other imperfections from your old photos.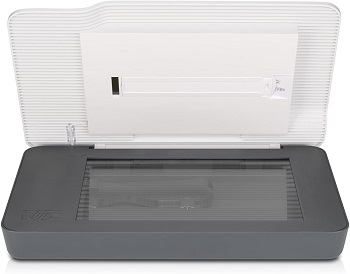 HP Photosmart Software
There is a built-in transparent media adapter into the scanner lid, which allows you to scan 35mm film negatives. The HP Photosmart software removes red-eye from photos, improves image quality, restores faded colors and brings out details in darker photos.
Highlighted Points:
flatbed scanner with up to 4800 dpi
works with Mac and Windows
scan and organize your photos with one-touch buttons
it automatically improves your photo's quality
suitable to scan 35mm film negatives
convert your photos into searchable files
Things To Know About Photo Scanner For Old Photos
The photo scanners for old photos have some different features than scanners for documents and papers. Before buying, check out these characteristics below, they are essential for each photo scanner.
Scanner Type – There are three scanner types – flatbed, sheet-fed and handheld scanners. The flatbed scanner provides high quality, the sheet-fed scanner allows you to scan a stack of photos at the same time. The handheld type is a portable photo scanner, it is practical for use.
Scanner Resolution – The resolution is measured in dots per inch and photo scanners offer higher resolution than those for document scanning. A higher dpi means more detailed photos. If you required very high quality, choose the scanner with 6400 dots per inch.
Color Depth – This term means the information that the scanner gathers about the photo that you want to scan. The higher the color depth, the more colors are used and the scans look much better. The 36-bit photo scanner delivers more than 68 billion colors.
Photo Editing Software – Many photo scanners, especially for old photos have integrated photo editing software. That software improves photo quality. For example, you can restore old photo quality, crop, rotate, deskew, reduce red-eye and more.
ICE Technology – The old photos are often ruined by dust and scratches. The scanners with ICE technology uses infrared light that detects dust, smudges, fingerprints and other unwanted marks. Then it sends information about defection to the scanner.
Final Verdict
Did you find the best scanner for old photos? These models above have amazing features, but we would like to recommend the Epson FastFoto scanner. It takes a second to scan a photo, it supports batch scanning and has SafeTouch technology which protects your old photos from damage. If you require higher quality, consider professional photo scanners. For designers, there is a post about photo scanners for Mac.