Are you interested in buying an htv vinyl cutter?
This is the right article for you! I'll describe 6 best models on the market and their categories so you can compare them. Also, you can read the buying guide for more specifications such as size, blade strength, pressure, etc.
Our Top Picks
Best 6 HTV Vinyl Cutters
BEST OF BEST HTV VINYL CUTTER
Cricut Maker Cutter Machine
Cuts Hard Materials And Fabric
This model is great if you want to be able to cut hard materials such as wood, vinyl stencil, fabric, leather, vellum, etc. It's a great vinyl stencil maker with a knife blade that makes precise cuts. In case you need to cut fabric, you can use a rotary blade specifically made for that.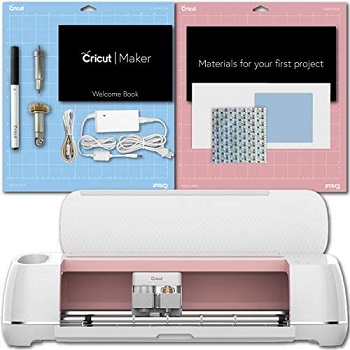 Full Tool Kit
Besides rotary and knife blades, this htv vinyl cutter includes a fine point pen with housing, spatula, scraper, scissors, sharp hook tool, and needlepoint tweezers. Materials included are FabricGrip and LightGrip mats that are 12" long and wide. The maximum cutting width is 10". The blade is auto adjustable.
Pre-Installed Designs
Also, you'll get the USB cable and power adapter. The model comes with the Cricut Design Space software which already includes 50 designs and 25 sewing patterns. The bundle also includes 3 sheets of htv vinyl, 8 sheets of standard vinyl, 2 transfer papers, and a starter guide book.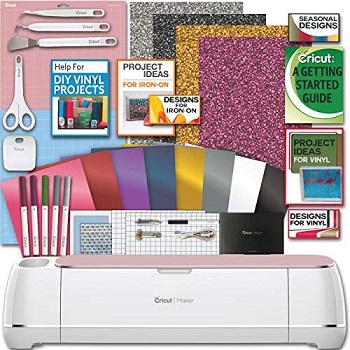 Mac And Windows Software
The unit has built-in Bluetooth so you can connect it with any device- phone, tablet, and computer. Therefore, you can work from your phone from anywhere. The software is suitable for both Mac and Windows, and it can work with SVG, JPG, PNG, BMP, and GIF.
Highlighted Points:
knife blade for wood, leather, vellum, stencil
rotary blade for fabric
Cricut Design Space software for Mac and Windows
Bluetooth technology
full accessories kit
BEST SMALL HTV VINYL CUTTER
Cricut Joy Cutting Machine
Sketching And Cutting
This htv vinyl cutter is really small and suitable for the home. It can cut over 50 materials and it's great for doing crafts. It comes with a pen and blade that can switch for easy cutting and sketching. This mini vinyl cutter works with Cricut smart materials.
Works With Smart Materials
That means continuous cutting of material that's up to 4 ft long and repeated cutting up to 20 ft. You can use other materials such as Cricut Infusible ink, cardstock, insert cards, Cricut Joy cutting mats, and card mats. It doesn't require cutting mats.
Many Available Designs
The Cricut Design Space software works on both Mac and Windows operating systems. The software comes with already created designs you can use. You'll also get a monthly subscription to the Cricut Access library of over 100 000 designs available for download and use.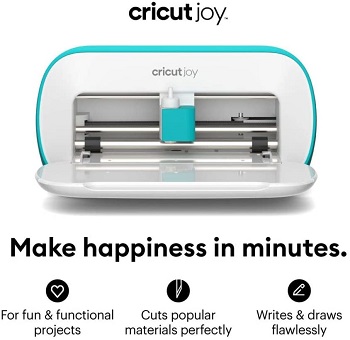 Cutting Width And Bluetooth Connection
Besides software, the machine includes a fine point blade and housing, a grip mat that's 4.5" long and 6.5" wide, and a power adapter. The maximum cutting width is 5.5" so it's suitable for doing small signs, letters, monograms, and other projects. Bluetooth connection allows wireless transfer of images from computer to the machine.
Highlighted Points:
cuts over 50 materials
membership to Cricut Access
5.5" maximum cutting width
blade and pen included
Cricut Design Space for Windows And Mac
BEST CRAFT HTV VINYL CUTTER
Silhouette Cameo 4 Vinyl Cutter
Detects The Tool
This htv vinyl machine is having a dual carriage that allows tool-type detection. It can a smart system with sensors that are detecting which tool you are using and the according cut settings are automatically set. Therefore you don't have to adjust cutting speed and pressure manually.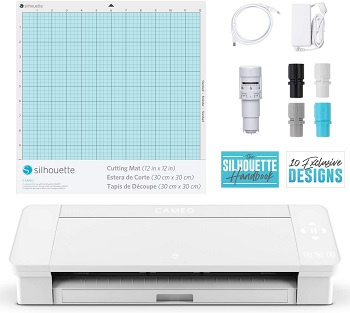 Clear Cuts For Next Projects
Another user-friendly feature of this htv vinyl cutter is the built-in cross-cutter that's allowing clean and straight edge cut on the vinyl roll for the next project. All settings and control panels are available on the touchscreen panel with a backlight for easier navigation.
Two Speed Settings
The craft vinyl cutter machine has two motors which allow the blade to cut at two different speeds. The unparalleled speed is provided with carriage one which is operated by a solenoid motor and it's suitable for smooth cuts. The second carriage is run on a different motor that provides high power and makes strong cuts.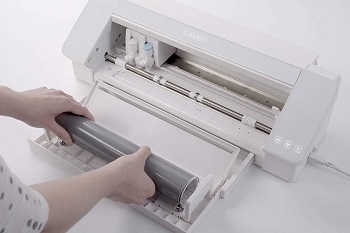 Auto Blade With Reset
This model is up to 3x faster than previous models from the same brand. The downforce is also increased by the new rotary Kraft blade that's designed to work with Cameo smart tangential technology. The auto blade is upgraded and has a single-tap reset that allows the machine to automatically adjust the blade for the next project.
Highlighted Points:
tool-type smart technology
built-in cross-cutter
each carriage has its one motor
Kraft blade
auto blade with single-tap reset
BEST FOR SMALL BUSINESS HTV VINYL CUTTER
USCutter 34" MH Vinyl Cutter
Stepper Motor And High Speed
This heat transfer vinyl cutting machine has a standard blade that runs on a Stepper motor. Maximum cutting speed is 39 ips which are very high, there this unit can be used to make cuts on hard materials such as stencil vinyl, adhesive vinyl, leather, fabric, vellum, etc.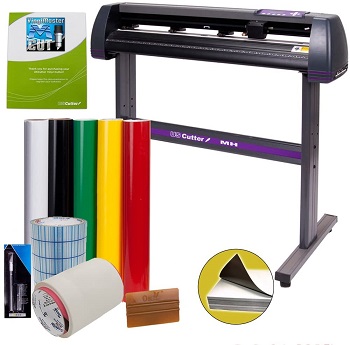 Software Compatibility
The highest cutting downforce is 12.34 ounces. The included software is VinylMaster Cut with vectorization tools, spool function, licensing, and DM-PL and HP-GL command sets.The large vinyl cutter is suitable for Windows only. The maximum cutting width is 30.63", while the maximum paper feed is 34".
Included Tools And Materials
Accessories in the package are a USB cable, power cord, squeegee blade holder, a pen with a holder, and three 45-degree blades. Materials included are 5 vinyl rolls, 2 magnetic sheets, transfer tape, and application tape. This htv vinyl cutter can cut standard vinyl, paper, craft paper, card stock, paint mask, and heat transfer vinyl.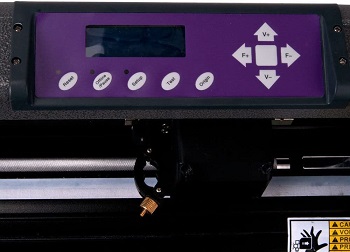 Adjustable Feed
It can't cut tint, laminate, low-intensity, and high-intensity reflective media. The paper feed has three adjustable pinch-rollers that are moving guide rail according to the paper width and they maintain the material straight and stable during cutting. Therefore you can make both large and small projects, and adjust cutting pressure and speed according to the material thickness.
Highlighted Points:
12.34 maximum downforce
39 ips maximum speed
VinylMaster Cut for Windows
three adjustable pinch-rollers
the maximum cutting width is 30.63"
BEST COMBO HTV VINYL CUTTER
Mophorn 34" Vinyl Cutting Machine
Includes Heat Transfer
This heat press & vinyl cutter combo is really user-friendly because you can immediately transfer images to the fabric such as bags, hats, t-shirts, etc. The heat press has a practical design with a swivel-design handle that can be easily moved and prevents any skin burn.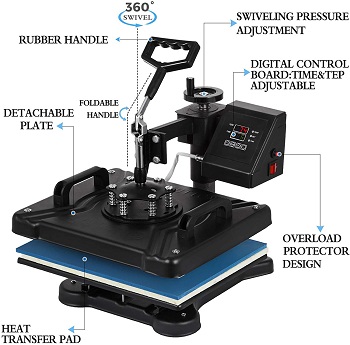 High Speed And Downforce
The htv vinyl cutting machine has a maximum paper feed of 34.3" and a maximum cutting width of 30.7". The cutting pressure ranges from 0.4 ounces to 17.64 ounces. The cutting speed of this adhesive vinyl printer ranges from 0.4 ips to 31.5 ips. Both can be easily adjusted with the LCD and control panel. Emergency restart is available.
High Repetition Accuracy
The htv vinyl cutter has a high precision cutting of 0.0004" repetition accuracy. The highest speed and pressure allow cutting of hard materials such as fabric, leather, vellum, vinyl stencil, etc. The machine has both blade and pen so it can draw and cut different projects, but it doesn't do contour cutting.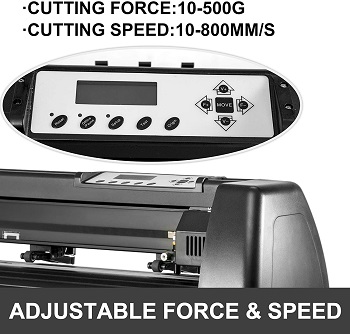 Adjustable Pinch Rollers
The feed has two adjustable pinch-rollers so the guide rail can be moved and adjusted to the paper width. You can create small, medium, and large projects. The included software is Signmaster that's not compatible with Mac OS and works only on Windows XP/Vista/7/8/10 on 32-bit and 64-bit processor.
Highlighted Points:
maximum cutting speed is 31.5 ips
0.0004" high precision
Signmaster software
heat transfer machine
adjustable paper feed
BEST COMMERCIAL HTV VINYL CUTTER
Vevor 28" Vinyl Cutter
Wide Cutting Width
This htv vinyl cutting machine has a maximum paper feed of 28" and a maximum cutting width of 24.8". The paper feed has double-spring pinch rollers and aluminum knurling stick that prevent the feed from deviating, keep the material straight and stable and adjust guide rail to material width.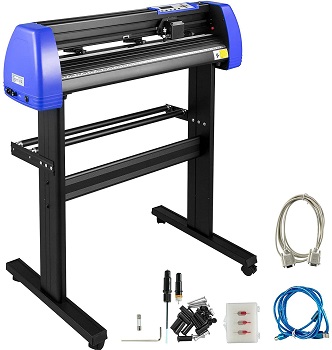 High Speed And Force
The cutting precision is 0.0004" which means this machine creates clear cuts. Its cutting speed range is from 0.4 ips to 31.5 ips and the cutting downforce range is from 0.4 ounces to 17.63 ounces. So you can create projects from stencil vinyl, vinyl, paper, vellum, leather, fabric, etc.
Efficient System With Two Tools
The system runs on a Stepper motor, has a D-typed motherboard and 128K-2M inner high-speed cache memory. This commercial vinyl cutting machine is efficient and has a fast transfer of different image formats. You can connect the device to the computer through COMPIM and USB interface. It comes with both a blade and a pen.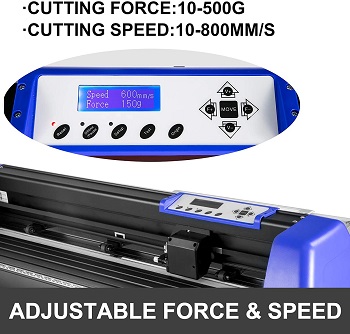 Signmaster Software And Tool Kit
The Signmaster software is compatible with Windows operating system. It can work with both DM-PL and HP-GL command sets. The model comes with the full kit that includes 20 replacement blades, a blade holder, pen holder, USB cable, serial cable, power cord, USB flash disk, floor stand kit, and one user manual.
Highlighted Points:
28" maximum paper feed
24.8" maximum cutting width
Signmaster software
COMPIM and USB interface
double-spring pinch rollers
Things To Know About HTV Vinyl Cutters
Htv vinyl cutters are often used to cut heat transfer vinyl that can be applied to the fabric with the heat press or iron. There are some features you should consider when searching for the right model such as cutting width, speed, and pressure, software compatibility, etc.
Right Size – The machine can be desktop or large. Desktop vinyl cutters are often used for craft, but there are also professional models. Large ones are often used for business. The model with maximum paper feed wider than 20" is suitable for making both large and small projects.
Blade Specs – Heat transfer vinyl cutting machine can have titan or standard blade. Titan type is stronger and suitable for thick materials. The standard blade can also cut thick materials but it should have a cutting speed higher than 25 ips and a cutting pressure higher than 10 ounces.
Suitable Software – It's important to buy software that's compatible with the operating system on your computer. So if you need a vinyl cutter for mac, you can buy an htv vinyl machine with Silhouette Studio, Cricut Design Space, Graphtec Studio, and Sure Cuts A Lot Pro. Other software will work well with Windows OS.
User-Friendly Accessories – When buying an htv cutting machine, consider a model that connects to your phone so you can work from anywhere. Also, contour cutting is great if you want to cut already printed images. The machine can also have an auto blade that is automatically adjusting to speed and pressure, instead of doing it manually.
Multifunctional Unit – Besides cutting, you can buy a machine that can do drawing, scanning, scoring, etc. Some htv vinyl cutting machines have a dual-tool carriage that holds pen and blade at the same time and can fast and easily switch between positions.