Are you looking for the best scanner for your receipts?
This device will help you to organize your bills and receipts, so take a look.
In this review, we pick the best portable receipts scanners on the market and gather the most important information to help you make a good purchase.
Our Top Picks
6 Best Portable Receipt Scanners
Best Of Best Portable Receipt Scanner
NeatReceipts Mobile Scanner
White Scanner
The NeatReceipts mobile scanner is a small device that features a sleek design. It is available in white color. The dimensions are 1.6 x 10 x 1.3 inches. It weighs 1.6 pounds. You can store this item wherever you want, in a drawer, on the shelf, on the desk. It fits anywhere and won't take much space.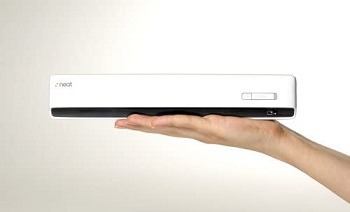 In The Box
The package includes a handheld document scanner, software installation CD, USB cable, protective bag, scanner calibration and cleaning paper, instruction. This portable Neat scanner is powered by USB, so you can use it anywhere. It is great for business, home use and for those who travel a lot.
Smart Sorting
It scans receipts, business cards, ID cards and you can even export papers. The Smart Sorting feature allows you to organize your files better. If you want, you can convert your data to editable text and create searchable PDF files. You can export information to PDF, Excel, QuickBooks, etc.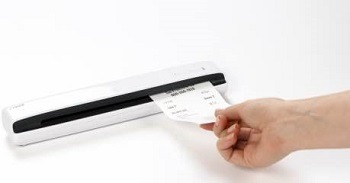 NeatCloud
It is easy to find any file in this system, just enter your keyword or other information you choose. If you decide to buy this portable receipts scanner, you'll receive a free 30-day trial of NetCloud. You can sync and backup files, also you can access them from your mobile phone or browser.
Highlighted Points:
slim and lightweight NeatReceipts portable scanner
USB powered scanner with a protective bag
you can store, organize and secure your files
it allows you to create searchable files
convert your receipts to editable texts
Best Smart Portable Receipt Scanner
Doxie Go SE Portable Receipt Scanner
Wireless Scanner
The Doxie Go SE offers you the best combination of price and performances. It allows you to scan anywhere without a computer needed. This 12.2 x 2.2 x 1.8-inch receipt scanner features a rechargeable battery, per single charge you can scan over 400 pages.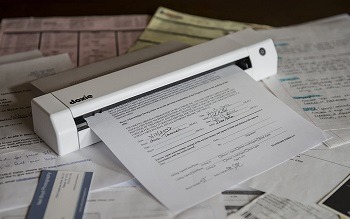 Easy To Setup
This small but powerful scanner is able to store up to 4000 pages before needing to sync. It features an SD card. Doxie is able to scan photos, bills, drawings, receipts and paper. You can easily set up the device and WiFi. Furthermore, it is easy to use it, this is a single-button device.
ABBYY OCR Technology
You can sync with your PC, iPhone, iPad or Mac and share your scans. Insert the color pages into the tray and the Dowie will scan them for up to 8 seconds at up to 600 dpi. Its software allows you to create and organize multiple-pages PDFs. You can do that thanks to ABBYY OCR technology.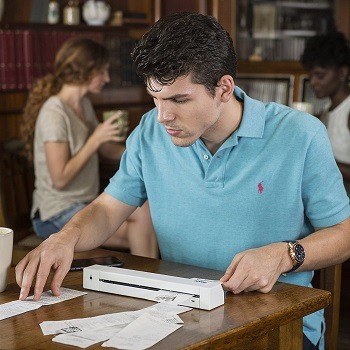 Intelligent Adjustment
This portable receipts scanner for Mac delivers clean copies of your documents. The intelligent adjustment automatically crops, de-skew and contrast your papers to improve the scan's quality. Save your documents in PDF, JPG or JPEG format. The price is affordable.
Highlighted Points:
portable scanner with a rechargeable battery
the included memory holds up to 4000 scans
with a full battery, you can scan over 400 pages
the resolution is 600 dots per inch
ABBYY OCR technology recognizes the text
Best Office Portable Receipt Scanner
Brother DS-640 Compact Scanner
One Of The Best
The Brother DS-640 model is a compact and mobile receipt scanner. Many people think that this is one of the best portable receipt scanners on the market. It measures 11.9 x 2.2 x 1.4 inches and weighs 1 pound. It is easy to take it with you wherever you go.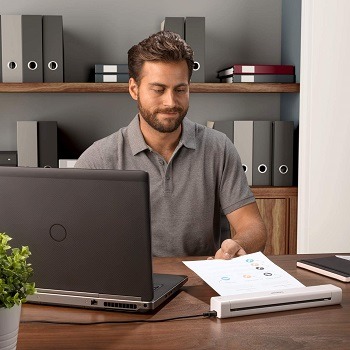 Fast Scanner
This small office scanner is compatible with Windows, Mac and Linux. Also, it is compatible with Twain, Sane and ICA drivers. The DS-640 is capable to scan black and white and color papers. It is pretty fast, the scanning speed is 16 pages per minute.
72" Paper
Use the micro USB 3.0 port and connect the scanner with your PC or laptop. You can insert a single paper or receipt at a time. This portable receipt scanner can handle the paper of 72 inches in length and up to 72 lb. You can scan business cards and ID cards through the same slot as paper.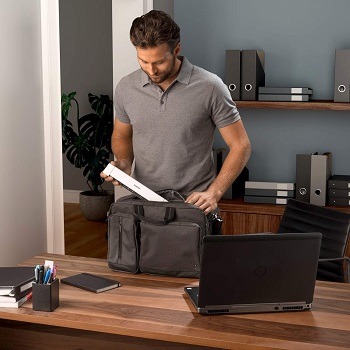 Automatic Adjustment
The included software allows you to scan to multiple destinations like email, cloud services and others. Also, there is a document management and OCR function provide converting the documents into editable files. You can enhance scan quality with automatic color adjustment, image rotation and background deletion.
Highlighted Points:
compact and portable scanner for small office
it scans 16 pages per minute
scans receipts, credit cards, business cards, plastic cards
automatic document adjustment
compatible with Linux, Mac and Windows
Best Automatic Portable Receipt Scanner
Epson ES-55R Scanner
ScanSmart Software
The Epson Workforce ES-55R is a USB powered device. The item dimensions are 1.8 x 10.7 x 1.30 inches and weigh half of the pound. That means you can store it anywhere, in your purse, bag, drawer,…This model requires Epson ScanSmart Accounting Edition Software.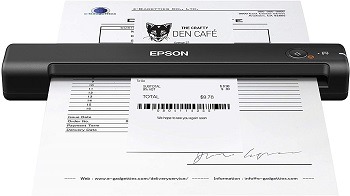 Single-sided Scanner
That software supports Windows 10/8/7 and Mac operating systems. The maximal scan size is 8.5 x 72 inches. It is important to say that this is a single-sided scanner, you need to flip the paper and put it back into the slot. The Epson is able to scan 10 pages per minute.
5.5 Seconds
The software automatically extracts and categorizes key data. Also, you can turn your scans into editable and searchable PDFs. For a single page, it needs 5.5 seconds. The Epson delivers pages at up to 300 dots per inch. Use the automatic feeder and add new pages that will automatically scan.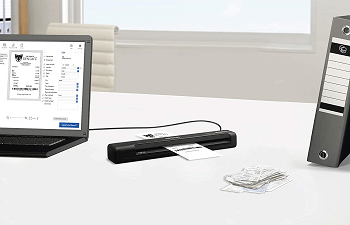 Export Data
The Epson home office scanner allows you to export data to third-party software, like Excel, QuickBooks, TurboTax and others. You can store your documents wherever you want, to email or cloud services like Google Drive or Dropbox. When you store it, the software provides automatic file naming and recognition.
Highlighted Points:
small and light, USB powered scanner
versatile scanning for business cards and long pages
fast single-side scanning for up to 5.5 seconds
compatible with Windows and Mac
integrated receipt management software
Best Handheld Portable Receipt Scanner
Aibecy Portable Receipt Scanner
Battery-powered Item
The Aibecy scanner is a portable and convenient receipt scanner. The item size is 10 x 1.1 x 1.2 inches and it weighs 5.2 ounces. This scanner is battery powered, it requires 2 AA batteries, but they aren't included in the package. But in the package, you can find a scanner, USB cable, disk, cleaning cloth and instruction.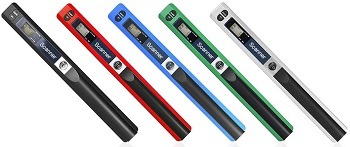 Multiple Colors
This handheld photo scanner is suitable for businessmen, students, travelers, photographers and other people who don't spend time in one place.   The Aibecy is available in different colors, there are black, red, blue, silver and green. It can handle A4 size, use it for documents, images, newspapers, receipts, books.
Real-time Scanning Detector
The resolution is high, 900 dots per inch. The Aibecy has an integrated real-time scanning detector which helps you to avoid image distortion. When you need to use this portable scanner, just plug it in, you don't have to install drivers or some certain software. The scanner is compatible with Windows and Mac.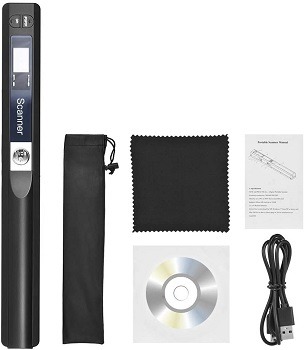 Light Indicators
The Aibecy portable receipt scanner ensures large capacity, it supports a memory card of up to 32G. There are indicator lights that show scanner operating status. Red light means that scanning is too quickly and a green light tells you there is no issue with scanning.
Highlighted Points:
compact sized scanner and easy to carry around
it supports a memory card of up to 32G
intended for documents, images and receipts
two indicating light for easy using
built-in real-time indicator
Best Professional Portable Receipt Scanner
Fujitsu ScanSnap S1100i Scanner
Cordless Scanner
The Fujitsu ScanSnap S110i measures 12.50 x 5.60 x 2.90 inches and weighs 1.55 pounds. It is able to scan contracts, recipes, receipts, plastic cards, etc. This small scanner works on both, Windows and Mac operating systems. It is USB powered, so connect it to your computer.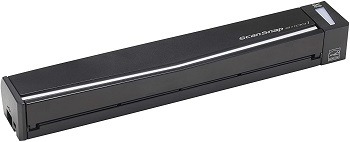 Color Documents
The Fujitsu professional photo scanner is able to scan papers from 1 to 34 inches in length. If you need to scan color documents, this scanner needs 7.5 seconds to complete the scanning. This scanner features intelligent scan correction, the ScanSnap feature does auto color detection, crop, deskew and rotation.
Dual Scan Feature
This feature allows you to scan two small documents, like two receipts or cards at the same time. There is one interesting feature – automatic stitch – you can scan documents larger than A4 size and the scanner will automatically stitch them together.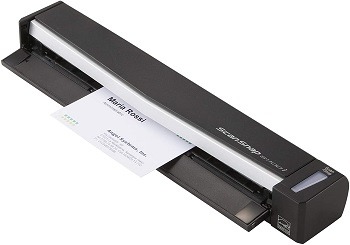 ScanSnap Receipt
You can quickly synchronize your scanned papers if you use Dropbox, Google Drive or OneDrive. The ScanSnap Sync automatically synchronizes your papers so you can control and manage your scans easily. The ScanSnap Receipt allows you to scan and extract data from receipts, it supports many languages.
Highlighted Points:
lightweight USB-powered scanner
designed for different paper sizes
ScanSnap feature for automatic image correction
automatically stitch two separate papers
it's able to scan two small papers simultaneously
scan and extract data from receipts
Things To Know About Portable Receipts Scanners
The portable receipts scanners differ from the regular scanner with their design, dimensions, power supply and other features. You need to carefully read the specifications.
Scanner Design – These scanners are small and compact, they don't require much space. You can store it in your drawer, on the desk, on the shelf. Moreover, you can carry it with you on your business trip, scan and send files to your company with ease.
Scanner Resolution – The higher the resolution, the more detailed the image. This feature is measured in DPI or dots per inch. The resolution of 300 dpi is pretty enough for text documents, like receipts. But if you need to scan photos, you'll need at least 600 dpi.
Power Supply – The portable scanners can have two different ways of power supplies: USB powered scanners and battery-powered scanners. The USB scanners are directly connected to your laptop or PC. The battery scanners are self-powered devices.
Intelligent Features – More expensive models have advanced features, like an automatic stitch. That means you can scan two smaller papers and the scanner will stitch them together. Some scanners have automatic image correction, so they have auto color detection, crop, deskew, rotation, etc.
Compatibility – Before you buy a portable receipt scanner, you should check the scanner's compatibility. Some models work with Windows operating system only. So, if you own a Mac, you can't use that model. Furthermore, some scanner drivers require a monthly subscription.
Final Verdict
As you can see, these models have great features, whichever you pick, you will be satisfied. We recommend the NeatReceipts Mobile Scanner. This stylish scanner is the perfect tool at work or at home, it allows you to export data, scan to PDF, use Smart Sorting to organize and convert your scans. If you are interested in that kind of practical scanners, we suggest you read the review of the best portable photo scanners. Also, there are mobile scanners for books, check out them in portable book scanners post.