Do you want to buy the best monitor for a home office?
Here you can read about the 20 best models currently available on the market and their user-friendly features. We compared them between categories, so you can easily choose one that suits you the most.
Our Top Picks
What Makes A Monitor Suitable For WFH?
A big screen in your home office should help you achieve maximum productivity while working as well as provide needed conditions for after-work activities in the house such as watching the movies, surfing on internet, having video calls, and more. Since you will use it a lot, it must be good for eyes.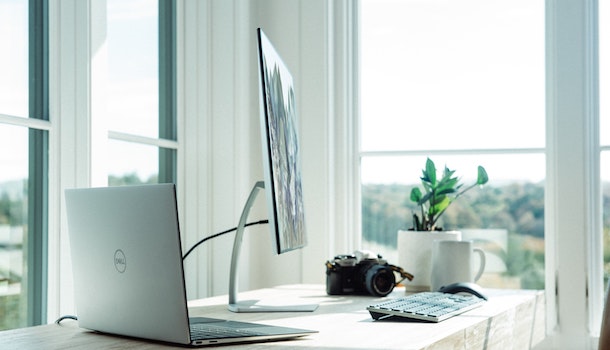 Office Monitor Vs. Work-From-Home Monitor
There is not much difference between a monitor that will allow you to work from home and in the office onsite. Both should allow you to work comfortably and run all the needed programs with ease. However, a home monitor can even be used for tasks that are not connected to your work. For instance, after work, you could also use it to watch movies, play games, etc. That is why a monitor to work from home can be more advanced than the one for general office work.
Types Of Monitors For Working From Home
There are a few different monitor types that will be suitable for working from home:
Flat-screen – a standard choice for a WFH monitor, good for desks and can also be used for watching movies after work
Curved -a good choice if only one person is going to be using it at the same time. It can give you an immersive experience and less eye strain as it mimics the shape of the human eye. However, it will also take up more space on the desk as it is curved at the edges toward the user.
Dual monitor setup – if you need a bigger monitor size, you can even choose two screens to achieve a dual monitor setup. It will allow you to easily switch between programs and work on more than one thing at a time, making your work clearer. You can position the screens straight next to each other or make a V-shaped setup.
Conference – good for your home as you can place it on the wall and then even watch TV on it after business hours.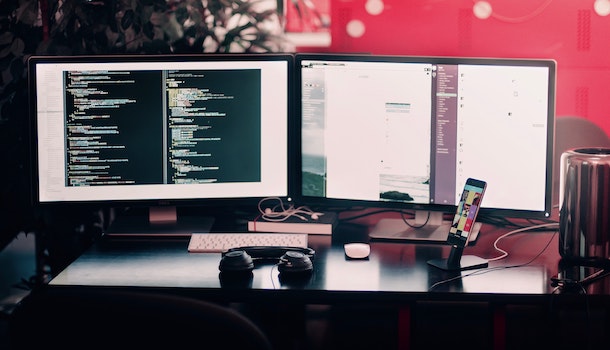 Can I Use TV As A Computer Monitor?
A TV can be used as a computer monitor if it has the necessary port to connect to your PC or laptop. Most usually, you will need an HDMI, USB-C, or DisplayPort port.
Why Is It Important To Find The Best Monitor?
When working from home, you need a good monitor because of:
Everyday use – you will use it every day which means that it is important to find the one that fits you best
It determines how you work – a good performing monitor will help you get a lot done for quality work
It determines how fast you are – good technology and advanced features will help you be faster with your tasks when working from home
Comfort – you want to stay comfortable while working, so it is important to choose a monitor that will support your posture, your eyes, etc
Productivity – a good monitor with enough screen real estate will help you stay productive
Dedicated workspace – by putting a monitor in a dedicated space for work in your home, you will get into a routine and help yourself stay focused on work from home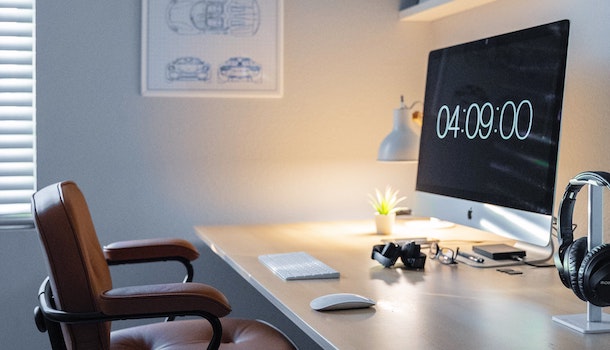 Consider These Features When Shopping
When buying a monitor for your home, there are quite a few features and characteristics you need to pay attention to.
Best Monitor Size For Office Work
If you are doing the general office work from your home, then a 27-inch monitor is the recommended size for you. Usually, the standard monitor sizes are 24, 27, and 32 inches. If you need a really big screen to run many programs on the screen at once, then a bigger monitor will also be okay.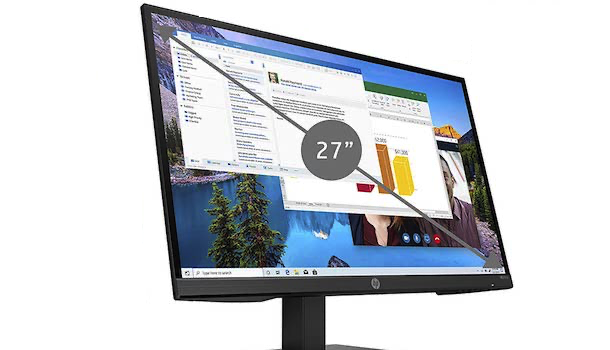 Ultrawide Monitor
If you want a single monitor, then an ultrawide one will be a good choice for bigger screen real estate. Such a screen will also be a good choice if you like to watch movies and play games after work. Compared to dual monitors, they offer a smoother, more seamless experience.
Do I Need A 4K Monitor For Home Office Work?
A 4K monitor will be a good choice if you are dealing with photo and video editing. Otherwise, a 4K monitor might be too expensive for other office tasks. However, if you want the best picture quality and don't mind spending the money, then a 4k monitor will be good.
Which Monitor Is Better For Eyes?
Eye strain is a common problem with looking at monitors for several hours every day. That is why you need to invest in a monitor that is flicker-free and has a blue light filter. Besides the stable image, a monitor that is good for your eyes will also have a fast response rate and an ergonomic stand so that the eyes are not too high or too low compared to the eye level.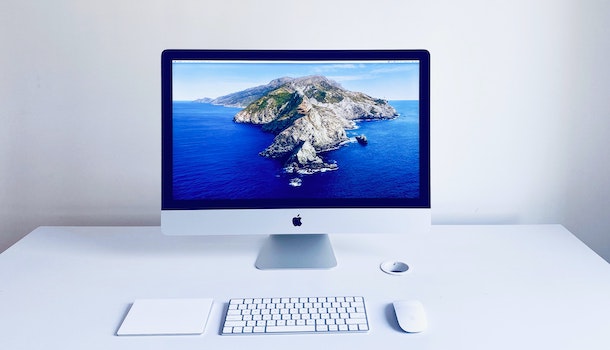 How Much Should You Spend On It?
The market offers both very affordable and high-end monitors. For a standard size monitor, a basic model will not cost you more than $100 to $200. If you want an ultrawide monitor, you will have to spend at least $350, while bigger models will cost you between $600 and $1000.
Panel Technology
You can choose between IPS, LCD, and VN panel technology. For a home office, you will most probably need an IPS model (in-plane switching) as it offers accurate color and grayscale performance. For gaming, you would need a VN panel as it offers a high refresh rate and fast response time.
What Screen Resolution To Get?
Screen resolution dictates how good and accurate the picture quality is. When choosing, do not go below full HD (1920 x 1080 pixels). This is enough for basic office work on a monitor up to 27 inches. For working with images and large spreadsheets, go for WQHD (2560 x 1440 pixels) with a size of 27 to 32 inches. For photo and video editing, it is best to go for 4K.
Which Ports To Look For?
To connect the monitor to the laptop or PC and other accessories, you will need to look for the right ports. Most commonly, you will need at least some of the following ports: HDMI, USB, USB-C, VGA, DVI, and DisplayPort. Make sure that you choose the ports that allow you to connect the monitor to your laptop or PC.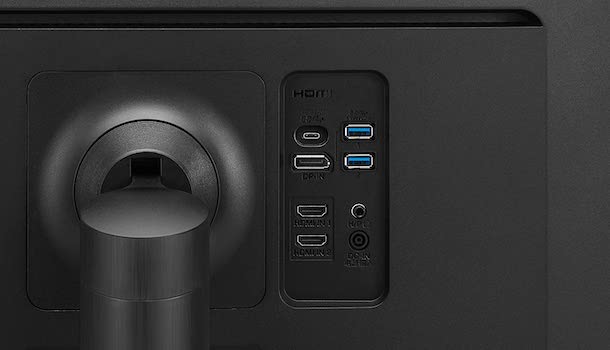 Refresh Rate
The refresh rate shows how many times per second the monitor can draw a new image. It is measured in Hertz (Hz). Standard monitors for home offices should have a refresh rate of at least 60 Hz. We recommend choosing 60 to 120 Hz. Over 120 Hz won't really be necessary.
Adjustability
The monitor should allow you to adjust its height (at least between 100 and 150 millimeters), tilt it, swivel it, and pivot it to make the most comfortable setup. That is why you need to look for a model that comes with an adjustable stand.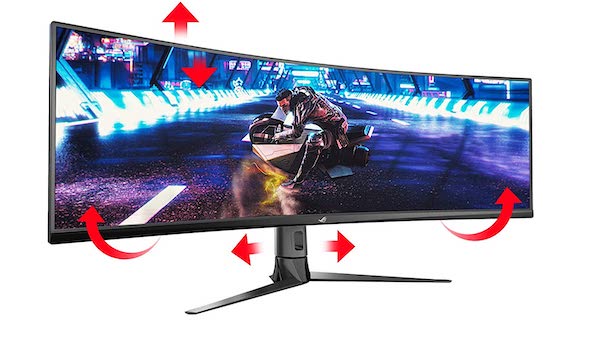 Does It Have Built-In Speakers?
If you do not have a lot of space on your desk, then pick a monitor with built-in speakers. However, if you need the sound to be of the best quality, we suggest also investing in quality speakers you can connect to the monitor. Also, the ability to connect to headphones is also a good option so that you can listen to sounds without distracting the rest of the household.
Built-In Camera: Yes Or No?
The quality of the cameras available on the market keeps changing and advancing. This is why we suggest buying a monitor without a camera because you would have to change the whole monitor if you want a better camera in the near future. Instead, buy a small camera that is easy to connect to the monitor.
Thin Framing & Bezel
If you are going to buy a monitor of a good size, you should also make sure that the frame is thin, as well as the bezel. Why? Because you will maximize the size of the screen that way, as most of it will be used as a desktop display.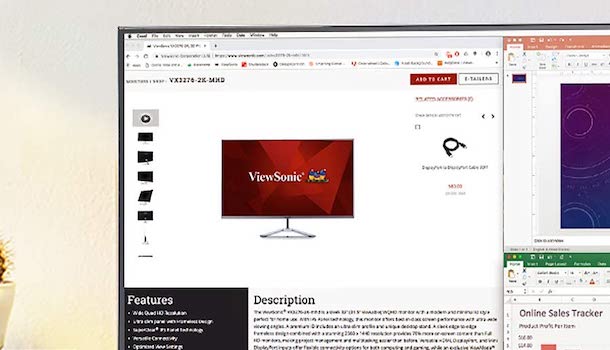 Top 20 Monitors For Working From Home
HP VH240a Monitor
Standard Size And Refresh Rate
This model has a standard size of 24". The monitor is big enough for a good view. The maximum screen resolution is 1920 x 1080, while the refresh rate is 60 Hz. Also, the response time is 5 ms. It's the best HP monitor for homework with an LED backlight.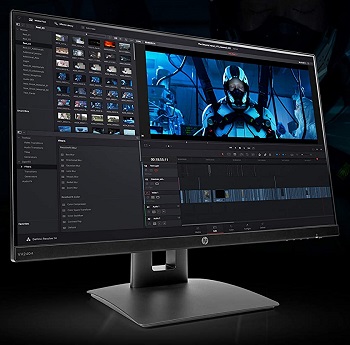 Integrated Ports And Speakers
It has both portrait and landscape views. The title is adjustable so you can move the monitor in different positions. The monitor has HDMI and VGA ports. Also, this monitor has integrated speakers. The view angle is 178 degrees.
HP P244 LED Monitor
Screen Size And Resolution
The model is 24" wide and includes a stand for two monitors. Moreover, the overall size when two monitors are connected is 50". The screen has an LED backlight and the maximum resolution is 1920 x 1080. The best dual monitor setup for the home office has an Energy Star certificate.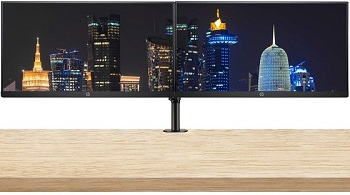 Desk Mount Clamp
The monitor has VGA, HDMI, DisplayPort, and other ports for connection to other devices. The desk mount clamp makes two monitors stable. The swivel tilt allows you to change positions.
Sceptre 24 Curved Monitor
Radius Of Curvature
The multifunctional monitor has 1800 R of the radius of curvature. Moreover, it has a round metal base that won't take too much space on your desk. In addition, the basic monitor has a VESA mount so you can put the monitor on the wall.

Screen Width And Resolution
The screen is 24" wide and has a high-quality resolution of 1080 p. In addition, it has a refresh rate of 75 Hz. Moreover, the computer has both HDMI and VGA ports.
ViewSonic VA2252SM Monitor
Resolution And LED System
The model has two separate monitors, and each of them is 22" big. When connected they're 45" wide. The screen on both monitors has a maximum resolution of 1080 p. In addition, the LED system ensures a good view from far away. The flicker-free technology protects your eyesight.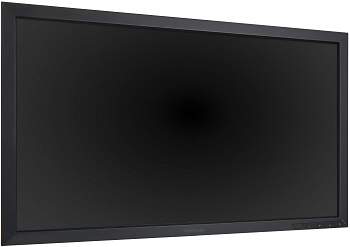 Technology For Eyesight
Also, this best 22-inch monitor for home has a blue mode that ensures eye comfort when working for a long time. Moreover, the model included DVI-D, DisplayPort, and VGA ports.
BenQ 24-Inch IPS Monitor
Eye-Care Technology
The monitor is 24" big and it features different brightness levels. You can easily adjust them, and low brightness is suitable when you're working for a long time. The eye-care technology protects your eyesight and prevents headaches. In addition, the text on the screen is big and clear.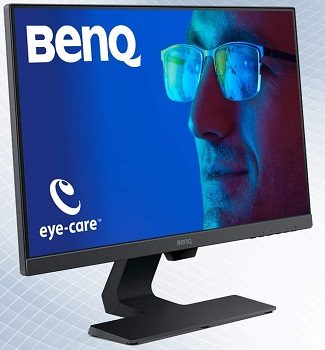 Resolution And Response Time
The maximum screen resolution of this computer monitor is 1920 x 1080, while the view angle of the monitor is 178 degrees. The refresh rate is 60 Hz, while the response time of 8 ms. In addition, the VESA mount allows you to put it on the wall.
Philips 276E9QDSB Monitor
High Resolution And Wide-Color Technology
The screen is 27" wide and has a minimalistic black desk. In addition, the picture is shown in full HD 1920 x 1080 resolution. The brightness is available in different levels, and you can choose the setting that suits your eyes. The ultra wide-color technology ensures bright colors.
Refresh Rate And Fluid Videos
The free synch technology helps you with videos at work because it makes the fluid. Therefore, this model is also good for gaming. It's the best 27-inch monitor with a refresh rate of 50 Hz and 75 Hz.
LG 34WN80C-B UltraWide Monitor
Screen Dimensions And Resolution
The screen is 34" wide and it has a curved shape with a ratio of 21:9. The maximum picture resolution is 1440 p. Moreover, the monitor is very thin, has a black design, and handles easy position adjustments.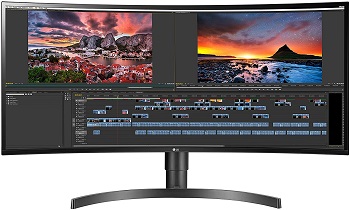 Adjustable Settings
It's the best computer monitor with the on-screen control system. Moreover, you can adjust the monitor settings, screen split options, gaming mode, etc. The model also has a handle for wall mounting and HDR 10 port.
Acer SB220Q Monitor
Screen Size And Tiltable Mount
The best budget monitor, it has a screen size of 21.5" and a full HD 1920 x 1080 resolution. The frame is small and has a compact round base and will save a lot of space on your desk. The aspect ratio of the screen is 16:9. It has VESA mount that tiltable.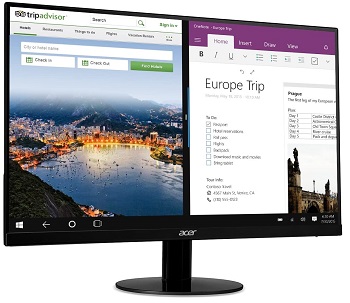 View Angle And Refresh Rate
Therefore, you can move it between 5-degrees and 15-degrees. Moreover, the horizontal and vertical view angles are set at 178-degrees. The average refresh rate is 75 Hz and the response time is 4 ms. The office computer monitor also has a screen split function.
Samsung CF390 Work Monitor
Screen Resolution And Aspect Ratio
The screen has a resolution is 1080 x 1920. The flicker-free technology protects your eyesight when you're working long hours. The aspect ratio is 16:9, and the curvature of the radius is 1800 R. Therefore, this Samsung monitor has both wide and sharp pictures.
Flicker-Free Technology
The monitor can be used with different cable types because it has both HDMI and VGA ports. The stand is adjustable so you can set it to a certain position. Also, you can use it for mounting it on the wall.
HP EliteDisplay E233 Monitor
Stand With Desk Clap
Since it's 23" wide and has a minimalistic stand with desk clap, it's ideal for desktop use. The clamp ensures the stability of the monitor. The screen is 23" wide, and if you're using double monitors, then you can use one big screen of 46" in width. In case you want to use both monitors separately, choose the duplicate display option.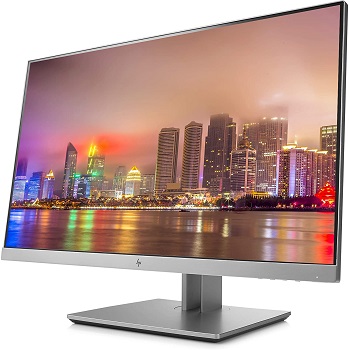 Energy-Efficient Monitor
The screen resolution is 1920 x 1080, which ensures a vibrant color screen and wide-angle. The monitors use both HDMI and USB connections. The energy-efficient system doesn't consume a lot of energy. The dual-monitor has a VESA mount.
Uber Touch Solution Monitor
Wide Screen And 4K Resolution
The large model has an 84" widescreen which makes it ideal for big conference rooms. The 4k resolution creates sharp and colorful images and has big text that's easy to read. Moreover, it's comfortable for your eyes and protects your eyesight. The model is easy to set up.
Touchscreen And Quiet Working Mode
Furthermore, the best large home office monitor has a hook so you can hang it on the wall. It has ports for HDMI, VGA, USB, PC, and more. The touchscreen monitor ensures easy control and it has a quiet working mode.
Asus ROG Strix Monitor
Curved Monitor And VESA Hook
The curved monitor is 50" wide. It's designed for gaming, and it's durable and long-lasting. Moreover, it has user-friendly features such as eye care technology, optimal color contrast, adjustable tilt and height, a built-in VESA hook for wall mounting, etc.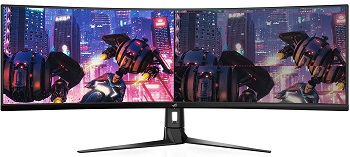 Refresh Rate And Curvature Radius
The monitor for working and gaming has a refresh rate of 144 Hz. Also, it's suitable for headphones, and it has HDMI, USB, and DisplayPort inputs. The curvature of the radius is 1800 R the display aspect ratio is 32:9.
Reserva ROOM-10T-POE-LED Monitor
Wide Screen And VESA Hook
The screen is only 10" wide, so this is a small monitor suitable for any desk. Moreover, it's the best small monitor suitable with VESA hook so you can mount it on the wall. Also, you can put it on a wall in both vertical and horizontal positions.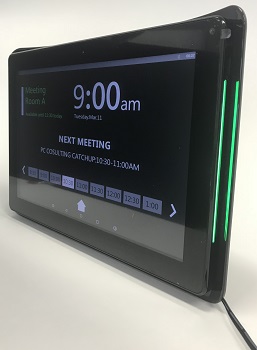 Screen Resolution And Strong Frame
The commercial-grade frame makes it long-lasting. The screen has a resolution of 1280 x 800 p. Moreover, the screen is shown in full color and it's compact and easy to transport.
Deco Gear UltraWide Monitor
Aspect Ration And High Resolution
The aspect ratio is 21:9, while the screen is 35" wide. Moreover, this model has 1080 p resolution and shows pictures in vibrant colors and sharp details. The curved shape protects your eyesight and ensures that you can see the screen from different positions.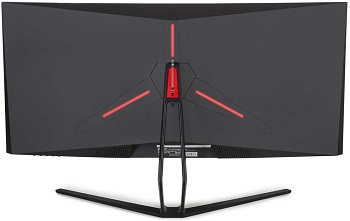 VESA Moiunt And Desk Stand
The computer monitor has VESA standard mount for the wall. Also, it includes a built-in desk stand so it can be used as a desktop model as well. It has Game Plus mode for gaming and blue mode for office work.
Acer T272HL Monitor
Full HD Resolution
The screen is 27" wide, and the resolution is 1920 x 1080 p. As a result, the full HD resolution ensures very clear and sharp videos and pictures. It's the best widescreen monitor for homework that can be connected to the phone. It works with different cables.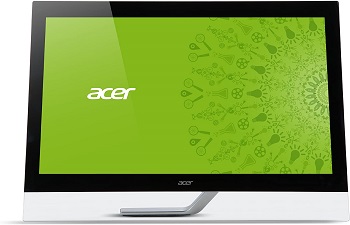 Tiltable Desk Stand
The monitor has VGA, HDMI, and DVI ports that are hidden for a more elegant look. It comes with both a desktop stand and a wall mount. The stand has tilt positions so you can move the conference monitor for 30 degrees forward and about 80 degrees backward.
Dell 55 4K Conference Room Monitor
Wide Screen With High Resolution
The monitor is 55" wide and 55" long diagonally. It's the best dell monitor for home and conference rooms because it has a maximal resolution of 3840 x 2160 p. Therefore it provides a high-quality image that can be easily seen from a large distance.
Aspect And Contrast Ratio
The LED monitor has an aspect ratio of 16:9, while the contrast ratio is 4000:1. The model is compatible with many technology ports, and it has a black elegant design. The refresh rate is 60 Hz, and it's around 45 pounds heavy.
Philips Brilliance SuperWide Monitor
Wide Screen And High Resolution
The screen is 50" wide and it has 5K ultra-wide 2160 p resolution. Therefore, it creates sharp colorful images that are easy to look at for a long time. The big screen makes it easy to read the text without your eyesight suffering. The LED monitor has an aspect ratio of 32:9.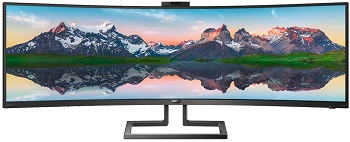 Multiple Client Computer View
The curvature of the radius is 1800 R, and the wide view is very user-friendly when you use the multiple client computer view sharing option. It has a webcam pop-up and built-in speakers. The curved monitor also has ports for USB and Ethernet cables.
AOC C32V1Q Monitor
Elegant Screen And High Resolution
It has a black frame and silver stand, so it has an elegant design that will look great in any room interior. The screen resolution is 1920 x 1080 p and the curvature of the radius is 1800 R. The screen is 31.5" wide, and it has flicker-free technology that protects your eyes.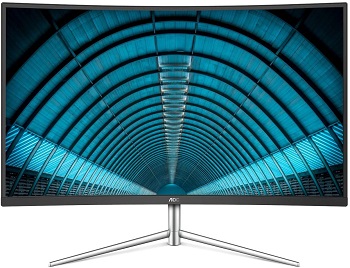 Connection Ports And VA Technology
The best monitor to work from home has both HDMI and VGA ports. The refresh rate is 75 Hz. The monitor has VA panel technology that ensures a good view no matter the distance. Also, the curved design provides the same view no matter the position of people in the room.
Planar PXL2430MW Monitor
View Angle And Screen Resolution
The multi-touch LCD has an LED backlight for a better view and a more elegant look. It's one of the top monitors for home computers that have a view angle of 170-degrees. The screen is 24" wide and has a high-quality resolution of 1920 x 1080.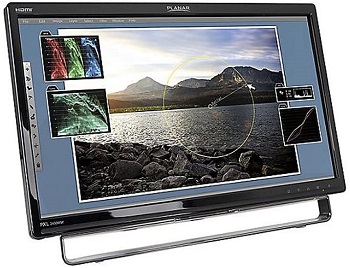 USB Interface And HDMI Cables
It features glides for stability and also it's compatible with a wall mount if you want to put it on the wall. The dual-touch screen has a USB interface and it's suitable for HDMI cables.
Samsung LU32 Monitor
High-Quality Resolution
The 4k monitor has a high-quality picture and the screen is 32" wide. Moreover, you can place the monitor up to 40" away from your seat. It's curved and provides a wide-angle view of 178-degrees, both vertically and horizontally.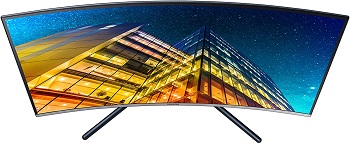 Big Curvature Radius
Another user-friendly feature is the big curvature radius of 1500 R. The screen has a big length, so you can set the option for separating the screen into two different views. The large model requires enough space on the desk.
How To Connect Your Computer To A Monitor?
To connect the computer to the new monitor, you will need a suitable port on the monitor and a cable. Usually, this cable will be an HDMI or a USB-C cable and can be bought in any tech shop.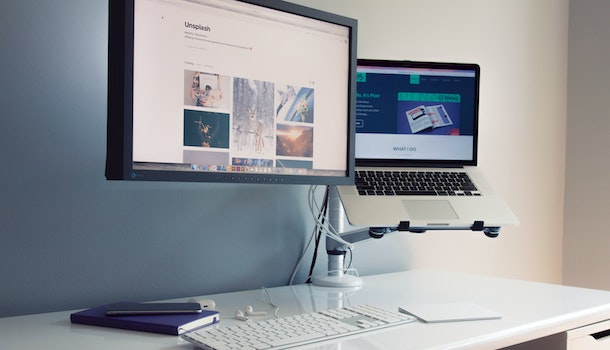 How To Connect The Monitor To A Laptop?
The same way as computer. A monitor can be connected to the laptop if you have the necessary connection cable (such as a USB-C or an HDMI). When connecting the two, you can choose if you want the monitor to be the only display or if you want both the laptop screen and the monitor screen to display the desktop.
Configuring Your External Monitor
After plugging the monitor into your laptop, here is how to configure it:
On Windows – right-click the desktop, select "Display Settings", scroll to "Multiple Displays", and then choose "Extend Desktop". Then, you will be able to use both the laptop screen and the monitor screen to do your tasks.
On Mac – go to "System Preferences", select "Displays", and then click on the "Arrangement" tab, then uncheck "Mirror Displays".
How To Set Up The Monitor Ergonomically?
Once you buy a monitor for your office at home, you also need to ensure that it is positioned properly for ergonomic comfort. Here is how you can achieve it:
Position the top of the screen at eye level or slightly below it.
The eyes should be looking slightly downward when viewing the middle of the screen.
The monitor should be positioned at an arm's length away from the user. If you have a really big screen, increase the distance.
For comfortable eyes, tilt the screen 10 to 20 degrees.
Find out more here:

FAQ
Find out the answers to some other frequently asked questions here.
What Brand Of Monitors Is The Best?
Quite a few monitor brands offer good quality and high specs. We recommend brands such as HP, LG, Asus, Acer, and Dell.
What Is The Difference Between HDMI and DisplayPort?
Compared to HDMI, DisplayPort can achieve higher bandwidth. And with the higher bandwidth, more signal is being transmitted at the same time.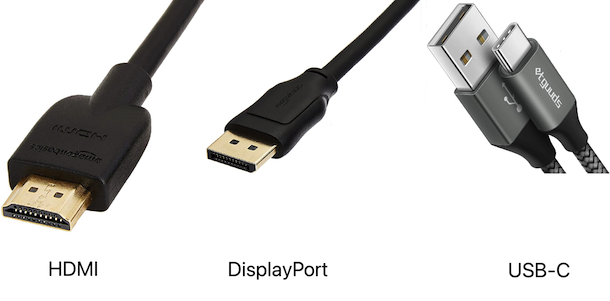 Why Should You Connect A Monitor With USB-C?
Some laptops allow you to connect to a monitor only via a USB-C cable, while some use an HDMI connection. Moreover, a USB-C cable transmits an image signal of a very good resolution – 4K (3840 x 2160) with a refresh rate of 60 Hz.
Is Thunderbold The Same As USB-C?
Thunderbolt 3, for instance, shows the standard of connectivity. Meanwhile, USB-C refers to the shape of the port. Moreover, Thunderbolt ports are fully compatible with USB-C cables, but Thunderbolt ports offer even more features that make them stand out.
What Is The Difference Between LCD and LED?
Both LCD and LED refer to types of displays. Moreover, both also use liquid crystals to create an image on a screen. The difference is that the LCD screen uses fluorescent backlights, while LED uses light-emitting diodes for backlights.