Are you looking for a budget-friendly document scanner?
There are many cheap document scanners on the market!
But we made our list of scanners with affordable prices and good features. In our buying guide, we will warn you which features every document scanner should have.
Our Top Picks
6 Best Cheap Document Scanners
Best Of Best Cheap Document Scanner
Brother DS-620 Document Scanner
USB-powered Scanner
The Brother DS-620 document scanner is compatible with Linux, Mac and Windows operating systems. Its dimensions are 2.1 x 11.4 x 1.4 inches. It uses USB as a power source and as a transfer device. This cheap document scanner weighs under 1 pound.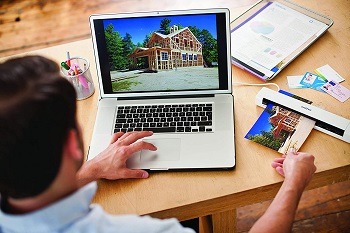 Optimal Temperature
It is good for receipts, business cards, photographs and documents scanning. The optimal working environment temperature range goes from 41°F – 95°F (5°C-35°C). Before using, download the drivers and utilities from Brother's official website. The max daily duty cycle is 100 pages.
1200 Dots Per Inch
The maximal paper size you can scan with this scanner is 8.5 inches in width and 32 inches in length. It scans at up to 1200 dots per inch (interpolated) and 600 dpi (optical). Use it for color and black and white documents. The DS-620 scans 8 pages per minute.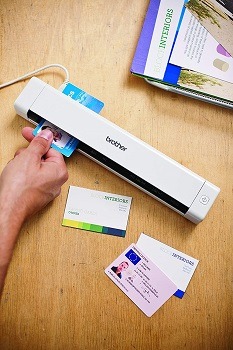 Share Your Scans
After you scan documents, send them to different local or shared locations. Moreover, you can convert, organize and share PDF documents. This document camera scanner merges multiple files of different formats into one multi-page PDF. The OCR software is included. It supports TWAIN and SANE drivers.
Highlighted Points:
easy to operate, compatible with Mac, Linux and Windows
it scans receipts, photos, business cards, documents
the scanning speed is 8 pages per minute
its resolution is 1200 dots per inch
the daily duty cycle is 100 pages
it accepts extra-long documents of up to 32"
Best Paper Cheap Document Scanner
Xerox Document Scanner
Travel Scanner
The Xerox Travel Scanner is a portable and compact device. It works with Mac and Windows operating systems. This model is available in white and blue colors. It measures 11.78 inches in length, 4.1 inches in width and 2.9 inches in height. It weighs 3.3 pounds.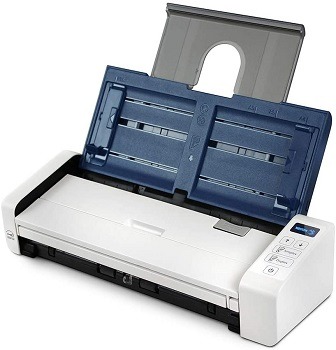 15 Pages Per Minute
This scanner is intended for receipts, photos, business cards, plastic cards, documents, paper and more. The duplex scanning allows you to scan a page with both sides at the same time. The Xerox cheap document scanner has a scan rate of 15 pages per minute or 30 impressions per minute at 300 dpi.
Acuity Intelligent Technology
It scans in color, greyscale and black and white colors. You can improve your photo or document quality, there is Visioneer Acuity intelligent image processing technology. You can instantly increase the visual clarity of scans. The Xerox scanner has a user-friendly design.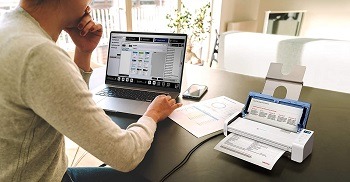 OCR Software
With one touch of the button, you can send your scans to email, printers, file folders or PC. The software allows you to create searchable and editable files. Moreover, you can deliver your scans to cloud services, like Google Drive. It is USB powered document and photo handheld scanner.
Highlighted Points:
the compact, portable and lightweight scanner
it scans plastic cards, photos, papers, receipts
the scan speed is 15 pages per minute
use Acuity software and improve scan quality
the Optical Character Recognition is integrated
Best Photo Cheap Document Scanner
Canon CanoScan Lide 400 Scanner
Affordable Scanner
The Canon CanoScan Lide 400 is the full name of this flatbed scanner model. The item dimensions are 14.50 x 9.90 x 1.70 inches and it's lightweight. It is a USB powered device and it can be used by Mac and Windows users. This scanner is made for photos, receipts and document scanning.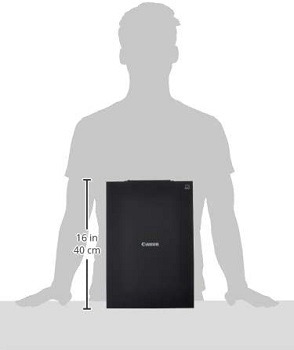 USB Type-C Cable
This efficient scanner is compatible with a USB Type-C cable. That means, with a single cable you can power the device and transfer the data to your computer. For those who need to scan photos, this high quality photo scanner is perfect, it delivers a resolution of 4800 dpi and a color depth of 48-bit.
Z-Lid Expansion Top
You can improve your scanner quality with image enhancement. The scanner is capable to remove dust and restore colors. The Z-lid expansion top allows you to scan larger documents. Moreover, it offers the ability to scan upright. The stand is included in the package.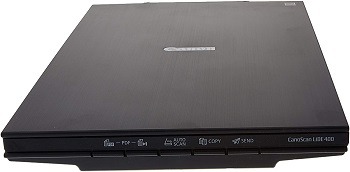 Auto Scan Mode
The CanoScan cheap document scanner is capable to scan multiple photos at one time and separate them as individual files. The Auto Scan mode will automatically adjust the settings depends on the material you need to scan. Control the scanner with five buttons.
Highlighted Points:
compact flatbed document scanner
the resolution is 4800 dots per inch
the color depth is 48-bit
integrated image enhancement
USB Type-C for power and data transfer
extend the lid for large document scanning
Best Receipt Cheap Document Scanner
Fujitsu Receipt Scanner
Mobile Scanner
The Fujitsu ScanSnap S1100i is a scanner with small dimensions, there are 12.5 inches in length, 5.6 inches in width and 2.9 inches in height. It weighs about 2 pounds, so you can carry it in your briefcase, bag or purse. It has a low energy consumption of 2.5 watts.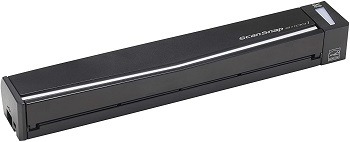 Great For Fragile Papers
It is a USB powered device. The Fujitsu is able to scan paper, business cards, ID cards and receipts. It won't damage fragile documents. It delivers 600 dots per inch, which is a good resolution. The min paper size is an inch and the max paper size is 34 inches in length.
Scan Correction
This cheap document scanner works with your Windows and Mac computer. The Intelligent Scan correction will correct your images automatically. That includes things like auto-crop, auto color detection, deskew and rotation. It scans a document in 7.5 seconds.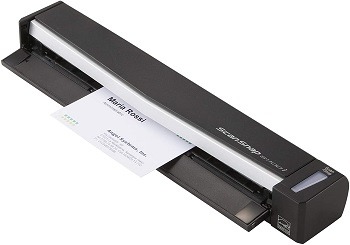 ScanSnap Receipt
The Fujitsu portable receipt scanner is able to scan two small documents simultaneously. Also, it automatically stitches a two-page spread. After scanning, you can send your scans to the cloud, like Google Drive, OneDrive, etc. The ScanSnap Receipt allows you to scan and extract information from receipts and export the data.
Highlighted Points:
lightweight cheap receipt scanner for occasional use
it uses ScanSnap Receipt to extract information
the scan speed is 7.5 seconds per page
integrated intelligent scan correction functions
the resolution is 600 dots per inch
Best Portable Cheap Document Scanner
Epson WorkForce ES-55R Scanner
Versatile Scanner
The Epson WorkForce ES-55R is a compact and portable document scanner. You can place it wherever you want, it fits anywhere. It is able to scan receipts, documents, business cards and ID cards. Moreover, it is good for extra long papers of 8.5 inches in width and 72 inches in length.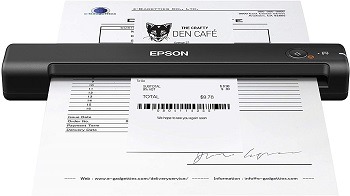 One Sheet Per Pass
It is supported by USB connectivity. Its dimensions are 1.8 x 10.7 x 1.3 inches and this device weighs 0.59 pounds. The automatic document feeder accepts one sheet at a time, but you can keep adding new sheets that will automatically scan after the previous page.
Simplex Scanner
The ScanSmart Receipt Software is integrated into the personal document and pasport scanner. It automatically extracts key data from receipts and invoices. The Epson scanning speed is 10 pages per minute. It is important to note that this is a single-sided scanner. It can be used by Mac and Windows users.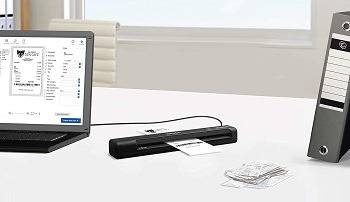 Additional Features
This cheap document scanner is able to send the scans to third-party software, like Excel, TurboTax and QuickBooks. Furthermore, you can email and upload the data to storage services like Google Drive, Dropbox, Evernote, etc. You can create, convert and edit your scans.
Highlighted Points:
compact and portable cheap document scanner
the automatic document feeder accepts 1 paper
it scans 10 pages per minute
capable to scan extra-long documents of up to 72"
send your scans to multiple destinations
powered by USB cable
Best 2-sided Cheap Document Scanner
Plustek PS186 Document Scanner
Windows Compatible
The Plustek PS186 is a document scanner that is compatible with Windows 7/8 and 10. This scanner measures 10.36 x 5.02 x 5.82 inches and it weighs 3.66 pounds. It is a portable and lightweight item, you can place it and move it wherever you want. This is a USB powered device.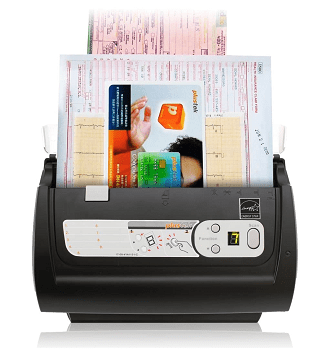 Duplex Scanning
Use this cheap document scanner for paper, photo, business card and documents. The Plustek is able to scan double-sided documents at the same time. You don't have to turn them over manually. Because of that, it is good for home and office use.
Automatic Document Feeder
The automatic scanner with document feeder accepts 50 pages per single pass. You can insert a stack of paper into the feeder and let the scanner to finish the job. It is a fast scanner, it takes 2.4 seconds per page. The delivered resolution is 600 dots per inch. You can convert your scans into editable and searchable files.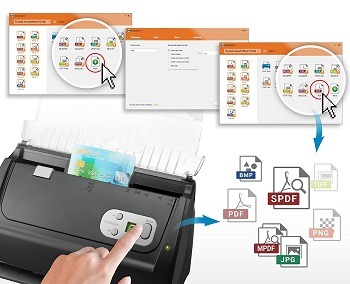 Barcode Reader
Optimize your documents with multiple features, like auto-crop, auto-rotate, auto-deskew, blank page removal and character enhancement. The Barcode file reader is a system that helps you to finish documentation archiving. The OCR software allows you to create 225 scan profiles.
Highlighted Points:
affordable easy-to-use document scanner
the automatic document feeder holds up to 50 pages
it scans a page per 2.4 seconds
the resolution is 600 dots per inch
bundled Optical Character Recognition
Things To Know About Cheap Document Scanner
Scanning Material – There are scanners that are intended for specific material. But the most common materials for scanning are documents and photographs. Also, you can scan receipts, business cards, stamps, passports and others. Check if your favorite scanner is suitable for your needs.
Scanning Speed – If you plan to scan on daily basis, you should consider the automatic document feeder or sheet feeder. If you need to scan a few pages you don't need a sheet feeder or high-speed scanning. Fast document scanners are able to scan a page per few seconds.
Duplex Scanning – This term means that the scanner is able to scan the document from both sides at the same time. That is very useful if you need a huge capactiy document scanner for scanning documents. You don't have to flip the paper manually. This feature increases productivity.
Scanner Resolution – The scanner resolution is measured in dots per inch. The optimal resolution depends on scanning material. For most tasks, 600 dots per inch will be enough. But for some originals or high-quality photos consider a higher resolution, like 4800 dpi.
Flatbed Scanner – The flatbed scanners are great for delicate tasks. If you need to scan old photos or fragile documents or receipts, the flatbed scanner is the type you need. This scanner has a large glass plate, there you should place your document, it keeps your item safe from damage.
Final Verdict
We think that the best of these cheap document scanners is the Brother DS-620 scanner. This is a fast, compact and lightweight document scanner, it scans color and black and white documents and sends them to a variety of destinations. If you want to check more affordable scanners for personal use, read the review of personal document scanners. For those who require compact and portable scanners, there is a post about handheld document scanners.