Are you looking for a document camera scanner with quality features?
We find the best six document camera scanners on the market. Read their reviews and pick a suitable scanner for your requirements. If you buy a scanner for the first time or have any ambiguities, check our buying guide, you'll find useful information there.
Our Top Picks
Best 6 Document Camera Scanners
Best Of Best Document Camera Scanner
Aibecy Document Camera Scanner
Affordable Scanner
The Aibecy is a portable document camera scanner that measures 3.2 x 3.1 x 12.8 inches. It weighs 1.3 pounds. The pad size is 15.9 x 12.9 inches. When you order the scanner, you'll get a pad, USB cable, USB disk and scanner. The price of this document camera scanner is affordable.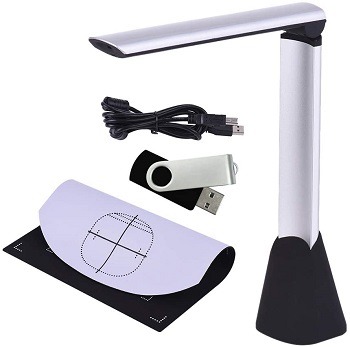 Windows Compatible
This is a USB powered scanner that supports the Windows operating system. Use this portable photo scanner in classrooms, banks, offices, libraries and so on. It is a pretty fast scanner, it takes a second to scan documents. The Aibecy supports multiple formats like JPG, PNG, BMP, TIFF, PDF and others.
CMOS Sensor
The LED Light Source system allows you to scan the documents whenever you need them. The device doesn't require warm-up time. The Aibecy uses a Complementary Metal Oxide Semiconductor image sensor, it creates images in digital cameras. The design is foldable.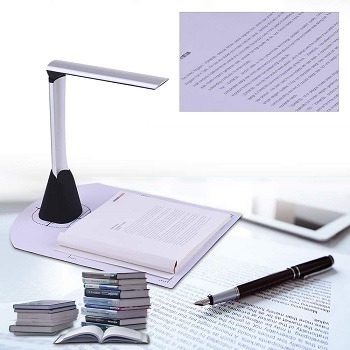 Real-Time Image Capturing
The Aibecy delivers 2592 x 1944 resolution or it has 5 megapixels. The maximal paper size is A4 format. Moreover, this scanner supports OCR software, so you can convert your scans into searchable and editable files. Aibecy supports real-time document capturing and showing through the projector.
Highlighted Points:
foldable and portable document camera scanner
it supports the Windows operating system
no warm-up time needed
the resolution is 2592 x 1944 dpi
built-in Optical Character Recognition
it captures images in real-time
Best Portable Document Camera Scanner
iCodis Document Camera X3
A3 Format
The iCodis document camera scanner X3 is designed for all documents within the A3 format. The item dimensions are 9.4 x 3.1 x 13.8 inches. It is a lightweight product, there are 1.65 pounds. The package includes a scanner, USB cable, soft mat, software CD, guide and user manual.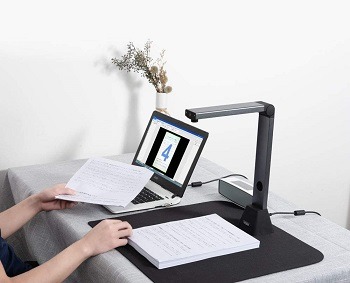 Period Time Setting
This is a overhead scanner but it can also scan magazines, catalogs and more. It is important to mention that the scanner isn't compatible with Apple Mac OS. The iCodis has the ability to automatic continuous scanning and you can set up a period of time. The scanning speed is high, it's just 1.5 seconds.
Practical Software
This document camera scanner has multiple functions, intelligent continuous shot, Optical Character Recognition, SDK & TWAIN, automatic correcting, automatic filling the broken edge of pages, automatic image segmentation, automatically merging both sides and other functions.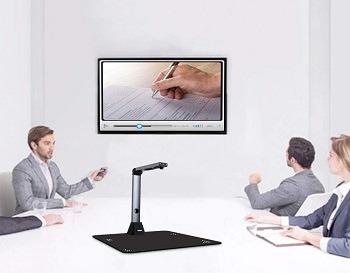 High Definition Scanning
With this scanner, you can record and project the data in real-time. It's suitable for teaching, meeting and similar occasions. The real resolution is 3264 x 2448 pixels. On top of the scanner, there is an LED light, use it in a darker environment. The iCodis is a collapsible and portable scanner.
Highlighted Points:
collapsible and portable document camera scanner
the resolution is 3264 x 2448 pixels
it scans all document sizes within A3 format
the integrated software provides multiple functions
recording and real-time projecting
speed scanning – 1.5 seconds per page
Best Speed Document Camera Scanner
Eloam Document Camera Scanner
No Computer Needed
The Eloam camera for scanning documents measures 8.3 x 5.9 x 15.7 inches. It weighs only 5.4 pounds. It's able to scan anywhere, without a computer or network. You just need to insert the TF/microSD card into the device and connect the power adapter.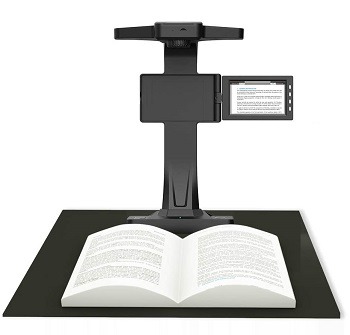 A3 Scan Size
This camera scanner covers the space of 19.3 x 14.2 inches. You can scan legal-sized paper, letter size, A3 and smaller sizes, B4 and smaller sizes and ledger size. The Eloam provides 4898 x 3672 resolution. This is a fast scanner, it takes 2 seconds for one page.
Intelligent Processing
The package includes a legal size scanner, soft background pad, hand button and foot pedal, fingertip, power adapter, USB cable and HDMI cable, installation CD and user manual. This high-speed camera scanner is able to auto-flatten the curved pages, erase the fingerprints, correct the askew pages, etc.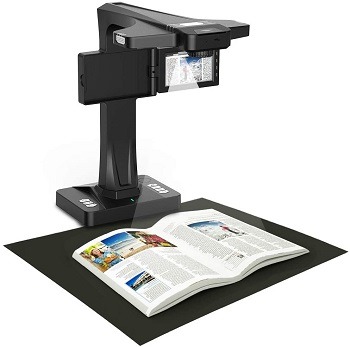 Easy-to-use
Use the OCR technology to convert the documents into searchable and editable files. Convert it into Word, Excel, PDF and other formats. The software offers five scan modes and there are three process modes and an auto-scan mode. Eloam works as a Visual Presenter able to record video/screen.
Highlighted Points:
it provides a real-time presentation
the resolution is 4898 x 3672 pixels
it scans a page per 2 seconds
with OCR technology, convert your files
multiple intelligent scan corrections
it supports scanning various document sizes
Best Book Document Camera Scanner
Czur Aura-B Camera Scanner
Book Scanner
The Czur Aura-B document camera scanner is ideal for document and book scanning. It weighs 3.3 pounds and has 7.08 x 5.11 x 17.44 inches. The resolution is 4320 x 3240 pixels. You'll have quality scans. This device supports Windows and Mac operating systems.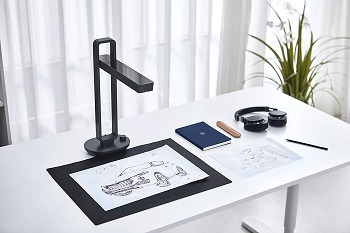 Book Curve Flattening
This portable book scanner scans thick books easily. The Book Curve technology uses three precise lasers for high scanning accuracy and image clarity. The Aura-B is compatible with Zoom, it offers instantly screen sharing, which is great for teaching, online learning and meeting.
Enhanced Software
The power consumption is low, it uses 32 watts. This document camera scanner has enhanced OCR software. It features high accuracy text recognition and editable formats. That means you can convert JPG images into editable Word, Excel or PDF formats.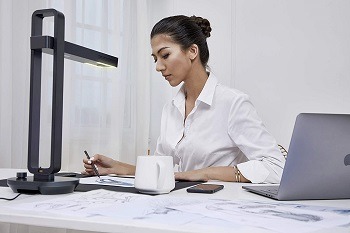 Fold It And Store It
Optimize your scans with correction functions. There is auto color optimization, you can adjust color and contrast, combine all images into one. The Aura-B is a foldable document camera scanner, you can fold it and store wherever you need, it doesn't require much space.
Highlighted Points:
perfect document camera scanner for books
low power consumption of 32 watts
Book curve flattening technology
compatible with Mac and Windows systems
use multiple functions for image optimization
Best Automatic Document Camera Scanner
Cimsun Document Camera Scanner
Windows Only
The Cimsun document camera scanner T580X is a portable scanner, you can fold it and store it in a bag or drawer. This lightweight product has 2 pounds only. The item dimensions are 13.78 x 12.99 x 12.99 inches. This scanner isn't compatible with Mac, but with Windows 7/8 and 10.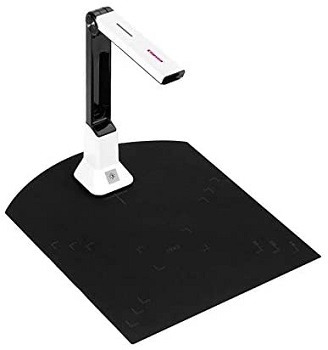 5 Megapixels
It features a soft base, you need to place a paper, book or document here. The max document size is A4 or letter-sized paper. That is a paper of 8.5 x 11 inches. The camera delivers 5 megapixels. You need to plug the device into the computer, install software and start scanning.
Set a Time Lapse
With this document camera scanner, you can even record a video. Moreover, you can show the picture or video on the projector in real-time. This is a helpful teaching tool if you work remotely. It is a fast document scanner, it needs 1 second to scan documents. You can set a time-lapse for book scanning.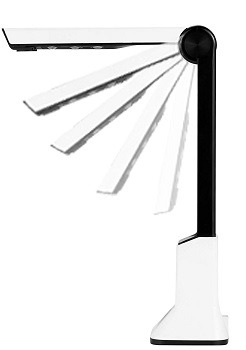 Smart Image Processing
Save your scanned document into PDF formats. The Cimsun scans the documents and books in high resolution. You can zoom the legible words in 10 times. The LED light switch provides more accurate scanning. The software allows you to choose shooting modes, smart image processing and others.
Highlighted Points:
portable document camera scanner
compatible with Windows OS only
intended for A4 or letter-sized papers
record a video and project it in real-time
it needs 1 second to scan a document
multiple software functions
Best Office Document Camera Scanner
EnweGey Document Camera Scanner
Affordable Item
The EnweGey cheap scanner is affordable for any budget. Its price is affordable, but it has good features. Choose this model for occasional scanning. It supports Windows XP, Windows 7/8/10 and above. But it doesn't support Apple Mac OS and Chromebook.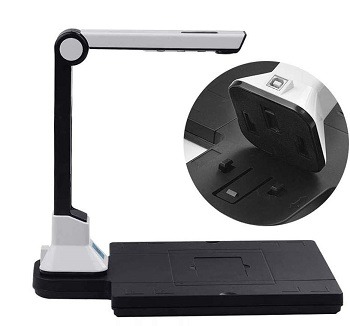 Adjustable Baseboard
This document camera scanner is equipped with a CMOS sensor and 8 million pixels. The baseboard is adjustable and there are grid lines so you can better determine the scan location. It is a fast scanner, so it takes a second to scan the document. The max scanning size is A4 format.
Real-time Projection
The EnweGey allows you to record videos and display them in real-time. The intelligent features support real-time live video and video recording functions. It is great for remote teaching, meeting, training, etc. The automatic correction improves document quality immediately.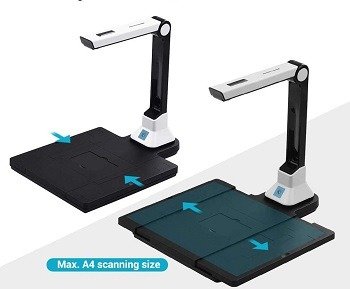 Text Recognition Function
You can convert the captured documents or pictures into searchable and editable files. OCR software supports multiple languages, it has symbols and number recognition. This device uses a standard USB cable. When you insert the USB flash drive into the computer and install the software.
Highlighted Points:
affordable and portable document camera scanner
real-time video shooting
it corrects the pictures automatically
convert your scans into text with OCR software
high-speed shooting system
CMOS sensor and 8 million pixels
Things To Know About Document Camera Scanner
The document camera scanners are different from regular scanners. Before purchase, check out their resolution, compatibility, advanced features and software you can find out more here.
Resolution – The scanner resolution is measured in dots per inch or pixels per inch. The highest the resolution, the better the image quality. If you work with text documents only, you don't have to buy a scanner with very high resolution. But for pictures and photos, consider a professional quality photo scanner.
Compatibility – Not all document camera scanners are good with all operating systems. Some of the models are compatible with the Windows system, but they don't support Mac operating systems. Check out this feature before you buy a scanner.
OCR Software – This is a very useful feature. If you scan the documents in JPG, PNG, TIFF or BMP formats, you can easily convert them into searchable and editable formats, like PDF, Word, Excel. The Optical Character Recognition software supports multiple languages.
Video Recording – These documents camera scanners are able to record the video in real-time. It is very useful for remote teaching, meeting, training. Record your important data with a button. It is very easy to use this feature. Moreover, you can store your videos.
Scanner Size – These scanners are a bit different than a regular scanner. They have overhead sensors. These devices don't have large dimensions and they are often collapsible. That means you can fold the scanner, store it or carry it with you to a meeting or in school.
Final Verdict
There are many document camera scanners with quality features. We think that the Aibecy camera scanner is a great scanner for everybody's needs. It features a high speed, 5-megapixel resolution and OCR software. If you are interested in speed, check out the review of the best high-speed scanners on the market. If you need a budget-friendly option, read the post about cheap document scanners.