Do you want to convert your books into digital files?
Here we talk about six different portable book scanners from different budget ranges and with different features. We'll present to you some important information before your purchase. Then check out those models, they are the best on the market.
Our Top Picks
6 Best Portable Book Scanners
Best Of Best Portable Book Scanner
Aibecy Portable Document Scanner
Lightweight Item
The Aibecy scanner is a portable overhead book scanner. Its dimensions are 3.2 x 3.1 x 12.8 inches. It's lightweight, there are 1.3 pounds only. The pad size is 15.9 x 12.9 inches. The package includes a scanner, pad, USB cable and USB disk. You can find it at an affordable price.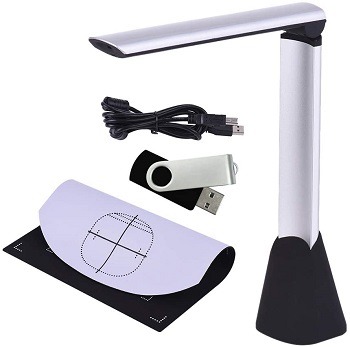 Foldable Design
This professional book scanner is powered by a USB cable and the length of the cable is 1.5 meters or 59 inches. This portable scanner is sturdy and durable, it is made of aluminum alloy material with a rubber padded base. Moreover, it's foldable, you can easily carry it.
Non-contact Scanning
The Aibecy features high-speed scanning, it takes 1 second to scan the page. This device uses a CMOS image sensor with 5 megapixels and a resolution of 2592 x 1944. These features provide more clean files. The scanning technique is non-contact, just place the book and push the button.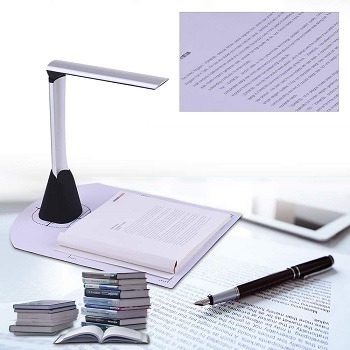 Optical Character Recognition
The max scanning size is A4 format, so you can scan ID cards, passports, pictures, magazines, 3D objects, books, etc. Aibecy supports the Optical Character Recognition function, it is useful for converting image format to editable word format. It is perfect for making e-books.
Highlighted Points:
foldable design for easy carrying
maximal document size is A4 format
Optical Character Recognition supports converting
it scans passports, ID cards, photos, magazines, books
USB powered overhead scanner
Best Handheld Portable Book Scanner
Iriscan Book 3 Portable Scanner
Battery Powered
Iriscan Book 3 is a handheld scanner and it is powered by batteries. It requires three AAA batteries. This small scanner measures 2.28 x 12.12 x 5.43 inches. It weighs less than a pound. You can store it in your drawer, on a shelf, in your bag, it fits anywhere.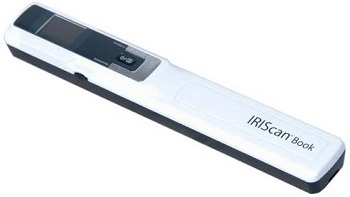 5 Pages Per Minute
This handheld document scanner is ideal for newspapers, magazines, A4 documents and books. The Iriscan scanner is compatible with Mac and Windows operating systems. The scanning resolution is 300, 600 and 900 dpi. It is a fast device, it scans 5 pages per minute.
Easy To Use
The box includes a scanner, software, batteries, SD card, soft case and manual. With one set of batteries, you can scan over 1000 pages. It is easy to use this handheld portable book scanner, just slide over the page and the scans will be saved on a microSD card. You can easily be transferred to your PC or Mac.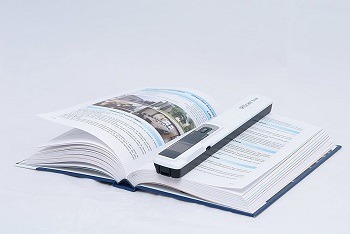 Free Software
The Iriscan is able to scan directly to JPG or PDF format. On the LCD screen, you can see your previous and current settings. This scanner comes with OCR software, so you can edit and convert your files into MS Word or MS XLS. Download software from the Iris website. Also, you can export the files into PDF searchable.
Highlighted Points:
cordless, battery-operated handheld scanner
download the software from the official scanner website
LCD color screen for visible settings
compatible with Mac and Windows systems
the scanning speed is 5 pages per minute
Ideal for A4 format, magazines, books, newspapers
Best Office Portable Book Scanner
Czur Portable Scanner
Premium Brand
The Czur Aura is an overhead book scanner with solid construction made of aluminum. It features a stylish metallic design. Czur Aura isn't just a scanner, it is a desk lamp, too. They are declared as premium scanners brand. This model received the Red Dot Design Award.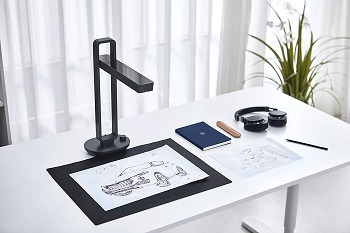 Book Curve Flattening
The Aura uses smart technologies to scan the books, there is an intelligent algorithm that changes curved paper into a flat page. There are three precise laser lines for accurate scanning and better image quality. The laser lines disappear when the scanning is complete. It needs 2 seconds for double-page books.
180 Languages
The Aura's Optical Character Recognition software is able to convert JPG file to editable Excel, Word or PDF formats. This software supports over 180 languages. This portable book scanner scans documents, drawings, newspapers, books, contracts and any paper of up to A3 in size.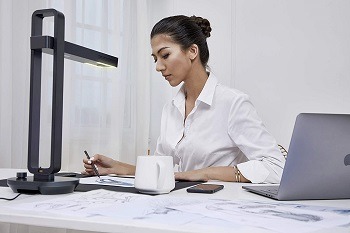 Smart Lamp
The office scanner features an LCD screen of 2 inches, on the screen you can see previous scans. Moreover, it shows a scan preview in real-time, you can see how your page will look before scanning. The smart lamp is integrated into this scanner, it provides 4 different lighting modes. Control the light via Czur app.
Highlighted Points:
the awarded overhead book scanner
sturdy construction with a metallic finish
book curve flattening improves scans quality
Optical Character Recognition function
LCD screen for scan preview and settings
smart lamp with four different settings
Best Automatic Portable Book Scanner
Eloam Book Scanner
Scanner Specifications
The Eloam 186oTP is a portable book scanner with 8.30 x 5.90 x 15.70 inches in size. It weighs 5 pounds. This scanner delivers a resolution of 4898 x 3672 dpi. It is able to scan books, documents, volume, photos, business cards, receipts, etc. The package includes a scanner, foot pedal, soft pad, hook tape, power adapter, USB and HDMI cable and installation CD.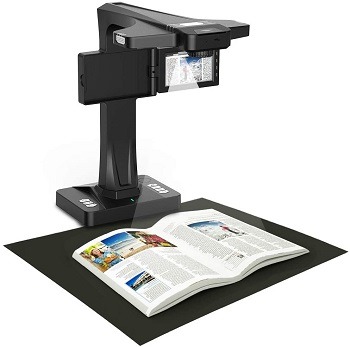 Windows Only
It is important to note that the Eloam automatic scanner is compatible with Windows only, not with the Mac system. This scanner allows you to scan even without a computer. But the microSD or TF card is required. Eloam is equipped with a CMOS image sensor with 18 megapixels.
Intelligent Scanning
The A3 is the maximal size which this large document scanner can handle. It scans precisely in less than 2 seconds. The intelligent features automatically flatten the curved pages, delete fingerprints, correct the askew papers, purify the background and split the facing pages.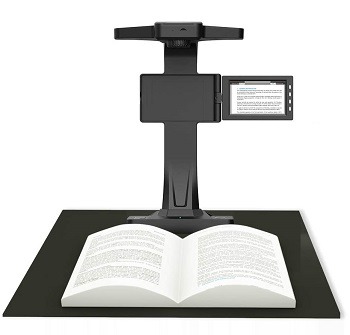 Advanced OCR Technology
With Optical Character Recognition technology, you can convert your scanned images to editable Excel, Txt, Word and PDF formats. This technology supports more than 180 languages. The Eloam features five scanning modes, three process modes, auto-scan feature. It works as a Visual Presenter because it is able to record video or screen.
Highlighted Points:
it works with or without a computer
compatible with Windows only
you can record video or screen for real-time presentation
convert image into editable format
it automatically flattens curved pages
auto-scan mode for faster scanning
Best Overhead Portable Book Scanner
Fujitsu ScanSnap SV600 Scanner
Huge Volume Of Books
The Fujitsu ScanSnap SV600 overhead scanner is designed for people who have a huge volume of books that need scanning. It is great for the newspaper, books, receipts and delicate documents. There is no damaging, you can rely on this scanner. Its price is a bit higher.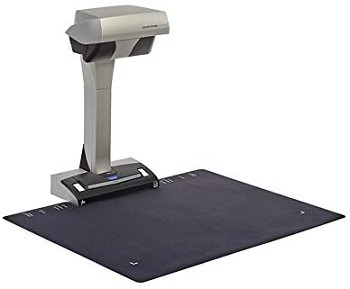 Page Turning Detection
The Fujitsu has the ability to scan 10 individual items side by side. That means you can scan multiple business or ID cards, but the software will detect them as separate items. For book scanning, there are few amazing technologies, like auto page-turning detection, the scanner scans the page automatically when you turn the page.
Flattening Software
Then, there is the image flattening software which is able to correct the curves at a book spine. This software also removes scanned fingerprints. The high-quality CCD optics and LED illumination provide quality scans. For one page, the scanner needs less than 3 seconds.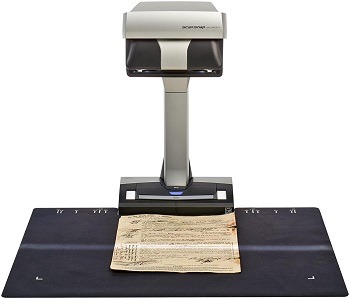 Wide Formats
This is a wide format scanner, so it scans documents or books of up to A3 in size. The max resolution for color pages is 600 dpi and for monochrome is 1200 dpi. This portable book scanner measures 8.30 x 15.10 x 6.10 and weighs 6 pounds. It is compatible with the Windows operating system.
Highlighted Points:
scan several items at the same time
software removes fingertips from scans
automatically detects page-turning and scans
compatible with Windows system
image flattening software for curved pages
great for delicate and multi-document scanning
Best Flatbed Portable Book Scanner
Plustek OpticBook Scanner
2.48 Seconds For Page
The Plustek OpticBook A300 scanner measures 2 x 4 x 8 inches. It is intended for books and documents of up to A3 in size. Of course, you can scan small items, like business cards, ID cards, etc. For one page scanning, the Plustek takes 2.48 seconds, if you scan a 200-page book, it lasts 20 minutes.
No Shadow
The Plustek is a flatbed scanner, so it is more compact than overhead scanners. The special book edge design allows you to scan the book without a visible spine shadow. The color depth range is 48-bit, so the optical resolution is 600 dpi. It is able to scan colored, greyscale and monochrome pages.
Text Distortion Eliminated
The Book Pavilion software automatically crops and rotate the pages. Then it saves the scanned pages in your desired format, PDF, EPUB, BMP, JPG or TIF. The software eliminates text distortion, too. You can easily scan bound books as well as individual pages.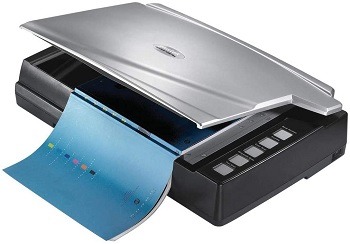 Continuous Scanning
The Plustek book scanner features auto continuous scanning and rotation. If you need to scan a large volume of books, you can do it quickly with this scanner. The interaction with PC during scanning isn't required. Scan the pages and transfer them later. Plustek supports Optical Character Recognition for conversion.
Highlighted Points:
flatbed book scanner for A3 formats
Shadow Elimination element technology
supports Optical Character Recognition
perfect for libraries or archives
fast scanning – last 2.48 seconds
Things To Know About Portable Book Scanner
If you need to scan books, you need to find an adjusted scanner for that task. Here we will introduce you to a portable book scanner's features and differences.
Three Types – There are many different scanners, but when we talk about a book scanner, there are three main types. The overhead, handheld and flatbed scanners. The handheld scanners aren't intended for a high volume of books. They are great for home use.
Overhead Scanners – These scanner types are most popular for book scanning. They have a pad for book and an overhead part that scans the books. Usually, they feature automatic scanning, so when you turn the page, sensors detect turning and automatically scans the new page.
Portability – Before you purchase the book scanner, check out its dimensions and weight. Mostly, these models aren't heavy, so it is easy to carry them from one place to another. But some scanners are foldable which improves their transport.
Advanced Features – The books are specific for scanning, the pages are curved and askew, so the scanner with some intelligent features will be a good choice. Some models automatically flatten the curved pages, remove the fingerprints, purify the background, split the facing pages, etc.
Scanning Speed – If you need to digitalize the book of 300 pages, the scanning speed is the features which is important for you. New high-volume document scanners have advanced features, so the speed is better, too. The most common scanning speed range is between 2 to 3 seconds.
Final Verdict
It isn't easy to decide which model is the best, if you read reviews, you probably find one which suits your needs. If you not, we suggest the Aibecy Portable Document Scanner. It is an overhead book scanner with high resolution, speedy scanning and Optical Character Recognition. If you are interested in portable scanners, check out the posts about portable flatbed scanners or portable photo scanners.