Are you looking for the best book and document scanner?
Did you consider overhead scanners?
If you didn't, it's the right time for it. In our buying guide, you will learn why overhead scanners are so different and which are their advantages. Then take a look at those listed six models. They use advanced technologies to deliver quality scans.
Our Top Picks
6 Best Overhead Scanner Reviews
Best Of Best Overhead Scanner
Fujitsu ScanSnap SV600
High-Quality Product
The Fujitsu ScanSnap SV600 is a remarkable overhead book scanner due to a few highly useful features it has. The item dimensions are 8.3 x 15.1 x 6.1 inches and it is lightweight. You can store it and move it easily. Use the USB cable for connection.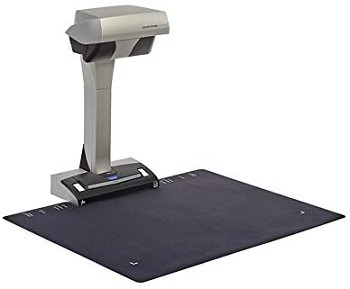 Great For Libraries
It is simple to set it up and use, there is just one button and it's intended for scanning. It's important to note that this scanner is compatible with Windows OS only. If you need to scanner with high volume, you won't mistake with this overhead scanner. It has a high price, but it's worth it.
Multiple Items
Use the Fujitsu scanner for receipts, books, magazines, business cards and documents of up to A3 in size. It's capable to scan ten individual items if you place it side by side. The software will detect that and save them as separate documents. This ScanSnap SV600 uses three useful technologies.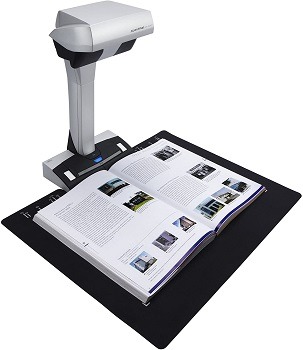 Three Technologies
First is page-turning detection technology, the scanner automatically scans when you turn the page. You don't have to press the scan button each time. Second is fingertips removal, the Fujitsu ScanSnap SV600 will remove fingertips immediately. The third is the image flattening function, the software removes book curves.
Highlighted Points:
one of the best overhead scanners on the market
scans automatically with page-turning detection
image flattening software corrects the book curves
automatically removes fingertips from scans
great for books, magazines, delicate documents, etc.
Best Book Overhead Scanner
Czur Aura-B Book Scanner
Premium Brand
The Czur Aura-B book scanner is newer on the market. The Czur is a very popular and premium overhead scanner brand. This model is one of the affordable scanners made by this manufacturer. It measures 7.08 x 5.11 x 17.44 inches and it weighs 3.3 pounds. It is a portable book scanner.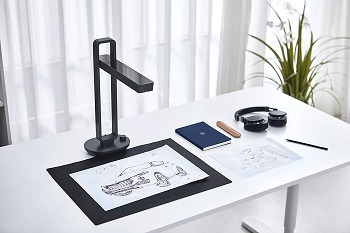 Book Curve Flattening
You'll get a 1-year warranty. It supports both operating systems, Windows and Mac. The Aura-B features Book Curve technology that has three precise lasers. These lasers provide more accuracy, clarity and reproduce flat pages of curved books. You don't have to unbind it.
Collapsible Design
This scanner is powered by USB. This overhead book scanner is compatible with Zoom, which means you can instantly share the screen with your colleagues or students. You can annotate, highlight, scroll and even click on the screen. It supports Snapshot and Video Recording tools.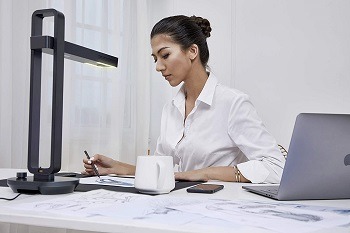 2 Seconds Per Page
When your scanner arrives, download the software from Czur website. Don't forget to select the right model for your device. Aura-B has low power consumption. It offers intuitive night light mode which uses sound sensors. The scanning speed is high, it needs 2 seconds to scan a page. The OCR is included.
Highlighted Points:
ultra-fast scanning speed – 2 seconds per page
multifunction button design
collapsible scanner for easy portability
compatible with Windows and Mac OS
it features low energy consumption
Book Curve technology with three lasers
Best Portable Overhead Scanner
IriScan Desk 5 Overhead Scanner
Personal Scanner
The IriScan Desk 5 scanner is a portable personal scanner. Use it for bound books, magazines, newspapers, documents, papers, drawings, passports, receipts and business cards. The item dimensions are 10.5 x 3.34 x 2.95 inches. It isn't compatible with Mac, but Windows only.

Letter Size Recommended
This scanner also uses book curve technology like previous models. You'll have flat, accurate and clear scans. This overhead scanner is recommended for A4 or letter-size documents. You don't have to use an AC adapter, it's USB powered device.
Bundled Software
With this scanner, you can scan multiple receipts at the same time. The software will recognize them and save them as individual files. The IriScan is able to scan the barcode to MS Excel. The scanning speed is 2-3 seconds, so you can scan multiple pages quickly.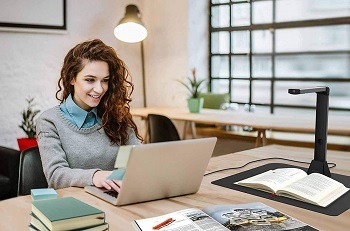 Desktop Camera Scanner
The desktop camera scanner will automatically detect the page-turning and scan the new sheet immediately. Moreover, it automatically removes scanned fingertips. Use the programmable timer to scans at regular intervals.  Convert the scans into searchable files with OCR software.
Highlighted Points:
versatile USB-powered scanner
scans books, documents, drawings, receipts and more
the maximal document size is letter size
the smart image flattening corrects book curves
automatic page-turning detection
built-in Optical Character Recognition software
Best Document Overhead Scanner
Eloam Document Scanner
MicroSD Card Required
The Eloam document scanner is a mid-range overhead scanner. This scanner is intended for receipts, photos, paper and business cards. It is a lightweight product of 5.4 pounds. Its dimensions are 8.3 x 5.9 x 15.7 inches. You can scan anywhere if you buy a MicroSD card.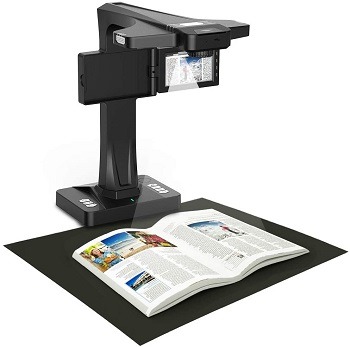 Fast Scanner
This scanner uses CMOS image sensors and delivers 18 megapixels. The maximal document size is A3 size, which is a document of 11 inches in width and 17 inches in length. For A3 size paper, it needs less than 2 seconds for a clear and accurate scan.
Intelligent Processing
The bundled software will automatically increase the quality of your scans. That includes auto-flatten the curved pages, fingerprints removal, correct the askew pages, remove the background, split the facing pages and many other functions. You can scan with ease.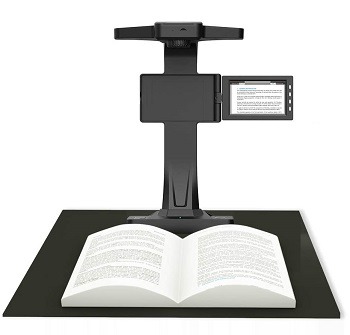 OCR Technology
The Eloam scanner uses advanced Optical Character Recognition technology. It is able to convert all kinds of your scanned documents into searchable PDFs or editable Word, Excel, text files. The integrated software has five scan modes, three process modes and an auto-scan mode. The foot pedal is included so it is a pretty cheap document scanner for its features.
Highlighted Points:
with a MicroSD card, you can scan anywhere
it is equipped with 18 megapixels
the maximal document size is 11 x 17 inches
the software provides many automatic functions
fast scanning of up to 2 seconds per page
Best A3 Overhead Scanner
iCodis Large Format Scanner
Budget Option
The iCodis document camera scanner is a budget-friendly scanner. Unfortunately, it isn't compatible with the Mac operating system, but Windows only. It is important to note that if CD with a driver isn't in the package, scan the QR code, go to the iCodis website and download the software.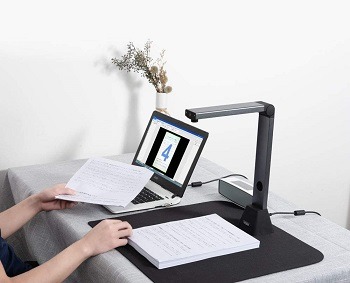 8 Megapixels
This overhead scanner measures 9.4 x 3.1 x 13.8 inches and weighs 1.3 pounds only. The iCodis has a collapsible and portable design. The base is heavy, so the structure is stable. It is easy to use and install. Its camera delivers 8 megapixels, which is 3264 x 2448 dpi.
Multiple Functions
The iCodis offers many useful functions, like intelligent continuous shooting, automatic image segmentation, correction and filling defective images, real-time shooting, scanning barcodes and QR codes, generating PDF files quickly and many others.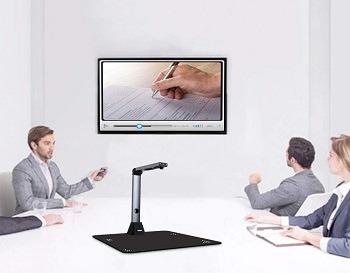 Supported Formats
Powered by OCR technology, this large bed scanner recognizes many languages. In just one click, you can convert your scans into searchable and editable files. It supports Word, PDf, Excel and JPG formats. The iCodis scans A3 format easily, which includes blueprints, magazines and catalogs.
Highlighted Points:
8-megapixel camera for highly accurate scans
it scans easily documents of up to A3 size
USB powered device, compatible with Windows only
the OCR technology converts your files to other formats
it offers real-time shooting – under 1.5 seconds
equipped with LED lights for dark environments
Best Office Overhead Scanner
Aibecy Overhead Scanner
LED Light Source
The Aibecy is a portable overhead scanner that fits perfectly in any office. Also, it is great for the classroom, libraries and banks. There is no need for warm-up time because of the LED light source. The package includes a scanner, pad, USB cable and USB disk.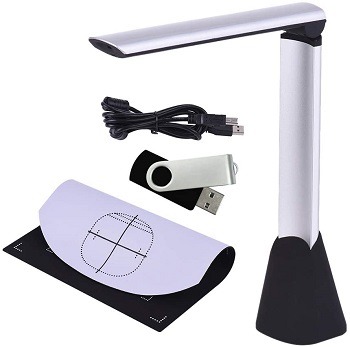 CMOS Sensor
The scanner size is 3.2 x 3.1 x 12.8 inches and it weighs 1.3 pounds. The pad size is 15.9 x 12.9 inches. It supports the Windows system only. The CMOS image sensor delivers more clear scanning files. The Aibecy has 5 megapixels or 2592 x 1944 dots per inch.
High Scan Speed
The Aibecy uses a non-contact scanning technique, which is great if you need to scan old photos or delicate documents. This scanner won't damage them. It is a very efficient office scanner, it needs 1 second to scan a page. The maximal paper size is 8.5 x 11 inches or A4.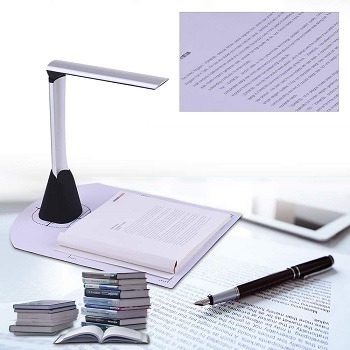 Optimize The Scans
The integrated OCR software converts scans into searchable files. It is suitable for E-book making. After scanning, you can optimize your images. For example, you can adjust the brightness, contrast, sharpness, saturation and more. The Aibecy is equipped with LED lights for a dim environment.
Highlighted Points:
perfect scanner for office, school, library
lightweight and portable design
it scans a page in 1 second
built-in Optical Character Recognition
LED lights for scanning in a dark environment
non-contact scanning technique for delicate documents
Things To Know About Overhead Scanner
The overhead scanners have a different design than other scanner types. They are intended for specific tasks and have many benefits. Which they are, check out in our brief and useful guide.
Scanner Design – These scanners types differ from the flatbed and sheet-fed scanners. This type has a pad where you place a document or book and a scanner that is above the pad. That is a non-contact scanning technique. Usually, they have a collapsible design, so these scanners are portable.
Scanning Material – With these scanners, you can scan almost anything. Some models are capable to scan 3D objects, too. But, these products are ideal for bound books and delicate documents of photo scanning. Because there is no contact, the scanner won't damage your things.
Document Size – These large document scanners are capable to scan various sizes. From small and thin receipts to large documents of up to A3 size. In inches, that is 11 inches in width and 17 inches in length. You can scan newspapers, magazines and even blueprints.
Book Curve Technology – All scanners on this list above have some kind of book curve technology. This technology flattens curved book pages and delivers flat page scans. You don't have to unbind the thick book before you need to scan it.
Compatibility – Not all scanners are compatible with all operating systems. Many scanners support Windows and Mac OS, but before purchase, check the scanner's compatibility. The fewer scanners support Linux OS, but you can find them.
Final Verdict
All of those models on the list have great features and you can use it for a long time. We think that Fujitsu ScanSnap SV600 is a really amazing overhead scanner. It uses automatic page detection technology, image flattening software, multiple document detection, fingertips removal and many other functions. Find more similar models in the post about document camera scanners. If you are interested in book scanning, check out the review of automatic book scanners.