Do you want to find the best vinyl monogram machine for your hobby or business?
Then you're at the right place! Here you can find reviews of the 6 best models and different categories. Also, read the buying guide for more practical info you should know to pick the right model for yourself.
Our Top Picks
Best 6 Vinyl Monogram Machines
BEST OF BEST VINYL MONOGRAM MACHINE
Silhouette Cameo 3 Vinyl Cutter
Software For Mac And Windows
Silhouette Cameo 3 vinyl monogram machine is an ideal choice in case you want to have all materials, tools, and designs needed for creating great monograms. With this model, you'll get the Studio software that includes 100 exclusive designs and one month membership to the Silhouette design store. Software is compatible with Mac and Windows operating systems.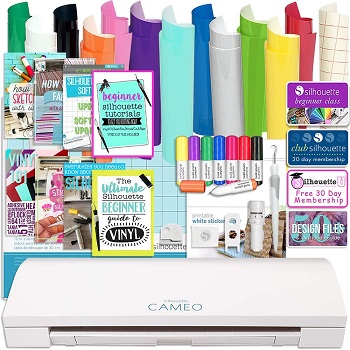 Ideal For Beginners
This Mac compatible vinyl cutter is great for beginners because they can start to learn and implement immediately with included guide books and materials. Vinyl and project starter guide books include Silhouette studio class and Online Cameo 3 instructional class. You'll also get 8 sticker papers that are 8.5" wide and 11" high, transfer tapes, and Genuine Oracal 651 permanent vinyl sheets in 12 colors that are 12" long and wide.
Full Tool Kit And Warranty
The tool kit includes eight sketch pens, a replacement blade, trimmer, ratchet, scraper, hook, and spatula. The protection cutting mat is also in the package, and it's 12" long and wide. With this offer, you can start to do monograms as soon as the item is delivered. Another user-friendly feature is a 1-year limited warranty for all parts.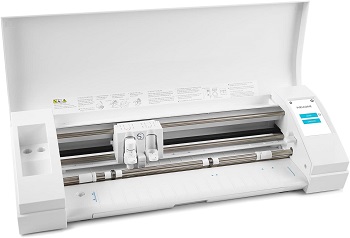 Wireless Connection And PixScan Compatibility
The computer and machine can be connected with a USB cable or Bluetooth. The touchscreen on the machine ensures easy navigation and control of speed and pressure. The auto blade will adjust to the material thickness. The machine will cut many materials that are up to 12" wide and 10 ft long. The system has the function to register and cut printed materials, and it's compatible with PixScan.
Highlighted Points:
Silhouette Studio for Windows and Mac
USB cable and Bluetooth
full kit with materials and tools
instructions for beginners
1-year limited warranty
BEST SMALL VINYL MONOGRAM MACHINE
Cricut Joy Machine
Design And Materials
This is the best small model for monograms because of the online space for doing your own designs, software that has pre-installed fonts and templates you can use, and included full-kit with tools and materials you can use when working.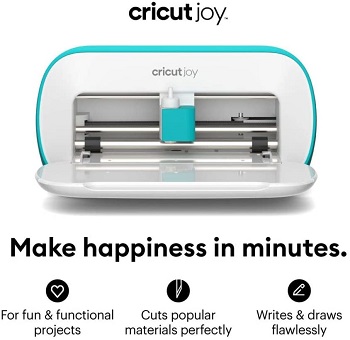 Create Your Designs
The Cricut Design Space is free to upload and you can use it on both iOS and Android mobile devices and tablets. If you decide to pay a monthly membership to Cricut Access, you can download many designs and fonts that are already created for you. With this offer, you'll get a free trial for the app.
Cutting And Writing
The vinyl monogram machine has two functions: cutting and writing. The blade can be used to cut around 50 different materials. The maximum cutting width is 5.5" because the model is very small and compact. It's ideal for use at home because its design is space-saving. The vinyl sign maker works with Smart Materials and cuts up to 20 ft without using protection mats.
Full Package Content
The software can be connected to the machine with Bluetooth which is user-friendly. The kit includes tools and materials. You'll get a replacement blade, three fine point black pens, and a metallic market set. Included materials are 4.5"x 6.5" adhesive mat, smart label writable paper, and permanent smart vinyl rolls: one mint, one holographic, and three matte metallic (champagne, party pink, and cornflower color).
Highlighted Points:
Cricut Design Space
Cricut Access with created designs
includes tool kits and materials
5.5" maximum cutting width
both cutter and plotter
BEST CRAFT VINYL MONOGRAM MACHINE
Brother ScanNCut SDX85 Scanner Printer
Auto blade Sensor Technology
This model is great for doing monograms because it has an auto blade that adjusts to the thickness of the material with the sensor technology. In that way, you'll get the best cuts out of the letters or logos you will use for creating monograms. The blade will cut materials up to 0.1" thick, which includes paper, leather, vinyl, and fabric.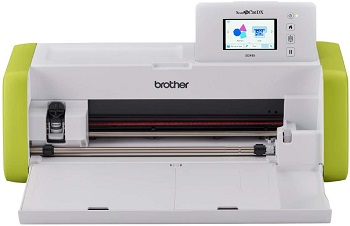 Adjust Settings On LCD
The cutting speed and pressure are controlled with the 3.47" touchscreen LCD. The big screen shows you all the settings and allows you to easily navigate and work. Another great user-friendly feature of this model is that you can scan any images you would like to use on the computer.
Scanning And Cutting
Scan any photography or other image, and then use it as a template for cutting. Also, this vinyl monogram machine is a desktop printer, so you can print out desired images and then scan and use them as a template. A multifunctional system is very practical when making crafts or monograms.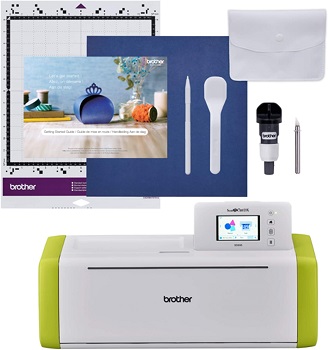 With Pre-Installed Designs
Since the software connects to the machine with Bluetooth, you can work from a phone, tablet, or computer. Like some other craft vinyl cutter machines, this unit includes pre-installed 251 drawing and cutting designs you can use for your monograms. The desktop model is compact and the maximum cutting width is 12". The package includes a 12" long and wide adhesive mat.
Highlighted Points:
blades adjust to material's thickness
touchscreen LCD for settings
desktop printer and scanner
software with Bluetooth
251 installed designs
BEST FOR SMALL BUSINESS VINYL MONOGRAM MACHINE
Cricut Expression 2 Cutter
Cartridges For Professional Monograms
If you want to have a vinyl monogram machine with enough designs already created for you- this model will be a good choice. You'll get Cricut Essential and Alphabet Cartridge that includes over 110 layered images, 40 phrases, and 5 different fonts. This feature makes it ideal for small businesses because you can make professional monograms.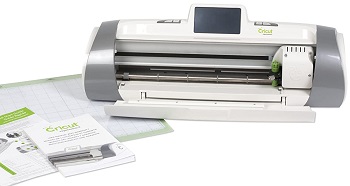 Full Package And LCD Touchscreen
Besides the software with design, you'll get a cartridge handbook, three-port covers, start guide, and user manual. Also, the Cricut vinyl monogram includes a 12" long and wide adhesive mat, replacement blade, stylus, USB cable, power adapter, and protector for the LCD screen. Cutting speed and force can be adjusted on the LCD touchscreen.
User-friendly Functions
The maximum cutting width is 12" and the maximum paper feed is 24". This vinyl cutter for home has user-friendly features such as auto-fill and quantity that allow creating multiple projects from the same image. Fit To Page function can maximize the size of an image without trial and error.
Design Software And Library
With the Cricut Craft Room design software, you can create your own designs or use the ones available in the Cricut image library. The software can be used with both Windows operating systems and Mac. Connect the machine and computer with a USB cable. The machine is compact, lightweight, and saves a lot of space on any working surface.
Highlighted Points:
110 layered images, 40 phrases, and 5 fonts
Cricut Craft Room design software for Windows and Mac
touchscreen LCD for adjusting speed and force
the maximum cutting width is 12"
USB connection to a computer
BEST HEAT PRESS AND VINYL MONOGRAM MACHINE
Mophorn 34"Plotter Printer
Transfer Monograms To Fabric
Unique accessories that other offers don't include is the heat press machine that's 12" long and 15" wide. This is an efficient vinyl cutter and heat press bundle because you can create monograms and then apply them to any surface you want- fabric, hat, clothes, bag, etc. This is the best model if you're having a business that includes decorations on clothes or other fabrics.
Make Large Monograms
The vinyl monogram machine is bigger in comparison to previous models. It's not a desktop but comes with a stand. The maximum paper feed is 34" and the maximum cutting width is 30.7". Therefore, you can make much bigger monograms in comparison to previous models. Double pinch-rollers ensure adjusting of the paper feed on the guide rail.
Adjust Settings On LCD
The cutting speed can be adjusted between 0.8 and 31.5 ips and the cutting force ranges from 0.7 to 17.6 ounces. The settings can be adjusted according to the material thickness which is very important if you want to have monograms with clear cuts. The control panel with buttons and LCD ensures easy settings adjustments. The LCD has a backlight for easier navigation.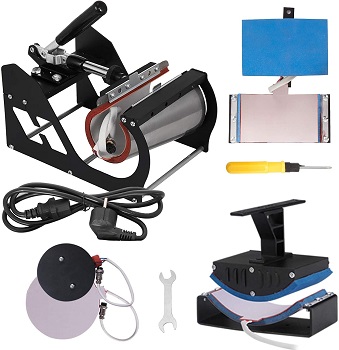 Efficient System With Precision
The Signmaker software allows you to do professional images and designs for your monograms, and it's compatible with Windows operational systems. However, it can't be used with the Mac systems. The model runs on a Stepper motor. The highest cutting precision is 0.0004". The system has a D-type motherboard and 2M high-speed cache memory.
Highlighted Points:
includes 12" long and 15" wide heat transfer machine
Signmaker software for Windows
D-type motherboard and 2M inner memory
the maximum cutting width is 30.7"
The highest cutting force is 17.6 ounces
BEST COMMERCIAL VINYL MONOGRAM MACHINE
Vevor 14" Cutter Machine
For Small To Medium Monograms
This vinyl monogram machine has a maximum paper feed of 14" and a maximum cutting width of 11.2". That's wide enough for making monograms of small to medium size.  It's a great machine for making monograms because of the precise cutting, adjustable cutting speed and force, and Signmaster software.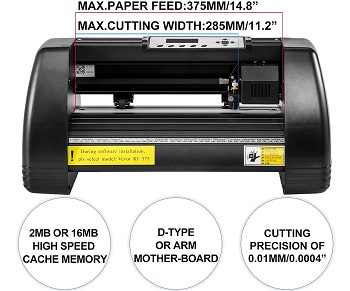 Control Speed And Force
At the top of the machine is the control panel with the LCD and buttons for emergency start and stop, reset, and settings adjusting. Speed can be set in a range from 0.8 to 31.5 ips and the cutting pressure between 0.7 to 17.6 ounces. That's really practical when creating monograms because the blade can be adjusted to the material thickness for the best precision.
High Precision And Windows Software
The Roland-type blade is having high precision with a repetition accuracy of 0.0004", which means monograms will have a clear cut. The Signmaster software allows you to make professional signs, letters, fonts, and other designs you can use when creating your monogram. It's not compatible with Mac, but only with Windows XP/Vista/7/8/10 for both 32-bit and 64-bit processors.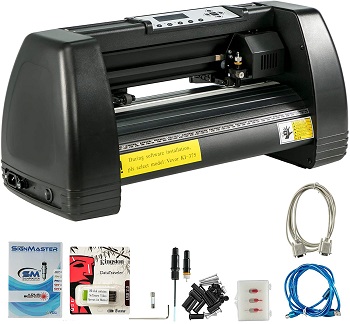 Adjust Paper Feed Width
Additional great user-friendly feature of this model is double pinch-rollers. They can adjust the guide rail to the width of the vinyl or other material in the feed. This means that any material with a maximum width of 13" will be stable inside the feed while being cut. Therefore this is the best commercial vinyl cutter to make high-quality monograms.
Highlighted Points:
Signmaster software for Windows
double pinch-rollers
adjustable cutting speed and force
high cutting precision of 0.0004"
the maximum cutting width is 11.2"
Things To Know About Vinyl Monogram Machines
To make monograms, you must have enough designs and fonts to create letters and logos, as well as the right materials and tools. If you want to buy the right vinyl monogram machine for your business or hobby, check out blade features such as auto adjustments, speed and pressure, package content, and Software specifications.
Software With Designs – When choosing a machine, check if the Software is suitable for your operational system. Also, consider those models that include Design Studio where you can create your images and pre-installed images in the library which you can use for making monograms.
Auto Blade – Blade should have a system that adjusts to the material thickness. In that way, the machine can create monograms with clear cuts from any material, not only vinyl. Look for high precision in the machine, which is around a value of 0.0004".
Materials And Tools – Another desirable addition are bundles with tools and materials. Therefore you can start immediately, without having to search for every part separately. It's great if the model includes different vinyl rolls, an adhesive mat, blade, pen, spatula, trimmer, etc. If you're a beginner, look for the model with instructions and guide books.
Easy-To-Use LCD – Look for any digital vinyl printer cutter machine with a larger LCD with a backlight for easy navigation. This is a great user-friendly feature for anyone who is creating crafts and monograms. LCD allows you to easily adjust important settings such as cutting speed and pressure.
Wireless Connection – This is a super important function because it makes your work much more simple. Most custom vinyl cutters will have Bluetooth technology that ensures the wireless connection between the Software on your device and the machine.