Do you want to buy the best auto-feed scanner?
Here we will introduce you to an automatic feed scanner and its features. These scanners allow you to scan multiple pages at once. Take a look at our buying guide and learn how to find the ideal auto feeder scanner for you. In our list, there are the best 6 models on the market.
Our Top Picks
Best 6 Automatic Feed Scanners
Best Of Best Auto Feeder Scanner
Epson Auto-feed Scanner
Sheet-fed Scanner
The Epson WorkForce ES-400 is a sheet-fed scanner that works with Mac and Windows 7/8/8.1/10 operating systems. The scanner is ideal for office use. Also, it is compatible with most software that includes the TWAIN driver. It is USB powered and measures 11.6 x 6.6 x 6.3 inches.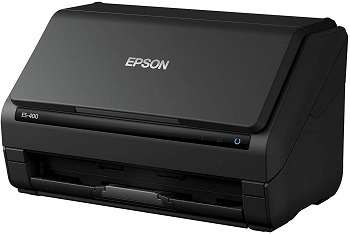 35 Pages Per Minute
Use this automatic feed scanner for photos, documents, business and ID cards, receipts and so on. This high-speed document scanner scans 35 pages per minute. Thanks to Single Step technology, the Epson scans both sides of the document at the same time. That increases productivity.
ScanSmart Software
The automatic document feeder has the ability to holds up to 50 pages. With Epson ScanSmart software, you can preview, upload, email, choose automatic file naming. Moreover, there is built-in Optical Character Recognition, use it to convert scans to searchable PDFs and editable files.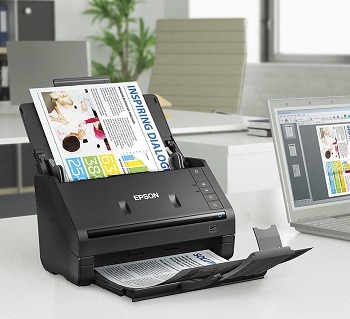 Image Processing Technology
You can easily send your scans to multiple destinations like cloud services (DropBox, Google Drive,…). There are two more great functions. First is Ultrasonic Double Feed Detection which prevents missing paper. The second is an Image Processing technology that offers auto-crop, blank page and background removal, etc.
Highlighted Points:
space-saving, compact design
it scans 35 pages per minute
the automatic document feeder has a 50-page capacity
integrated Optical Character Recognition software
Ultrasonic Double Feed Detection
improve your scans with Image Processing technology
Best Bulk Auto Feeder Scanner
HP ScanJet Auto Feeder Scanner
Flatbed Scanner
The HP Scan Jet Pro 2500 is one of the best flatbed scanners. Its dimensions are 17.8 inches in width, 13.8 inches in depth and 4.8 inches in height. The package includes a power cord and adapter, USB cable, scanner, installation guide and CDs with software.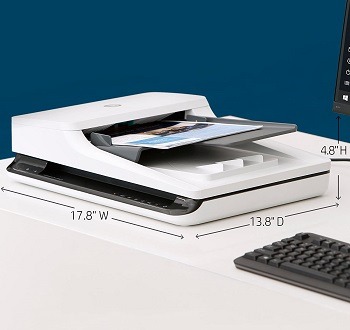 50-page Capacity
It achieves a scanning speed of up to 20 pages per minute or 40 images per minute. It features an automatic document feeder that you can load with 50 pages. The recommended daily duty cycle is 1500 pages. The maximal paper size is letter size, that's 8.5 x 11.7 inches.
Error LED Light
After you insert a stack of paper into the ADF, select the simplex or duplex scanning. There are buttons on the left side of the scanner. There are a power button, cancel button, scan shortcut toggle button, custom shortcuts, simplex/duplex button and scan button. Also, there is an error LED light if something's wrong.

Multiple Functions
With integrated software, you can automatically crop, rotate, exposure, page size detection, blank page and background removal, merge pages and more. It allows you to send your scans to email, cloud service, local drive and other locations. The OCR software is included in this auto feeder scanner, too.
Highlighted Points:
quality flatbed scanner with automatic document feeder
OCR software is includes
the integrated software provides many functions
it scans 20 pages per minute/40 images per minute
automatic document feeder capacity is 50 pages
Best High-speed Auto Feeder Scanner
Canon Automatic Document Feeder
Office Scanner
The Canon ImageFormula R40 is the perfect scanner for office use. It is compact but powerful. This scanner supports Mac and Windows operating systems. It is a USB powered scanner with an average price and a 1-year warranty. Also, there is US-based technical support if you have any questions.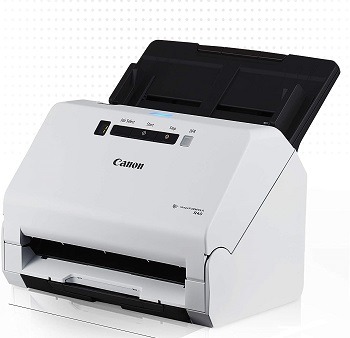 60-page Capacity
This automatic feed scanner scans photos, receipts, documents and business cards. It is able to scan both sides of the document at the same time, so you don't have to manually flip the page over. Moreover, it scans 40 pages per minute, which is pretty fast. The automatic document feeder has a capacity of 60 pages.
One-touch Operation
The user interface is simple, there are three one-touch buttons. It is easy to set up the scanner and use it. Of, course, it has integrated software that automatically adjusts output resolution. That improves scans' quality. Furthermore, this automatic feed scanner reduces file size for easier mixed-batch scanning.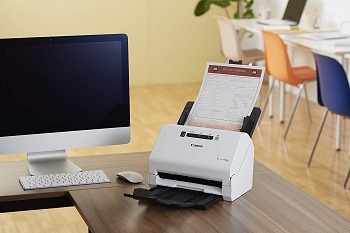 OCR Software
After scanning, you can send your files directly to Google Drive, OneBox and other cloud services. Also, you can convert your files into searchable PDFs and stay organized. Convert your files into editable formats like Word and Excel. The OCR software allows those functions.
Highlighted Points:
the automatic document feeder scanner ideal for office
connect the scanner with the computer through a USB
the ability to scan both sides of the documents
it scans 40 pages per minute
the automatic document feeder has 60 pages
the integrated OCR software converts scans
Best Photo Automatic Feed Scanner
Fujitsu Photo Auto Feed Scanner
Standard Model
The Fujitsu ScanSnap iX1500 automatic feed scanner is available in two colors, black and white. Also, you can choose between three styles – original, deluxe and standard. In this short review, we talk about the standard black model. The price is higher.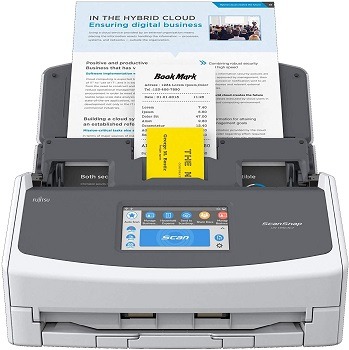 USB & WiFi
This auto feed photo scanner accepts receipts, photos, documents and business and ID cards. The advanced paper feeding system supports duplex scanning. You can connect the scanner with a USB cable or WiFi. The Fujitsu provides 600 dpi of optical resolution. That ensures quality scans.
Large Touchscreen
It is a fast scanner, at one minute, it scans up to 30 pages. Insert 50 pages into the automatic feeder, press the scan button and leave the device to finish scanning. The Fujitsu features a large 4.3-inch touch screen which is very easy to use. You can scan to multiple destinations.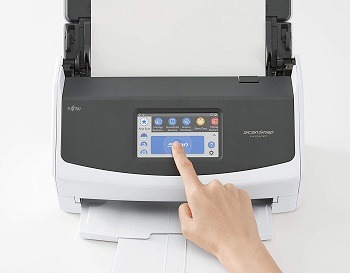 Create Multiple Profiles
The software allows you to create user profiles and save information to folders. You can create up to 30 profiles. After you save your scans, you can easily find them with keywords or sentences. The OCR software is bundled. Improves your photos and other scans with contras optimization, rotate, cropping, etc.
Highlighted Points:
duplex document scanner compatible with Mac & Windows
user-friendly 4.3-inch touchscreen
connect it with a USB cable or WiFi
use intelligent scan correction and improve scan quality
stay organized with OCR software
the auto feeder scanner holds up to 50 sheets
Best Duplex Automatic Feed Scanner
Xerox Auto Document Feeder Scanner
In The Box
The Xerox XD-Combo scanner is a 2-in-1 item. It is a flatbed document scanner with an automatic document feeder. This USB powered device has 15.8 x 13 x 5 inches in size. If you order this scanner, you'll get a USB cable, ADF pad, power plug adapters, power supply, installation guide and CD with software.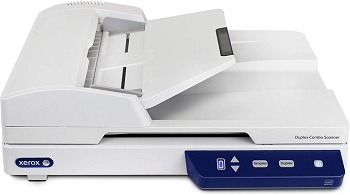 Long Documents
This auto feeder scanner is able to scan color, greyscale and black and white documents. It is PC and Mac compatible. Use this scanner for receipts, photos, documents and ID cards. The maximal paper size it can take is 8.5 inches in width and 118 inches in length.
35-sheet Capacity
The Xerox features a 35-sheet automatic document feeder and it achieves a scanning speed of up to 25 pages per minute or 50 images per minute. There are simplex and duplex buttons, so choose one depends on document requirements. The daily duty cycle is 1500 pages.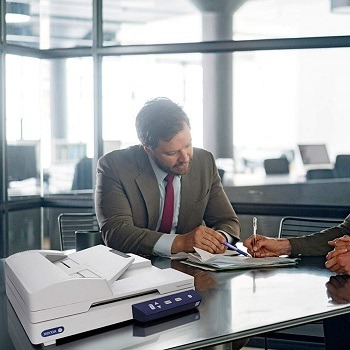 Visioneer Acuity Software
The Optical Character Recognition software allows you to convert your scans into searchable and editable files. You can organize your documents and find them easily. There is Visioneer Acuity software that automatically improves the visual clarity of scans.
Highlighted Points:
automatic feed scanner powered by USB
the automatic document feeder has a 35-sheet capacity
the scanning speed is 25 pages per minute
Optical Character Recognition is integrated
the Acuity software automatically improves scans quality
Best Automatic Feed Scanner
Doxie Q Wireless Document Scanner
Portable Scanner
The Doxie Q is a wireless rechargeable document scanner with an automatic document feeder. With 11.61 x 3.19 x 1.61 inches, it features a compact design. This scanner is portable and fits in your bag or drawer when you're done scanning. Also, there is a simple interface.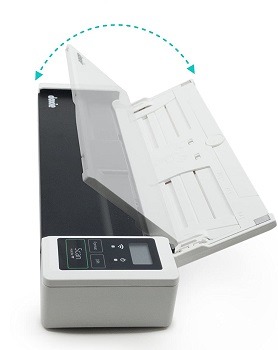 1000 Pages Per Charge
It uses a rechargeable battery, so you don't need to use a computer during scanning. When the battery is fully charged, the Doxie is able to scan over 1000 pages. If you want to use an automatic document feeder, just open the lid and insert the stack of up to 8 full-color pages. It is a collapsible feeder.
Award-winning Software
The Doxie takes 7.5 seconds per page. The delivered resolution is 600 dots per inch. This auto feeder scanner scans receipts, photos, documents, cards and even fragile papers. It uses award-winning ABBYY OCR technology, so you can create searchable and editable files.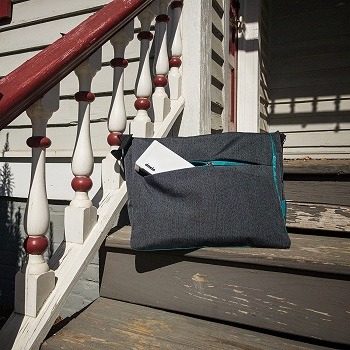 Sync To iOS
This auto-feed scanner supports both operating systems, Mac and Windows. Save your scans to your desktop, local app or cloud service. Doxie supports the iOS app, which means you can sync with the iPhone or iPad. The WiFi is built-in. There is an intelligent auto-adjust for better scan quality.
Highlighted Points:
automatic document feeder scanner with 8-page capacity
compatible with Mac, Windows and iOS
the scanning speed is 7.5 seconds per page
it uses ABBYY OCR software for conversion
automatic image adjustment for higher quality
rechargeable battery for wireless scanning
Things To Know About Automatic Feed Scanner
The auto feeder scanners have a lot of benefits. You don't have to insert each paper manually, but a stack of paper. They come with different capacities, design, speed and other functions. Check our guide before you make a purchase.
Sheet-feed Vs. Flatbed – There are two main scanner types with automatic document feeder. The sheet-fed scanners and flatbed scanners with ADF. The sheet-fed scanners are the most common and have higher capacity. The flatbed scanner usually offers a better resolution.
Stack Of Paper – The automatic document feeder allows you to scan a batch of papers in a snap. That means, read the scanner document capacity and don't overload it. Insert the stack of paper and press the scan button, that's it. Some multi-document scanners are able to hold up to 50 and more pages.
Scanning Speed – If you work with a high volume of papers, consider a faster scanner. It will increase the scanner's productivity. The speed is measured in pages or images per minute. There are very fast scanners on the market that are capable to scan a page per single second.
Simplex/Duplex Scanning – Many new scanners have this feature. You can choose between simplex and duplex scanning. If you need to scan a document with text on both sides, select the duplex scanning. You don't have to flip the page over and scan the backside.
Software Functions – The scanners come with integrated software that allows you to improve or change your scans. For example, the software is able to automatically crop, skew, rotate, color detection, a blank page or background removal and more. The OCR software converts scans into searchable and editable files.
Final Verdict
If you not sure which one to choose, we recommend the Epson WorkForce Es-400. It has integrated OCR software, intelligent adjustments, ADF with 50-page capacity and it's a fast scanner. If you looking for a scanner with a large capacity, check out the post about high volume document scanners. For business people, the review of the best office scanners will be very useful.