Do you want to buy an inkjet CD printer?
Then this article is for you! I'll describe the 6 best models on the market within different categories so you can compare them and choose the best. If you need more help and additional info, read the buying guide.
Our Top Picks
6 Best Inkjet CD Printers Review
Best Of Best: Canon MX922 CD Printer
Connectivity And Direct Printing
This inkjet CD printer connects to the computer with wireless WiFi, Ethernet wired connection, and USB 2.0 Hi-Speed for fast data transfer. The model also supports direct mobile printing from Apple using AirPrint technology and Android using Google Cloud Print. The Canon direct disc print has an auto document feeder for 35 sheets.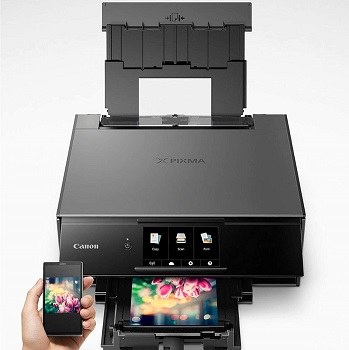 Automatic Printing
Also, it has auto-duplex technology for printing images on both sides without you having to turn the pages. The cartridges of this all-in-one wireless inkjet printer are suitable for individual and combo CLI-251 XL ink tanks in cyan, magenta, yellow and black, and PGI-250 XL or PGI-255 XXL pigment-based black ink tanks.
Software Suitability
The Canon Pixma MX922 CD printing software is compatible with Windows 8, RT, 7, 7 SP1, Vista SP1, SP2, Windows XP SP3 32-bit, and Mac OSX 10.6.8-10.9. The model is 19.4" long, 15.6" wide, and 9.1" high. It weighs 25.7 pounds. Therefore it's portable and compact for both office and home.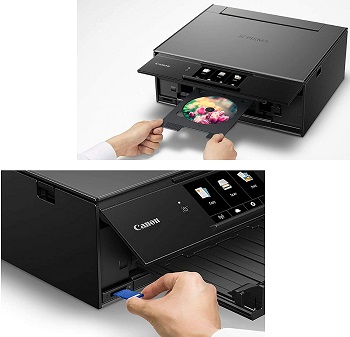 Printing Speed And Resolution
The ink system has 6-color individual ink cartridges. All settings can be adjusted on a 5.5" color touchscreen. The maximum printing speed is 15 ppm for black ink, and 10 ppm for color. It can make a borderless print that's 4" wide and 6" high in 21 seconds. Printing resolution is 9600 x 2400 DPI, and scanning resolution 2400 x 4800 DPI.
Highlighted Points:
9600 x 2400 DPI
5.5" color touchscreen
19.4" long, 15.6" wide and 9.1" high
15 ppm maximum printing speed
suitable for Windows and Mac
Best Color: Epson XP 7100 Inkjet Printer
Printing Speed And Media Siz
This inkjet cd printer has a maximum printing speed of 15.8 ppm, and 11 ppm for color ink. The machine can print on media that's 4" long and 6" wide within 12 seconds, and it does borderless prints on media that's up to 8.5" long and 11" wide.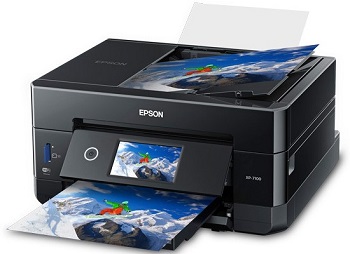 Automatic Functions
It's one of the best inkjet printers for CD/DVD printing with an automatic document feeder for 30 pages, also it has automatic double-sided printing, so you don't have to manually turn the pages. The model has Epson cartridges that are suitable with Epson ink bottles only.
Connectivity Options
This best inkjet photo printer has a 4.3" touchscreen control panel that's easy to use and helps you to navigate the printing process. The machine has WiFi direct to wirelessly connect to other devices without cable so you can work remotely. Also, it has Ethernet wired connectivity and a USB cable.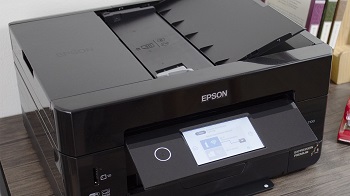 Compact Structure
Use the Creative Print app to print directly from Facebook and Instagram. The CD-ROM is included so you can use it to install software that's suitable for both Windows and Mac. The unit is 23.5" long, 17.2" wide, and 8.1" high, therefore it can easily fit on any working surface.
Highlighted Points:
4.3" touchscreen control panel
23.5" long, 17.2" wide and 8.1" high
15.8 ppm maximum printing speed
borderless printing of 8.5" x 11" big media
The Creative Print app included
Best All-In-One: Canon MG7720 CD Printer
Printing Speed And NFC
The inkjet CD printer has a maximum printing speed of 15 ppm for black ink, and 10 ppm for color. Another unique function is the NFC (near field communication) so you can place the phone above the chip and transfer data really fast. Also, you can use Alexa voice commands for easy control of the device.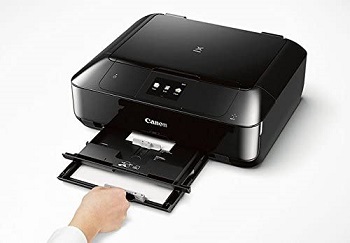 Print From Apple And Android
This digital inkjet printer has Mopria service which is a unique technology that allows you to print directly from Android mobile phones. Also, it features AirPrint technology in case you want to print from Apple devices such as iPad, iPod, or iPhone. The Google Cloud print can also be utilized for mobile direct printing.
Automatic Duplex Printing
The Canon Print app will help you to troubleshoot the printer, manage control, and connect with the app. It's a multifunctional machine that can copy, print, or scan. Also, it does automatic double-sided printing that makes your workflow really fast since you don't have to manually turn the pages.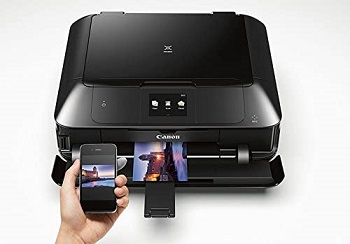 Printing Resolution And Sheet Capacity
The 6-color ink individual tank systems have high-quality ink that is creating prints with resolution up to 9600 x 2400 DPI, while scanning resolution is 600 x 600 DPI. The Hi-Speed USB allows fast data transfer. The input tray has a capacity of 125 sheets, while the output tray capacity is 20 sheets.
Highlighted Points:
maximum printing speed is 15 ppm
Mopria service for Android
AirPrint technology for Apple
9600 x 2400 DPI resolution
capacity for 125 sheets
Best For Photo: Epson R280 Inkjet Printer
Fast Printing 
It can print 38 pages per minute of text documents, and it can print 4" wide and 6" long in 11 seconds. The prints are sharp and colorful because of the Claria Hi-Definition pigment-based ink that's resistant to smudge, scratch, fading and it's water-resistant. Also, it has a high print resolution of 5760 x 1440 DPI.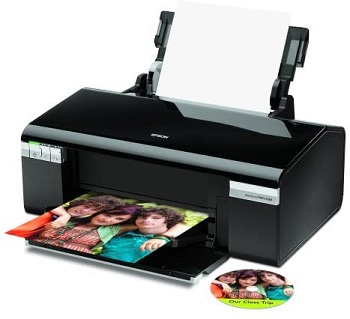 Photo Correction And Small Droplets
Another user-friendly feature is the Automatic Photo Correction that automatically corrects lighting in poorly exposed photos. The inkjet PVC card printer is 17.7" long, 22.5" wide, and 11.3" high.  Another great function is DX5 technology on the MicroPiezo printhead that creates 1.5 picoliters small droplets for smooth gradations and grain-free prints.
Media Size And Software
The inkjet CD printer machine features borderless printing, and it can work on media that 4" x 6", 5" x 7", 8" x 10" big and letter size. The software can work on computers that have Windows Vista, XP, XP Professional X64, 2000 operating system, and Mac OS X 10.2.8, 10.3.9-10.4.x, and above.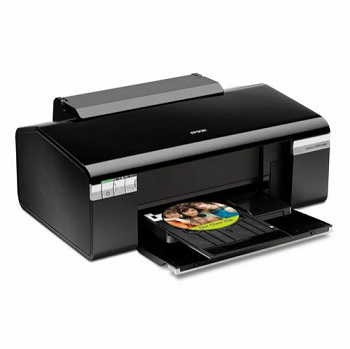 Data Transfer And Noise Levels 
The inkjet PVC card printer has USB Hi-speed connectivity for fast data transfer. Also, it's a very quiet model with a maximum noise level of 39 dB, so it's suitable for both home and office. Optimal working temperature ranges from 50°F up to 95°F, while relative humidity is between 20% and 80%. The structure is approved with Energy Star and covered with a 1-year limited warranty.
Highlighted Points:
5760 x 1440 DPI printing resolution
suitable for Windows and Mac
USB Hi-speed connectivity
39 dB noise level
MicroPiezo printhead
Best Commercial: Epson P400 CD Printer
Borderless Printing And Software
This commercial inkjet printer has a BorderFree function for professional photos. This is a wide-format inkjet printer suitable for media that's 13" wide.  The operating temperature is between 50°F and 95°F. The system has software that will work with Windows 10, 8.1, 8., and 75 and Mac OS X 10.7.5 x – 10.11.x.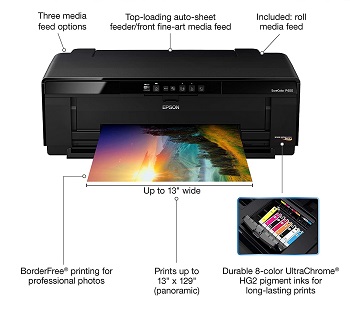 Wired And Wireless Connectivity
The inkjet CD printer can connect to a smartphone, tablet, and computer using three connectivity options: 100 Mbit Ethernet wired connection, USB interface, or WiFi technology. The machine is 12.8" long, 24.5" wide, and 8.6" high. The package includes a power cord and UltraChrome HG2 cartridges.
MicroPiezo Printhead
The inkjet CD/DVD printer has a high-quality Epson MicroPiezo printhead that delivers sharp and colorful images. It has a unique function that other models don't have. It has both sheet and roll feed, so you can use two media shapes. Also, it features an auto-selecting photo function and features fine art, canvas, and artboards.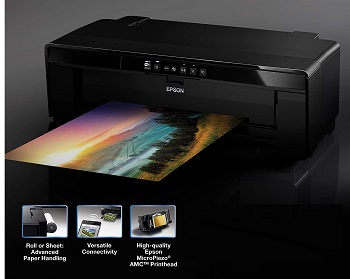 Panoramic Photo
Also, it can create panorama prints that are up to 129" long. The system includes 8-color individual ink cartridges and each of them has a volume of 14 ml. The Gloss Optimizer chemistry function is creating smooth and professional photos, while Red and Orange inks create vibrant and colorful images.
Highlighted Points:
13" wide printing area
suitable for panoramic photos
works with Mac and Windows
BorderFree function
Ethernet, USB, and WiFi
Best Digital: Canon Pixma TS702 Inkjet Printer
Media Size And Canon Print App
This inkjet CD printer has a Canon Print app that allows you to easily troubleshoot and control the printer. It's suitable for 3.5" x 3.5", 4" x 4", 4" x 6", 5" x 5", 5" x 7", 7" x 10", 8" x 10" media sizes, letter, legal and 10 envelopes.  It's a fast model that can print up to 15 ppm in black, and 10 ppm for color ink.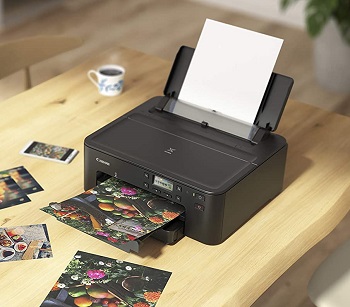 Sheet Capacity
It has an input tray with a capacity of 350 sheets, which is very user-friendly and you can use it for business. This office inkjet printer features Mopria Service and AirPrint technology that allows you to directly print from Android and Apple devices.
Alexa Voice Commands
Another user-friendly feature is Alexa that receives voice commands for easy navigation. It also detects when ink is running low and it automatically orders more. Automatic power on is a great function that automatically turns on the device when you send the document for printing.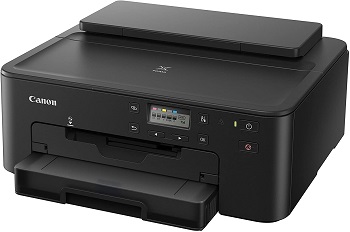 Multipurpose Tray
The model connects to other devices with Ethernet wired connectivity and WiFi technology. The structure is 14.7" long, 14.4" wide, and 6.3" high, therefore it's compact and space-saving for any working surface. It weighs 14.4 pounds, so it's also easy to transport. The included tray can be used for both DVD and PVC cards.
Highlighted Points:
tray for both CD and PVC cards
Alexa voice commands
Ethernet and WiFi
350 sheets capacity
15 ppm is the maximum printing speed
Things To Know About Inkjet CD Printers
If you want to print on CDs or DVDs with inkjet ink, you need to find an inkjet printer that has a special input tray that's made for CDs and DVDs. Often these can be replaced with PVC card trays. Here I describe some practical functions you should know about to find the best model.
Ink Type – If you want to make colorful and resistant images on CDs or DVDs, it's important to know which ink type to look for. There is dye-based and pigment-based ink. The latter is more resistant. Therefore pigment-based inkjet printers are a great choice if you want to make water-resistant and durable layouts that won't fade.
Print Resolution – Also, it's very user-friendly to get the model with high resolution. That means if the model prints with up to 6000 DPI of the resolution, the images will be clear, sharp, and colorful. To make professional visuals for CDs, the model should have a resolution between 4800 DPI and 9600 DPI.
Mobile Printing – Two main applications allow easy mobile printing without needing any software: AirPrint technology and Mopria Service. The AirPrint is made for Apple devices such as the iPhone and iPad that have iOS, while Mopria Service is suitable for Android phones.
User-Friendly Functions – If you want to buy a black and white inkjet printer that will allow you fast workflow, choose the one with an automatic document feeder and auto double-sided printing. Also, it's great if the model has an auto power-on function so it automatically starts to print when you send a certain document.
Fast Connection – Inkjet CD printer with high data transfer will make any project far easier. So you can focus on models that have Near Field Communication which is a certain chip and you can place the phone above it to transfer data really fast. Also, the Hi-Speed USB interface allows fast transfer.