Are you searching for a pigment-based inkjet printer?
Then search no more! I'll describe the best 6 models. You can compare them and see which category is right for you- an all-in-one, small, black and white, etc. Read the buying guide if you want to know more about different functions.
Our Top Picks
Best Pigment-Based Inkjet Printers
BEST OF BEST PIGMENT BASED INKJET PRINTER
Canon MX922 Inkjet Printer
Advanced Connection Technologies
This pigment-based inkjet printer is 19.4" long, 15.6" wide, and 9.1" high.  It's a compact and desktop machine that weighs 25.7 pounds. A very user-friendly feature is a wireless LAN that easily connects to a computer, phone, tablet, or another device. AirPrint technology allows you to print directly from your phone without software.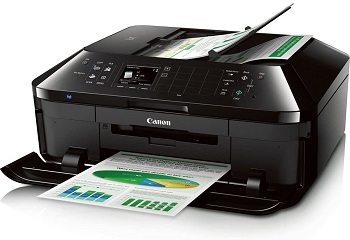 USB Interface And Windows Requirements
Also, it features a USB 2.0 Hi-speed interface for fast connection and data transfer from PC. The model works with different operating systems such as Windows 8, Windows RT, Windows 7, Windows Vista SP1 and SP2, Windows XP 32-bit, and Mac OSX from 10.6.8 to 10.9.
Automatic Functions
Another practical function that is speeding up the printing process is an automatic document feeder that can use up to 35 documents at once. The system also has an auto-duplex function that ensures printing on both document sides without manual interference.  A complex control panel allows tracking and adjusting all settings.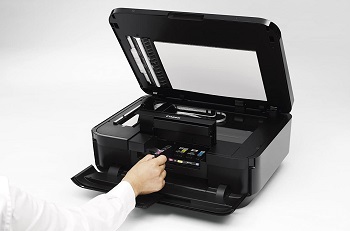 Multifunctional Machine
The printheads are compatible with individual or combo CLI-251 XL ink tanks in cyan, magenta, yellow, and black color, and pigment-based 250 XL and 255 XXL cartridges. This is an all-in-one color inkjet printer so you can use it for copying, scanning, and fax. It creates images with resolution up to 2400 x 4800 dpi.
Highlighted Points:
high-resolution of 2400 x 4800 dpi
auto-feed capacity is 35 sheets
auto duplex printing
works with Windows and Mac
AirPrint technology
BEST COLOR PIGMENT INKJET PRINTER
Canon Pixma iX6820 Printer
Compatibility With Operating Systems
This pigment inkjet printer is compatible with Windows 8, 8.1, 7, 7 SP1, Vista SP1, Vista SP2, Windows XP SP3, and Mac OSX version 10.6.8 to version 10.913. Besides working on the computer, you can print directly from mobile phones, both Android and iOS. It can connect with Wireless LAN, Ethernet, and HI-speed USB cable.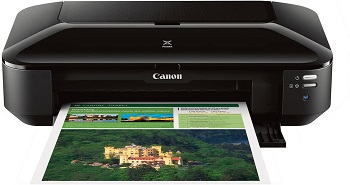 Direct Printing Is Available
That's possible because of the AirPrint technology that supports direct printing from the phone, while not having software. Also Google Cloud Print and Pixma Printing Solutions (PPS) allow printing from cloud services such as Google Disk, OneDrive, etc. My Image Garden software helps with organizing documents you'll print.
High Sheet Capacity
The model has 5 individual ink tanks, and it prints high-quality images with a maximum resolution of 9600 x 2400 dpi. The automatic document feeder has a capacity for 150 sheets. It can print up to 13" x 19" big media. Borderless printing is suitable for 4" x 6" media size.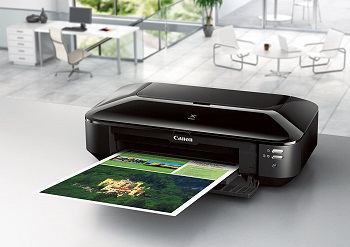 Printing Speed
It's the best inkjet printer for home that can be used for different projects. It's compact and space-saving for any working surface. Its length is 23", width is 12.30" and height is 6.30". The model has a maximum printing speed of 14.5 ppm for black, and 10.4 ppm for color.
Highlighted Points:
AirPrint and Google Cloud Print
My Image Garden software
the auto-feed capacity of 150 sheets
compatible with Windows and Mac
printing speed up to 14.5 ppm
BEST ALL-IN-ONE PIGMENT BASED INKJET PRINTER
WorkForce WF7710 Inkjet Printer
Media Size And Printer Dimensions
This model is powered by PrecisionCore technology which means you can create borderless prints up to 13" wide and 19" long. This model is 22.3" long, 19.1" wide, and 13.4" high. It's suitable for wide-format printing, but also faxing, scanning, and copying. The unique included function is NFC.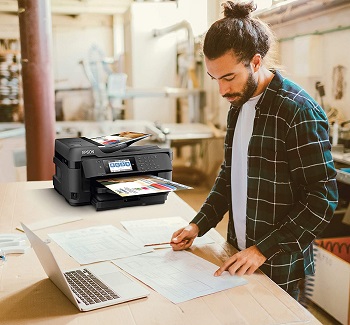 Ethernet, Wireless, And NFC Technology
Near Field Communication allows easy direct mobile printing. Put the phone above the NFC chip on the machine and start printing. It uses Ethernet cable or wireless technology to connect with the computer or phone. It works with iOS, Android, Mac, and Windows operating systems.
Printing Speed And Auto Feeder
It's fast with a maximum color printing speed of 10 ISO ppm and 18 ISO ppm for black ink. Therefore, it's a great office inkjet printer with an automatic document feeder that has a capacity of 35 pages. This pigment-based inkjet printer includes a 252 Series Genuine ink cartridge, USB, and software.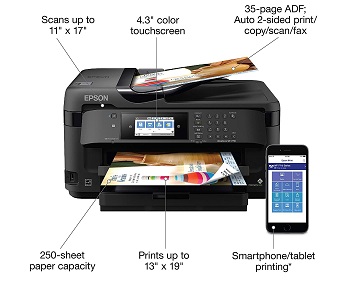 Control Panel And Sheet Capacity
All settings can be adjusted and tracked on the 4.3" touchscreen. Also, the system can do automatic double sides printing that saves you time and paper. The maximum capacity for the input tray is 250 paper sheets, 20 photo paper sheets, and 10 envelopes.
Highlighted Points:
borderless printing for media that's 13" x 19"
NFC chip for fast mobile printing
18 ISO ppm black printing speed
10 ISO ppm color printing speed
input tray with a capacity of 250 sheets
BEST SMALL PIGMENT INKJET PRINTER
Epson Stylus C88+ Printer
Low Noise Level And High Capacity
This model has a maximum operating noise level of 42 dB, which means it's very quiet and great for both office and home use. It's compact and will save a lot of working space. The machine is 18.1" long, 9.5" wide, and 7.6" high. Nevertheless, it has a high input tray capacity of 120 sheets.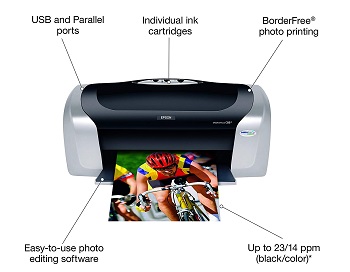 Printing Speed And Resolution
The maximum print resolution is 5760 x 1440 dpi, which means it produces pictures of high quality. The maximum speed for black ink is 23 ppm, while for colored ink is 14 ppm, so it's one of the fastest inkjet printers on this list. The system has 4 individual cartridges for black, cyan, magenta, and yellow ink.
Borderless Printing And Media SIze
Another great feature of this high-resolution inkjet printer is the borderless printing. The maximum suitable media size is 8.5" long and 14" wide. It connects to the computer with a parallel port or USB cable. It's suitable for Windows 98 Second Edition, 2000, XP, Vista, and Mac OS X 10.2 and above.
Software And Working Temperature
Included software are ArcSoft Photo Impression, Drivers & Utilities, Epson Scan Assistant, and Epson Web To Page. The pigment-based inkjet printer has an optimal working temperature between 50°F and 95°F, while optimal storage temperature is between 4°F and 140°F. All parts are covered with a 1-year limited warranty.
Highlighted Points:
42 dB noise levels
18.1" long, 9.5" wide, and 7.6" high
5760 x 1440 dpi printing resolution
23 ppm maximum printing speed for black ink
different software included
BEST BLACK AND WHITE PIGMENT BASED INKJET PRINTER
Epson P800 Inkjet Printer
Maximum Printable Area
This pigment inkjet printer is 26.93" long, 14.8" wide, and 9.85" high. It weighs 43 pounds. The maximum paper printing width is 17", while the maximum printable area is 17" wide and 22" long. It's great for making professional photography because it comes with 9 different colored ink cartridges.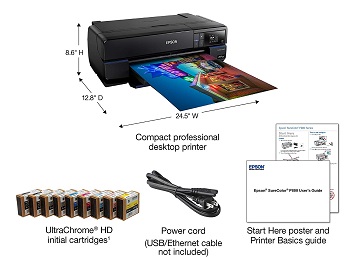 Upgraded For Monochrome Photos
Each cartridge has a volume of 80 mL. Also, it features an advanced system that makes professional black and white images. This monochrome inkjet printer has a roll feeder which is very unique and other models don't have that feature. It allows you to print from rolled media.
Direct Printing
The optimal working temperature for this device is between 50°F and 95°F, while the storage temperature range is between -4°F and 104°F. The AirPrint technology allows you to print directly from the mobile phone, while the Google Cloud print ensures printing from OneDrive, Google Disk, etc.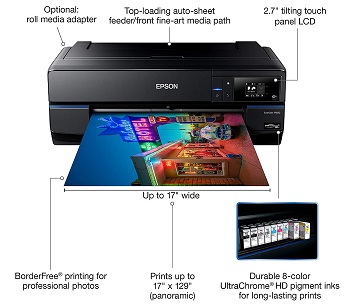 Connectivity To Other Devices
It has 100 Mbit Ethernet, WiFi Direct, Wireless N, and USB 2.0 interface for connection to other devices. The machine has  touchscren interface to adjust all the settings. Also it can fo borderless printing for 4" x 6", 5" x 7", 8" x 10", 11" x 14", 16" x 20", and 17" x 22" media size.
Highlighted Points:
26.93" long, 14.8" wide and 9.85" high
includes roll-feeder
50-95°F working temperature
Wireless, Ethernet, and USB connection
9 color individual cartridges
BEST FOR PHOTOS PIGMENT INKJET PRINTER
Canon PIXMA PRO10 Printer
Speed And Borderless Printing
This pigment-based inkjet printer can print bordered A3+ images or black and white prints in less than 4 minutes. It's featuring a printhead with 4 pl ink droplets that create images with 4800 x 2400 DPI print resolution. The machine can do borderless printing to create photos without white margins.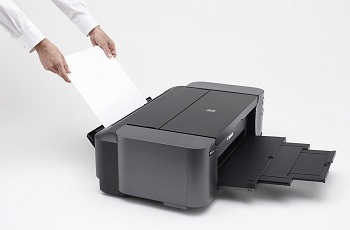 Wireless And Cable Connection
The maximum printing width is 14" wide, and you can print on Canon's genuine photo papers that are downloadable from Canon's ICC profiles. The model easily connects to a computer, tablet, or smartphone with WiFi or Ethernet. Hi-Speed USB allows fast data transfer from PC.
Awarded For Photo Printing
This is the best inkjet printer for photos, and it won the 2013 Technical Image Press Association (TIPA) Best Expert Photo Printer Award. It includes the Print Studio Pro Plug-In software for easy printing workflow. You can print directly from your phone using PhotoPrint for Android or AirPrint for Apple devices.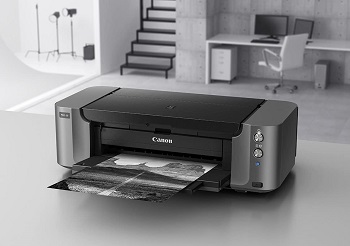 Advanced Functions
Another unique function is the Optimum Image Generating System that creates colors by the logical order based on the ink combination and placement. The machine is suitable for individual PGI-71 ink cartridges. The PictBridge connection allows you to print photos directly from a digital camera, camera phone, or DV camcorder.
Highlighted Points:
4800 x 2400 DPI image resolution
WiFi, Ethernet, and Hi-Speed USB
AirPrint And PhotoPrint
Optimum Image Generating System
PictBridge Connection
Things To Know About Pigment Inkjet Printers
They're great for printing photos of high-resolution and sharp images because they work with a specific ink. There are many features you need to consider when searching for the best pigment inkjet model, and here I've described some of them, such as
Pigment Vs Dye Based Inkjet Printer – The main difference is the ink they use. The dye ink is made from a soluble colorant that's dissolved in liquid, while the pigment ink consists of microscopic particles of solid colors that are suspended in a liquid. Therefore color isn't dissolved like in dye ink, and it creates images of high-quality.
Direct Printing – Many multi-function inkjet printers come with AirPrint which's suitable for Apple devices only and PhotoPrint technology that can be used with Android phones. Other great technologies for direct printing from the phone, computer, or cloud services are Near Field Communication and Google Cloud.
User-Friendly Functions – It's great if the pigment inkjet printers have a roll feeder so you can use both sheet and roll media for printing. The PictBridge connection allows you to print images from a digital or phone camera, while the Optimum Image Generating system automatically creates color according to ink level and printing material.
Printing Speed – Devices with high speed can be used at the office, while others are better for home use. So if the pigment-based inkjet printer has a printing speed up to 15 ppm for both colors, it's not suitable for business. The commercial units should have at least 20 ppm printing speed or more.
Media Requirements -If you want to big projects, you will need a large format inkjet printers that have at least a 30" wide printing area or more. Anything less is suitable for small to medium-sized media only. Also, it's great if the model comes with a borderless printing function so you can produce prints without white margins.