Do you search for Mac compatible vinyl cutter?
Then you're at the right place! Here are reviews on the 6 best vinyl cutters for mac. You can read about different categories such as cheap, for craft, commercial, etc. For more help on choosing the right model, go to buying guide.
Our Top Picks
Best 6 Mac Compatible Vinyl Cutters
BEST OF BEST MAC COMPATIBLE VINYL CUTTER
Cricut Maker Rose Cutter
For Small Projects 
This is the best vinyl cutter for Mac if you want to have a space-saving unit for doing small projects such as crafts, signs, monograms, letters. The maximum cutting width of this model is 12". The machine comes with more than 12 tools, such as a knife blade, rotary blade, pen, and scoring tools.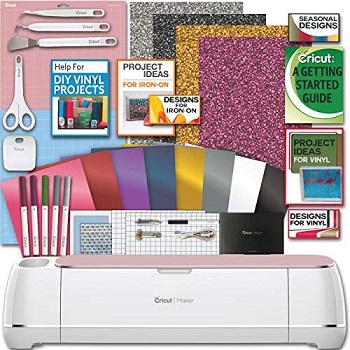 Rotary And Knife Blade
Because this Mac compatible vinyl cutter has a knife blade, it can cut wooden materials. The rotary blade is great for cutting fabrics. This professional vinyl cutter can cut more than 300 materials, such as paper crafts, iron ons, vinyl decals, leather, etc.
Design Space Software
The great user-friendly feature in Cricut Design Space software that will work on your Mac but Windows also. You can use it on Android and iOS apps. The model has Bluetooth connectivity so you can easily connect with any device.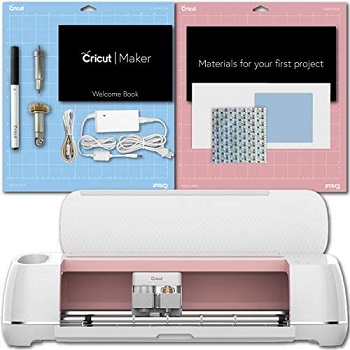 Installed Designs And Patterns
The software comes with already 50 included free designs and including 25 sewing patterns. Another practical feature is the docking slot that can hold your tablet and smartphone, and charge it with the USB port. The model also comes with a 12" long and wide cutting mat.
Highlighted Points:
the maximum cutting width is 12"
rotary and knife blade
Bluetooth connectivity
includes docking slot for the phone
cuts more than 300 materials
BEST CHEAP VINYL CUTTER FOR MAC
Silhouette Portrait 2 Electric Cutter
Clearance For Deep-Cut
This is a cheap vinyl cutter machine compatible with Mac that has many user-friendly functions. It has 0.8" clearance so it's suitable with a deep-cut blade and it's PixScan compatible. Also, it has an auto-blade that adjusts to different material types and thicknesses.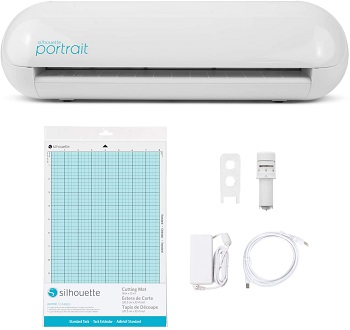 Cuts Many Materials
Therefore this vinyl cutter for Mac can cut fabric, leather, cardstock, vellum, magnet paper, stencil vinyl, and much more. The Silhouette Studio software is suitable for both Mac and Windows. It comes with 50 pre-installed designs. The machine can be easily connected to the device with a USB interface and Bluetooth connectivity.
Plotter And Cutter
You'll also get a cutting mat that's 8" wide and 12" long. Another user-friendly feature is the Print and Cut ability. So the unit can register printed lines and cut them around them. Since the included tools are both pen and blade, the mac compatible viny cutter does both drawing and cutting.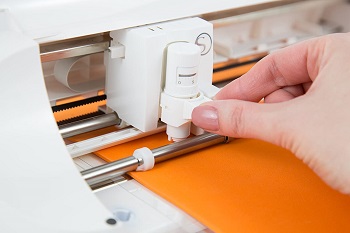 Warranty And Control Panel
All parts are covered with a 1-year limited warranty. At the side of the machine, there are control buttons that allow you to adjust speed, downforce, and other settings. This cheap vinyl cutter is compact and it will save up a lot of working space on your surface.
Highlighted Points:
0.8" clearance
PixScan compatible
Silhouette Studio software
1-year limited warranty
auto-blade
BEST FOR CRAFT MAC COMPATIBLE VINYL CUTTER
Brother ScanNCut SDX125E Machine
Built-In Scanner
This Mac compatible vinyl cutter has 682 built-in designs with 100 quilting patterns and 9 fonts. This is a very user-friendly feature because you can immediately start to create. The model comes with the built-in 600 DPI scanner which is a very user-friendly feature because you can transfer your own images to the machine.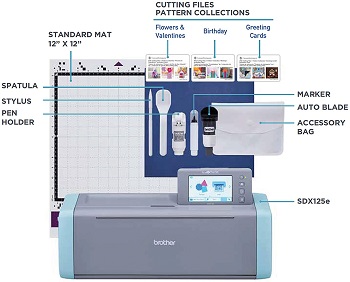 Pre-Installed Designs
It's a great vinyl cutting machine for crafts because you can use a lot of pre-installed designs and your own images. Also, it functions as a desktop printer and plotter. You can print images or draw sketches, and then cut them. Internal memory allows you to save images on the machine.
Touchscreen LCD
The software connects to the computer with a USB interface. Another great feature of this vinyl cutter for Mac is the LCD display with a 5" touchscreen. It's easy to navigate and has a backlight. Since the blade is strong, it can cut up to 0.1" thick materials such as vinyl, fabric, wood, cardstock, etc.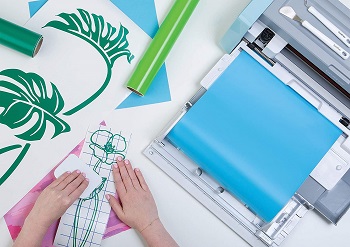 Cuts Different Materials
The blade automatically adjusts to the material type which is a very user-friendly function because you don't have to do it manually. With the machine, you'll get 12" long and wide cutting mat, a black pen with holder, touch pen, spatula, auto blade with holder, and accessory bag. All parts are covered with a 1-year limited warranty.
Highlighted Points:
built-in scanner
auto blade function
5" touchscreen LCD
printer and plotter
includes accessories
BEST FOR SMALL BUSINESS VINYL CUTTER FOR MAC
Silhouette Cameo 3 Vinyl Cutter
Silhouette Studio
This is a vinyl cutter that works with Mac and comes with the Silhouette Studio software that's suitable for Windows also. The software includes 200 installed designs and you'll also get 25$ dollars for Silhouette's Design Store where you can buy and downloads many more designs.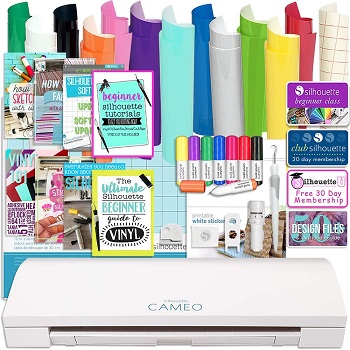 Touchscreen Panel
You can connect it to your PC with the USB cable to transfer your own designs or you can use already installed templates. The system also has Bluetooth technology. This is the best vinyl cutter for small business with a touchscreen control panel to adjust settings such as cutting speed and pressure.
Small Dimensions
The maximum cutting width is 12", therefore this vinyl cutter for Mac is ideal for making smaller projects, logos, images, etc. This model is also PixScan compatible and can do Print and Cut. That means you can load printed images, and the blade will cut around the printed lines.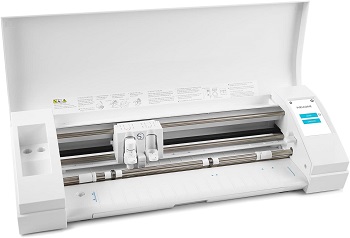 Materials And Tools Included
The machine includes tools and materials so you can start immediately to create different projects. You'll get a 12" long and wide PixScan mat, cutting mat, 24 sketches pen, vinyl trimmer, hook, spatula, and ratchet. Also, Mac compatible vinyl computer comes with transfer tape and 12 sheets of Genuine Oracal 651 permanent vinyl that's 12" long and wide.
Highlighted Points:
Silhouette Studio
USB cable and Bluetooth
PixScan compatible
includes 12 sheets of vinyl
the maximum cutting width is 12"
BEST PROFESSIONAL MAC COMPATIBLE VINYL CUTTERs
Graphtec CE6000-60 Plus Cutter
Industrial-Grade Blade
This is a professional vinyl cutter for Mac. Unlike previous models, it can be used in industry or big companies that need high-performance machines. The 45-degree blade is made from industrial-grade metal and it can cut through any material type and thickness.  The maximum cutting width is 24".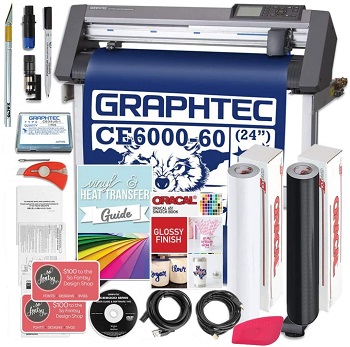 ARMS Contour Cutting
The machine comes with a floor stand so it can be easier to work with long rolls. The system has a servo motor which makes the blade strong and fast. The system has ARMS (Automatic Registration Mark Sensor) contour cutting function. The blade follows the laser and cuts around printed lines.
Two Vinyl Rolls And Tools
The contour cutting vinyl cutter also includes two rolls of vinyl that are 24" wide and 30 ft long, a pen with a pen holder, a vinyl trimmer, a scraper, and an x-acto blade. The model is both plotter and cutter. The blade height can be adjusted according to the material.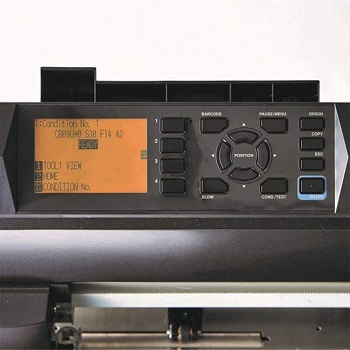 Graphtec Studio Software
Graphtec Studio software comes with the License Key to Pro Studio and $200 to So Fontsy Design Store. The software works with all image formats.  The Mac compatible vinyl cutter has a rear media roll rack with a new media brake for easy and automatic cutting. It comes with a USB and RS232C serial port.
Highlighted Points:
45-degree industrial-grade blade
servo motor
ARMS contour cutting
24" maximum cutting width
rear media roll rack with a new media brake
BEST COMMERCIAL VINYL CUTTER FOR MAC
USCutter 28" Titan 3 Cutter Machine
Laser Function And Servo Motor
Like the previous model, this vinyl plotter for Mac has a laser function. ARMS contour cutting allows you to print certain images and then feed them into the machine and cut them around the lines. Another user-friendly feature is the quiet and fast servo motor. The exterior frame is made from aluminum.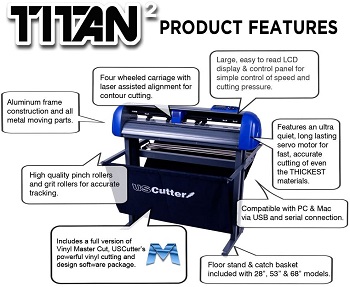 Strong And Fast Blades
The blade is made from Titan and Roland compatible. Maximum cutting speed is 37 ips and maximum cutting pressure is 26.45 ounces. Therefore, this Mac-compatible vinyl cutter is suitable to cut thick materials. Cutting precision is 0.0003" which is very high. The maximum cutting width is 24" and the maximum paper feed is 28".
Adjustable Material Feed
The feed has 3 pinch-rollers and grit-rollers that adjust guide rail according to the material width. Therefore it keeps the material straight during the cutting and allows you to create both big and small projects. The package includes three blades with a holder, pen holder, USB, and serial cable.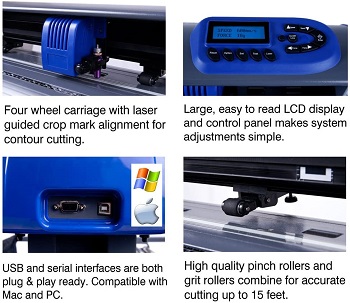 Two Software Included
The vinyl cutter for Mac has a large LCD with a control panel to easily adjust settings according to the material. Also, this commercial vinyl cutter includes VinylMaster Cut software that's compatible with Windows. Sure Cuts A Lot Pro is the software you should install on your Mac device. They work with HP-GL command sets.
Highlighted Points:
ARMS contour cutting
Titan Roland compatible blades
0.0003" cutting precision
maximum cutting speed is 37 ips
26.45 ounces of cutting downforce
Things To Know About Vinyl Cutter For Mac
There aren't many vinyl cutters that work with Mac. Therefore to choose the right model, the most important thing to know is software requirements. But also you should know the right technical specifications such as maximum cutting width and feed, downforce, speed, size, etc.
Software Requirements – Common software that come with mac compatible vinyl cutters are Cricut Design Space, Silhouette Studio, Signmaster Cut, VinylMaster Cut, and Sure Cuts A Lot Pro. It's important to check if the machine has one of these in order to connect it to your device.
Maximum Cutting Width – Besides having the right software, there are other important features. Vinyl cutters for Mac come in different sizes. If you want to make small projects, then you can buy the top version with a maximum width up to 20". Large vinyl cutters are wider and suitable for making both small and big designs.
Speed And Force – Best vinyl cutter for Mac will have high speed and force. That's desirable because it allows you to work with a variety of materials. For example, to cut thicker materials than vinyl such as fabric, leather, stencil vinyl, etc, the blade should have a cutting speed higher than 20 ips and downforce bigger than 10 ounces.
Alternative – In case you can't find the model you need among the vinyl cutter machines compatible with Mac, you can buy a model with a built-in scanner to send images without a computer. Also, with access to a cloud base, you can download designs from the internet which doesn't depend on the device and operating system.
Included Accessories – If you want to use your device as a vinyl letter cutting machine, then you should choose a model with software that included cartridges with the alphabet, images, and fonts. Also, it's user-friendly when the vinyl plotter for Mac comes with already installed designs you can download and use for free.