Are you looking for an eye-catching file cabinet?
Then you should consider a green filing cabinet! To help you in your search, we have created the buying guide and explained some features. Moreover, there are 6 top-rated file cabinets covering a range of sizes, shapes and a variety of characteristics.
Our Top Picks
Best 6 Green Filing Cabinets
Best Of Best: Stockpile File Cabinet
Heavy Item
The Stockpile offers you multiple colors – red, blue, orange, white, black, green, dark grey, yellow and other colors. You can choose between a colored faceplate or a fully-colored file cabinet. This item is heavy, it weighs 70 pounds. The Stockpile is a pricey item.
2-year Warranty
The Stockpile is 23 inches tall, 19.75 inches deep and 16 inches wide. It is fully assembled and covered with a 2-year warranty. It features a modern style with rounded corners and isn't handles on the drawers. There aren't sharp edges that could be dangerous.
Feet & Wheels
The Stockpile comes with stationary feet and wheels. You can choose do you want a mobile or stationary file cabinet. The file cabinet construction is made of cold-rolled steel that is 20% stronger than ordinary steel. It is designed for the heavy-duty office environment.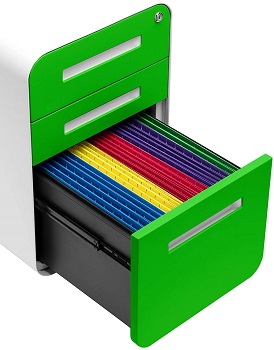 Matte Surface
This sturdy file cabinet features matte powder-coated steel that is resistant to scratches. It is easy to clean and maintain this green filing cabinet. Two small drawers are equipped with a pencil tray, the file drawer holds letter or legal hanging files. All three drawers are lockable.
Highlighted Points:
rounded corners with inset handles
it comes with a 2-year warranty
the package includes feet and wheels
two small drawers with a pencil tray
file drawer is equipped with a divider
cold-rolled steel construction
Best Lime: Devaise File Cabinet
Sealed Bottom
Vertical green filing cabinet that features an acceptable price. There are models in black, white, green, blue and orange colors. It is constructed of durable steel, it provides sturdiness and long-term use. It is completely sealed at the bottom.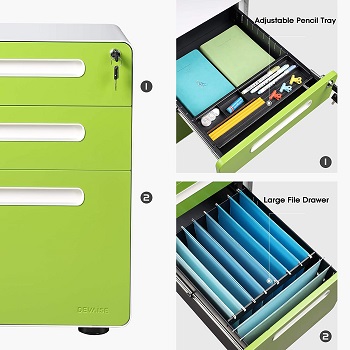 Modern Appearance
The Devaise can bear up to 330 pounds. The item dimensions are 23.8 inches in height, 18.5 inches in depth and 16.06 inches in width. it weighs 46 pounds. This is a modern file cabinet, it features rounded corners and inset handles, there aren't sharp edges.
Rolling Casters
This steel file cabinet is designed with a set of 4 casters, they can easily roll in any direction. Move it on the wooden floor or carpet. There are two small drawers for office supplies. The top drawer is equipped with a pencil tray for pens, pencils, etc. It is removable.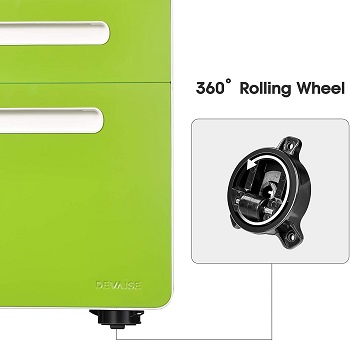 Hanging Frame
The bottom deep drawer comes with an adjustable hanging frame for file folders. It accommodates letter-size /A4 and legal file folders. All three drawers glide on full-extension slides. There is a lock system that secures all three drawers at the same time.
Highlighted Points:
modern file cabinet with rounded corners
inset handles on the drawers
two small drawers fitted with a pencil tray
file drawer holds hanging files
four casters are included
lock system secures all three drawers
Best Metal: Bisley File Cabinet
Quality Brand
The Bisley is a popular brand that produces nice and quality file cabinet. This model weighs 31 pounds. The product dimensions are 27 inches in height, 17 inches in depth and 16 inches in width. The Bisley green filing cabinet fits under the standard office desk.
Fully-welded Construction
This unit comes fully assembled. You can choose between two or three drawers. Also, there are some colors available – white, black, green, red, orange, blue and light grey. The Bisley construction is fully-welded and made of high-quality steel material.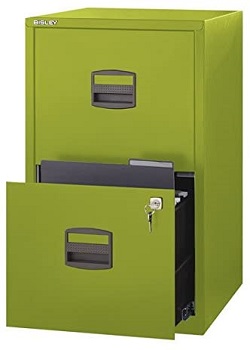 Drawer Capacity
The powder coating finish provides a smooth surface and a beautiful appearance. The full-extension drawers allow you to reach your files easily. Both drawers are built to hold A4/letter-size and large legal size file folders. The max weight capacity for drawers is 33 pounds.
Rods For Files
This metal office cabinet comes equipped with the rods to hang file folders. The bottom drawer features a lock. The top drawer isn't lockable. So, if you need to store some private and confidential documents, put them into the bottom drawer. The package includes two keys.
Highlighted Points:
fully welded construction made of metal
powder coating finish ensures a smooth surface
two full-extension drawers
they hold letter and legal-size files
the bottom drawer is lockable
Best Dark: Sandusky Lee File Cabinet
Forest Green Item
The Sandusky Lee is a lateral file cabinet that is available in multiple colors. Except for dark green, there are blue, charcoal, dove grey, navy blue, red, putty, white and others. The overall dimensions are 19.25 inches in depth, 28.4 inches in height and 36 inches in width.
Fully Assembly
This is a large green filing cabinet, so you need to read the product dimension twice and measure your office floor space. The Sandusky Lee weighs 100 pounds. You don't have to assemble this file cabinet, it comes fully assembled at your address.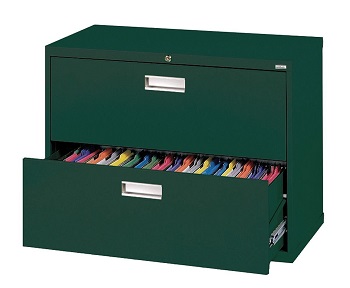 22-gauge Steel Construction
This modern lateral file cabinet features sturdy welded construction, it is durable and impact resistant. The manufacturer uses a 22-gauge recycled steel panel for optimum strength and durability. On the bottom are adjustable leg levelers that keep the file cabinet level.
Certified Powder Coating
The Sandusky Lee uses a Greenguard Gold certified powder coating. So this product is acceptable for use in offices, schools and healthcare facilities. It features two full suspension file drawers for storing letter and legal size file folders. Both drawers are lockable.
Highlighted Points:
lateral file cabinet available in multiple colors
it comes fully assembled
sturdy welded construction made of 22-gauge steel
certified powder coating
leg levelers keep the file cabinet leveled
two spacious drawers for hanging files
Best On Wheels: Dprodo Filing Cabinet
Assembled Product
The Dprodo is a personal file cabinet that features fluorescent green color. It comes fully assembled, you need to attach the wheels. The unit size is 23.6 inches in height, 19.7 inches in depth and 15.7 inches in width. It weighs 50 pounds and has an acceptable price.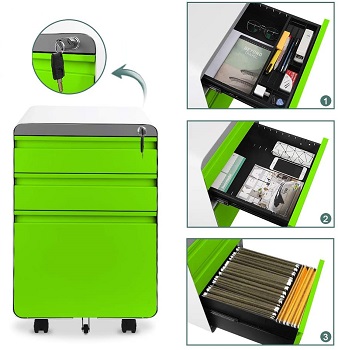 Heavy-duty Design
It fits under most office desks. There are more colors available – black, blue, orange, white and yellow. The Dprodo features a heavy-duty design with rounded corners. Its construction is made of powder-coated steel with a steel interior. It is designed for long-term use.
Swivel Casters
This green filing cabinet features five swivel casters, you can move the file cabinet in any direction with ease. There are four wheels for mobility and added the fifth caster. This small caster prevents the file cabinet from tipping over, it supports the filing cabinet weight.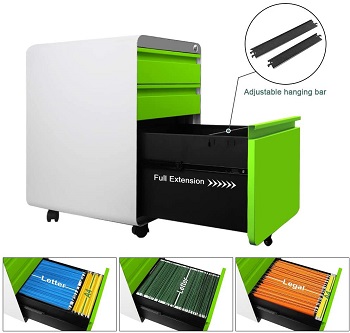 Single Lock
It is equipped with three drawers – two small drawers are perfect for your office supplies. The file drawer holds hanging letter/A4 and legal size file folders. This small rolling file cabinet features a lock above the top drawer, with a single key you can lock all drawers.
Highlighted Points:
personal file cabinet that comes assembled
available in multiple colors, except green
powder-coated steel with steel interior
rounded corners increase the modern appearance
four casters for mobility + anti-tip caster
with a single key, you can lock all drawers
Best Light: CuHome Filing Cabinet
Compact File Cabinet
The CuHome is a small and compact file cabinet that fits even in the smallest offices. It is available in three colors – light green, light pink and pure white. This item weighs 34 pounds and measures 21.45 inches in height, 19.68 inches in depth and 14.76 inches in width.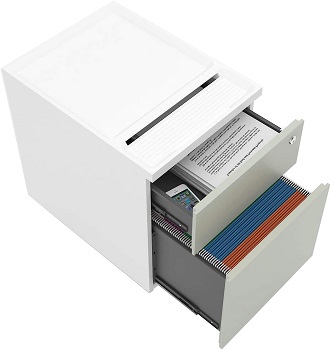 Steel Construction
This green filing cabinet features a seamless invisible handle and top groove design. The CuHome comes fully assembled at your address. The sturdy steel construction supports long-lasting durability. Its max bearing capacity is 220 pounds.
Casters With Brakes
The CuHome file cabinet is equipped with sturdy casters, the built-in locks on casters prevent sliding. There is an additional small caster on the front. It supports file cabinet weight and prevents tipping over. This small 2 drawer file cabinet features small and large drawers.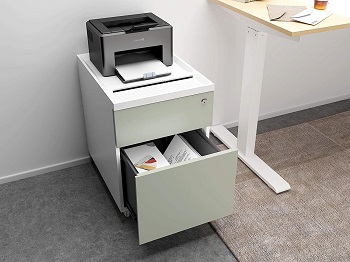 Lockable Drawers
The small top drawer is designed for your personal things or small office supplies. The file drawer holds both letter and legal size file folders. You can deliver the files into the top drawer directly from the upper opening. Both drawers are lockable and glide on silent steel ball bearings.
Highlighted Points:
small file cabinet available in three colors
made of sturdy steel material
equipped with wheels and brakes
the top drawer holds office supplies
file drawer accepts the letter and legal files
both drawers are lockable
Things To Know About Green Filing Cabinet
The green filing cabinets could come in multiple green shades, sizes, designs, number of drawers, features and so on. There is some useful information, so check them before purchase.
Green Shades – There are a variety of green shades. For example, there are lime dark green, mint, tea green, teal and many others. The green is a cool color that is calming and soothing. But strong, bright and neon green is energizing color that features a stimulating and refreshing effect.
Vertical/ Lateral – The file cabinets are available in two main shapes – vertical and lateral. The vertical file cabinets are "typical" file cabinets, they have an upright design and ensure deep drawers. The lateral ones require more floor space, they provide wider drawers.
Locking Mechanism – If you want to protect your files and documents from damage, loss or unauthorized access, you should consider a file cabinet with a lock. Mostly, there are file cabinets with a built-in lock and physical key. Some models have touchscreen keypad.
File Cabinet Size – You need to choose the file cabinet depends on the amount of files you need to store and your office size. If you struggle with space-limited office, there are personal file cabinet that fits anywhere. If you work in a large office, the lateral file cabinet is an option for you.
File Cabinet Accessories – before buying a green filing cabinet, we recommend you carefully read the product description. You should check the material, mobility, lockable and others. It is good to have a pencil tray for small office supplies and a drawer divider fr file folder organization.