The foosball table is a very fun activity to have, but it can be an expensive investment for your budget.
How you can save money and have a good foosball table?
The simple solution is to make one on your own and have a creative project that can be fun while you are working on it and when you later use it.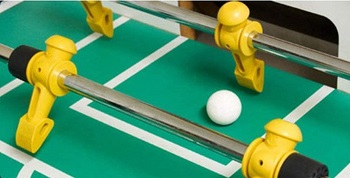 Prepare Well
Good preparation is key for successful building a foosball table. The first thing is quality tools, so be sure to check all of your tools and consider which you may need to produce a homemade foosball table. Some parts, like screws and poles, are better to buy new since they are crucial for a proper game. If you don't have electric devices, like an electric saw, consider borrowing rather than buying. It will be easier for you if you write the list of materials and buy them in once than waiting when you find some missing part.
Recycle Parts
Players and goals are usually made of plastic and you can easily print the new models as you design them or find the ready ones online, but you can also recycle them from the old and dysfunctional tables or other table games. This requires some time but can save you money and is better for the environment. Just be sure that opposite players have team colour as you need to distinguish them during the game.
Types Of DIY Foosball Table
Naturally, there are as many types of DIY foosball tables as you can imagine, but we can still distinguish them in some groups. First are the wooden ones which have wooden frame and legs. They are very long-lasting and elegant, but more expensive from the beginning and require more time. Plastic tables are usually more lightweight, but require specific knowledge and tools to make them. Metal, like aluminium tables, are also very durable but can be very tricky and heavyweight.
Steps To Make It
Now we bring you some basic instructions on how to make a wooden foosball table. Be sure that before you start you have all the right tools and measurements which are very important for easier assembling later and can save you both money and time.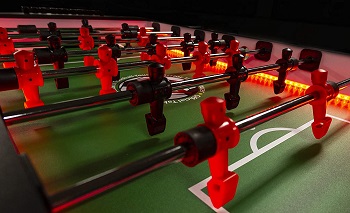 Build A Playfield
A playfield is the most important part and needs to be made of flat and quality wood. Frame it with pieces on the side to prevent the ball from falling and drill holes for poles. You can cover it in vinyl, preferable in green colour, on which you draw white lines. Then, cover the wood with protecting colour and add parts like poles with players and goals.
Make The Poles
The poles should fit perfectly in the hole and have a smooth, round shape. Be sure that you measure players right and that their endings have a comfortable grip for better holding and using. Use a quality metal that can stand harder punches and rotations.
Secure The Legs
The legs are also important parts because they hold the whole weight of the table and the people around it. Be sure that they are thick and made of quality wood. Also, leave space for balls at the bottom of the tabletop where are balls will go, so you don't lose them easily.
Add Details
Some decorative details can be added to your preference. This isn't necessary but can make it look more professional or suitable to your office or home playroom. Be sure that they don't bother you while playing and are functional. For example, it can be a decorative side colour, a table for results or even an electronic device which writes score. Now you are ready to play! But first, let remind the foosball game rules and basic infos.
Final Verdict
Making a DIY foosball table is an excellent idea for anyone who wants to have this excellent and fun table game, but doesn't have enough money for the new one. There are several types of it and you can find and build your preferable. Be sure that it is made precisely using quality materials to be more durable and functional. If you plan to buy a foosball table, see our reviews of the best cheap foosball tables and the best-rated classic foosball tables.