Are you looking for a high-end foosball table that will make any space look even more stylish and elegant?
If that's the case, continue reading this article.
We have prepared a list of some of the best high-end foosball tables available on the market right now. Choose a table based on your needs and wishes – a vintage-looking foosball table, a coin-operated one, or maybe a foldable that is easily stored.
Our Top Picks
Best 6 High-End Foosball Tables
BEST OF BEST HIGH-END FOOSBALL TABLE
Carmelli Montecito 55-in Foosball Table
Stylish Cabinet Made Of Birch Wood
This stylish and sophisticated table oozes luxury. The cabinet made of birch wood in combination with stainless steel details looks truly dashing. The sculpted legs and drifted finish add a charming touch to this 156-pound table. It measures 54.75 x 36.25 x 33.25 inches which is the ideal size of a soccer table.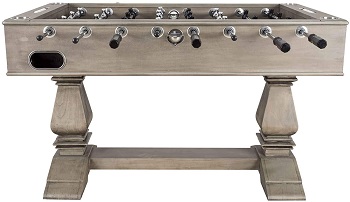 Dual Pedestal For Maximum Stability
With a dual pedestal and a center support stretcher, this table provides maximum stability for the toughest table soccer matches. The integrated leg levelers provide stability on any surface and ensure a leveled playfield. The playfield of this table is in elegant black and white colors.
ABS Counterbalanced Foosball Men
ABS counterbalanced silver and black foosball men provide more precise ball control. 3-goalie configuration will meet the standards for more experienced players. If you want, you can remove 2 goalies to switch to a 1-goalie configuration. However, this would limit your ability to retrieve the ball in the far corner areas.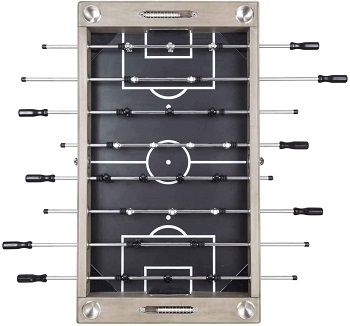 E Z Spin Bearings For Fast Performance
The foosball men are attached to 16mm chrome-plated steel rods with E Z spin bearings, which provide fast performance. The black easy-grip octagon wooden handles allow a better grip, which adds to a more precise game. Another two features that make this table even more amazing are manual slide counters and drink holders.
Highlighted Points:
stylish combination of birch wood & stainless steel
dual pedestal with center support stretcher
ABS counterbalanced Foosball men
E Z Spin Bearings for fast performance
easy-grip octagon wooden handles
drink holders for thirsty players
BEST VINTAGE HIGH-END FOOSBALL TABLE
Tornado Arch Dark Foosball Table
Dark Brown Wood Finish
This table comes in four versions: Arch Dark, Rustic Grey, Venetian Mill Creek, and Worthington two-tone. For the best one in the vintage category, we have selected the Arch Dark Foosball Table. This vintage-looking table stands out thanks to its beautifully crafted dark brown wood finish.
Improved Counterbalanced Foosball Men
The counterbalanced classic-style and black and blonde foosball men are improved with sharper corners and an increased cross section to provide better ball control. They are attached to stainless steel rods that spin effortlessly. Black plastic handles guarantee a good grip.
Solid Wood Legs For Stability
Legs made of solid wood provide maximum stability during an intense game of table soccer while thin-wall split bearings offer greater control and shot blocking. All these amazing features prove that this table isn't only a showpiece, but a high-quality foosball table which can compete even with professional foosball tables.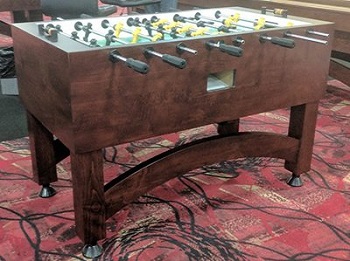 Premium Brand & High-Quality
Tornado Arch Dark Foosball Table is the best choice if you are looking for a vintage-looking high-end foosball table with quality features from a premium brand. The assembly is very simple and the instructions are provided in the package. Keep in mind that the table is heavy, so find someone to help you assemble it.
Highlighted Points:
comes in four different versions
improved counterbalanced foosball men
solid wood legs for maximum stability
quality thin wall-split bearings
high-quality table from a premium brand
BEST FOLDABLE HIGH-END FOOSBALL TABLE
YGO Foldable Foosball Table
Realistic Playfield & Quality Foosball Men
This high-end foosball table boasts a realistic football field and 22 high-quality foosball men, which are made of environment-friendly ABS material. The goals are guarded by one goalie and there are manual scoring units on each side of this foldable table to help track the score.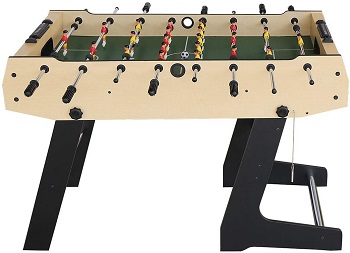 Big & Stable Foldable Legs
The foosball men are attached to thick steel rods which are very strong and durable, while the foldable legs are big and stable enough to prevent the table from wobbling or moving. This table is stable enough for intense and fast matches and it can serve as a tournament foosball table for your friends and family.
Great Gift For Kids
Made of MDF and metal, this solid and durable table will serve you well for years to come. Its size of 53.7*28.1*34.3″ suits for 4 kids and 2 adults. Talking about kids, this foosball table would definitely be a great Christmas or birthday gift if your kid likes football and you like keeping your kids' game room in style.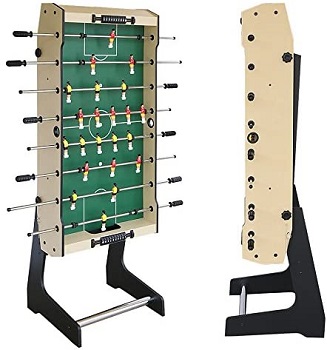 Fast & Easy Assembly
The foldable structure of this table helps save space. It is also very easy to assemble – the only thing you'll need to do is to screw the table legs for the fun to start! When you're done playing, just fold the legs and put it away. YGO Foldable Foosball Table comes with two foosballs.
Highlighted Points:
high-quality ABS foosball men
big and stable foldable legs
size suits for 4 kids and 2 adults
great gift for children
fast and easy to assemble
BEST FOR HOME HIGH-END FOOSBALL TABLE
Rene Pierre Stade Foosball Table
Stylish Retro-Looking Foosball Table
This beautifully designed retro-looking foosball table will fit amazingly into a stylish home. Made in France, this table is constructed of the highest quality materials. It measures 61" L x 41" W x 32" H and weighs 170 pounds. Assembly is required but it is fast and simple because some parts are preassembled.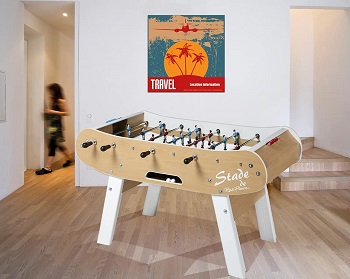 Stainless Steel Telescopic Rods
The supremely crafted brown wooden foosball table cabinet features a solid green linoleum playfield. The high-quality realistically-looking foosball men are hand-painted and made of aluminum. They are attached to stainless steel foosball table telescopic rods that don't poke through the opposite end of the table for additional safety.
Round Ergonomic Handles 
The round playing handles on the high-end foosball table are ergonomically designed and therefore very comfortable. Thanks to white solid wood legs, this table ensures maximum stability and durability. Its solid construction can withstand tough soccer table matches and regular home tournaments with friends and family.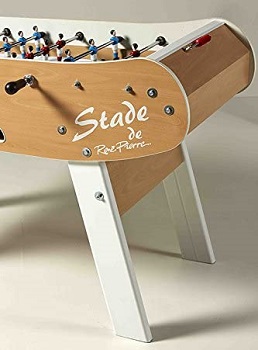 Not Suitable For Children
Two manual sliding scoring units will help you keep track of your score. Unfortunately, the height of the Rene Pierre Stade Foosball Table is not adjustable so this table is not suitable for small kids.  Everything you need for an exciting game of table foosball is included with the table, along with 3 high-quality foosballs.
Highlighted Points:
great centerpiece in any room of your home
stylish and retro-looking soccer table
solid linoleum playfield for fast game
durable aluminum hand-painted foosball men
round ergonomically designed handles
height of the table is not adjustable
BEST WHITE HIGH-END FOOSBALL TABLEGarlando Mirror Image Foosball Table
Manufactured In Italy
This all-white elegant modern foosball table was manufactured in Italy. Buying this premium high-end table, you will make your home even more exclusive. This is definitely not your everyday foosball table a sophisticated high-quality piece that will amaze all your friends and visitors to your house or office.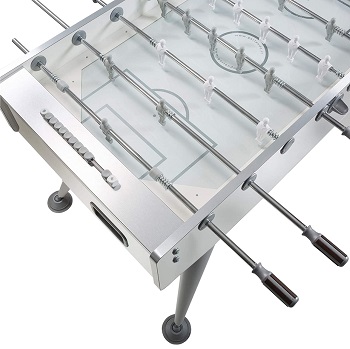 Leg Levelers For Stability
The Garlando Mirror Image Foosball Table features a 25mm thick MDF cabinet with melamine coating. Its solid legs made of High Density Polymer are additionally strengthened with fiberglass. They are also equipped with leg levelers for maximum stability and balance on any surface. The height of the table is adjustable.
Reflective Sanded Glass Playfield
The high-end foosball table was certainly named after its mirror-like reflective sanded glass playfield which looks exquisite. The gray and white foosball men are made of plastic and they are molded directly onto the stress-resistant hollow steel telescopic rods. They don't move and can't be displaced. The single-man goalies are fully rotating.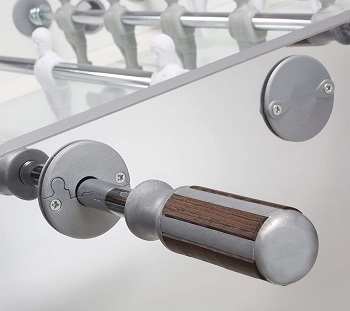 Professional Handles For Comfort
The professional plastic handles with Wedge wooden inserts are designed to provide a good grip and comfort.  You will be able to play table soccer for hours, without feeling pain in your wrists. Keep in mind that assembly is required but it is very simple and fast (some parts are preassembled).
Highlighted Points:
all-white elegant foosball table
solid legs made of HDP and fiberglass
leg levelers for maximum stability
adjustable height of the table
stress-resistant telescopic steel rods
reflective sanded glass playfield
BEST COIN-OPERATED HIGH-END FOOSBALL TABLERené Pierre Pro Coin Operated Foosball Table
Built For Intense Matches
This exclusive coin-operated foosball table made in France is intended primarily for fancy bars, arcades and game rooms. It is built for competitive intense matches and frequent tournaments, which means it is very solid, stable and durable. Such a high-quality foosball table is a great investment since it will last for a long time.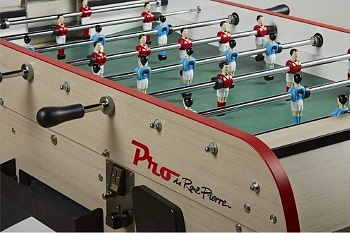 High-Quality Cork Foosballs
The elegant design of this high-end foosball table is something else – its attention to detail will please any table foosball enthusiast. It features a wooden cabinet that stands on very sturdy and stable wooden legs. The playfield is made of linoleum and flexible high-quality foosballs are made of cork.
Chrome-Plated Telescopic Rods
The hand-painted aluminum foosball players with single goalie configuration are attached to strong chrome-plated telescopic rods which are much safer than the standard rods.  The handles are round and ergonomic which means they provide maximum comfort and a good grip.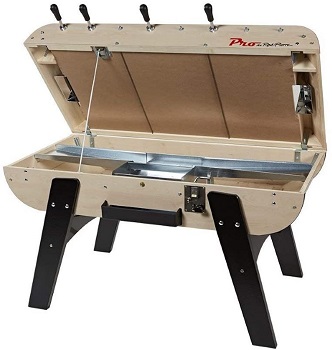 Adjustable Coin Mechanism
The entire cabinet of the René Pierre Pro Coin Operated Foosball Table, including foosball men on the rods, is preassembled. The only thing to do when this table arrives at your door is to attach the legs. The coin-operated table mechanism is adjustable for US coins.
Highlighted Points:
exclusive coin-operated foosball table
intended for bars and arcade rooms
very sturdy, stable and durable
high-quality flexible cork foosballs
chome-plated telescopic rods
adjustable coin mechanism
THINGS TO KNOW ABOUT HIGH-END FOOSBALL TABLES
High-end foosball tables are expensive but boast distinguished design and top-quality features. Such sophisticated tables will bring a touch of luxury to any space. When buying a foosball table, you should first consider the brand and quality. To help you choose the best table for your needs, we are giving you a few tips below:
Price – We are all aware of the fact that high-end things are synonymous with 'expensive'. However, it may happen that a pricey foosball table does not justify the price. The most expensive isn't always the best. Our advice is to thoroughly check what quality features a particular table has to offer apart from the looks.
Indoor Or Outdoor Use – There is a big difference between foosball tables meant for indoor and outdoor use. If you are, for example, planning to place your expensive foosball table next to your fancy pool in the backyard, you should make sure that this table is weatherproof. Also, buying a foosball table cover is not a bad idea.
Material – This is another important thing worth taking into consideration. Wood is, as we all know, one of the most prized materials. It is also very durable and solid, and natural materials give off a different vibe than artificial ones. If you prefer a modern style, you will probably lik metal and glass foosball table more.
Brand – The easiest way to find a high-quality high-end foosball table is to go through the offer of the premium well-known brands. This way you will know what you're buying and what you're paying. Just make sure you are buying the real thing, not a good Chinese copy.
FINAL VERDICT
The Carmelli Montecito 55-in Foosball Table is the best high-end foosball table because it offers luxury design together with top-quality features. It is expensive but well worth of the money. However, if you find the foosball tables on this list a bit too expensive and pro features are far more important for you than stylish design, you may want to check out our post on professional foosball tables. If, on the other hand, you're looking for more affordable soccer tables, read our post on cheap foosball tables.