Are you interested in buying a refillable inkjet printer?
Then you should read this article! Here I'll describe 6 models divided between different categories so you can choose the best for yourself! If you need more help with buying the right tank inkjet printer, check out the guide.
Our Top Picks
6 Best Refillable Inkjet Printers
BEST OF BEST REFILLABLE INKJET PRINTER
Epson ET-4760 Inkjet Printer
2-Years Ink Included
This Epson refillable ink printer comes with enough ink for printing for 2 years. It includes one replacement ink set and one replacement set with enough ink to print up to 7 500 pages in black and 6000 pages in color.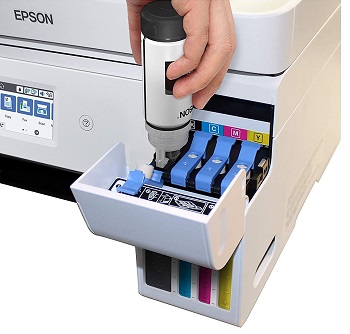 Big Touchscreen Panel
Without using ink cartridges, you can save up to 90% of your money. It's recommended to use Epson inks with this tank inkjet printer to prevent any damage that won't be covered by the Epson warranty. The model has a 2.4" big color touchscreen for easy control and navigation of printing.
High Sheet Capacity
The paper tray has a maximum capacity of 250 sheets, while the automatic feeder has a capacity of 30 sheets. This allows efficiency in work and fast printing. Another user-friendly feature is borderless printing that allows you to create documents without white margins.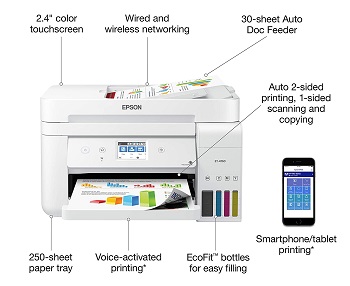 Wireless Connection
With this model, you can fax, scan, and copy documents which are very practical and ideal for any business. This office inkjet printer connects with WiFi or Ethernet to the computer. Also, it features an innovative function of activating printing by voice.
Highlighted Points:
ink for 7500 pages of black print
250-sheets capacity
automatic feeder for 30 pages
wireless connection
voice commands for printing
BEST ALL-IN-ONE TANK INKJET PRINTER
Brother MCF-J805DW Tank Printer
Easy-To-Refill Tank
This is one of the refillable tank inkjet printers that have a unique Inkvestment tank system that has upgraded ink cartridges that hold more ink with the internal ink storage tank so it's easy to refill the cartridge, and you don't have to replace the cartridge, therefore no buying new ones and creating the waste.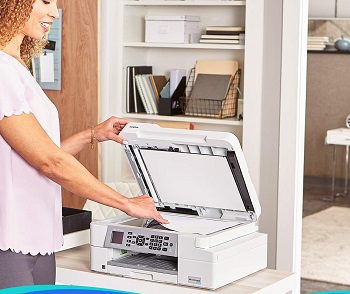 Brother Page Gauge
The model includes Brother Page Gauge which is a visual and numerical way to know how much ink is used and when you'll need to refill the cartridge. Another practical feature of this inkjet printer scanner is mobile printing. You can connect to the computer by using WiFi.
AirPrint And Control Panel
AirPrint technology can be used with Apple devices that allows you to print from your phone without having the software. Also, you can easily print, scan, or fax from Google Cloud, OneDrive, or another cloud service. The control panel has a lot of buttons and it's easy to navigate through printing, scanning, copying, or faxing.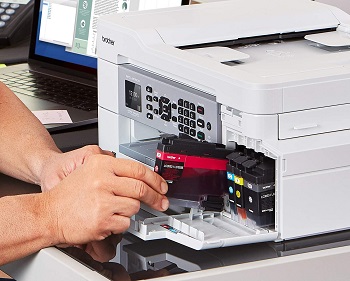 Suitable Media Size
The minimum suitable media size is 4" long and 6" wide, while the maximum media size is 8.5" long and 14" wide. The machine also has duplex copying and duplex printing, but there's not duplex scanning. The best optimal environment working temperature is between 50°F and 95°F, while humidity range is between 20% and 80%,
Highlighted Points:
easy refilling cartridge
direct printing from mobile phone
maximum media size is between 8.5" long and 14" wide
duplex copying and printing
50-95°F optimal working temperature
BEST COLOR REFILLABLE INKJET PRINTER
Epson ET-7750 With Refillable Ink
Epson Ink For 2 years
This it's one of the tank inkjet printers that work with specific ink only. So it's best to use genuine Epson ink to avoid any damage that can't be covered with the warranty from the brand. You'll get ink enough to print up to 14 000 pages in black ink, and 9 000 pages in color ink.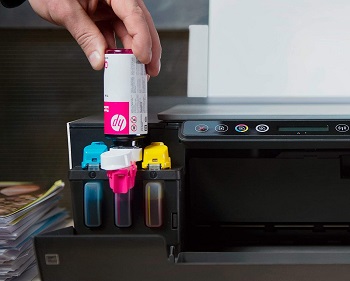 High Image Resolution
That's enough ink for 2 years and it's equal to 30 ink cartridge sets, so you'll reduce both money costs and waste. This refillable inkjet printer comes with 5-color inks in EcoTank 512 ink bottles. It creates high-quality images with a maximum resolution of 5760 x 1440 dpi.
Media Size And Connectivity
The maximum media size is 11" long and 17" wide. The machine does both copying and scanning. It can easily connect to the computer with WiFi or Ethernet. Also, it features a USB slot where you can put a memory card to have more internal storage for different documents and images.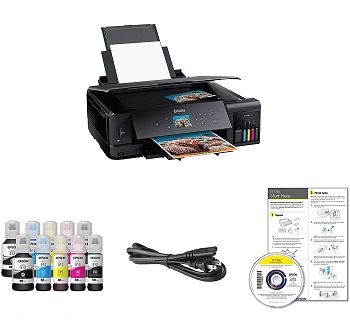 Voice Commands And Touchscreen Panel
Also, this inkjet multifunction printer has an Alexa voice command feature which allows you to give hands-free commands to the printer and navigate from anywhere in the room. The machine includes a 2.7" big touchscreen panel and control panel for controlling different settings.
Highlighted Points:
ink for up to 14 000 pages in black print
5-color ink bottles
create 5760 x 1440 dpi image resolution
maximum 11" long and 17" wide medium size
USB slot for memory card
BEST DESKTOP TANK INKJET PRINTER
Canon G3200 Inkjet Printer
Multifunction Device
This inkjet printer with refillable tanks has a wireless connection to a computer so you can work from anywhere. You can also use mobile printing with the Canon Print app that allows you to print on-the-go. It's a multifunctional machine that does print, copy, and scan.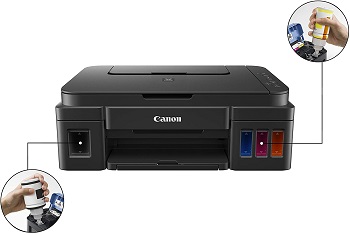 Works With Cloud Services
The included ink volume is enough for printing up to 6000 pages in black and 7000 pages in color ink. The machine also can print from cloud services such as Google Drive, OneDrive, etc. The tank inkjet printer has a borderless printing function so you can create photos without margins.
Compact And Lightweight
This small inkjet printer is 13" long, 17.60" wide, and 6.50", therefore it's compact and fits any working surface. It weighs only 12.7 pounds, therefore it's lightweight also. AirPrint technology is also included, so you don't need software to print directly from a mobile phone.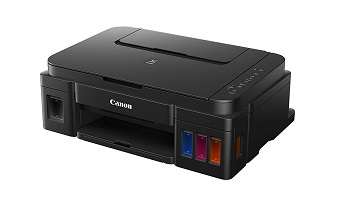 The Software Includes
At the front of the machine, you can see the ink cartridges so it's easy to track ink levels and refill the inner tank when needed. The model comes with a power cord and CD-ROM so you can easily install needed software to work with the printer from the computer.
Highlighted Points:
printing, copying, scanning
maximum printing volume up to 6000 pages
13" long, 17.60" wide, and 6.50" high
AirPrint technology
includes software and ink bottles
BEST DIGITAL REFILLABLE INKJET PRINTERS
HP SmartTank 551 Tank Inkjet Printer
HP Smart App
This HP inkjet printer ink cartridge refill model comes with the HP Smart app you can use on both Android and iOS operating systems. It has many features that allow you to print on-the-go, scan, copy or fax directly from cloud services such as OneDrive, and much more.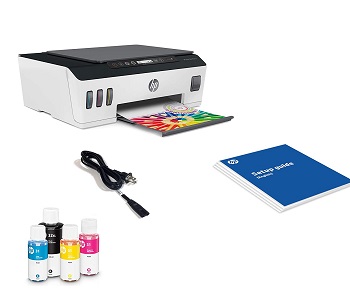 High-Capacity Ink Bottle
It's one of the inkjet printers with refillable ink tanks that can last up to 2 years. The volume is enough for up to 6000 black pages and 8000 color pages. The bottles have spill-free designs so it's easy to pour ink into bottles without making a mess.
Dual-Band WiFi Technology
The refillable inkjet printer has dual-band WiFi technology which is very unique because it has self-repair technology that allows it to automatically detect and resolve connectivity issues. The suitable media size is a letter, legal, 3 x 5", 4 x 6", 5 x 7", 8 x 10" and No.10 envelopes.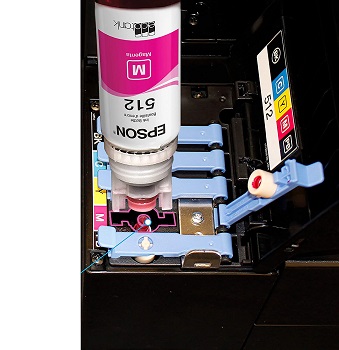 Printing Speed And Page Capacity
The printing has a maximum speed of 11 ppm in black, and 5 ppm in color. Input sheet capacity is 100 sheets, while the maximum output sheet capacity is 30 sheets. The software of this machine works with both Mac and Windows. All parts of this best wireless inkjet printer are covered with a 1-year limited warranty.
Highlighted Points:
HP Smart app included
maximum printing speed for black is 11 ppm
maximum input capacity is 100 sheets
dual-band wireless technology
spill-free bottle design
BEST BLACK AND WHITE TANK INKJET PRINTER
Epson ET-M1170 Inkjet Printer
Warranty And Ink Volume
This refillable inkjet printer is covered with a 2-year limited warranty. Use the specific Epson ink so you can avoid damage that's not covered by the warranty. The replacement ink bottle has enough ink to print up to 6 000  pages in black color.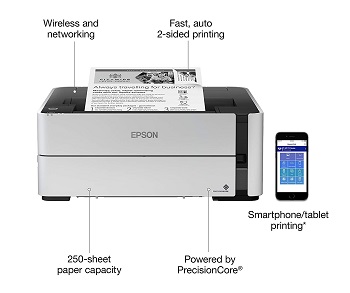 Sheet Capacity And Image Resolution
The Precision Core printing technology of this tank inkjet printer creates a very sharp text and images of high resolution. The model has an input tray with a capacity of 250 sheets, and a rear tray for specialty media.
Auto Duplex Printing
Another user-friendly feature is automatic duplex printing which allows faster process and easy navigation since you don't have to turn the paper manually. This monochrome inkjet printer has a printing speed of 20 pages per minute.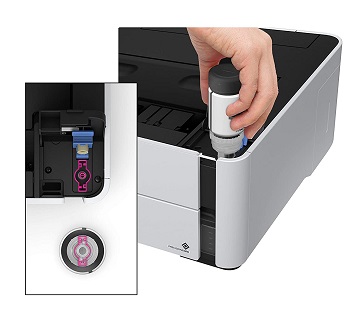 Wireless Fast Printing
The model is compatible with mobile printing and it can easily connect to any computer or phone with WiFi. Another great feature is the Fast First page for short print jobs. Also, the package includes an EcoFit bottle that refills the tank without any mess.
Highlighted Points:
ink capacity for 6000 pages
Precision Core printing technology
auto duplex printing
Fast First-page function
wireless technology
Things To Know About Tank Inkjet Printers
These printers have a refillable ink system that's connected to the ink printheads. They don't require constant cartridge replacing and messy refillings. There are many important functions to know when buying a refillable inkjet printer, such as printing speed, sheet capacity, etc.
Connectivity And Apps – It's great when the model can be connected wirelessly to the mobile or phone so you can work from anywhere in the room. A great app such as the HP Smart app is ensuring on-the-go mobile printing, scanning, and copying.
Printing Speed – The printing speed in color and black should be above 20 ppm if you want to use the all-in-one color inkjet printer for business. In case you want to use the model in the home for simple DIY projects, it's enough to have a slower printing speed.
Auto-Duplex And Feeder – These functions are very user-friendly because they allow fast printing. The auto-duplex is saving you time and paper since you don't have to manually turn papers. The automatic feeder is simplifying the printing of multiple-page documents.
Other Functions –  Alexa voice commands are very practical since you can control and navigate the tank inkjet printers without using the control panel. Anti-spill ink bottle designs are also user-friendly because you can easily refill the tank system without the mess.
AirPrint Technology – A great function that is ideal if you want to print PDFs or other documents that are on your mobile phone. It allows you to use your phone without using any software. It's working with only Apple devices.