Are you searching for an inkjet multifunction printer?
Then search no more! Here you'll find the 6 best models divided into different categories so you can compare and find the right model for your needs. If you need more help with buying the best model, go to the buying guide.
Our Top Picks
Best 6 Inkjet Multifunction Printers
BEST OF BEST INKJET MULTIFUNCTION PRINTER
HP Deskjet 3755 Multifunction Printer
AirPrint Technology And Smart App
This HP inkjet multifunction printer features AirPrint technology for direct printing from Apple devices with the iOS operating system. Also, it comes with the HP Smart app so you can print on the go, and do direct scanning and printing from cloud services such as iCloud, Dropbox, and Google Drive.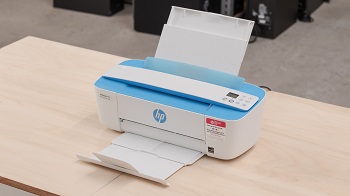 HP Instant Ink App
The HP Instant Ink function is monitoring the levels of ink and automatically orders more when the levels are low so you don't run out of ink. Another user-friendly feature of this HP Deskjet 3755 inkjet multifunction printer is a compact design so it fits easily on any working surface.
Small For Home Office
It's 15.86" long, 6.97" wide and 5.55" high. The compact inkjet printer has individual HP Original ink cartridges of high-volume so you don't have to refill often. Also, the weighs only 5.13 pounds so it's lightweight and easy to carry. The input tray has a capacity of 60 sheets, and the output tray holds 25 sheets.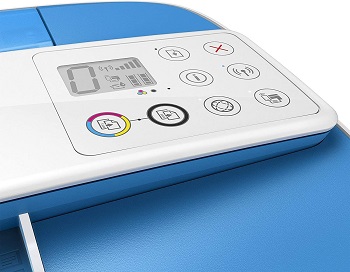 Printing Speed And Media Size
The maximum printing speed for black ink is 8 ppm, and 5.5 ppm for color ink. Therefore this multifunction printer is better for home office or personal use than for running a big business. It's compatible with the following media sizes: 3" x 5", 4" x 6", 5" x 7", 8" x 10", letter, legal, and No 10 envelopes.
Highlighted Points:
direct mobile printing
8 ppm printing speed for black ink
5.5 ppm printing speed for color ink
15.86" long, 6.97" wide and 5.55" high
60-sheet capacity
BEST FOR SMALL BUSINESS INKJET MULTI PRINTER
HP Officejet 5255 Printer
Connectivity And Printing Speed
HP Officejet 5255 inkjet multifunction printer features Wireless connectivity with Bluetooth Smart and improved WiFi. Therefore you can work from anywhere in the office. The maximum black printing speed is 10 ppm, while the highest speed for color printing is 7 ppm. It has high-yield ink cartridges.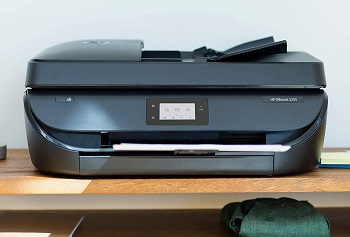 Auto-Feed And Duplex Printing
A very user-friendly feature is an automatic feeder that has a capacity of 35 sheets, and it's ideal if you often print documents with multiple pages. Another great function is automatic double-sided printing so you don't have to turn pages manually.  It's 17.52" long, 14.45" wide and 7.5" high.
Sheet Capacity And Certificate
The inkjet printer has a 2.2" Mono touchscreen control panel for easy navigation through printing, scanning, copying, or faxing. Also, this best wireless inkjet printer is having an input sheet capacity for 100 papers, while the output tray can hold up to 25 sheets. The structure is certified with Energy Star.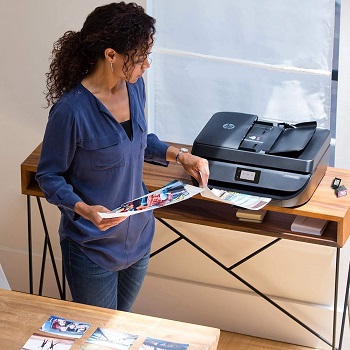 Instant Ink Ordering
Another great feature of this best mfp for small business is borderless printing so you can make documents without white margins. The HP Instant Ink is automatically ordering ink when levels are low, and use HP Smart app to print and scan from cloud services and camera.
Highlighted Points:
maximum color printing speed is 7 ppm
maximum black printing speed is 10 ppm
17.52" long, 14.45" wide and 7.5" high
2.2" mono touchscreen panel
sheet capacity for 100 papers
BEST DIGITAL INKJET MULTIFUNCTION PRINTER
Epson WF-7110 Multifunction Printer
Media Size And Printing Speed
This is the best multifunctional inkjet printer for wide prints with borderless printing. It can print on 13" x 19" big media. This wide-format inkjet printer can scan media up to 11" long and 17" wide. The maximum black printing speed is 18 ISO ppm, and 10 ISO ppm for color.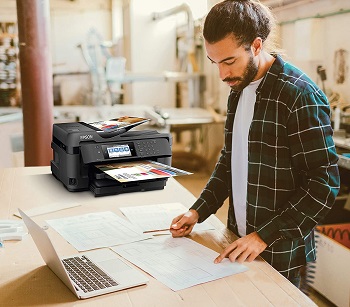 High Sheet Capacity
The front input tray has a capacity of 250 sheets, which means this model is suitable for bigger offices and companies. The output tray can hold up to 125 sheets. It also has a rear feed for specialty paper. The energy-efficient system reduces paper to use with automatic duplex printing.
Automatic Feed And Touchscreen
In case you have a lot of multiple-page documents to print, this is the right model for you because it features an automatic document feeder for 35 pages. Use a 4.3" color touchscreen to monitor printing and ajdust settings. It features 4 DuraBRITE Ultra Ink cartridges in black, cyan, yellow, and magenta.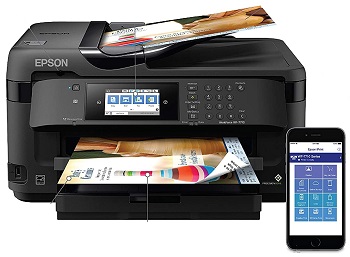 Wireless Data Transfer
The printer is designed for Epson cartridges only, so using ink from other brands could damage the printheads. Connect to computer or mobile phone using WiFi direct, Ethernet cable of Near Field Communication (NFC) chip. Put your phone or another device above the chip to start fast data transfer.
Highlighted Points:
18 ISO ppm black printing speed
holds up to 250 sheets
auto duplex printing
4 DuraBRITE ink cartridges
Near Field Communication chip
BEST HOME INKJET MULTIFUNCTION PRINTER
Canon G7020 Multifunctional Printer
Page Yield And Ink System
This Canon Pixma G7020 inkjet multifunction printer 3114c002 model is ideal for the home office because it can print up to 6000 pages in black, and 7700 pages in color. The unique function is a hybrid ink system that uses both pigment-based black and dye-based color ink to create sharp and colorful prints.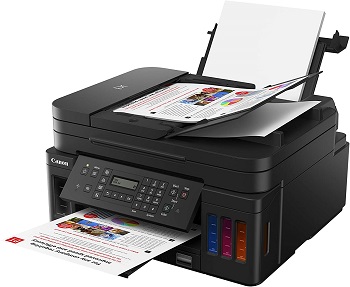 Refillable And Compact 
It's one of the best mfp for a home office because it features MegaTank. It's a sub-tank connected to the ink cartridges that are easy to refill. Therefore, you don't have to buy remove and replace cartridges, which will reduce costs. This inkjet printer is 15.9" long, 14.6" wide, and 9.3" high.
Wireless Connection And Direct Printing
The refillable inkjet printer has wireless technology for easy connection to other devices. Also, it includes an Ethernet cable for a wired connection. The system supports AirPrint technology for direct print and scan from Apple devices without using the software. If you own an Android device, use the Mopria service.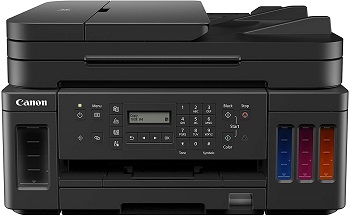 Speed And Sheet Capacity
The Canon app allows you to edit images and print from a computer, tablet, or phone. The maximum printing speed for black ink is 13 ISO ppm, and 6.8 ISO ppm for color. The input tray has the capacity to hold up to 350 sheets.  The machine features borderless and auto-duplex printing.
Highlighted Points:
capacity to hold 350 pages
fast printing speed for both colors
AirPrint and Mopria service
MegaTank for refilling
hybrid ink system
BEST COMMERCIAL INKJET MULTIFUNCTION PRINTER
HP Officejet Pro 7740 Inkjet Printer
Double-Sided Fast Printing
This HP Officejet 77400 colour inkjet multifunction printer A3 has automatic double-sided printing for a fast working process. When printing in black ink, it can yield a maximum of 22 ppm. The maximum speed for color prints is 18 ppm. All settings can be monitored and tracked on a 2.65" color touchscreen.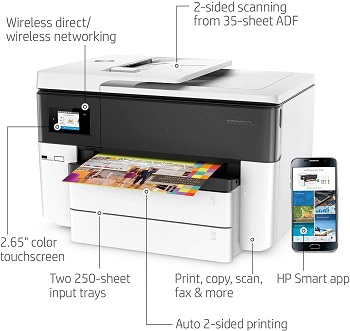 Dual Trays With High Capacity
That's high enough for efficient workflow in any office. The HP Officejet printer has an automatic document feeder for 35 pages. It has two paper trays which are very user-friendly because the total sheet capacity is 500 pages. The output tray has a capacity of 75 pages.
Wide-Format Scanbed
The system supports wide-format media between 3" x 5" and 11.7" x 17" big. This inkjet printer scanner has an 11" long and 17" wide scanbed. The HP Officejet Pro 7740 A3 colour multifunction printer uses original HP 952 and H952XL ink high-yield cartridges. The optimal working temperature is between 32°F and 104°F.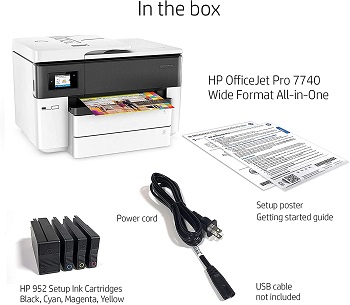 Built-In Security And Direct Printing
It uses the HP Smart app to scan digital files directly to e-mail, cloud services, or network folders. A unique function is built-in security that is supported by the HP Jet Advantage Private Print app.  Also, you can use AirPrint technology to print directly from mobile phones.
Highlighted Points:
dual trays for 500 sheets
prints on 11.7" x 17" big media
features 11" x 17" big scanbed
HP Jet Advantage Private Print security app
22 ppm black print speed
BEST FOR A3 PAPER INKJET MULTIFUNCTION PRINTER
Brother MFC-J5330DW Printer
Automatic Ink Orders And ADF
Also, you'll never run out of ink because the Brother A3 inkjet multifunction printer has an Amazon Dash Replenishment function for automatic ink orders when the levels are low. The ink cartridges can work only with genuine Brother Inks. The digital inkjet printer can use an automatic document feeder (ADF) function to print up to 50 pages.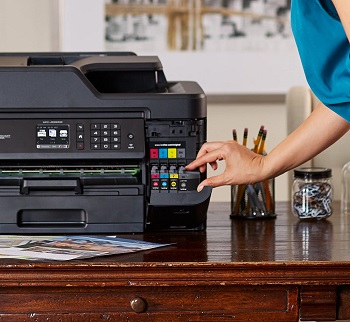 Sheet Format And Capacity
The Brother mfc J5330DW inkjet multifunction printer is suitable for printing on A3 pages and other wide-format media that's up to 11" long and 17" wide. The input tray can hold up to 250 sheets, while the output paper capacity is 100 sheets. The model features high-quality printheads for sharp black text and high-quality color images.
Fast Direct Mobile Printing
It's easy to print from mobile devices because the Brother wireless multifunction 11×17 printer features AirPrint technology, Brother iPrint, and Scan app, Cortado Workplace, and WiFi Direct. It works with Apple, Android, Windows, and Mac. The maximum color printing speed is 20 ppm, and 22 ppm for black ink.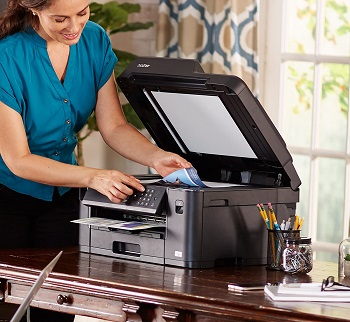 Stream Workflow With Touchscreen
Another user-friendly feature is the additional side tray that can be used to print on cardstock or envelopes. The Brother printer has a 2.7" color touchscreen for easy printing navigation and setting control. Besides, it allows you to connect with Google Drive, Dropbox, social platforms, Brother Cloud apps, and Web Connect interface.
Highlighted Points:
ADF for 50 sheets
the input tray holds 250 sheets
2.7" color touchscreen
Amazon Dash Replenishment
20 ppm maximum color printing speed
Things To Know About Inkjet Multifunction Printer
Multifunctional machines are very practical because you can print, scan, copy and fax at the same time. They're often used for big businesses, small offices, and home offices. To choose the best model, you need to know important info about practical functions such as speed, software requirements, user-friendly functions, etc.
Printing Speed – In case you need a commercial inkjet printer for your business, you need to check the printing speed. For business, it's desirable that the model can print at least 20 ppm (pages per minute) or more. Anything less than that it's more suitable for a home office, or personal use.
Software Compatibility – It's important to check if the software is compatible with your computer. Software is needed to control printing, scanning, and other functions from other devices. The best models will be compatible with software that can be installed on both Windows and Mac operating systems.  It's great if you can also work from both iOS and Android mobile systems.
Automatic Feed – The inkjet multifunctional printer with automatic document feed will save you a lot of time, and energy resources, including paper. The machines that print between 30 and 100 pages at once are the best for the office. Also, auto-duplex printing is a user-friendly function in case you don't want to manually turn the papers.
User-Friendly Functions – Alexa voice commands and wireless connectivity allow you to work remotely and fast. Also, it's great if the inkjet multifunction printer supports AirPrint or MopriaService so you can print and scan directly from the mobile phone and cloud services. There are apps like HP ePrint that supports direct scan to e-mail.
Printing Resolution – The high-resolution inkjet printer is a great choice if you want to scan and print high-quality images that are colorful and sharp. Search for models that have a resolution between 4000 DPI and 9600 DPI (dots per inch). Anything between 1200 DPI and 4000 DPI is still high enough but doesn't support gallery-quality photos.