Are you searching for the best digital inkjet printer?
Then you should read this article.
I'll describe 6 different models that are divided into different categories so it's easier for you to find the most suitable model. If you need more info or help, read the buying guide.
Our Top Picks
6 Best Digital Inkjet Printers
BEST OF BEST DIGITAL INKJET PRINTER
HP Officejet Pro 8025 Printer
Printing Speed And Wireless Technology
The maximum printing speed is 20 ppm for black ink, and 10 ppm for color. It's an all-in-one wireless inkjet printer for copying, scanning, faxing, and printing. It's connecting to the computer, phone, and tablet using built-in wireless technology. Dual-band WiFi is automatically detecting and resolving internet issues.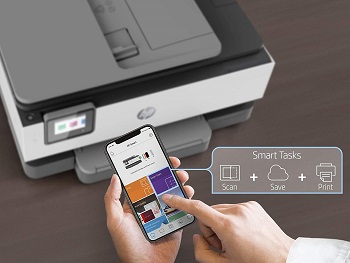 Auto Document Feeder And Sheet Capacity
It also features a cabled Ethernet connection, and it can work with Mac, Linux, and Windows operating systems. The digital inkjet printer can work with multiple-page files. It features an automatic document feeder for 35 sheets. The input tray can hold up to 225 sheets which are high enough for business use. The output tray holds up to 60 sheets.
HP Smart App And Control Panel
The system comes with the HP Smart app so it can use different features for on-the-go printing from a mobile phone, monitoring ink levels, scanning directly to the e-mail, and much more. The big 2.6" color touchscreen is easy to navigate so you can adjust different settings.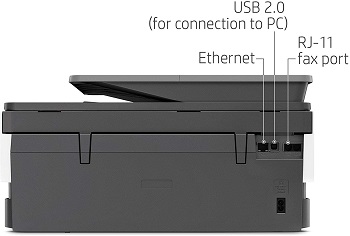 Energy Certified
You can go on cloud services such as Google Disk and print documents directly. The machine is 18.11" long, 13.43" wide, and 9.21" high, and its structure is certified with an Energy Star. The auto-duplex printing function is turning the pages automatically so you don't have to and reduces the use of paper.
Highlighted Points:
dual-band wireless technology
20 ppm maximum printing speed
capacity for 225 sheets
print from cloud services
auto-duplex printing
BEST ALL IN ONE DIGITAL INKJET PRINTER
Canon Pixma TR4520 Printer
Alexa Voice Commands 
This digital inkjet printing machine can respond to Alexa voice commands, which is very user-friendly if you want to work from anywhere in the room. Also, Alexa can detect when ink levels are low, and automatically order more so you never run out of ink.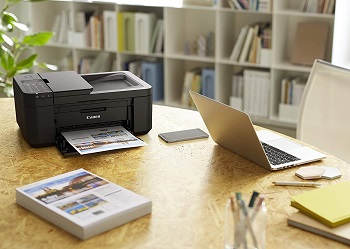 User-Friendly Functions
The model can connect to the computer with a USB interface or built-in WiFi. I t also features automatic power on and off, so if your printer is turned off and you send the document to print, it will automatically turn on. Other user-friendly functions are an automatic document feeder for documents with many pages and auto-duplex printing for a fast workflow.
AirPrint And Mopria Technology
This Bluetooth inkjet printer features AirPrint technology for iPod, iPad, and iPhone so you can print directly from there. Also if you want to print from an Android phone, you can use Moopria Print Service. The Canon Print app is useful for monitoring and adjusting settings.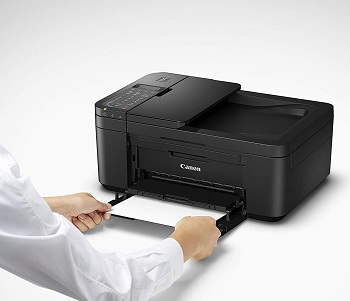 Printing Speed And LCD Display
The maximum printing speed is 8.8 ISO ppm for black ink and 4.4 ISO ppm for color ink. You can track the printing process on the Full Dot Matrix LCD display. The machine can print, scan, copy and fax. It's 17.2" long, 11.7" wide, and 7.5" high, therefore it's compact and easily fits into any interior.
Highlighted Points:
Alexa voice commands
Canon Print app
8.8 and 4.4 ISO ppm speeds
Full Dot Matrix LCD
17.2" long, 11.7" wide, and 7.5" high
BEST FOR PHOTO DIGITAL INKJET PRINTER
Brother MFC-J6935DW Printer
Fast Printing And High Capacity
This best inkjet printer for photos has high sheet capacity because of dual trays. Therefore in total, this model can hold up to 500 sheets. The maximum printing speed is 22 ppm for black ink, and 20 ppm for color. It's a fast and high-capacity model ideal for business use.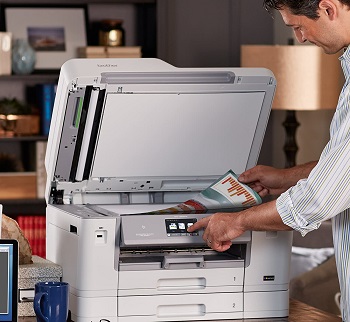 Suitable Media Size
It can print, copy, scan, and fax, so it's multifunctional and suitable for doing multiple-page documents since it's featuring an automatic document feeder for 50 sheets. The maximum media size for this digital inkjet printer is 11" long and 17" wide.
Scan From Cloud Services
The automatic double-sided printing is automatically turning each page so you don't have to do that manually. You can adjust all settings on the 3.7" color touchscreen that streams and scans to cloud services such as Google Drive, Dropbox, One Drive, etc.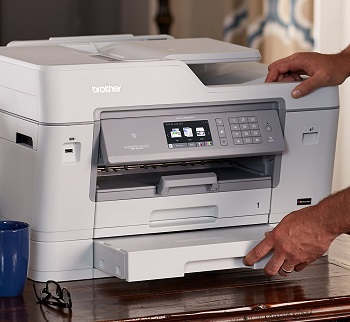 Automatic Ink Ordering
The Brother Cloud apps are great for storing and sharing different documents, that you can send directly to the printer. The app is tracking the ink levels, and when they're running low, the system is ordering new ink with the Amazon Dash Replenishment function.
Highlighted Points:
22 ppm maximum printing speed for black ink
20 ppm maximum printing speed for color ink
ADF for 50 sheets
input trays for 500 sheets
Amazon Dash Ink Replenishment
BEST SMALL DIGITAL INKJET PRINTER
HP SmartTank Plus 551 Inkjet Printer
Smart Ink System
This inkjet digital printer has a unique tank system that's made from a sub-tank and ink cartridges. The sub-tank is the main ink tank that needs to be refilled, while ink cartridges don't have to be replaced with new ones. That will reduce your costs on buying new cartridges and waste.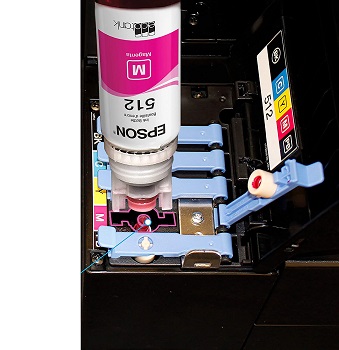 Spill-Free Ink Design
The package includes a digital inkjet printer with an ink set that will last you for 2 years, which is approximately 8000 color pages and 6000 black pages. The ink bottles have a spill-free design, which is very user-friendly. The HP Smart app is user-friendly and you can use it to minor the printer, ink levels, and other settings.
Sheet Capacity And Speed
The fast first-page printing is also a user-friendly feature, while the maximum printing speed for black ink is 11 ppm, and 5 ppm for color. All settings can be tracked and controlled on the Icon display. The model can hold up to 100 sheets, and the output tray has a capacity of 30 sheets.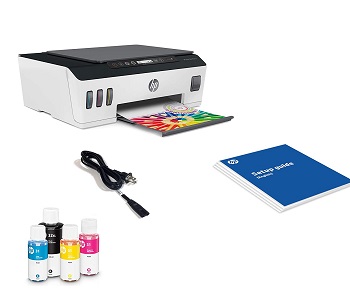 Dimensions And Wireless Connectivity
It's 17.6" long, 14.7" wide, and 6.2" high. The printing can be activated with the voice command, and the machine has an energy-efficient structure approved by the Energy Star certificate.  The compact inkjet printer connects to other devices using dual-band WiFi technology that's automatically detecting and resolving any internet issues.
Highlighted Points:
sub-tank ink system
17.6" long, 14.7" wide, and 6.2" high
Energy Star approved
holds up to 100 sheets
dual-band WiFi technology
BEST COMMERCIAL DIGITAL INKJET PRINTER
Other 1 UV Digital Print
Printing Technology And Suitable Media
This is the best digital inkjet printer for commercial use. It has unique UV inkjet printing technology that uses UV LED light for curing the ink on different surfaces. Therefore, it's suitable for many media, not only paper, photo, and different film types. It can print on metal, wood, glass, textile, etc.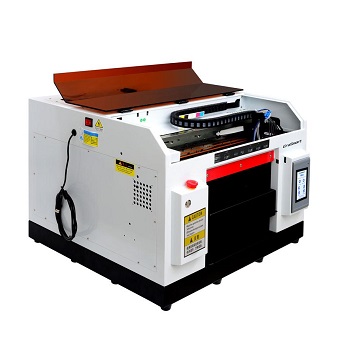 Led Cold Light
The commercial inkjet printer uses the latest LED cold light technology without radiation, and it prevents the surface of the media from overheating or damaging. The ink is dried within 2-5 minutes of applying UV light, which is very fast. After curing the ink, there's no need for post-printing treatments.
Automatic Height Correction
The model has a touch-screen that allows you to set and adjust different settings such as automatic height correction. That's a very practical feature that's automatically adjusting the printhead position in relation to the media thickness. The whole structure is approved with a CE certificate.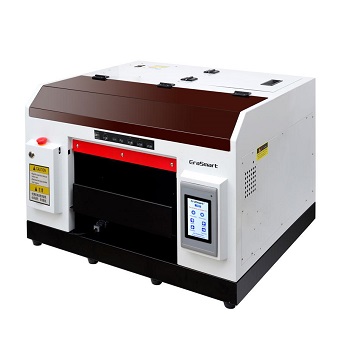 Warranty And Cooling System
Also, all parts are covered with a 3-year limited warranty. Since this printer uses UV light to permanently apply ink, the system is constantly heating and it needs an efficient cooling system. This model combines water cooling with a fan cooling system for the best effect.
Highlighted Points:
UV printing technology
touch-screen for easy navigation
water cooling and fan cooling
suitable for metal, paper, wood, glass, etc.
3-year limited warranty
BEST LARGE DIGITAL INKJET PRINTER
Refretronic MT-TS1325 Printer
Variety Of Materials 
This digital inkjet printer is made from a steel frame and it's having MT LED UV technology, like the previous model. Therefore it can print on metal, glass, wood, textile, plastic, paper, etc. However, this is a large-format inkjet printer suitable for big projects.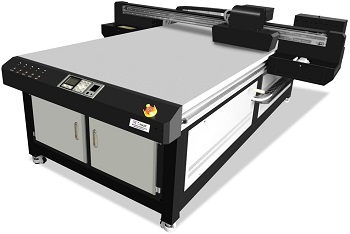 Large And Heavy
It's 148.03" long, 63.78" wide, and 52.36" high. Also, it weighs 1470 pounds, so it's a heavy-duty machine. It's equipped with an anti-collision system so the printhead won't get hit on the surface of media. The printing is very fast and supported by a Servo motor.
User-Friendly Functions 
This inkjet printer also includes a Germany-Imported IGUS drag chain and a high-quality LCD screen with many controls so you can track and adjust a variety of settings. Another user-friendly function is the Flash spray feature. The nozzles automatically spray ink, even when the printer doesn't work.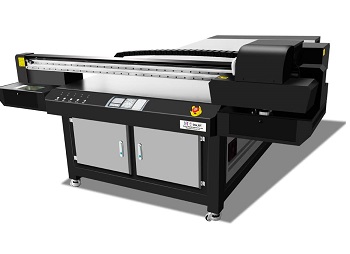 Software And Adjustable UV Energy
In that way is prevented nozzle clogging that can be caused by high heat. The machine also has a high-precision mute linear guide rail, auto-lifting ink stack, and moisturizing device. The energy of the UV lamp can be adjusted. The RIP software is working with this printer, and it's suitable for both Mac and Windows operating systems.
Highlighted Points:
148.03" long, 63.78" wide, and 52.36" high
Flash spray cleaning feature
an anti-collision printhead
RIP software for Windows and Mac
runs on Servo motor
Things To Know About Digital Inkjet Printers
Digital units have special printing technologies that allow them to print on different media like wood, glass, and metal. Also, they feature high-tech functions for easy and fast printing in high resolution. Here you can read the info on important features so you can choose the right model.
Printing Speed – The fastest inkjet printer will have a printing speed between 20 pages per minute and 30 ppm or even more. If you're searching for the model you will use in industry and business, it should have a high printing speed. Models for personal use can print even less than 20 ppm.
High-Tech Features – Great functions you can search in digital units are automatic power on, auto document feeder, auto-duplex printing, and automatic ink delivery. Also, it's great if the model is multifunctional so you can use it for scanning, printing, copying, and faxing.
Practical Apps – Applications such as My Image Garden and Easy PhotoEditor are great for organizing and editing photos for printing. These models often feature apps that allow direct scanning to e-mail and cloud services, as well as printing from mobile phones, social platforms, and cloud services.
Voice Commands – Many digital inkjet printers work with Alexa or Google Assistant to answer voice commands. That's a high-tech function that allows you to print from anywhere in the room. Also, it's great if the unit connects wirelessly to the computer and phone.
Media Requirements – Most digital models have high-tech functions and special printing technology that allows you to use different media. For example, UV inkjet printers can print on metal, wood, glass, and even on different shapes. Standard inkjet printers can print on paper, photos, glossy film, and other basic media.