Are you searching for a large-format inkjet printer?
Then search no more! In this article, I'll describe the 6 best models that you can find on the market. Compare them between different categories such as best for a photo, for vinyl, commercial, plotter, etc. For more help, go to buying guide.
Our Top Picks
6 Best Large Format Inkjet Printers
BEST OF BEST LARGE-FORMAT INKJET PRINTER
HP Designjet T230 Printer
Speed And Memory
This a1 HP wide-format inkjet printer can print an A1 page in 45 seconds, which is approximately 60 A1 prints in one hour. It doesn't have internal storage, but it does have a memory card of 256 MB so you can store the documents and photos in the device. It's 45.1" long, 24" wide and 16" high.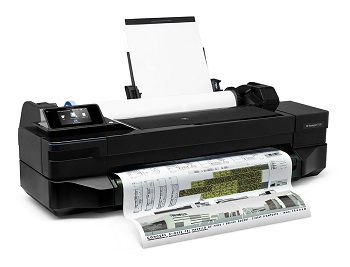 Software Requirements And Ink Type
It works with Windows, Mac, Apple AirPrint, Android, and iOS. Therefore, the HP Designjet T120 inkjet large-format printer is suitable to print fast images of high-quality. This all-in-one color inkjet printer comes with 4 individual ink cartridges that include dye-based cyan, magenta, and yellow inks, and pigment-based black ink.
Printing Resolution
This large-format inkjet printer has a printing resolution of 1200×1200 DPI for color print, and between 600×600 DPI and 1200×1200 DPI for black printing. It's a thermal model, which means the nozzles of the printhead have a resistor that's heating the ink and creates bubble droplets. It has HP ePrint and Smart App.

Media Size And Materials
The thermal inkjet printer has an automatic cutter that is cutting the sheet out of the roll. It features both sheet and roll feed, as well as an input tray, so you can use a wide range of materials in different shapes and sizes. It can print on bond and coated paper, technical paper, film, photographic paper, and self-adhesive material.
Highlighted Points:
45.1" long, 24" wide and 16" high
1200×1200 DPI printing resolution
sheet and roll feeder
thermal technology
HP ePrint and Smart app
BEST FOR PHOTO LARGE INKJET PRINTER
Epson Stylus 3880 Photo Printer
Professional Printing Resolution
The Epson Stylus Pro 3880 color inkjet printer is made for creating professional images with a high resolution of 2880×1440 DPI for both black and color ink. Unlike other large inkjet printers, this is a model suitable for medium to big projects with its wide format.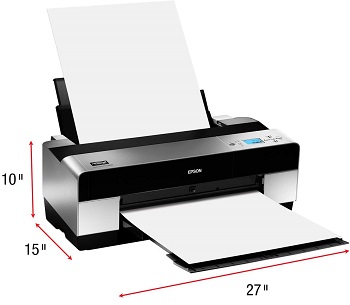 User-Friendly Functions
Its printing area is 17" wide and 22" long. The Epson wide-format inkjet printer has upgraded MicroPiezo AMC printhead that ensures detailed images with gallery-quality color. Also, it features AccuPhoto HD2 technology for smooth color transitions, better highlight, and shadow details.
Auto-Switch For Black Density
This best inkjet photo printer comes with 8-color ink cartridges and besides making high-quality color photos, it's also ideal for creating black and white prints. It has auto-switching Matte and Photo black ink for optimal black density and great contrast on glossy, matte, and fine art papers.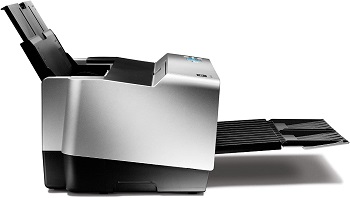 Dimensions And Certificate
Another user-friendly feature is the Epson PreciseColor that normalizes printhead without needing to do the colorimetric calibration.  The machine is 15" long, 27" wide, and 10" high. The whole structure is very energy-efficient so the model is certified with the Energy Star.
Highlighted Points:
MicroPiezo AMC printhead
2880×1440 DPI printing resolution
AccuPhoto HD2 technology for color transitions
Epson PreciseControl technology
works with up to 17" wide media
BEST FOR VINYL LARGE-FORMAT INKJET PRINTER
Canon Prograf 30 Printer
Fast And Wide
This is one of the larger format inkjet printers for vinyl and other thick materials. It's fast and can print one D-sized media or 24×36" poster in 27 seconds. Besides taking media sheets, this model also features a roll feeder for the rolls that are between 8" and 36" long.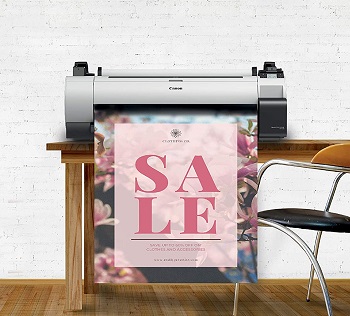 Connection Technologies
It has wireless technology so you can adjust settings on your phone, or computer from anywhere in the office. Besides that, it features a USB 2.0 and Ethernet interface so you can connect with a cable as well. This large inkjet printer has a printing area that's 36" wide. The model is 30" long, 51" wide, and 18" high.
Touchscreen And Replaceable Ink
This best inkjet printer for vinyl features an easy-to-use touchscreen interface where you can track the printing operation and adjust speed and other settings. Also, you can replace ink while printing, which is very user-friendly because you don't have to stop big projects and restart them again because of low ink levels.

Printing Speed And Ink Cartridges
The maximum printing speed for black and white prints is 2040 ppm. The system includes 6-color ink cartridges with a volume of 55 mL each, and they come in cyan, magenta, yellow and black. The user CD-ROM for setup and installation is included in the box, as well as the user manual and media guide.
Highlighted Points:
2040 ppm maximum printing speed
6-color ink cartridges
touchscreen control panel
maximum printing area is 36" wide
wireless, USB, and Ethernet connectivity
BEST 24-INCH LARGE INKJET PRINTER
HP Designjet T830 24" Inkjet Printer
Media Requirements
This large inkjet printer is suitable for both sheets and rolls, and it's suitable for 8.3"-24" wide sheets and 11"-24" wide rolls. Also, it features an input tray and an automatic cutter. That means it automatically cuts the new sheet from the roll when the next project is ready for printing.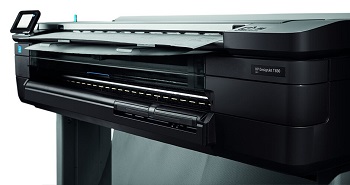 Media Basket And Ink Cartridges
It's a multifunctional commercial inkjet printer therefore it can scan, copy and fax. The machine comes with a basket that catches the finished work so it doesn't fall on the ground and get damaged. All parts are covered with a 1-year limited warranty and include cyan, magenta, yellow, and black HP 728 ink cartridges.
Wireless Connectivity
The cartridges are specifically made for HP inks. Using different ink can cause damage to the cartridge in the future. The machine connects to the computer and phone with WiFi technology or Gigabit Ethernet. Mobile printing is enabled with the HP Smart app that can be used with both iOS and Android operational systems.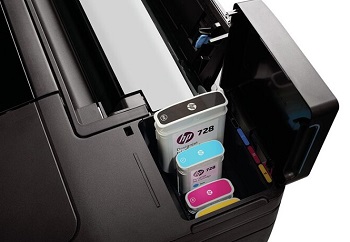 User-Friendly Apps
The HP ePrint application is included which allows email printing. Also, you can directly print from Chrome, while HP Click printing software allows you to print PDF documents. The HP Designjet Utility is included and works with both Mac and Windows. The system is fast so it can print an A1 page in 26 seconds.
Highlighted Points:
sheet and roll media feed
4-color ink cartridges
HP Click printing software
media basket
HP Smart app for mobile printing
BEST PLOTTER-PRINTER LARGE INKJET PRINTER
Canon Prograf 4110 Printer
Printing Resolution And Nozzles
This large inkjet printer is 62.7" long, 46" wide, and 38.7" high (when the media basket is open). The inkjet plotter creates high-quality images with a maximum resolution of 2400 x 1200 DPi. It features 18 432 nozzles that are made with anti-clogging fine technology.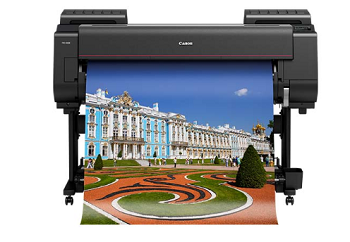 Chroma Optimizer Ink System
It features a Chroma Optimizer ink system for right color reproduction and high image clarity. Also, it has a built-in sensor that ensures color consistency from one project to the next. In case you have a big company with many printers, Device Management Console software is very practical to monitor up to 50 printers at once.
Media Feed And Ink Type
There is both a sheet and roll feeder and a multi-sensor system that detects the type of material. The 12 ink cartridges are connected to the sub-ink tank system so you never run out of ink and it's easy to fill the bigger tank.  This is the best inkjet printer with pigment-based ink.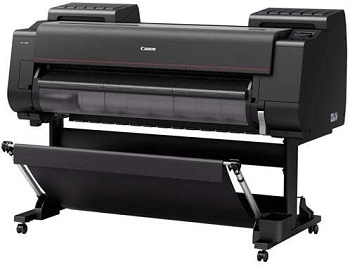 Control Panel And Connectivity
All settings can be adjusted on a 4.3" color LCD touchscreen. This inkjet plotter-printer works with PDF and JPEG files and has a built-in hard drive with 500 GB of memory. The pigment-based inkjet printer works with both Mac and Windows operating systems, and it connects to the computer with a USB 2.0 interface and Ethernet.
Highlighted Points:
62.7" long, 46" wide and 38.7" high
printing resolution up to 2400 x 1200 DPI
anti-clogging fine technology
sheet and roll feeder
4.3 color LCD touchscreen
BEST COMMERCIAL LARGE-FORMAT INKJET PRINTER
Referetonic MT-1807DE Printer
UV Curing Technology
This big inkjet printer has unique UV technology that's using light from the UV lamp to permanently apply the ink on any surface in the process called curing. The model is 131.1" long, 40.16" wide, and 29.92" high, and weighs 682 pounds. It runs on the Leadshine motor for stable motion control and precision.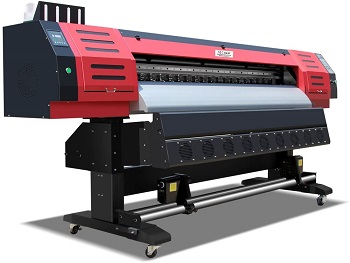 Prints On Different Surfaces
Therefore it's a very big and heavy model that's often used in industry to produce large professional images. This inkjet cd printer has a dual-motorized media feed for easier handling of heavy-duty media. Unlike previous models, this one can print on metal, wood, glass, leather, plastic, etc.
Ink System And Printing Resolution
The large format inkjet printer has a bulk ink-system that includes an ink reservoir, which means you don't have to frequently refill ink cartridges and the refilling is much easier and without the mess. The printhead is made from micro piezo so it's precise and makes clear and sharp images with a maximum resolution of 2880 DPI.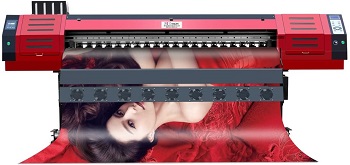 Printhead Technology
The printheads have anti-collision technology that prevents the nozzle to hit the surface and damage. The unit features a USB 2.0 interface and Ethernet to connect with computers with Mac or Windows operating system. The machine is made from an aluminum alloy that's durable and long-lasting.
Highlighted Points:
131.1" long, 40.16" wide and 29.92" high
UV printing technology
runs on strong Leadshine motor
prints on any surface
bulk ink system for easy refill
Things To Know About Large Inkjet Printer
For big posters, prints, and other projects for your business, you should buy a model with a printing area wider than 20". In this review, I've described 6 models you can use for medium to big projects, and here I'll describe more details around their features such as printing speed, software, etc.
Small Vs Large Format – The main difference is in the printing area size. Small models have printing width below 20", therefore you can to small to medium projects. Large machines have wide printing areas so you can use big media for large printing projects.
Printing Speed – When buying the right model, check the printing speed. If you're buying the machine for business, you must have a fast machine so you don't have blocks in the work. It's great if the model needs 20-50 seconds to print one A1 page.
Media Requirements – Some models such as UV inkjet printers can work on different surfaces such as wood, metal, leather, glass, plastic, etc. Other models can work on paper and other thinner materials. In general, it's important to know the size of the printing area and suitable media sizes. It's great if the printer has both sheet and roll feed.
The Right Software – The printer is controlled from the computer, tablet, or phone. Often you need the right software to connect with the printer. Check if the system is suitable for the operating system on your computer. It's very user-friendly when machines can work on both Mac and Windows OS, including Android and iOS for phones.
Useful Functions – Large inkjet printers can include many great features such as sensors for detecting paper type, sub-ink systems for easy ink refill, nozzle anti-clogging technology, and borderless printing. Digital inkjet printers often include smart apps for direct printing from a mobile phone.