Do you need an inkjet plotter?
Then you're at the right place! Read this article and compare the 6 best models currently available on the market. You can compare them between different categories, and get more info on practical features in our buying guide.
Our Top Picks
6 Best Inkjet Plotters
BEST OF BEST INKJET PLOTTER
Canon Prograf iPF770 Plotter Printer
Printing Width And Dimensions
This large-format inkjet printer has a 36" wide printing area so it's ideal for making large posters, images, prints, and other projects.  Also, it's 55.5" long, 43" wide, and 31" high. The inkjet plotter features a sub-ink system that is very user-friendly because you don't have frequently refill the ink tanks.
Sub-Ink Economy Mode
The system allows you to replace empty ink tanks without stopping the printing process. Economy print mode reduces energy and paper use, and prints 23.39" x 33.11" big media in 25 seconds. It can download, share, and print files directly from the cloud services using the Direct Print and Share app.
User-Friendly Features
Prograf Print Utility app allows direct printing of PDF documents from Apple devices. Accounting Manager software helps you to monitor the printing process, while the Print Plug-In app enables you to easily print documents created with Microsoft Office (Word, Excel, or PowerPoint). Creates large format prints with Poster Artist Lite software.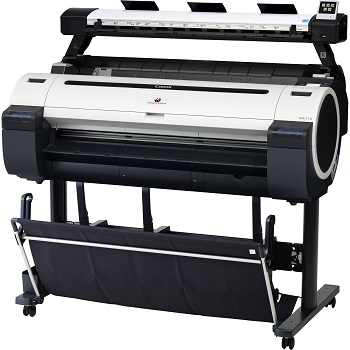 Printhead Nozzles And Resolution
The inkjet plotter printer has precision printing mode for photos of 2400 x 1200 DPI high resolution. The printhead has a nozzle orifice shape that helps to reduce mist spray, therefore producing clean images. The printhead includes 15 360 nozzles that spray 4 picoliter ink droplets for professional-quality images.
Highlighted Points:
55.5" long, 43" wide and 31" high
Prograf Print Utility app for Apple
Accounting Manager for monitoring
Microsoft Office compatible Print Plug-In app
2400 x 1200 DPI print resolution
BEST FOR PHOTO INKJET PLOTTER
Canon Prograf TA-30 Plotter
Fast Print Of High Resolution
This high-resolution inkjet printer is fast and can print a D-sized media in 27 seconds which is equal to printing 133 posters that are 24" long and 36" wide within one hour. The print resolution is 1200 x 2400 DPI. It features two feeds- one for sheet media, and the second for media rolls.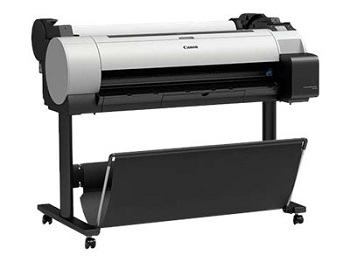 Media Roll Size
The suitable media roll size is between 8" and 36" wide.  The plotter inkjet includes a stand and media basket, so you can leave the printing unattended and do other work. The finished job will fall into the basket and won't be damaged. Use the Canon Print app and AirPrint technology for direct mobile printing.
Dimensions And Poster Software
The inkjet plotter is 42" long, 51" wide, and 35" high. The system has Poster Artist Lite software for creating large format projects, posters, and prints. The unit connects to computers, tablets, and phones with wireless technology. It also has a USB 2.0 Hi-speed interface for wired connectivity and fast data transfer.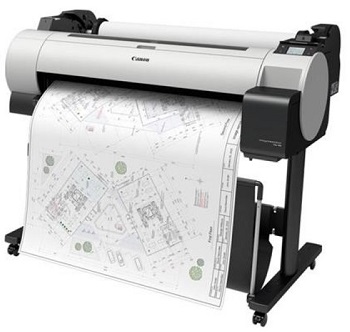 Windows And Mac Compatible
The software is compatible with Windows 7, 8.1, 10 on both 32-bit and 64-bit processors, and Windows Server 2008 R2, 2012, 2012 R2, and 2016 on 64-bit processors. It's also compatible with Mac OS X v10.10.5 – v10.12x. The model comes with 5-color individual cartridges, and printheads have around 15 360 nozzles.
Highlighted Points:
27 seconds for D-size print
accepts media rolls between 8"-36" wide
AirPrint and Poster Artist Lite
42" long, 51" wide and 35" high
5-color individual cartridges
BEST FOR MAC INKJET PLOTTER
HP Designjet T530 Printer Plotter
Sheets And Roll Feed
This HP pagewide plotter has both sheet and roll media feed. The system accepts 8.3" to 24" wide sheets and 11" to 24" wide rolls. It also features an input tray, a media basket, and an automatic cutter that's automatically preparing the roll for the next project, so you don't have to do it.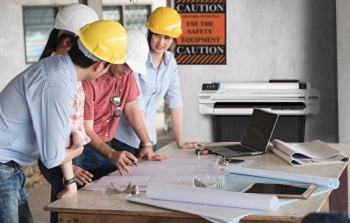 Wireless And Wired Connection
The finished job is stored in the media basket and protected, so you can leave the inkjet printer plotter unattended. The model has fast Ethernet (100Base-T) and Hi-speed USB 2.0 interface for wired connection and fast data transfer. However, it also features wireless technology so you can connect the machine with a mobile phone or computer.
Software Compatibility
The HP inkjet plotter will work with both Windows and Mac operating systems, as well as with iOS and Android phones. It's one of the best inkjet printers for stickers because it has a large format printing area and it can work with materials of different thicknesses.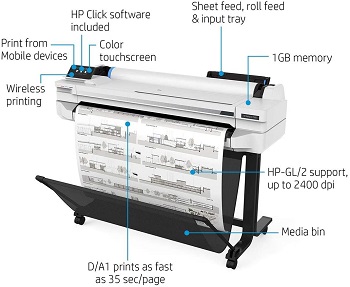 Printing Speed And Apps
It can print the A1/D page in 30 seconds.HP Smart app controls printing and uses different software for certain operations. HP Click software enables printing PDF documents directly from the phone, HP Poster app for large format posters, and HP DesignJet Utility app for Mac and Windows to control the printer and manage the color.
Highlighted Points:
accepts 8.3" to 24" wide media sheets
for 11" to 24" wide rolls
HP Designjet Utility app
HP Click software
prints A1/D page in 30 seconds
BEST COLOR INKJET PLOTTER
Canon Pro 2000 Printer
Edit Photos And Manage Printing
It's suitable for media that's 24" wide, and it's one of the best inkjet printers for vinyl since it can print and sketch on different materials. The Print Studio Pro plug-in for software is included so you can edit the photos before printing. Also, it includes the Accounting Manager for monitoring the printing process.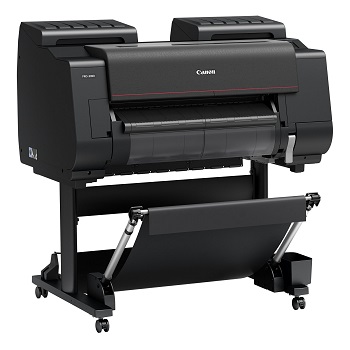 Connectivity And Software Requirements
The poster creation is easy with this model because of the Poster Artist Lite app and you can print directly from Microsoft Office programs using the Print Plug-in app.  This model works with Windows Vista/7/8/8.1/10 and Mac OS X 10.7.5 – 10.11 operating systems. It connects to the device with a USB interface, Ethernet, or WiFi connectivity.
Control Panel And Print Resolution
All settings can be adjusted with a 3.5" touchscreen. The printing resolution of this inkjet plotter is up to 2400 x 1200 DPI. The system includes 12-color individual ink cartridges for high-quality images. The user-friendly feature is the sub-tank system that ensures easy refill of the cartridges, and you don't have to replace them often.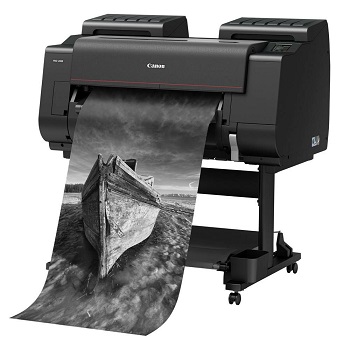 Anti-Clogging Nozzle Technology
The PF-10 printhead is 1.28" wide and it's made with 18 432 nozzles that have anti-clogging FINE technology for high-precision and fast printing. The system has 27 individual sensors that ensure high precision. It also has a built-in color densitometer that uses a 3-color LED and condenser lens to ensure the best performance.
Highlighted Points:
PF-10 printhead with 18 432 nozzles
built-in color densitometer
3.5" color touchscreen
12-color individual cartridges
2400 x 1200 DPI print resolution
BEST DIGITAL INKJET PLOTTER
HP Designjet T830 Plotter Printer
Wireless Connectivity And Apps
This is the best wireless inkjet printer with WiFi, Gigabit Ethernet (1000Base-T), and USB interface connectivity. You can easily print directly from iOS, Android phones, and Chrome OS. Use the HP ePrint app to sketch, print, and scan directly to the e-mail or HP Smart app to monitor and control the printing process.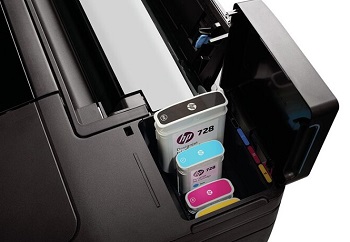 Suitable Media Size
HP Inkjet plotter has both media and roll feed so you can use different materials. Therefore you can use media sheets that are between 8.3" and 24" wide, and roll feeds that are between 11" and 24" wide. The media can be also handled through an input tray.
Fast Printing And Security Chip
The automatic cutter of this HP pagewide plotter is preparing the sheet from the roll for the next project. Another user-friendly feature is built-in security so you can't use ink cartridges that don't own the HP chip. The machine can print 81 prints of A1/D size in one hour.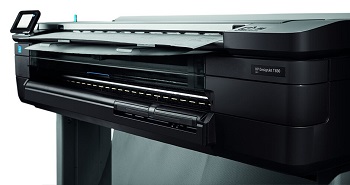 HP Designjet Utility And HP Click
You can use HP DesignJet Utility to troubleshoot and manage the printing process and color. The HP Click printing software allows you to print PDF documents directly from the phone. The machine is 55.5" long, 43" wide, and 31" high, and weighs 224 pounds. All parts are covered with a 1-year limited warranty.
Highlighted Points:
55.5" long, 43" wide and 31" high
81 A1/D sized prints in one hour
roll and sheet media feed
HP Smart app for mobile printing
specifically made ink cartridges
BEST COMMERCIAL INKJET PLOTTER
Canon Prograf TM-300 Plotter
Direct Mobile Printing
This commercial inkjet printer is 36" wide so it can accept large format media. It features a borderless print function so you can make large prints without margins. It connects to the computer and phone with WiFi. It also features wired connectivity such as Ethernet and USB interface. The inkjet plotter has AirPrint technology.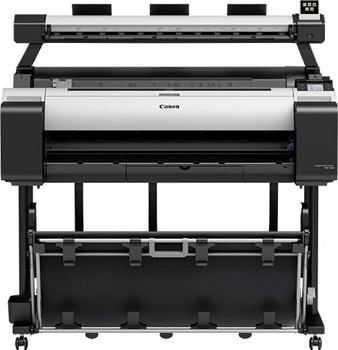 Pigment-Based Ink
The system comes with 6-color individual ink cartridges that are filled with LUCIA TD pigment-based ink which is very user-friendly because it creates images of sharp colors and high resolution. The maximum print resolution is 1200 x 2400 DPI.  The PF-05 printhead has 15 360 nozzles that spray ink with high precision.
Fast Printing And Easy Navigation
Therefore you use Apple devices to print directly to the plotter inkjet. In case you have an Android phone, use the Canon Print app. This office inkjet printer has a high capacity so it can print up to 144 pages that are D-sized in one hour. Also, it has a 3" touchscreen control panel that allows you to easily adjust all the settings.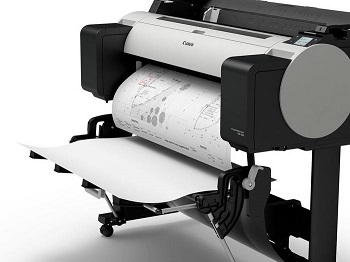 Dimensions And Noise Level
The model has Accounting Manager software that allows easy tracking of the printing process, and PosterArtist Lite plug-in allows editing and printing of big prints, posters, and other projects. The machine is 42" long, 51" wide, and 35" high. It weighs 134 pounds. The operating noise level is up to 44 dB, while the standby noise level is 35 dB.
Highlighted Points:
AirPrint for Apple
Canon Print app for Android
printheads with 15 360 nozzles
44 dB operation noise level
42" long, 51" wide and 35" high
Things To Know About Inkjet Plotters
The multifunctional models that have both printing and plotting features are very useful in offices. These models have a special pen that can sketch images on the paper, and print them afterward. They are often used in the industry. Here I'll describe general features so you can find the best model for yourself.
Fast Print – The fastest inkjet printer will have a printing speed of at least 30 ppm (pages per minute) which is desirable for high-end models that are used in the industry. Most plotters are often made for commercial use, so they'll have high speed. However, this function isn't so important if you need a model for personal use only. 
Printing Width – If you need to make large-format prints, posters, and other big projects that are later used for commercial purposes, it's important to buy a big model with a wide printing area above 20". The listed models all have format between 20" and 40" wide. There aren't many plotters available online that have small printing area.
High-tech Functions – Great user-friendly features you want to have are automatic cutter for rolls and apps that allow you to print directly from phones such as the HP Smart app, Canon Print, and AirPrint technology. Also, the machine can have software plug-ins for managing large-format prints and posters, and managing troubleshooting on printer and ink system.
Automated Workflow – This is a very important feature, especially if you're looking for an industrial inkjet printer that will do a lot of unattended work. It's great if the model has an automatic cutter and feeder for media rolls and sheets. Another great feature is barcoding which connects to the files on the computer and automatically prints several projects in a sequence.
Accessories – Metal stand and media basket are great accessories that allow you to live the inkjet plotter printer unattended so you can do other work. Also, it's desirable that the model has a sub-tank ink system. In that way, you can easily refill the ink in the cartridges, and you don't have to do it often.