Are you interested in buying the fastest inkjet printer?
Then read this article! I'll describe the 6 best models on the market and different categories such as best, all-in-one, color, photo, etc. If you need more help and info on specific features, read the buying guide.
Our Top Picks
6 Fastest Inkjet Printers
BEST OF BEST FASTEST INKJET PRINTER
HP Officejet Pro 8025 Printer
Wireless Dual-Band System
A very user-friendly feature of this fastest inkjet printer is a self-healing WiFi system that can automatically detect and resolve internet issues. Another way to connect to the computer is through the wired Ethernet connection. It's suitable for Windows and Mac operating systems.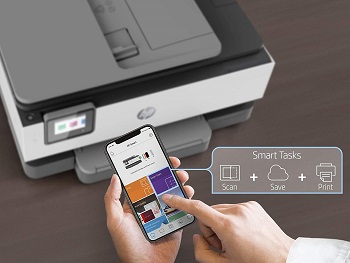 Smart Apps
The HP Smart app is allowing you to print on-the-go, monitor ink levels, scan, fax, copy, and manage the machine. Also, the app comes with the Smart Tasks that allow you to scan from and print to cloud services such as Google Disk, OneDrive, Dropbox, etc.
Security Features And Energy Efficient
Another user-friendly feature is built-in security that comes in the shape of WiFi passwords, basic encryption, document protection, and password protection.  The structure is energy-effienct and approved by Energy Star. Also, it's made from up to 15% of recycled plastic. The machine is 18.11" long, 13.43" wide, and 9.21" high.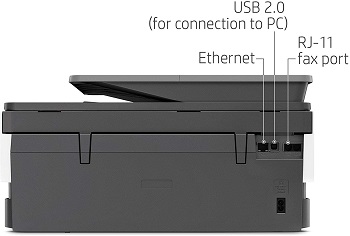 Maximum Speed And Capacity
The maximum printing speed of this all-in-one wireless inkjet printer is 20 ppm for black ink, and 10 ppm for color. All features can be adjusted on a big 2.65" color touchscreen. Also, it features an automatic document feeder with 35 sheets capacity, and an input tray that can hold up to 225 sheets which are big enough for office use.
Highlighted Points:
self-healing WiFi
Smart Tasks  for printing and scan
printing capacity for 225 sheets
Energy Star certificate
the maximum printing speed of 20 ppm
BEST ALL-IN-ONE FASTEST INKJET PRINTER
HP Officejet Pro 6978 Inkjet Printer
User-Friendly Auto Functions
This inkjet multifunction printer can copy, scan, and fax. It can do double-sided printing with automatic page-turning so you don't have to do it manually. Also, it features an automatic document feeder for multiple-paged documents up to 35-sheet capacity.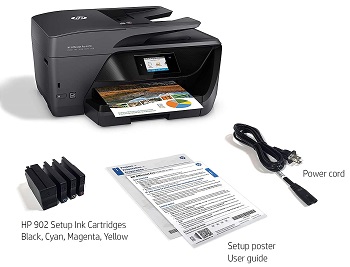 Speed And Connectivity Options
The maximum printing speed is 20 ppm for black color, and 11 ppm for color.  It connects to smartphones, computers, and tablets with a cabled Ethernet connection or 802.11b/g/n WiFi. The Near Field Communication (NFC) chip allows wireless fast data transfer. Put the phone above the chip to start.
Instant Ink App And Dimensions
Another user-friendly function is the Instant Ink app for automatic ink ordering when ink levels are low.  The structure is covered by 1-year limited warranty. The machine is 18.26" long, 15.35" wide, and 9" high. The printing area is suitable for A4, Letter, 5" x 7", 4" x 6" big media, legal, and panoramic.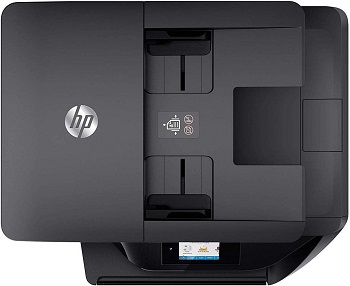 Page Capacity And Software Requirements
The input tray can hold up to 225 sheets, while the output tray has a capacity of 60 sheets. The system of this fastest inkjet printer is suitable for Mac, Windows, and Linux. It's also suitable for borderless printing so you can create pictures without white margins. High-yield ink cartridges are available if you want to buy them separately.
Highlighted Points:
20 ppm maximum printing speed
NFC for wireless data transfer
Instant Ink app for automatic ordering
capacity for 225 sheets
double-sided printing
BEST BLACK AND WHITE FASTEST INKJET PRINTER
HP Officejet Pro 7740 Printer
Printing Speed And Monochrome Mode
It's the fastest inkjet printer ppm model that prints 22 pages per minute in black ink, and  18 pages per minute for color ink. The system features both black and color ink cartridges, and a great user-friendly function is a black and white print mode that's suitable for making monochrome photos.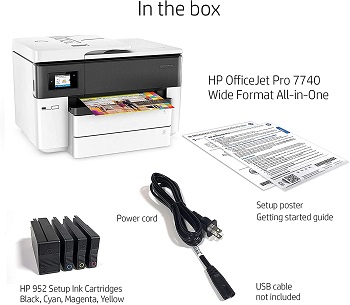 Input And Output Tray Capacity
The machine has two paper trays with a total of 500 sheets which is very user-friendly because it can manage a lot of documents. The output tray has a high capacity of 75 sheets.  The machine is 23" long, 18.38" wide, and 15.10" high, and it can easily fit into any room and it's space-saving.
Auto-Feed And Apps
The system is printing, scanning, copying, and saying. The black and white inkjet printer has the ability to automatically feed up to 35 pages and does double-sided printing with automatic page-turning.  The system is suitable for Windows, Mac, Linux, Android, and iOS. Also, it features an HP Smart app that helps you to manage the printing, scanning, and copying tasks.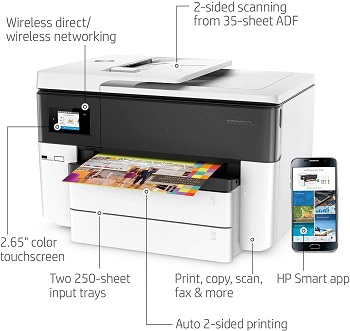 WiFi And NFC Technology
It connects to the devices with Ethernet wired connection and Wireless WiFi technology. Put the phone above the NFC chip for easy and fast data transfer. Also, it's a wide format printer that can manage media up to 11" long and 17" wide. AirPrint technology allows direct printing from a mobile phone.
Highlighted Points:
capacity for 500 sheets
automatic feed for 35 pages
HP Smart App
NFC technology
11" long and 17" wide
BEST COLOR FASTEST INKJET PRINTER
Epson Stylus C88+ Inkjet Printer
Printing Resolution
This is the pigment-based inkjet printer with high-quality ink that's smudge and fade resistant, as well as water-resistant. In that way, you'll able to create professional-quality photos that have a resolution of 5760 x 1440 DPI. The DuraBRITE ink droplets have a small size of 3 picoliters.
Suitable Media Dimensions
The machine can print on the images that are up to 8.5" long and 14" wide. BorderFree printing function allows borderless printing on media that's 4" x 6", 5" x 7", 8" x 10", and 8.5" x 11" big. The input tray has a capacity of 120 sheets, while the maximum printing speed for black ink is 23 ppm.
Compact And Lightweight
The maximum printing speed for color ink is 14 ppm. This fastest inkjet printer has a USB interface and parallel port for local connection to Mac and Windows operating systems. All parts are covered with a 1-year limited warranty. The machine is 18.1" long, 9.5" wide, and 7.6" high. It weighs only 10.14 pounds.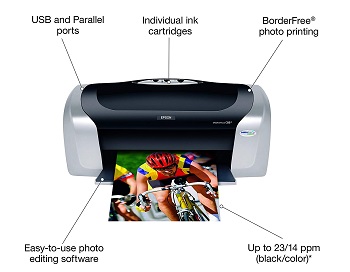 Included Software
The package contains ink cartridges in black, cyan, magenta, and yellow color. It includes CD-ROM to install software such as ArcSoft Photo impression, Drivers and Utilities, Epson scan assistant, Epson web to the page, etc. These functions allow direct printing from web-pages or e-mail, as well as from Android and Apple mobile phones.
Highlighted Points:
Epson scan assistant
Epson web to page
23 ppm speed for black ink
5760 x 1440 DPI print resolution
pigment-based ink
BEST FOR PHOTO FASTEST INKJET PRINTER
Brother MFC-J6530DW Printer
Streamline Touchscreen
A unique feature of this fastest inkjet printer is 2.7" big color touchscreen that features streamline function. Therefore you can connect with Google Drive, Dropbox, Facebook, BOX, OneNote, and much more. Also, it works with AirPrint technology that allows you to print directly from your Apple device.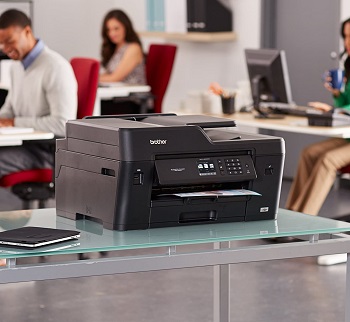 WiFi, Ethernet, and Hi-Speed USB
In case you have an Android phone, you can use Google Cloud Print. The Brother iPrint and Scan app are available for monitoring ink levels and managing printing. You can connect with the computer, tablet, and phones using WiFi direct. Other connectivity options are Ethernet and Hi-Speed USB interface.
Automatic Functions
It has an automatic document feeder with a capacity for 50 sheets. The auto-duplex function is automatically turning pages which save you money, and prints on both sides to reduce paper waste. The high-yield ink cartridges don't have to be refilled often. Amazon Dash Replenishment automatically orders new ink when levels are low.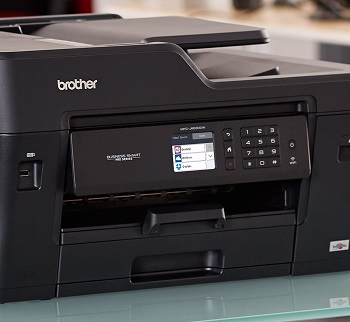 Media Size And Speed
Also, they are filled with pigment-based ink that prints images of high resolution. The input paper tray holds up to 250 sheets, and it's suitable for media up to 11" long and 17" wide. The maximum printing speed is 22 ppm for black ink, and 20 ppm for color. This best inkjet printer for photos has a compact structure that's 8.8" long, 22.6" wide, and 12" high.
Highlighted Points:
2.7" big touchscreen with streamline options
22 ppm maximum print speed
capacity for 250 sheets
automatic document feeder for 50 sheets
pigment-based high-yield ink cartridges
BEST COMMERCIAL FASTEST INKJET PRINTER
Canon iPF770 Inkjet Printer
Printing Width
This is the best inkjet printer for vinyl because it has a high enough printing area and strong printhead to apply inkjet ink on printing vinyl which is a little bit thinner in comparison to standard vinyl for cutting. It's a commercial model with a printing area that's up to 36" wide.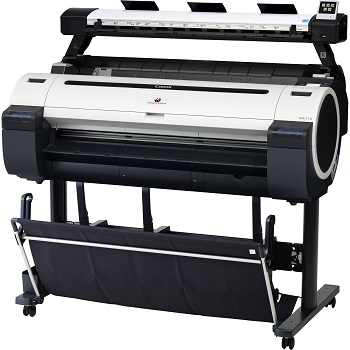 Automatic Barcoding
In comparison to previous models, it's ideal for creating wide projects such as big posters, images, panoramic photos, and other projects. The unique function of this fastest inkjet printer is automatic printing with data barcoding. The files on the computer have certain barcodes connected to the printer's software.
Catching Basket
Therefore, this model automatically prints the next project with a suitable barcode. Also, it features a media basket that protects the finished work from falling to the ground and damage, so you can leave the machine unattended. This large-format inkjet printer has a sub-ink tank system.
Printing Speed And Software Solutions
It's a high-yield system that's easy to refill.  The machine can print A1 documents (23.39" long and 33.11" wide) in 25 seconds when operating within the economy mode. It had many software solutions such as Prograf Print Utility, Poster Artist Lite software, Print Plug-in for Microsoft Office, etc.
Highlighted Points:
the printing area is 36" wide
good for printing on vinyl
prints A1 document in 25 seconds
Poster Artist Lite for printing posters
data barcoding for automatic work
Things To Know About Fastest Inkjet Printers
These models are ideal for business, office, and home office that require fast printing speed. So if you need to buy the right model, you need to check printing speed, the right media size, and if they have user-friendly functions such as auto document feeder, auto double-sided printing, etc. Here you can find additional info about that features.
Media Size –  In case you want to create big posters, images, and other projects, you should buy the model with the printing width between 30" and 50", or even more. On the other hand, the best models for medium projects are wide-format inkjet printers suitable for media that are between 20" and 30" long.
Software Requirements – When searching for the right model, it's important to know that not all software with works with every operating system. Almost all models can work with Windows, but if you have Mac OS, check the compatibility. It's best to have software that works with both Windows and Mac.
Automatic Functions – Auto functions are very user-friendly because they can speed up the workflow. The automatic document feeder can print more pages at once, while automatic double-sided printing is saving you time and paper because you don't have to manually turn the pages. Auto power-on is turning on the unit when you send the document for printing.
Print Resolution – The fastest inkjet printers for colorful and detailed images are often having high-tech printheads with high-quality ink. If you need to create professional-quality prints, it's best to search for the model with 9600 x 2400 DPI or 5600 x 2400 DPI. The 4800 x 1200 DPI resolution is also good for high-quality prints.
Printing Speed – If you're looking for high-speed models, the printing speed range should be between 20 pages per minute and 30 ppm. These are standard speeds which are enough to manage a lot of documents. However, some industrial inkjet printers feature even higher speeds.