Do you need an inkjet t-shirt printer for your business or hobby?
Then you should read this article!
I'll describe the 6 best models on the market and their categories so you can find the right one. If you need more help or info about this type of printer, check out the buying guide.
Our Top Picks
6 Best Inkjet Printers For T-Shirts
BEST OF BEST INKJET PRINTER FOR SHIRTS
Canon Pixma TR4520 T-Shirt Printer
Canon App And Photo Editor
Canon Pixma t-shirt printing machine uses Canon Print app so you can print and scan from cloud-based service and social platforms. PhotoPrint Editor is full of images, designs, and other templates to use for your t-shirts. It supports WiFi connection work from anywhere in your home.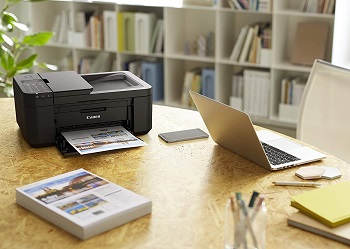 Combine It With Heat Press
It's the inkjet printer that can apply ink on the heat transfer paper. To apply it to the fabric, you'll need to buy a heat press machine that's sold separately. Nevertheless, this model offers many other features you can use while printing on other materials, or copying, scanning, and faxing.
Multifunctional And Supports Mobile Printing
The model is one of the best inkjet printers for shirts because it's multifunctional. It supports direct mobile printing with AirPrint technology for Apple devices and Mopria Print Service for Android OS. This all-in-one wireless inkjet printer has a USB 2.0 interface for connection to any computer.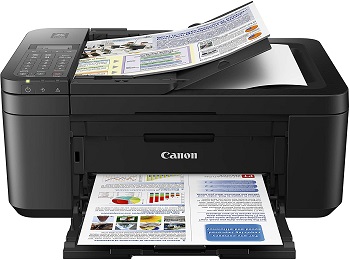 User-friendly Functions
The system is compatible with both Windows and Mac operating systems. Automatic document feeder allows fast printing of documents with multiple pages. The unit works with Alexa so you can give it voice commands, which is very user-friendly. The desktop structure is 17.20" long, 11.70" wide, and 7.50" high.
Highlighted Points:
works with Alexa voice commands
automatic document feeder
AirPrint and MopriaPrint technologies
wireless technology
17.2" long, 11.7" wide, and 7.5" high
BEST HEAT TRANSFER INKJET PRINTER FOR SHIRTS
Brother MFC-J995DW Printer
Inkvestment Ink Tank System
This is a good inkjet printer for heat press transfers because it has an Inkvestment ink tank system which holds more ink than conventional ink cartridges. Therefore you can make a lot of images on the heat transfer paper before having to refill the tank.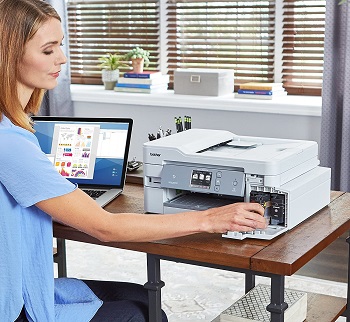 Monitor Ink Levels Easily
With this refillable inkjet printer, you don't have to change the ink cartridges. It's easy to refill the tank without making a mess.  It features Brother Page Gauge that's tracking the amount of ink you use and how much you have left. This inkjet printer for t-shirt transfers supports 8.5" x 11.7" big media.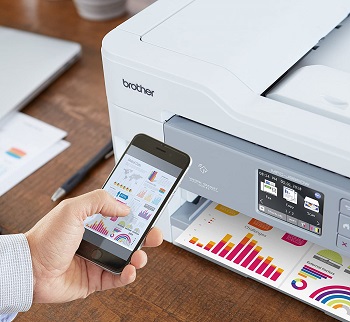 Supports Mac And Windows
The inkjet printer for shirts can connect to any computer with Ethernet cable or WiFi technology. It supports Windows 10, 8.1, 8.7, Server 2008, 2008 R2, 2012, 2012 R2, 2016, and Mac OS 10.11.6, 10.12, and 10.13. Print from the iOS device using AirPrint, or from cloud services with Google Cloud Print.
Fast Printing And Data Transfer
Near Field Communication (NFC) chip is available so you can place your phone above this best inkjet printer for Mac to transfer data. The automatic document feeder has a capacity for 20 sheets, while the input tray can hold up to 150 sheets.  The maximum speed is 12 ppm for black ink, and 10 ppm for color.
Highlighted Points:
NFC and AirPrint
automatic document feeder for 20 sheets
12 ppm maximum speed (black)
10 ppm maximum speed (color)
refillable sub-tank
BEST FOR PHOTOS INKJET T SHIRT PRINTER
Epson Stylus c88+ Inkjet Printer
Printing Speed And Resolution
This Epson inkjet printer for heat transfers can print a maximum of 23 ppm (pages per minute) in black ink, and 14 ppm in color. Also, it's really great for creating photos because it uses DURABrite Ultra pigment ink that results in images with a print resolution of 5760 x 1440 DPI.
Photo Editing And Tray Capacity
Also, it includes photo edit software so you can create your own images. The inkjet t-shirt printer comes with 4 individual ink cartridges. The input tray has a capacity for 120 sheets. It can connect to the computer with a parallel port, USB standard, and USB 2.0 interface.
Low Noise Level
The system works with Windows 98SE, Me, 2000, XP, and Mac Os x 10.2 or later. The great user-friendly feature is low noise level (up to 42 dB). Besides heat transfers, this pigment-based inkjet printer is suitable for matte paper, envelopes, glossy and photo paper, cardstock, etc.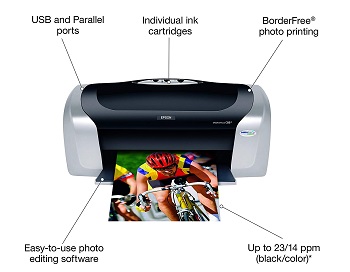 Borderless Printing
It's one of the best inkjet printers for making t-shirts because it features borderless printing, which means it makes prints without margins. The BorderFree photo function is available for the following media sizes: 4″ x 6″, 5″ x 7″, 8″ x 10″, and 8.5″ x 11".
Highlighted Points:
maximum printing speed is 23 ppm (black)
14 ppm maximum speed (color)
printing resolution is 5760 x 1440 DPI
DURABrite Ultra pigment ink
input capacity is 120 sheets
BEST COLOR INKJET PRINTER FOR SHIRTS
Epson Workforce 7210 Inkjet Printer
Ink Type And Media Size
This inkjet t-shirt printer can work with media up to 13" wide and 19" long. It's creating shop-quality images with 4 DURABrite Ultra Ink cartridges in black, cyan, magenta, and yellow. The machine has dual trays with a total capacity of 500 sheets which is ideal for business.
Sheet Capacity And Control Panel
The output tray holds up to 125 sheets. Also, it features a rear feed for envelopes and specialty paper. All settings can be adjusted on a 2.2" color touchscreen that supports easy navigation and tracking. It's one of the best inkjet printers for tshirt printing because it includes auto-duplex printing.
Wireless Connectivity
That economical feature is reducing time and energy investments and saving a lot of paper. The Epson inkjet printer for heat transfer can connect to other devices using NFC, Ethernet cable, or WiFi technology. The wide-format printing area allows you to create small to medium-sized images for shirts.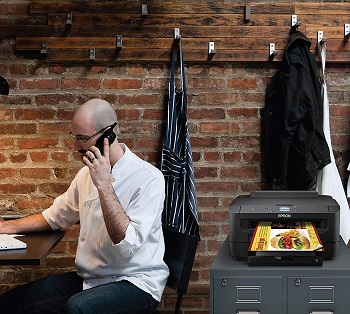 Printing Speed
The maximum printing speed for black ink is 18 ISO ppm, and 10 ISO ppm for color prints. The package of this office inkjet printer includes CD-ROM to install all settings and power cord. The cartridges are made specifically for Epson 252 series ink and don't use them with another brand.
Highlighted Points:
for 13" x 19" big media
2.2" touchscreen
NFC, WiFi, and Ethernet
18 ISO ppm speed for black ink
10 ISO ppm speed for color ink
BEST FOR HTV INKJET PRINTER FOR T SHIRTS
HP Designjet T530 Inkjet Printer
Two Media Feeds
If you want to transfer vinyl print on t-shirts, this is the right model for you. It's one of the models that can work on vinyl, besides paper and other materials. A great user-friendly feature is that you can use both vinyl sheets and rolls since this model has two types of media feed.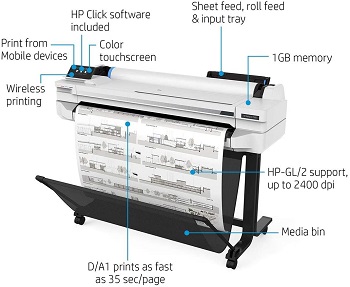 Creates Big And Clear Images
Besides having a sheet and roll feed, it features an automatic cutter. That means the inkjet printer heat transfer vinyl will automatically cut the sheet out of the roll for the following project. This large-format inkjet printer supports 8.3" x 36 big sheets and 11" x 36" big rolls. The printing resolution is 2400 DPI.
Protects Finished Prints
The media basket allows unattended work since you don't have to worry that prints will fall on the ground and damage. You can store images in the machine because it has 1 GB of internal memory. Use the HP Smart app for direct mobile printing. Use HI-Speed USB for fast data transfer.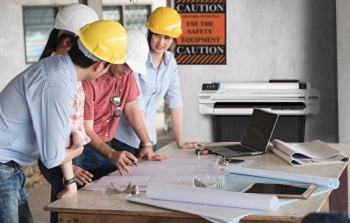 Fast And Wireless
This best inkjet printer for vinyl works with Mac and Windows operating systems. The color touchscreen shows your settings and you can easily adjust the printing process. This inkjet printer for shirts connects to other devices with WiFi technology. It's fast since it can print one D/A1 page in 35 seconds.
Highlighted Points:
for medium to big projects
2400 DPI printing resolution
prints D/A1 page in 35 seconds
HP Smart app for mobile printing
roll and sheet feeder
BEST FOR CLOTHING INKJET T SHIRT PRINTER
HRM A3 DTG Inkjet Printer
Direct Ink Spraying
This is a different and unique DTG (Direct To Garment) inkjet print for t-shirts. Unlike previous models, you won't need an additional heat press machine to apply a print on the clothes. This model is having a special ink system that sprays inkjet ink into the fabric. The ink soaks immediately in the clothes, so you don't have to dry it.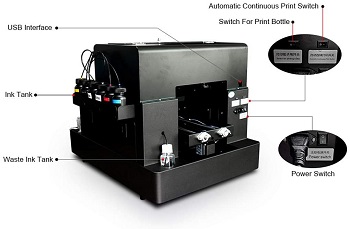 Suitable For Many Fabrics
Therefore this is an industrial inkjet printer often used in different companies. Previous models are more suitable for hobby or a smaller business, while this inkjet clothing printer is used in big companies. It's suitable for many fabrics such as cotton, wool fabric, denim fabric, jacket fabric, and bamboo fiber.
For Windows Only
The digital inkjet printer for clothing uses free RIP 9.0 software that's suitable for both Windows XP, 7, 8, and 10. It doesn't work on Mac OS. You can use it to control the printing process. It connects to the computer with the USB interface. The optimal working temperature is between 50°F and 95°F.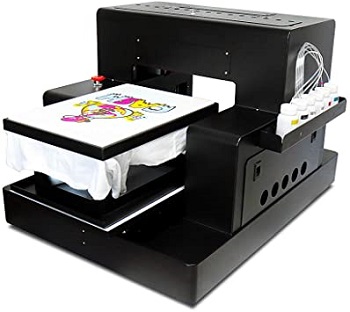 Automatic Functions
Another user-friendly feature is automatic height and position adjustments of the printing area. It has an automatic continuous print switch and switches for the print bottles. The inkjet ink is stored in ink tanks, and there's an additional waste ink tank.
Highlighted Points:
direct ink spraying on clothes
works with denim, bamboo fabric, wool, etc
RIP 9.0 software for denim
50-95°F optimal working temperature
auto-adjustable printing area
Things To Know About Inkjet Printer For Shirts
When starting a t-shirt business or hobby, you'll be encountered with three types of printers for this purpose. Here I'll describe them and explain the difference, as well as some general features you should consider when buying the best model for yourself. Read more on printing speed, media size, and user-friendly functions.
DTG Vs Screen Printing – DTG (Direct To Garment) and screen printing inkjet printers are suitable for big companies, and both apply ink directly to the fabric. The DTG is spraying the ink and it's great for doing multi-color complicated images. Every screen is one color, so inkjet printers for screen printing are better for one-color designs.
Standard Inkjet Printers – They apply ink on the heat transfer paper that is applied to the t-shirt with a heat press machine. So it's an indirect method. An inkjet printer for heat transfer is affordable, multifunctional (scan, copy, print), and a good choice if you're just starting or doing this as a hobby.
Media Requirements – If you want to use vinyl sheets or rolls, you need a printer that can apply ink on vinyl or any other thicker material. Therefore you can choose a UV or thermal inkjet printer that is suitable for a variety of fabrics. Also, it's great if the machine can use both rolls and sheets.
User-Friendly Functions – Inkjet printers for t-shirts can have practical functions that make it easier to print images you want to apply on the clothes. For example, NFC and HI-speed USB ensure fast data transfer. AirPrint, Google Cloud Print, and mobile apps allow you to print directly from phone or cloud services.
Printing Resolution – High printing resolution is between 1200 DPI (dots per inch) and 6000 DPI. The printer with high resolution will create sharp, clear, and colorful images that will look great on t-shirts. Most commercial inkjet printers will have high resolution and it's a good choice for the t-shirt business.