Do you need to buy a vinyl stencil cutter?
Then you're at the right place because here you can read all about the best 6 vinyl stencil makers. We will describe different categories and in the guide, you can find tips that will help you with finding the right model.
Our Top Picks
Best 5 Stencil Cutting Machines
BEST OF BEST STENCIL CUTTING MACHINE
Silhouette America Portrait 3
Short Cutting Width And Autoblade
This best vinyl stencil cutter has a maximum cutting width of up to 8". Maximum cutting length is 12" and the paper feed is 60 ft. The model also has automatic tool detection, which means the blade adjusts to the thickness of the material.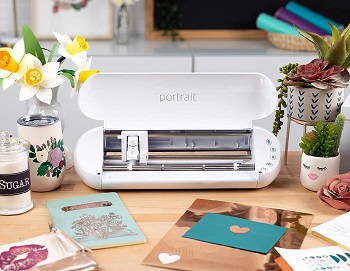 Software With Designs
The included adhesive mat is 8" wide and 12" long. The model comes with the Silhouette Studio software that has 50 pre-installed designs and you'll get a 1-month subscription to the Silhouette design store. There are many created designs, which is very practical if you're a beginner.
Wireless Connection
The power cable and USB cable are also included. The vinyl stencil maker can be connected to the devices with a USB interface or wireless with Bluetooth. The software will work with both macOS and Windows operating systems. Also, it's PixScan compatible.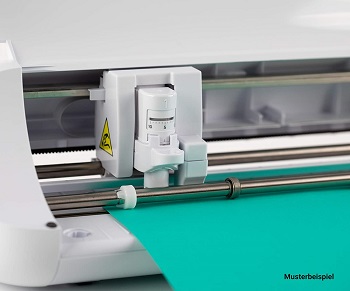 Drawing And Cutting
The blade has a function for matless cutting. The machine is also a plotter because it has a pen holder. Therefore you can sketch and create the images with the pen and later cut it. The model is compact, portable, and space-saving. It's ideal for DIY projects at home.
Highlighted Points:
8" maximum cutting width
USB and Bluetooth connection
PixScan compatible
software for Windows and macOS
plotter and cutter
BEST WOOD STENCIL CUTTING MACHINE
Cricut Champagne Maker
Ideal For Wood And Fabric
This is the best vinyl cutter for stencil because it has a special knife blade that's built to cut through hard materials such as wood, leather, and others. Also, this vinyl stencil cutter comes with a rotatory blade that's specifically made for smooth cutting of fabric.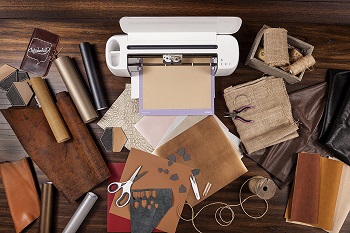 Multifunctional With Designs
Since is the best vinyl for wood signs, its blade has high cutting pressure and speed. This is the best Cricut machine for stencils because it's working with over 300 different materials and it comes with different tools. Therefore it's not only cutting, but also writing, drawing, and scoring.
Wireless Connection To Any Device
The Bluetooth technology allows the vinyl stencil maker to transfer data from the computer to the software. Software is suitable for both macOS and Windows systems which is very user-friendly because you can use the machine with different devices. Also, the library holds hundreds of digital sewing patterns and other projects you can use as templates.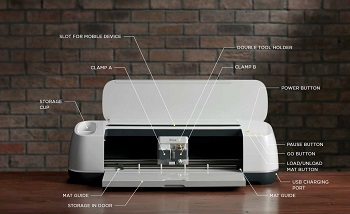 User-Friendly Features
In case you want to connect the machine with a mobile device, at the side is a docking slot for holding your phone or tablet and a USB port so you can charge the phone. With the machine, you'll get a protective cutting mat that's 12" long and 12" wide. You'll get two housings, one for the pen and the other for the blade. A fine point pen is also included in the offer.
Highlighted Points:
knife and rotatory blades
fine point pen
300 included patterns and designs
Bluetooth connection
Software suitable with macOS and Windows
BEST PROFESSIONAL VINYL STENCIL CUTTER
Cricut Explore Air 2 Printer
Comparison With Maker
Unlike the previous model, this one doesn't cut as easily through wood, but it's still one of the best stencil cutting machines with professional functions. It doesn't have a rotatory or knife blade, and you won't get pre-installed digital sewing patterns. Also, it doesn't have an adaptive tool system. However, it features Bluetooth connectivity and has a double tool holder.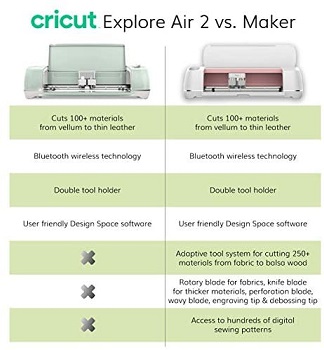 Included Tools And Materials
With this vinyl stencil maker, you'll get many accessories which are very practical for both professional and beginner users. The tool kit includes a spatula, scraper, scissors, tweezers, and weeder. You'll get the best material for Cricut stencils, 8 Cricut vinyl sheets, and 2 transfer papers, and beginners guide. Materials are 9" long and 12" wide.
Works With Many Image Formats
The software of this vinyl stencil cutter can upload images of SVG, JPG, PNG, BMP, and GIF file formats to Cricut Design Space online. The Bluetooth connects to any device, and you can use it with both Windows and macOS. AC adapter and power cord are included.
Compact And Space-Saving
The model's maximum paper feed is 24". Therefore you can make smaller projects from stencil vinyl. This professional stencil cutting machine is portable and compact. Its desktop design doesn't take much space on the working surface which is very user-friendly.
Highlighted Points:
Bluetooth connection
maximum paper feed is 24"
includes tools and materials
double tool holder
works with Windows and macOS
BEST FOR SMALL BUSINESS VINYL STENCIL MAKER
Silhouette Cameo Electronic Tool
Many Accessories Included
The maximum cutting width of the Cameo stencil cutter is 12". The model comes with the 12" long and wide adhesive mat, cutting blade, 50 pre-installed designs, and a $10 gift card to Silhouette online store. Also, in the app, you get access to many more designs.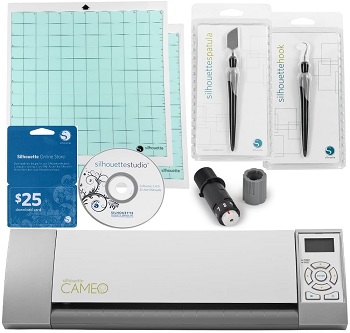 Wide Application
This vinyl stencil cutting machine can also be used for creating scrapbook layouts, decorations, etched glass, crafts, logos, etc. The Silhouette Studio software is suitable with both Windows operating systems and macOS which is very user-friendly.
Drawing And Cutting
The computer and vinyl stencil maker can connect with a USB cable. The package also includes the power cord. The machine has both knife and pen that are easily switched. When the cutting function stops, the drawing begins.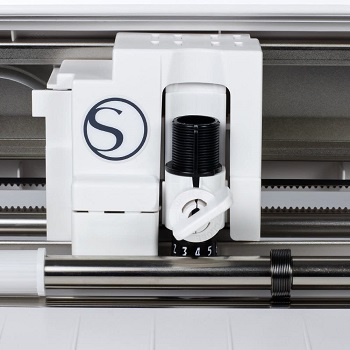 Lightweight And Space Saving
The vinyl stencil cutter weighs only 12 pounds so it's very lightweight and easy to transport. It's 6.5" long, 20.9" wide, and 5" high, therefore it's compact and doesn't take too much space on your working surface. At the side, there is a big control panel with buttons and an LCD that shows all settings.
Highlighted Points:
the maximum cutting width is 12"
includes Silhouette Studio software with many designs
suitable with macOS and Windows
connects to the device with a USB interface
control panel with LCD
BEST COMBO VINYL STENCIL PRINTER
Brother ScanNCut SDX125E Printer
Scanner And Cutter
This vinyl stencil maker is very unique because it's multifunctional- besides cutting and drawing, it also works as a desktop scanner and printer. Similar to adhesive vinyl printers, you can select the image, print it out and then use it as a template for cutting the vinyl. However, this vinyl stencil printer also has a built-in scanner.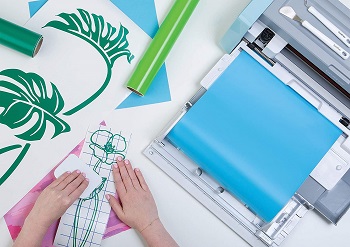 Pre-Installed Designs And Fonts
That means you can scan photography or another image, print it out, and then use it for vinyl cutting. The model also has 682 installed designs that include 100 quilting patterns, 9 fonts, and much more. Therefore, you can use already created designs in case you don't want to create your own.
Adjustable Settings And Autoblade
The settings can be adjusted with the 5" LCD control touchscreen. The vinyl stencil cutter has an auto blade, which means the software is automatically adjusting cutting pressure and speed according to the material's thickness. The blade can cut materials that are up to 0.1" thick, such as paper, stencil vinyl, vinyl, fabric, cardstock, etc.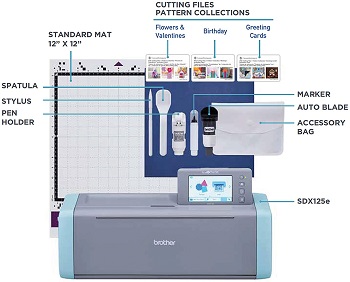 User-Friendly Accessories
With the device, you'll get a protection adhesive mat that's 12" long and wide, a black and touch pen with pen holder, spatula, auto blade with holder, accessory bag, and beginners guide. The model also has storage compartments to have an organized working space.
Highlighted Points:
scanner, printer, plotter, and cutter
the auto blade cuts thick materials
682 designs included
tool storage compartment
5" LCD with controls
BEST LARGE VINYL STENCIL CUTTER
USCutter Vinyl Cutter Machine
Adjustable Paper Feed Width
This is a large stencil cutting machine, therefore its maximum cutting width is 24.8" and maximum feed width is 28.3". A great user-friendly feature is the adjustable feed width. The vinyl stencil maker has three adjustable pinch-rollers that can adjust the guide rail to the material width.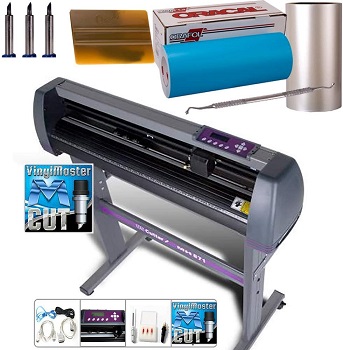 Strong Blades And Windows Software
When cutting stencils with a vinyl cutter, it's important to have a strong and fast blade that makes clean cuts. This machine includes three 60-degree blades and three 30-degree blades. VinylMaster Cut software is suitable for Windows only.
Two Interfaces And Control Panel
The device can be connected to the computer with a USB port or serial interface. The vinyl stencil cutter also has a pen holder so it can switch tools between blade and pen. Both speed and pressure of cutting are adjustable with the control panel that has an LCD to see default settings.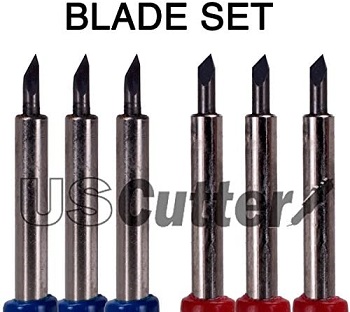 Dual Roller System
A great practical feature is the superior ball-bearing dual roller system that allows you to put the vinyl material on top of the roller and then it's automatically fed into the machine. That makes the working process much more simple and faster. The package also includes digital transfer tape, squeegee, and weeder.
Highlighted Points:
maximum paper feed is 28.3"
the maximum cutting width is 24.8"
USB and serial interface
60-degree and 30-degree blades
VinylMaster Cut software for windows
Things To Know About Vinyl Stencil Cutters
Machines that can use stencil vinyl produce unique designs made by putting ink into the structure. If you want to buy the right vinyl stencil maker, you need to know the blade strength, cutting force, and speed as well as other features such as software, cutting width, and paper feed.
Cutting Force And Speed – If you want to have a vinyl stencil maker that can cut wood, leather, or other harder materials, you must buy a model similar to industrial vinyl cutter machines with a high cutting force of at least 15 ounces, and high speed of 20 ips.
Precision In Cutting – Besides having a strong and fast blade, it's desirable that the machine has highly-efficient cutting, like contour cutting vinyl cutters. A machine that has 0.00008" cutting precision will be a better stencil maker in comparison to the unit with 0.008" precision. That's because stencil vinyl is thicker, and needs a strong blade and clear cut to get a good product.
Paper Feed And Cutting Width – In case you want to do a stencil of different sizes, a great solution is to buy a machine with a paper feed wider than 30" with pinch-rollers, so the paper feed width can be adjusted. In that way, you can use both small and large stencil vinyl rolls when creating projects.
Software With Designs – When buying a vinyl stencil maker, it's very practical to buy a model with software that has a library with already created and installed designs. In that way, you have many templates you can use for cutting out. Also, always check if the software is compatible with the operating system on your computer.
Materials And Tools – Vinyl stencil cutter can come in a package with a bundle of materials and tools, which is especially useful if you're a beginner in making stencils. Great offers will include vinyl rolls, stencil vinyl rolls, an adhesive mat, heat-transfer vinyl, and tools such as replacement blades, pens, and stencil tool kit.