Do you need a small vinyl cutter?
Then read this article!
I'll describe the 6 best mini vinyl cutters on the market and you compare different categories such as sticker-maker, plotter-cutter, for small business, etc. Also, I recommend reading the guide for additional info that will help you in buying the right model.
Our Top Picks
Best 6 Mini & Small Vinyl Cutters
BEST OF BEST SMALL VINYL CUTTER
Cricut Joy Cutter Machine
Wide Application
This mini vinyl cutting machine can use Cricut smart materials do to up to 4ft of continuous cuts and 20ft of repeated cuts. It doesn't require a cutting mat and it can cut different materials such as vinyl, htv-vinyl, adhesive vinyl, label vinyl, cardboard, paper, etc. It can cut over 50 materials.
Library With Many Designs
The software is Cricut Design Space that's suitable for both Mac and Windows operating systems and it can work with iOS and Android apps. Also, with the small mac compatible vinyl cutter, you'll get a library with more than 100 000 images, fonts, and other designs you can download and use with monthly membership on Cricut Access.
Includes Tools And Mat
The small vinyl cutter includes a fine point blade and pen, a blade housing, a power adapter, and a standard grip mat that's 4.5" wide and 6.5" long. The maximum cutting width is 5.5".  It's very compact and portable. The machine is 8.43" long, 5.43" wide, and 4.25" high. It weighs 3.66 pounds.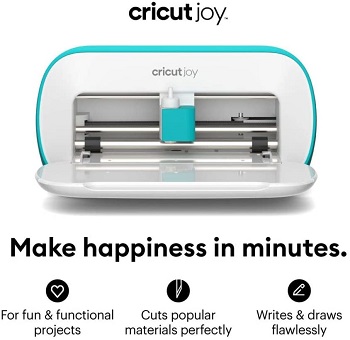 Print And Cut Function
The system has a blade and pen for cutting and writing. Another user-friendly feature is the Print and Cut function. Printed images can be easily cut with high-precision because of the sensors that allow the blades to cut around lines. The model connects to the phone or computer with Bluetooth.
Highlighted Points:
works with Cricut smart materials
Cricut Design Space for Mac and Windows
the maximum cutting width is 5.5"
contour cutting
Bluetooth connectivity
BEST FOR SMALL BUSINESS MINI VINYL CUTTER
Mophorn 14" Cutter Plotter
Works With Windows 
This mini vinyl cutter is slightly bigger in comparison to the previous model. The maximum cutting width is 14" so you can create bigger projects than with Cricut Joy. Nevertheless, this best vinyl cutter for small businesses is intended for cutting small logos, signs, stickers, monograms, etc. It features Signmaster software for Windows.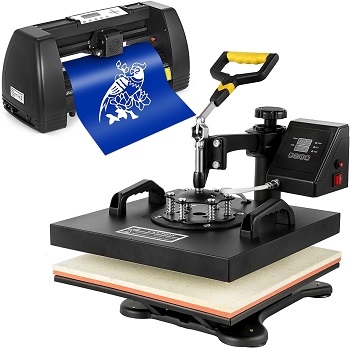 Adjustable Feed And Fast Blades
It's the best vinyl cutting machine for small businesses because it has 2 pinch-rollers that adjust feed to different paper widths. The blade holder is Roland compatible.  Blades run on a Stepper motor and the highest cutting downforce is 17.64 ounces, while the maximum cutting speed is 31.5 ips.
Heat Press Design
The unique accessory is the heat press that's 15" long and wide. The vinyl machine and heat press is a great combination that allows you to immediately transfer the images to fabric such as t-shirts, bags, hats, etc. The heat press has an arm with 360-degree rotation and a swing-away design.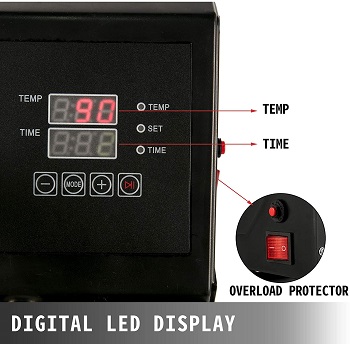 Heat Press Control
Safety design allows you to safely move and control heat surface and prevent skin-burns. The surface is coated with a layer of Teflon that prevents sticking and image damages. The heat press has an LCD that shows the set temperature and a control panel to adjust it. A small vinyl cutter also has a control panel with LCD.
Highlighted Points:
14" maximum cutting width
Signmaster software for Windows
2-pinch rollers
31.5 ips maximum cutting speed
the maximum cutting downforce is 17.64 ounces
BEST DESKTOP SMALL VINYL CUTTER
USCutter 14" MH Vinyl Cutter
Adjustable Pinch-Rollers
This is one of the best small vinyl cutters that come with the adjustable pinch-rollers and a pen holder. Therefore, 2 pinch-rollers can adjust the guide rail on the feed so you can work with papers of different sizes. And besides cutting, you can use this device for drawing.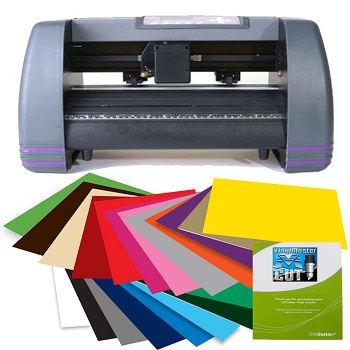 Dual-Position Carriage For Blade
The multifunctional system is very user-friendly. It features three 45-degree blades that are Roland type. The mini vinyl cutter has a dual-position carriage which means the blade can use the front position for cut-through and the rear position for working with standard vinyl.
Short Width And High Force
The vinyl letter cutter connects to the computer via a parallel, serial, or USB interface. The maximum cutting width is 14". The highest cutting downforce is 12.34 ounces. Both speed and force can be adjusted on the control panel with LCD. Restart and stop the machine during the work by using the emergency button.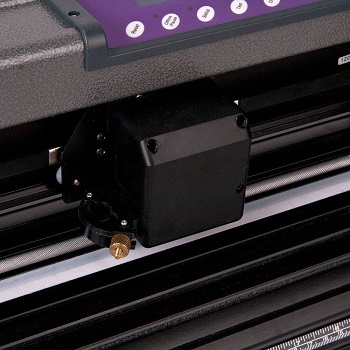 Suitable With Many Software
The included software is the VinylMaster Cut that doesn't work on Mac, only on Windows. However, you can install other software such as Sure Cuts A Lot Pro that works on Mac. It also works with others- Flexi, SignBlaser, SignCut Productivity Pro, etc.  All parts are covered with a 3-month limited warranty.
Highlighted Points:
cutting and drawing
three 45-degree blades
14" maximum cutting width
12.34 ounces maximum cutting pressure
VinylMaster Cut software for Windows
BEST CRAFT MINI VINYL CUTTER
Graphtec Silhouette Craft Cutter
Portable And Compact
This small vinyl cutter for sale is very compact. It's only 18.4" long, 10.2" wide, and 9.7" high, and it weighs 8 pounds. Therefore, it's easy to transport anywhere and it won't take up too much space on your working surface.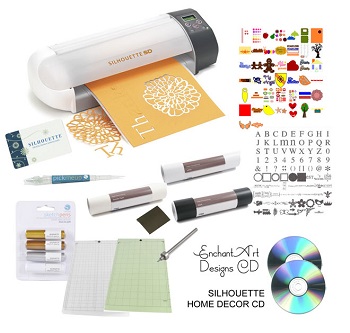 Strong Blade And Short Width
Although small, it can cut a variety of materials. Therefore you can use it to create logos, letters, small signs, and other craft. It's a great machine to have at home for doing DIY projects, craft and other. It has a strong industrial-grade blade. The maximum cutting width is 8".
Pen And SD Memory
Besides having a blade, this craft vinyl cutter machine is also equipped with a pen. So you can do both sketches and cutting. It's not suitable for making stickers, but you can always buy a sticker maker to add adhesive tape to the vinyl. The mini vinyl cutter has a removable SD card media slot. You can transfer images from computer to machine.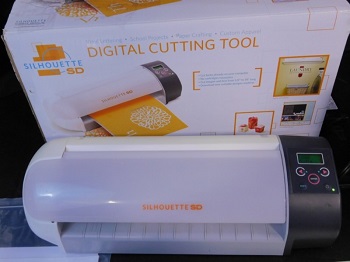 Silhouette Studio Software
The device and machine can be connected by a USB interface. The model has Silhouette Studio software that's compatible with both Mac and Windows operating systems. Another user-friendly feature is a $10 download card for the Design Store that you'll get together with the machine.
Highlighted Points:
the maximum cutting width is 8"
SD card for inner memory
USB interface
Silhouette Studio software for Mac And Windows
industrial-grade blade
BEST PLOTTER-CUTTER SMALL VINYL CUTTER
Vevor 14" Vinyl Cutter
Adjust To Any Width
This vinyl cutter features a pen holder for sketching and cutting. The maximum paper feed is 13.8", while the maximum cutting width is 11.2". The paper feed features 2 adjustable pinch-rollers so guide rails can be moved according to the width of the material you'll cut.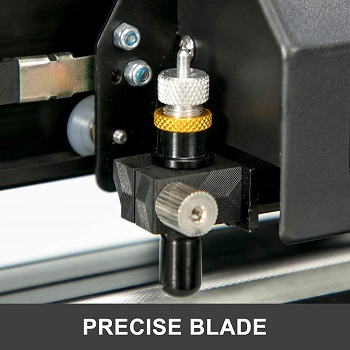 High Cutting Precision
Cutting precision is also high with 0.0004" repetition accuracy. The system of this small vinyl cutter is highly efficient because it features a D-type motherboard and inner memory speed between 128K and 2M. The computer and small plotter cutter can connect with the USB and COMPIM interface.
Package Content
With the machine, you'll get Signmaster software, one blade holder with three blades, one pen holder with a pen, USB cable, and flash disk, serial cable, and power cord. The blade holder is Roland compatible so this mini plotter cutter has access to the most economical blades on market.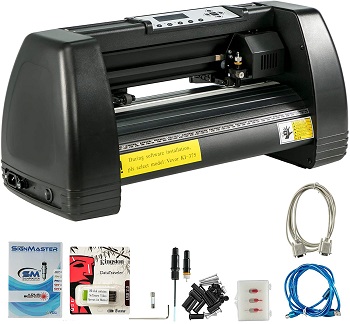 Fast And Strong Blade
Stepper motor runs the blade with a cutting pressure range between 0.7 – 17.6 ounces and speed range from 0.8 ips to 31.5 ips. Mini vinyl cutter plotter has Signmaster software suitable with Windows XP/Vista/7/8/10 on both 32-bit and 64-bit processors. The sign plotterworks with both DM-PL and HP-GL command sets.
Highlighted Points:
11.2" maximum cutting width
2 pinch-rollers
Signmaster software for Windows
Stepper motor
USB and COMPIM interface
BEST STICKER MINI VINYL CUTTER
USCutter 15" Titan Table Cutter
Aluminum Structure With ARMS
The exterior of this small vinyl cutting machine is made from aluminum, and all moving parts are made from metal. It's great for creating stickers because you can load printed images and then the ARMS system leads the blade around the printed lines. The four-wheel carriage has a blade with a laser-guided crop mark.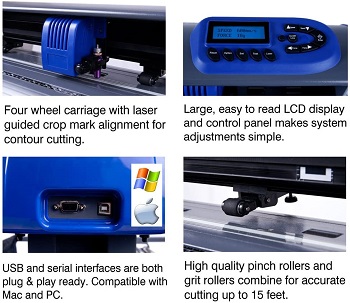 High Force And Speed
Another user-friendly feature of this mini sticker cutting machine is a large and easy-to-read LCD display with a control panel that allows easy adjustments of speed and pressure. The maximum cutting speed is 31.5 ips, while the maximum cutting downforce is 18 ounces.
Windows Software
A small sticker cutting machine runs on a servo motor and has high speed and downforce. Therefore, this contour vinyl cutter easily cuts the adhesive vinyl needed for making stickers. VinylMaster Cut software is included and it works on Windows only. Your computer and small vinyl cutter connect with USB and serial interface.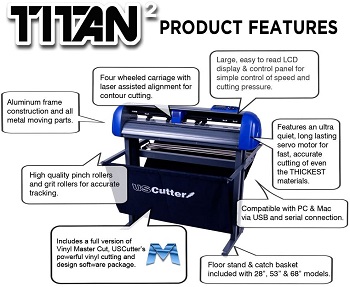 Stable Material Feed Tracking
The maximum paper feed is 15". This mini vinyl cutter features strong pinch-rollers and grit-rollers that allow accurate tracking of the material in the feed. Also, they adjust the guide rail so you can use material of different sizes. The package includes a 60-degree, 45-degree, and 30-degree Titan blades.
Highlighted Points:
three Titan blades
servo motor for high speed and pressure
maximum cutting width is 15"
VinylMaster Cut software
grit-rollers and pinch-rollers
Things To Know About Mini Vinyl Cutters
Mini vinyl cutters are often compact and space-saving. Often they've considered hobby machines, but they can also be used for business. In this guide, I'll describe practical features such as blade force, cutting width, and software, that you should know to buy the right model.
Blade Force – The best small vinyl cutter has cutting pressure higher than 8 ounces and a cutting speed above 15 ips. These minimum values allow the cutting of thick materials. However, the auto blade is a desirable function because it adjusts to the material thickness- so it's easy to switch between paper and fabric.
Cutting Width – When buying a mini vinyl cutting machine, consider that it's suitable for making only small projects because its cutting width is limited to up to 20". Therefore, you can't make big signs, logos, or images. But it's suitable for creating small stickers, monograms, or other mini crafts.
Hobby Vs Business – For example, a hobby car decal maker machine has basic functions because that's enough for creating simple vinyl crafts. Small models for business have high-tech functions such as auto blade, ARMS system, adjustable guide rail, special blades, and additional tools. Therefore they allow creating projects of different materials and sizes.
Software Compatibility – Before buying a small vinyl cutter for sale, you must check if its software is suitable for the operating system on your computer. VinylMaster Cut and Signmaster Cut are often suited only for Windows. Cricut Design Space, Silhouette Studio, Graphtec Studio, and Sure Cuts A Lot Pro work with both Windows and Mac.
Additional Functions – A small vinyl cutting machine can include other tools besides a blade. For example, if having a pen, a model can do sketches. A built-in scanner transfers images to the machine without software. Some models also have printing function for images and then cut them with contour cutting.