Do you need a desktop vinyl cutter for your home or business?
Then you're at the right place. Read the reviews about 6 best-rated models and compare them between different categories such as cheap, vinyl plotter cutter, printer cutter, etc. Here's also a guide that will help you in finding the right machine!
Our Top Picks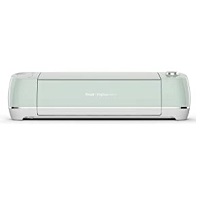 Best Of Best:
Cricut Explore
This is the best desktop vinyl cutter with the fastest blade and a pen holder for cutting and writing.
Jump To Review
Best Cheap:
Silhouette Cameo 4 Cutter
Smart tool technology, automatic roller-feed, and built-in cross-cutter are high-performance features of this cheap cutter.
Jump To Review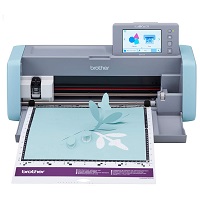 Best Plotter-Scanner:
Brother ScanNCut
This vinyl plotter is the best because it also comes with the scanning function and features a touchscreen with internal memory.
Jump To Review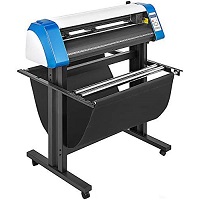 Best Plotter-Cutter:
Vevor Cutter
It works with different languages, interfaces, has wide speed and force while working at low temperature.
Jump To Review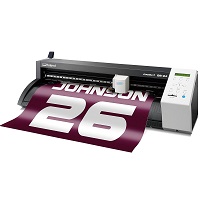 Best For Small Business:
Roland GS 24
The Roland 24 cutter is the best for small businesses because it features high cutting speed, force, and precision.
Jump To Review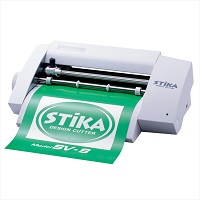 Best Printer-Cutter:
Roland Stika
This is the best desktop printer cutter because it can work with different Softwares, both on Windows and macOS.
Jump To Review
Best 6 Desktop Vinyl Cutters
Best Of Best: Cricut Explore
Blade That Cuts Many Materials
This desktop vinyl cutter is an ideal machine you can use at home for your DIY projects. The model has a strong German Carbide blade that cuts different materials, besides vinyl. So you can create different designs from cardstock, leather, foil, paper, etc. You can use both adhesive and heat transfer vinyl.
Small Cutting Width
Using a wide range of materials, you can use this machine for creating stickers, images for t-shirts or hats, decorations for home, designs for cups, gift cards, smaller signs, etc. It's suitable for small projects only because of its small cutting width. The machine is 12'' wide and 24'' long.
Fast Blade And Strong Force
It has a fast mode that allows it to cut and write 2x faster than other models. The cutting force is 7.4 ounces. The interior features a double tool holder, which means that the software can switch very fast between the blade and pen.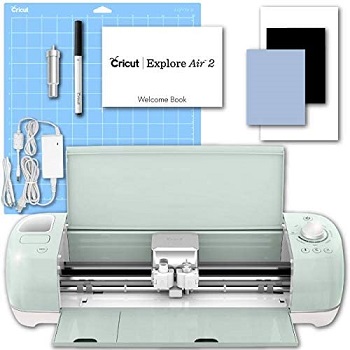 Software With Many Designs
This vinyl monogram machine connects to the computer with wireless Bluetooth technology. The model includes free software with a design app that holds over 100 000 images in its library you can download and use. Also, the package includes a Cricut premium blade, fine point pen, and 12''x12'' adhesive mat.
Highlighted Points:
German Carbide fast blade
High cutting force
Includes over 100 000 designs
Bluetooth wireless technology
Short cutting width
Best Cheap: Silhouette Cameo 4 Cutter
Built-In Roller Feed
The Roller Feed is an amazing feature for an automatic feed of heat-transfer vinyl and other vinyl with the backing that doesn't require an adhesive mat. This allows you to work faster and more efficiently because it's easier to maintain the material straight as it feeds through the machine.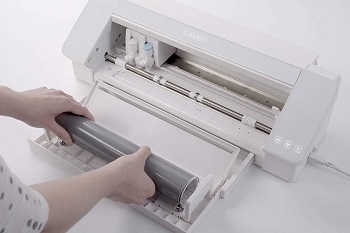 Short Cutting Width And Strong Blade
The maximum width of the model is 9''x12' and the maximum roll diameter is 4.5''. The blades can cut materials up to 3'' thick. The Mac compatible vinyl cutter can other materials besides vinyl such as cardstock, paper, fabric, etc.
Smart Tool Sensor Technology
The cheap desktop vinyl cutter features smart cutting technology so you don't need an adhesive mat beneath the vinyl. The dual carriage carries both blade and pen, and sensors detect what tool is used and send that info to the Silhouette Studio software which adjusts the settings according to the tool.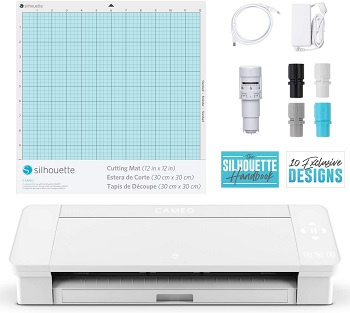 Precise And Fast Cutting
Another user-friendly feature is a built-in cross cutter that leaves a straight edge cut on your vinyl roll. It has a rotary style that creates a better cut. Solenoid motor is operating the Kraft auto blade with increased cutting force and 3x higher speed in comparison to other Cameo models.
Highlighted Points:
Automatic vinyl feed
Precise cuts with cross-cutter
Sensor tool technology
Cuts up to 3'' thick materials
3x faster than other Cameo models
Best Plotter-Scanner: Brother ScanNCut
System With Built-In Scanner
This desktop vinyl printer is unique in comparison to other models because it features a built-in scanner. With its multifunctional system, you can scan, draw, and cut images. The software includes 682 designs, 100 quilting patterns, and 9 fonts that are free to use.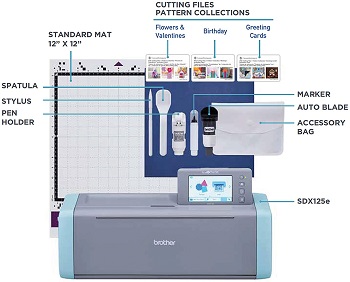 Blade Adjusts To Thickness
The auto blade features smart technology so the software can adjust the blade's force and speed according to the thickness of the material. It can cut up to 0.1'' thick fabric, so besides vinyl, it can cut paper, fabric, cardboard, balsa wood, leather, etc.
Touchscreen Panel And Internal Memory
Speed and force can be easily adjusted with the 5'' LCD touchscreen control panel. The model connects to the computer with USB or WiFi. You can transfer SVG file types to the machine because the system has an internal memory that holds images.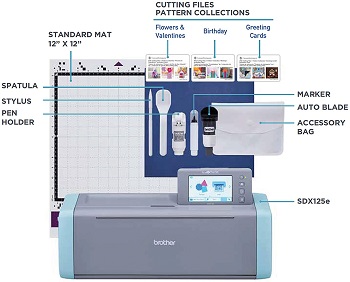 Comes With Full Package
Scanning and cutting width is 11.7''. The model comes with a 12'' long and wide cardstock and adhesive protection mat. The package also includes an auto blade and holder, a black color pen with holder, touch pen, spatula, accessory bag, and power cord. The vinyl lettering machine has storage compartments for tools.
Highlighted Points:
Has scanning system
The auto blade cuts up to 0.1'' thick material
Internal memory for saving images
11.7'' cutting width
Touchscreen control panel
Best Plotter-Cutter: Vevor Cutter
Precise Cutting And Short Width
This desktop vinyl printer cutter is highly efficient because it features 1M high-speed cache memory, a D-typed mother-board, and a cutting precision of 0.0004''. The maximum paper feed is 14.8'' while the maximum cutting width is 11.2'' which is long enough for a desktop model.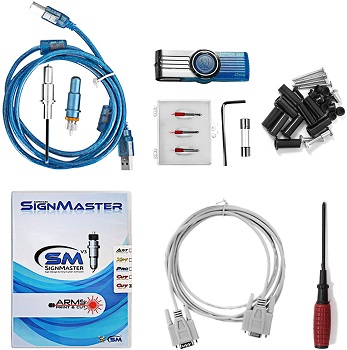 Efficient Feed And Settings Control
The vinyl cutter printer has double spring pinch-rollers, aluminum sticks, and high-precision pressing wheels that maintain feed width and prevent any changes during the work. You can easily control settings such as speed and force with buttons on the control panel with an LCD that shows your current settings. You can also reset and test the blade.
Low Working Temperature
The cutting speed ranges between 0.8 ips and 20 ips, while the cutting force can be adjusted between 0.7 ounces and 1.6 ounces. The system runs on a Stepper motor with an optimal working temperature between 41°F and 95°F. The relative working humidity is between 30 and 50%.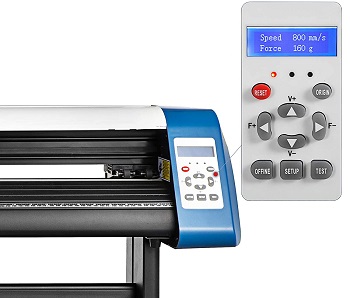 Works With Different Interfaces And Languages
Signmaster software features both DM/PL and HP/GL languages. To connect a computer with a machine, you can use the USB and COM interface. It's suitable with Dingbat/Wingding fonts and it can download both SVG and PDF file types.  This sign plotter can be used on Windows Vista/XP/7/8/10, both 32-bit and 64-bit processors.
Highlighted Points:
0.0004'' cutting precision
0.8-20 ips speed
0.7-1.6 ounces cutting force
Singmaster software for Windows
Uses DM/PL and HP/GL languages
Best For Small Business: Roland GS 24
Full Package Content
This desktop cutter comes with the AC adapter, power cord, blade with the holder, roller base that keeps the feed stable and without length deviation, USB cable for transferring data, and beginners guide. It's a small model with great settings for small business or DIY projects at home.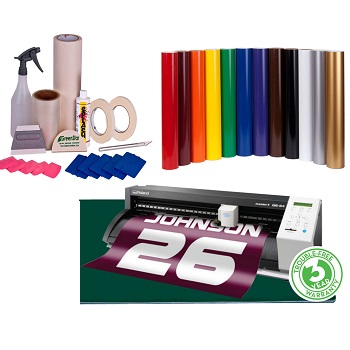 Low Noise And Working Temperature
The gs 24 Roland desktop vinyl cutter has an optimal working temperature between 41°F and 104°F. The relative working humidity is between 35 and 80%. During the standby, the machine produces noise up to 40 dB and while the operating noise level is up to 75 dB.
Precise Cutting With High Force And Speed
The software resolution of this Roland Camm gs 24 model is 0.000984 inches/step while the mechanical resolution is 0.000492 inches/step. The blade force ranges between 1 and 12.35 ounces. The cutting speed of this cad vinyl cutter is between 0.4 and 19.68 ips.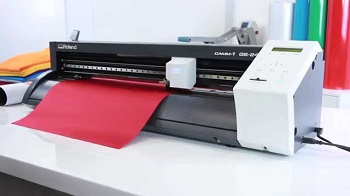 Easy-To-Use Controls
The gs 24 Roland vinyl cutter has a maximum cutting width of 13''. At the side of the machine is the control panel with an LCD that shows default settings. The speed and force of the system can be adjusted with the control buttons.
Highlighted Points:
Includes tools, USB cable, and adapter
Operating noise level is 75 dB
Maximum cutting speed is 19.68 ips
The cutting width is 13''
Maximum working temperature is 104°F
Best Printer-Cutter: Roland Stika
Small And Portable
Unlike the previous desktop vinyl cutter, the Stika desktop cutter doesn't feature a control panel with buttons and an LCD. However, it's a small vinyl cutter, portable, and great for home usage and DIY projects. The model is 17.6'' long, 11.3'' wide, and 7.68'' high.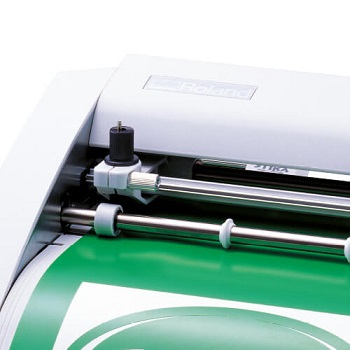 Works With Different Systems And Softwares
The maximum cutting width is 6.2''. The system has a Rolan software package that's suitable with CutStudio design software, plug-ins for CorelDraw 10, 11, 12, and Adobe Illustrator 9, 10. The computer and machine can be connected with the USB interface. Software is suitable for macOS and Windows.
USB Cable And Printer Included
USB cable is included in the package, as well as the blade with holder and blade protector, pin, material for test cuts with application tape, and power cord with AC adapter. Besides the full package, this model has an additional desktop printer.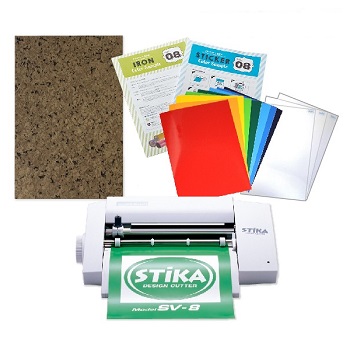 Low Noise And Optimal Working Temperature
So you can print the created images, and then put them in the cutter and create images out of vinyl or other materials that are up to 0.004'' thick. Acoustic noise level is up to 40 dB. The optimal working temperature is between 41 and 104°F, while the relative humidity range is between 35 and 80%
Highlighted Points:
The maximum cutting width is 6.2''
Cuts materials up to 0.004'' thick
Maximum acoustic noise is 40dB
Suitable for macOS and Windows
Includes desktop printer
Things To Know About Desktop Vinyl Printer
Desktop vinyl cutters are the smallest models that are ideal for doing small projects such as letters, small signs, logos, etc. To buy the best for yourself, you need to consider the right cutting speed, force and precision, dimensions, software, and additional functions such as drawing and scanning.
Blade Strength – When buying a vinyl cutter for desktop, check out its cutting speed and pressure because that will define how many thick materials you can cut. In case you want to cut leather, cardboard, fabric, or other thick materials, you must buy a model with a cutting pressure of at least 7 ounces and a minimum speed of 20 ips.
Small Size – Keep in mind that most of these models and cutters have less than 25'' in width, therefore they have limited paper feed and cutting width. Desktop – vinyl cutters for homes are great for small DIY projects, and professional models are suitable for businesses that create signs, letters, logos, or decorations for clothes, hats, cups, and other things.
Precision In Cutting – When you buy a desktop model, you'll do smaller models and therefore it's best to buy a machine with high precision that will create vinyl products with a clear edge and the same structure as the given design. Higher precision equals a smaller value. For example, a machine with 0.00004'' precision will do a better job than a unit with 0.004'' precision.
Software Connection To Computer – If you're looking for the best vinyl cutter for a small business, you should consider models that have a wireless connection with the computer because it's easier to do the work. Also, it's practical when the software is suitable for all Windows and Mac, so you can connect the cutter with any device.
Drawing And Scanning – Desktop vinyl printers with the option of drawing and scanning are good choices for creatives that want to do their designs or scan their images, print them, and afterward put them into the cutting machine. It's good to consider a double-tool model that easily switches between cutting and drawing.