Are you searching for the best vinyl sign cutters to make letters, logos, and signs?
Search no more! Here I've described the 6 best vinyl sign makers so if you're not sure which model to buy, read this review to make an informed decision. Also, you can find a lot of useful info on the buying guide.
Our Top Picks
Best 6 Vinyl Sign Cutters
BEST OF BEST SIGN CUTTER
Vevor 34" Vinyl Printer Cutter
Wide Application
This vinyl sign maker is ideal for small projects because it has a high cutting precision of 0.0004". However, you can also create larger signs if you want to because the maximum cutting width is 30.7" and the maximum paper feed is 34.3". Besides sign making, you can use it for making labels, logos, decorations, crafts, etc.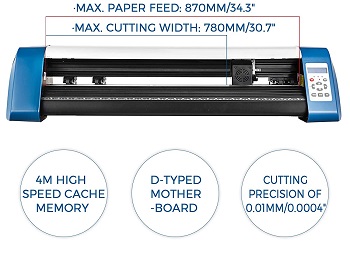 High-Efficient System
The D-typed motherboard with 4M high-speed cache memory is high-efficiency features that make this model best of best vinyl sign cutting machines.  The easy-to-use Signmaster software is professional, and working with both DM-PL and HP-GL command graphic language. It's suitable for Windows operating systems only.
Feed Is Stable
The software includes already installed fonts and can work with both SVG and PDF file formats. The machine can be connected to the computer with both USB 2.0 and serial interface. The feed has double pinch-rollers and a steel roller that hold the material in place so it's stable during the cutting, which is very user-friendly.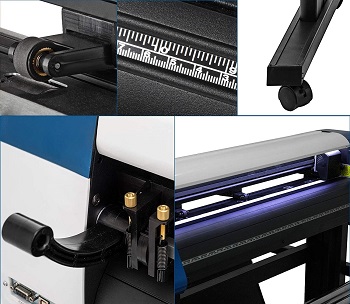 Strong And Fast Blade
The cutting force range is from 0.7 to 17.6 ounces, while the cutting speed ranges from 0.8 to 31.5 ips. Settings are adjusted on the backlit LCD with LED light strip. The optimal working temperature of this professional vinyl cutter is between 41-95°F, while relative humidity is 30-50%. The vinyl sign cutter comes with the floor stand and software.
Highlighted Points:
0.0004" precision in cutting
maximum speed is 31.5 ips
backlit control LCD
two interfaces for computer connection
4M high-speed memory
BEST FOR SMALL BUSINESS SIGN PLOTTER
USCutter MH 34" Vinyl Cutter
Make Signs Of Different Size
This is the best vinyl cutter for small businesses that can cut wider materials, therefore if you're in the sign business, you can create projects of different sizes. The machine is 34" wide with a maximum cutting width of 30.63" and a maximum paper feed of 96".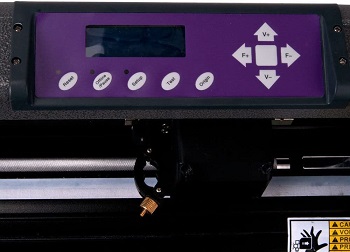 Compatible With Many Softwares
The design and cut software included with this model is VinylMater Cut that download vector images from the computer to the machine. It's compatible with Windows only. This unit is also suitable for other software: Sure Cuts Alot, Flexi, SignBlaser, and SignCut Productivity. It can work with both DM-PL and HP-GL command sets.
Suitable For Thick Materials
The vinyl sign cutter works with the standard blades and runs on a Stepper motor type. Therefore maximum speed is 39 ips and the maximum cutting pressure is 12.34 ounces. According to these specifications, you can use the mechanism to cut other materials that are thicker than vinyl- leather, and fabric.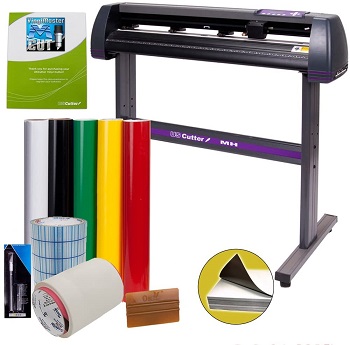 Full Package Included
Within the offer, you'll get the full package! So, with the machine, you'll get a stand since it's larger than the desktop version. VinylMater Cut software is included. Also, you will get two rolls of sign vinyl (black and white), one roll of high-tack and medium-tack application transfer tape. The package includes a hobby knife, squeegee, and 3  replacement Roland-type blades.
Highlighted Points:
96" maximum paper feed
the maximum cutting width of 30.63"
cutting pressure is 12.43 ounces
VinylMaster Cut software for Windows
Roland type standard blades
BEST CRAFT VINYL SIGN CUTTER
Signwarehouse R19 Vinyl Cutter
Desktop Version For Small Signs
Unlike previous models, this is a desktop vinyl cutter machine. The vinyl sign maker can be used at home for doing different crafts of small projects for the business. Because of its dimensions, the machine is limited by the size of projects it can do. The maximum paper feed is 19.68" and the top cutting width is 15.75", so it's suitable for creating smaller signs.
Full Kit For Crafts
It's a full package with five rolls of the EnduraGLOSS Vinyl that are 15" wide and 60" long, two rolls of Clear Premask that are 6" wide and 120" long, three sets of magnetic sign blanks that are 12" wide and 24" long, five plastic license blanks, and three Endura cor-plastic blanks.
Windows And AdobeType Suitable
The vinyl sign cutter works with the Vinyl Express LXi Apprentice software that works with the cloud-based text-layout and it's suitable for Windows only. It can be connected to the computer with USB 2.0 and serial interfaces. Vinyl cut lettering machine uses Adobe Type and TrueType fonts.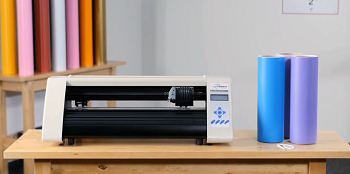 Strong And Fast Blade
It does mirror imaging and transfers EPS and DXF data. The library holds 200 fonts and a training DVD. The machine has 45-degree cutting blades. The maximum cutting pressure is 17.6 ounces, so the blade can cut thick materials. A Stepper motor runs the system, and the maximum speed is 24 ips.
Highlighted Points:
desktop with 15.75" cutting width
includes vinyl rolls and other materials
Express LXi Apprentice Software
comes with 200 fonts
blades with 17.6 ounces cutting pressure
BEST PROFESSIONAL VINYL SIGN MAKER
Mophorn 53" Sign Making Machine
Ideal For Big Signs
This is a professional vinyl lettering machine for wide use, especially for creating big signs that can't be done with desktop and stand-models smaller than 30". The maximum cutting width is 49.6" and the four pinch-rollers on the feed are ensuring adjustments of guide rail according to the material width.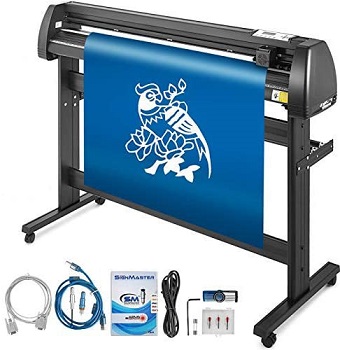 High Cutting Precision
The maximum paper feed is 53.1". Cutting precision is 0.0004", so although the unit has a big feed, it's suitable for cutting out small vinyl signs. The vinyl sign maker is both cutter and plotter and includes both Roland-compatible blades and a pen. It also comes with a stand, and USB and serial interface.
Cuts All Materials
Cutting pressure ranges between 0.7-17.6 ounces and cutting speed between 0.8 and 31.5 ips. Therefore blade is strong and fast, so the vinyl cut signs can be made fast and efficiently. Also, the vinyl sign cutter can work with other materials that are thicker than vinyl, such as vellum, mylar, card stock.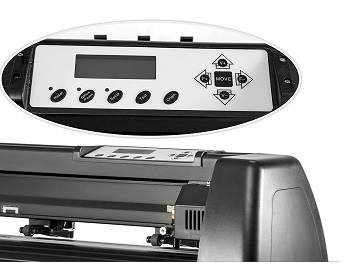 Panel For Controlling Settings
Settings can be adjusted with the control panel and buttons on the machine. There are emergency and restart buttons. The type-D motherboard and 2M high-speed cache memory allow fast work and transfer of many data. Signmaker Software works with DM-PL and HP-GL languages and it's compatible with Windows.
Highlighted Points:
maximum paper feed is 53.1"
the maximum cutting width is 49.6"
four pinch-rollers for cutting width adjustments
USB and serial interface
Signmaker Software for Windows
BEST COMMERCIAL VINYL CUT LETTERING
Yescom 28 Sign Vinyl Cutter
Certified Structure
The high-quality design of this Yescom 28 vinyl cutter is approved with a CE certificate which is very user-friendly and unique in comparison to other models from the list. The maximum cutting width is 24", and the maximum material feed is 28". Two pinch-rollers adjust the guide rail to material width.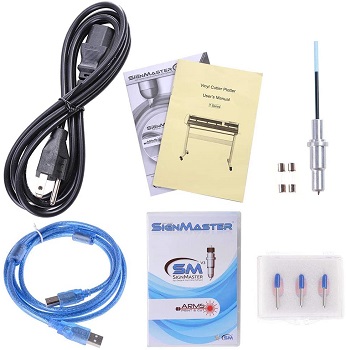 Use Any Blade Type
The system runs on a Stepper motor and the blade holder is Roland-compatible which means it's universal. Also, the holder is inertial and rotating which is very practical because it allows the blade to make cuts with high precision. Therefore the vinyl sign cutter is suitable for making small and detailed signs.
Strong, Precise, And Fast
The maximum cutting speed is 31.5" and the highest cutting pressure is 17.6 ounces. Both can be adjusted on the LCD panel that also features a backlight for easier usage in low-light conditions. It has both the RS-232 serial and USB 2.0 interface for connecting to the computer. This commercial vinyl cutter comes with a stand.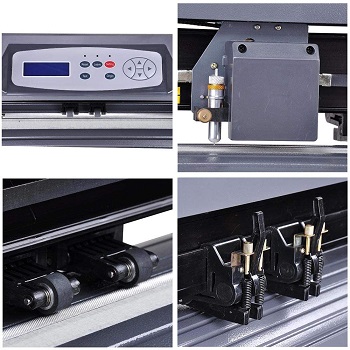 Softwares And Image Formats Compatibility
This vinyl sign maker is a great commercial model because it works with different Softwares- SignLab, ArtCut, Flexi, WinPCSign, CorelDraw, SignCut, etc. It can work with both DM-PL and HP-GL command sets and it's suitable for almost all image formats. Therefore it can do signs from different designs. Works with Windows only.
Highlighted Points:
24" maximum cutting width
CE certified structure
works with many software and images formats
rotating blade holder for high precision
suitable with all blade types
BEST SMALL SIGN CUTTER
Roland SV-15 Sign Maker
2in1 Printer And Cutter
Roland sign maker is a desktop machine that's ideal for home usage, doing crafts, or creating small signs. Its maximum cutting width is 15". This vinyl sign maker is both a desktop printer and a cutter. So you can print your images and then use them as a layer for the software to cut out the vinyl signs or other products.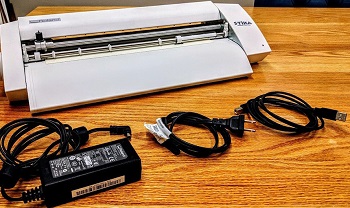 Suitable With Mac And Windows
Another user-friendly and unique function is compatibility with macOS. This Roland sign printer is also compatible with Windows operating systems. Therefore you can use this small vinyl cutter with any device, which is very practical.  Optimal system working temperature ranges from 41°F to 104°F, while relative humidity is between 35% and 80%
Cutting Speed For Vinyl And Paper
The cutting speed can be adjusted between 0.47 ips and 3.9 ips. The speed and blade are suitable for cutting vinyl and paper only. Thicker materials would damage the blade or the base Teflon protection inside the vinyl sign cutter.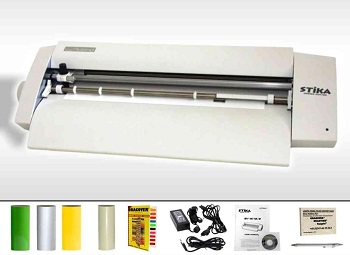 Full Package With Software
Besides, the Roland vinyl cutter for sale comes with the full package. So you'll get a power cord with an AC adapter, USB cable, blade with holder and protector, pin, materials, and application tape for test cuts and user manual. It also includes CD-ROM to install Roland CutStudio design software and plug-ins for CorelDraw and Adobe Illustrator.
Highlighted Points:
15" is the maximum cutting width
maximum cutting speed is 4.9 ips
with both printing and cutting functions
suitable with both macOS and Windows
41-104°F is the optimal working temperature interval
Things To Know About Vinyl Sign Maker
Not all vinyl sign makers have the same features and purpose. If you're planning to do signs of different structure and size, then you must consider functions such as maximum cutting width, blade cutting pressure and speed, and machine size.
Right machine size – If you want to do only small signs or crafts as a hobby, you can focus on desktop models that are smaller than 20" in width. However, if you need to make big professional projects, search for different large format printer cutter machines available on the market.
Multifunctional machine – When doing signs, it's very useful to have a machine with other functions besides cutting. Sign plotter machines are combining both pen and blade to create and then cut signs. Another version is a printer and cutter combo so you can print out your designs and then cut them out from vinyl or other material.
Using Different Materials – In case you want to use other materials besides vinyl for your signs, you need to buy a machine that has a minimum cutting pressure of 8 ounces and minimum cuttings speed of 20 ips. Also, it's great if the blade holder rotates because it makes deeper and clear cuts.
Software Compatibility – User-friendly units can be connected to different devices. Mac compatible vinyl cutter can't work on Windows, and vice versa. So know what operating system you have, and if you want a universal cutter, search for the ones that have software compatible with all operating systems.
Package Content – The best offer you can get will include a vinyl sign cutter, together with all other tools and materials needed to start doing business immediately. The most important accessories and parts that should be included are software, replaceable blades, and pens, an adhesive mat, and a power adapter. Other desirable accessories would be materials, such as vinyl rolls and application tapes.