Are you searching for the best handheld label maker for you?
Do you want it to be wireless or manual? To make stickers or barcodes?
In this post, you can find all these printer types. Choose the one that meets your need and read the main info about it. There is also a useful buying guide below.
Our Top Picks
Best 6 Handheld Label Maker Reviews
Best Of Best Handheld Label Maker
PUQU Label Printer
Mini Blue Printer
The first best handheld label maker is the PUQU label printer. It's so small that you can hold it with one hand and be sure it's safe in your hand. This mini printer comes in two color designs. One of them is this blue design and you can replace it with a white design.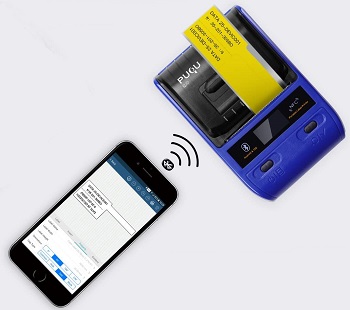 Clear Barcodes For Business
It's thermal and monochrome so you can use PUQU label maker for barcodes, receipts, price tags, and similar purposes. It's a great small label printer for small businesses. Although it makes small labels, the barcodes are clear and functional thanks to 203 dpi resolution.
One Or Two Dimensions
The label maker prints with a speed of 10 mm per second minimally and 35 mm per second maximally. The speed depends on the size of the labels you print. The machine offers two printing options: one-dimensional and two-dimensional barcode printing. The printer makes the labels 2-3,5 inches wide.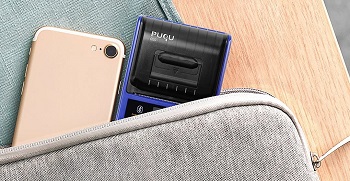 Both Smartphone Systems
You can send the label templates from the smartphone to the printer. You need to switch on the Bluetooth connection on the phone and the printer. It's compatible with both iPhone and Android. Not only Bluetooth connectivity but the battery also ensures the portability of this label maker.
Highlighted Points:
mini blue design suitable for a hand
prints barcode labels 2-3 inches wide
makes one or two-dimensional barcodes
the maximal printing speed is 35 mm per second
Bluetooth connectivity with the Android or iPhone
works on the chargeable battery
Best Home Handheld Label Maker
Dymo Label Maker LabelManager
Works As Single Appliance
The Dymo label maker is practical for holding thanks to its compact and oblong design. You can use it as a single appliance since it includes the keyboard and display. Instead of connecting it with a smartphone or computer, you can make the label templates on the label maker and then print them.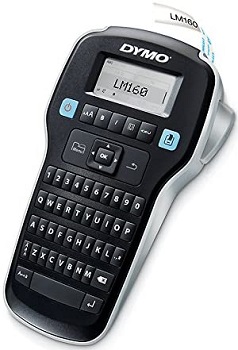 Black, White, Or Colored
The Dymo label maker is black and prints black labels. In case you use black tape, you can use white print, just like all the black label makers. If you use tapes in vivid colors and white tape, you can use black print. You have over 200 symbols in the offer.
Three Label Widths
The printer creates thin sticker labels you can use for home or office organization. It's possible to use tape rolls with 3 widths. The label printer supports the tapes with 6 mm of the width, 9 mm wide, or 12 mm wide which is 0,5 inches like standard sticker size.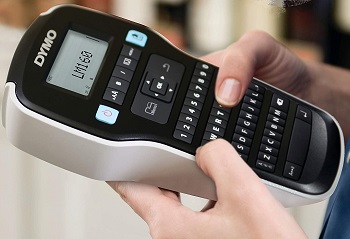 Memory And Keyboard
The wide range of symbols and characters included in the computer-style keyboard makes this model the best handheld label maker. One more great thing about it is the memory that saves you time because you don't have to enter the label content again. Besides, the automatic switch-off function is activated which increases the battery life.
Highlighted Points:
makes 6-12 mm wide labels
prints in black or white color
the keyboard includes about 200 symbols
label template memory included
the automatic switch-off function saves the battery
Best Small Handheld Label Maker
Niimbot Label Maker Machine
Protective Wrist Tape
Thanks to its compact design that includes the wrist tape, the Niimbot is a cute label maker practical for carrying. You can relocate it easily from your office to home. It's practical for professional organizers who travel from place to place. Using this machine that creates stickers, they do their job efficiently for a short time.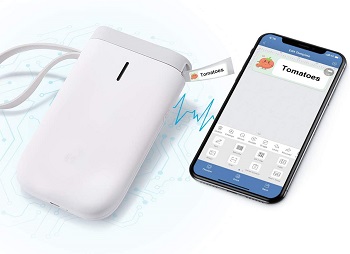 Connectivity With Smartphone
Since it's not the computer-style label printer but it's handheld, it's connectable with other devices via Bluetooth. You can carry the label maker and your smartphone in the bag and they are all that you need to make space organization well. With 0,45 lbs, the machine is lightweight as a smartohone.
Single Charge For Months
Not only excellent portability but also the battery capacity makes this machine the best handheld label maker. The battery has a continuous run time of 4 hours. After you charge it fully, you don't have to charge it for about 3 months. It's practical because you won't run out of battery in the middle of the organization process.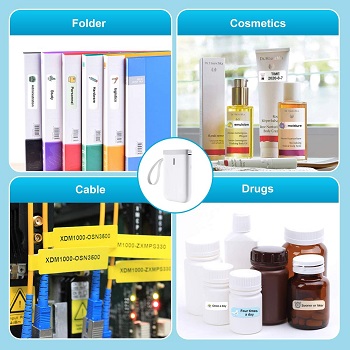 Mobile App Installation
Since it's Bluetooth connectable with the mobile phone, you can download the Niimbot mobile app. It's useful because it offers you a lot of fonts, symbols, graphics, and business icons you can use to make label templates. You can use it to make barcode labels as well.
Highlighted Points:
mini pocket size and 0,45 lbs of the weight
white design with wrist tape
connects to the smartphone via Bluetooth
mobile app with symbols for labels
runs on the battery with 4 hours of continuous work
works for about 3 months on a single charge
Best Barcode Handheld Label Maker
Phomemo-M110 Label Maker
Wider Labels Than Others
Just like some other best handheld label printers I reviewed before, this one also makes labels with barcodes. However, this one stands out for bigger barcode labels. Although it's small, it makes the labels with the dimensions of 40×30 mm. This label size makes it one of the 1-inch label makers.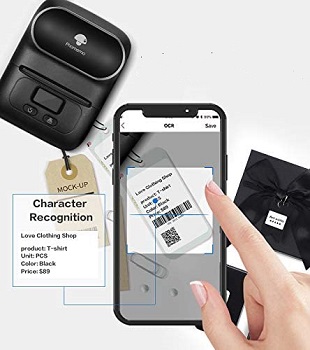 Smartphone In The Near
The Phomemo label maker is also compact and lightweight so it's practical for carrying in your pocket or bag. You can use it anywhere if you have a smartphone with the appropriate mobile app near the printer. Connecting them via Bluetooth, it takes short time to print the labels.
Useful Mobile App
Both Android and iPhone systems are compatible with this label printer. You can download the mobile app to make the labels for jewelry or cables as well as address labels, folder labels, and so on. The app allows you to convert the text into photos and more.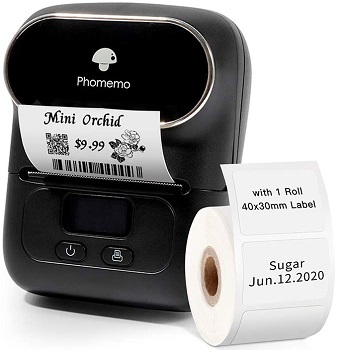 High-Power Battery Included
This model includes a high-power battery that works for a week with the full charge. It has a capacity of 1500 mAh and you can charge it using the adapter. The chargeable battery saves you the money you'd spend on new batteries as well as thermal technology saves money you'd spend on the ink or toner.
Highlighted Points:
maximal width of the labels is 30 mm
Bluetooth connection with Android or iPhone
uses thermal printing technology
works with a mobile app for templates
includes 1500 mAh chargeable battery
Best Clear Handheld Label Maker
Brady BMP21-PLUS Label Maker
Create Templates, Print Labels
The Brady label maker doesn't need a smartphone for connection. It includes the keyboard so you can use this machine to make the templates like on the computer. The Brady printer has a handheld design but it's not so small as some Bluetooth models. Still, it's suitable for a small bag or a big pocket.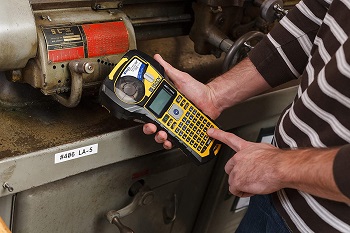 Six Font Sizes
The Brady printer makes monochrome labels so you can use colored tapes but print only black. The labels are small and purposed for space organization primarily. You can use the keyboard with all letters and numbers from 0 to 9. You can print text in 6 font sizes.
High-Quality Resolution
The machine has industrial look and it's practical for warehouses or stores. High resolution that makes the labels clear makes this model one of the best handheld label makers. The label printer has a resolution of 203 dpi. It makes the labels with maximal width of 0,75 inches while the minimal width is 0,25 inches.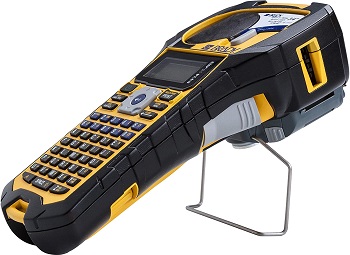 Practical Stand For Desk Use
The batteries make it completely portable. This label printer needs 6 pieces of AA alkaline batteries. The metal stand is built-in which enables you to use it also on the desk in the office. You can purchase the continuous tape cartridges separately to enable printing labels with various widths.
Highlighted Points:
keyboard for making templates built-in
numbers and letters included in the keyboard
the maximal supported label width is 0,75 inches
203 dpi resolution makes small labels clear
requires 6 AA alkaline batteries
continuous tape cartridges sold separately
Best Cheap Handheld Label Maker
Brother P-touch PTD210 Printer
Bigger Keyboard Included
Just like the previous Brady model, this best handheld label printer is also a computer-style label maker. This machine is bigger than the previous one so the keyboard seems like a mini-computer keyboard version. Except for the letters and numbers, there are also programmable buttons you can use to edit the templates and print them.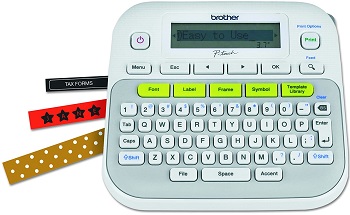 Various Color Tapes
The machine prints text and other symbols in black and white print. You can use not only white but also black tape as well as tapes in various colors. The tape width is limited to 12 mm. The printer has the option to make 2-lines labels.
Over 600 Characters
Using this label printer, you can make templates with 14 fonts, about 10 frames, and over 600 symbols. The wide range of characters makes this printer model ideal for crafting just like these craft label makers. It's a practical machine for both home use and for small and creative business purposes.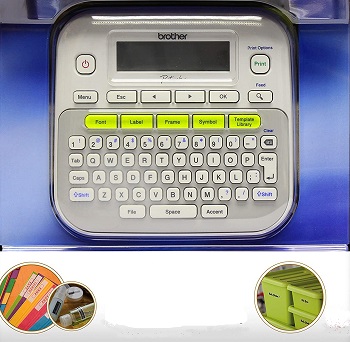 Batteries Sold Separately
The machine works with AAA batteries. You need 6 pieces of these batteries. They are not included but they are easy to find and purchase on the market. The batteries allow you to go with this label maker anywhere so its position is universal.
Highlighted Points:
a model with keyboard and screen
over 600 symbols in the offer
monochrome print on various color tapes
prints the labels with up to 12 mm of the width
2-lines printing option available
Things To Know About Handheld Label Printers
In accordance with the handheld design, the size of these label makers is suitable for a hand. The portable design as a result of the battery and Bluetooth use is the main characteristic of the handheld models. Other typical specifications are thin label production and low price.
Small Size – The label printers with handheld designs are small to be easy to carry in the hand. Their size is 5 inches on average, depending on their shape. Most small label makers are square-shaped and some are oblong and thin. Both designs make the printers suitable for an average adult hand.
Battery Powered – All the handheld models are battery-powered. Some include chargeable battery and some work on AA or AAA batteries you need to replace when it loses the capacity. The average capacity of the chargeable batteries is 1200 mAh. The run time on a single charge varies from a week to 3 months.
Portable Design – Not only small size and battery but the wireless connectivity also makes the handheld printed portable. These models support Bluetooth connectivity with smartphones. Usually, the printers support both Android and iPhone systems. The models with Bluetooth connectivity support templates made in the mobile app made for the certain label maker.
Thin Labels – Due to the small size, the best handheld label makers create small labels. Most models support the tape with a width of 0,5 inches. These labels are purposed for space organization. The 0,75 or 1-inch labels that include the barcodes are supported rarely.
Low Price – Just like the label size, the small design of the label printer determines also the price. The handheld models single out for the low price in comparison with standard labels makers sold for 200 dollars on average. The price of the handheld printers is 30-100 dollars.