Are you interested in buying a cheap vinyl machine?
Then you're at the right place! I'll describe the 6 best cheap vinyl cutter machines that have great value for the money. Compare them between different categories, and find the right one for you. The buying guide has more info on cutting speed, material feed, and other functions.
Our Top Picks
Best 6 Cheap Vinyl Cutter Machine
BEST OF BEST CHEAP VINYL CUTTER
Cricut Explore Air 2 Machine
Cutting Many Materials
This cheap vinyl cutter machine can cut more than 100 materials so you can use it to work with htv vinyl, stencil vinyl, adhesive vinyl, leather, cardstock, etc. The blade is strong and can operate in a fast mode that allows 2x faster-cutting speed in comparison to other models.
Many Pre-Installed Designs
Other functions you'll get with this cheap desktop vinyl cutter are writing and scoring. The model uses a Cricut pen to write over 370 fonts, and a scoring stylus to create perfect fold lines for cards, envelopes, paper crafts, etc. That makes it a great vinyl monogram machine.
Cricut Design Space
Also, you'll get many accessories. The package includes a fine point blade with housing, Cricut black fine point pen with housing, a 12" wide and long cutting mat, and a Cricut Design Space software with 2-week membership to Cricut Access that gives you access to a library with over 100 000 designs, images, and fonts.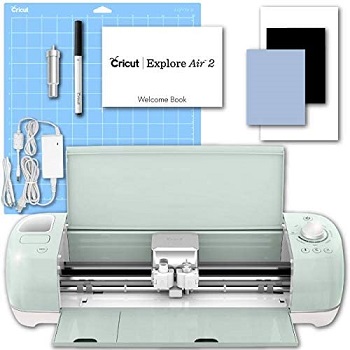 Print And Cut Software
It has Bluetooth technology to connect wireless with any device with both Mac and Windows operational system. Another great function is the Print and Cut. The blade can register printed lines and cut around them, which is a high-tech feature for the given price.
Highlighted Points:
blade, pen, and scoring stylus
Cricut Design Space software
for both Mac And Windows
Print And Cut function
2x faster cutting
BEST SMALL CHEAP VINYL CUTTER MACHINE
Cricut Joy Cutting Machine
Short Cutting Width
This is a small vinyl cutter that's 8.43" long, 5.43" wide, and 4.25". It weighs only 3.66 pounds so it's lightweight and portable. The model has a 5.5" maximum cutting width, so it's suitable for doing mini DIY projects, signs, logos, etc.
Design Software
The affordable vinyl cutter includes Cricut Design Software with membership for Circut Access library with many designs. The machine has 50 pre-installed images, fonts, and ready-to-use designs which is great for beginners. The machine has a Print And Cut function.
Windows And Mac Compatible
The blade can cut over 50 materials, and the carriage holds a pen so you can do both writing and cutting. The inexpensive vinyl cutter works with both Mac and Windows so you can work with any device by using Bluetooth technology or a USB cable.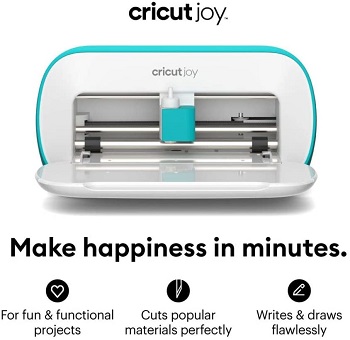 Works With Smart Materials
The package includes a cutting blade and pen, a mat that's 4.5" long and 6.5" wide,  and a power adapter. Another great function is compatibility with Cricut Smart materials. The machine can cut them continuously up to 4 ft in length and do repeated cuts up to 20 ft in length.
Highlighted Points:
5.5" maximum cutting width
Cricut Design software for Mac And Windows
pen and blade
Print And Cut function
includes already done designs
BEST FOR SMALL BUSINESS CHEAP VINYL MACHINE
Silhouette America Portrait 3 Cutter
Cutting Width And Length
This cheap vinyl machine has a maximum cutting width of 8". Maximum cutting length when using a cutting mat is 12" and when using vinyl rolls is 60 ft. The model has a matless cutting function and 0.08" clearance in the feed for cutting thicker materials.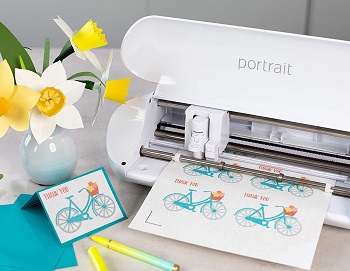 Print And Cut Feature
Since it features a fast and strong blade you can cut thick and thin materials. Besides, you can use printed images as templates for vinyl cutting since this model features the Print And Cut feature. Auto blade function allows the system to automatically adjust cutting speed and downforce according to material thickness.
Included Features
Therefore, you don't need to change settings manually which makes this device one of the best vinyl cutters for small businesses. With the model, you'll get the USB cable, power cord, Silhouette Studio software, blade, and cutting mat that's 8" long and 12" wide.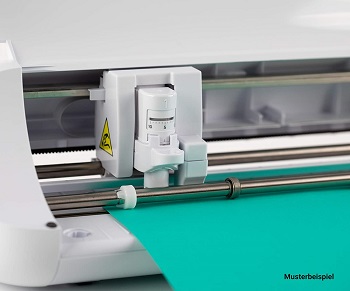 Wireless Connectivity
The software is suitable for both Mac and Windows devices. Besides using a USB cable, you can connect the machine with Bluetooth. You'll also get a 1-month membership to the Silhouette Design Store with many designs ready to download. The machine comes with 50 pre-installed designs.
Highlighted Points:
8" maximum cutting width
auto blade function
Print And Cut function
Bluetooth and USB
for Mac And Windows
BEST PLOTTER-CUTTER CHEAP VINYL CUTTER
Pevor 28" Vinyl Cutter
Wide Cutting Feed
This sign plotter has a much wider cutting width in comparison to previous models. The maximum cutting width is 24.8", and the maximum paper feed is 28". The blade can cut a variety of materials because of its wide speed and downforce range. So besides vinyl, it can cut cardstock, paper, craft paper, leather, vellum, stencil vinyl, etc.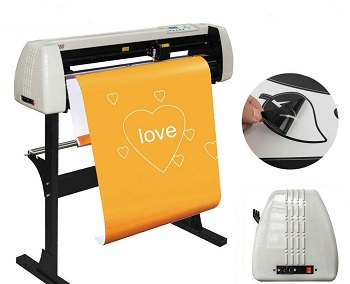 Strong And Fast Blade
The cutting speed range is between 0.4 ips and 31.5 ips, while the cutting downforce range is between 0.4 ounces and 17.6 ounces. All settings can be adjusted on the LCD screen with the backlight for easier navigation. The screen also shows current settings so it's easy to track the system. It has both a pen and a blade.
For Windows
Unlike previous models, this cheap vinyl plotter works with Windows operating systems only. You can use it with both 32-bit and 64-bit processors with installed Windows XP/7/8/10. The software is suitable for HP-GL command sets. It connects to the laptop with a USB 2.0 or serial interface.
High Cutting Precision
The affordable vinyl cutting machine comes with a metal stand. The cutting precision is 0.0005" which is great accuracy for creating small and big signs, fonts, and other images. The optimal operating humidity ranges from 5-65%, while the optimal temperature range is between 32°F and 131°F.
Highlighted Points:
28" maximum paper feed
24.8" maximum cutting width
0.4-31.5 ips cutting speed
0.4-17.6 ounces cutting force
works with Windows only
BEST PROFESSIONAL CHEAP VINYL CUTTER MACHINE
Instahibit 28" MH Vinyl Cutter
Maximum Paper Feed
This is the best affordable vinyl cutter you can buy in case you want to create projects of different sizes and materials. That's because the maximum paper feed is 28" and it features three pinch-rollers that can adjust guide rail to the material width. The maximum cutting width is 24".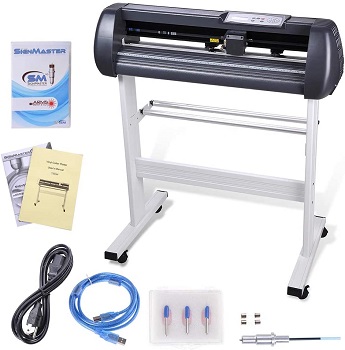 Strong And Precise Cutting
Therefore, no matter how much the paper is wide, the pinch rollers will hold it stable in the feed and it won't get damaged. Another user-friendly feature of this professional vinyl cutter is the adjustable cutting force and speed. The inertial rotating blade holder ensures high-quality cuts that are very precise.
Emergency Stop Feature
The cutting speed range is 0.4-31.5 ips and the cutting downforce range is 0.4-17.6 ounces. The blade holder is Roland compatible so you can use the most economical blades available on the market. The Control panel with an LCD screen features an emergency button in case you want to stop and restart the machine during work.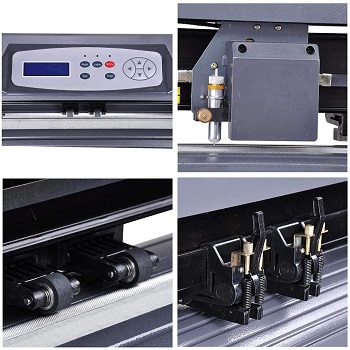 Software For Windows
Another great feature of this machine is SignMaster Cut software that can be used with all image formats. It uses DM-PL and HP-GL commands. The software works with Windows only and connects to the computer with a USB and RS-232 serial interface.  The system runs on a Stepper motor.
Highlighted Points:
maximum paper feed is 28"
24" is the maximum cutting width
3 adjustable pinch-rollers
inertial rotating blade holder
SignMaster Cut software for Windows
BEST COMMERCIAL CHEAP VINYL MACHINE
TS330 Vinyl Cutter Machine
Stable Paper Feed
A great user-friendly feature of this cheap vinyl cutter for sale is the paper feed with the grit roller that keeps the material stable and straight while being in the feed. The overall size of this machine is 23" in width, 6.5" in length and height. The maximum cutting feed is 16".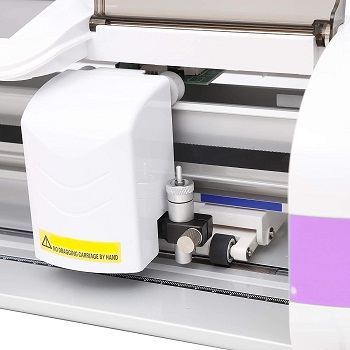 Control Touchscreen
Therefore, this is the best cheap vinyl cutter you can use for smaller crafts, logos, signs, and other images. The model has a carriage for both pen and blade. Another user-friendly feature is the touchscreen to adjust cutting speed and force while keeping track of all settings.
Contour Cutting Function
The model features a camera sensor that allows the blade to detect printed lines so this commercial vinyl cutter machine can cut around the printed images. Contour cutting and a high cutting force of 21.16 ounces make it ideal for precise cutting on materials that are thicker than vinyl such as leather.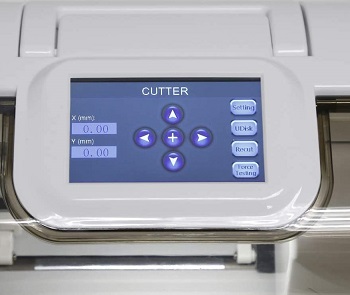 Signmaster Software
It includes Signmaster software for a 32-bit processor that has a Windows operating system. A great unique function is an MP3 function so you can listen to music while working. You'll also get a fine point blade with housing, a fine point pen, and a 16.5" long and 11.8" wide cutting mat.
Highlighted Points:
the maximum cutting feed is 16"
touchscreen control panel
21.6 ounces cutting force
Signmaster software for Windows
 cutting and writing functions
Things To Know About Cheap Vinyl Cutter
When buying an affordable vinyl cutting machine, you want to get the best value for your money. Here I'll describe many features you should consider when searching for the right machine such as Software type, cutting settings, additional functions, etc.
Right Software – Not all vinyl cutters can work with all devices. If you want both Windows and Mac compatible vinyl cutter,  consider models with Cricut Design Space, Silhouette Studio, Sure Cuts A Lot Pro, and Graphtec Studio. VinylMaster Cut and Signmaster can work only on Windows, except when having suitable plug-ins for Mac.
User-Friendly Functions – Cheap vinyl cutter machine can include many practical high-tech functions such as contour cutting for working with printed images, an auto blade for automatic adjustment to materials, or a pen holder for doing both writing and sketching.
Cutting Settings – In case you want to work with vinyl only, this isn't a so important feature to consider. However, if you want to cut thinner or thicker materials, it's desirable that an inexpensive vinyl cutter features a wide cutting settings range. Speed and force above 20 ips and 10 ounces are suitable for thick materials.
Material Feed – For making both big and small projects, I recommend a large vinyl cutter with maximum paper feed wider than 20". Many best cheap vinyl cutters for sale include adjustable pinch-rollers so guide rail can be adjusted to any paper width. That keeps a small material stable in a very wide feed.
Practical Accessories – Although low priced, many best affordable vinyl cutters will come with the bundle. It's great if you can immediately get all needed tools such as blade and pen, materials such as cutting mat and other accessories such as software, metal stand, USB cable, etc.