Do you want to buy a pedestal file cabinet with or without casters for your office?
If you do, then this article is intended for you! We will explain some basic file cabinet features, so you will know which model suits you the best. We gathered some file cabinets in our list, divided them and described their characteristics.
Our Top Picks
Best 6 Pedestal File Cabinets
Best Of Best Pedestal File Cabinet
Hirsh 3-drawer Mobile File Cabinet
Heavy Item
The Hirsh 3-drawer mobile file cabinet is an expensive piece of furniture. But it features quality and durability. The product dimensions are 27.75 inches in height, 15 inches in width and 22.8 inches in depth. It is a heavy file cabinet, there are 77 pounds.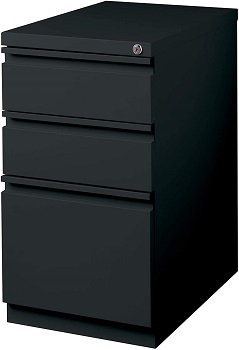 Non-porous Surface
This pedestal file cabinet comes pre-assembled at your address. This model is available in black color, so it will fit in any office environment. The Hirsh surface is resistant to corrosion. You can clean this file cabinet with a damp or dry towel and disinfect it easily.
Standard Hanging Files
Thie Hirsh file cabinet comes with two box drawers and a file drawer. The full-extension drawers with commercial-grade ball-bearing suspension are easy to open and have full access to your documents. The file drawer accommodates letter-size hanging files.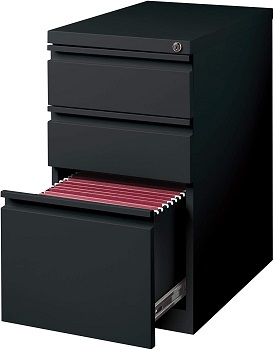 Hidden Casters
The built-in lock secures all drawers and documents from unwanted access, damage or loss. The counterweighs are here for additional safety precautions. They are built-in at the bottom of this small black filing cabinet. Hirsh features hidden casters for easy mobility.
Highlighted Points:
fully assembled steel construction
the surface is resistant to corrosion
built-in installed hidden casters
full extension drawers with ball-bearing suspension
lock all three drawers with one key
file drawer holds letter-size files
Best 3-drawer Pedestal File Cabinet
Hon Mobile File Cabinet
Commerical-grade Product
The Hon is a commercial-grade modern 3-drawer pedestal file cabinet. Choose between charcoal and white colors. Moreover, there are two sizes – standard and slim. The Hon has 23.6 inches in height, 18.9 inches in depth and 15.4 inches in width. This is an expensive file cabinet.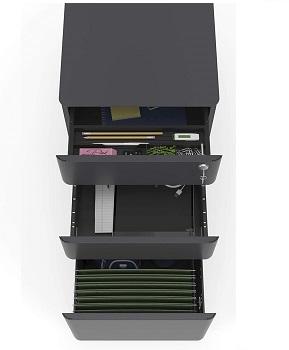 Anti-tipping File Cabinet
It is made of cold-rolled steel that provides durability and high-level performance. When it comes to your address you need to affix the casters. There are four plastic casters that ensure easy mobility. Also, there is a small front caster that makes this file cabinet anti-tipping.
Hidden Drawer Pulls
The Hon features rounded drawer fronts and hidden drawer pulls, that improve its modern design. There are three pedestal drawers – two small ones and one large drawer. There is a pencil tray in the upper drawer, it will keep small office essentials organized.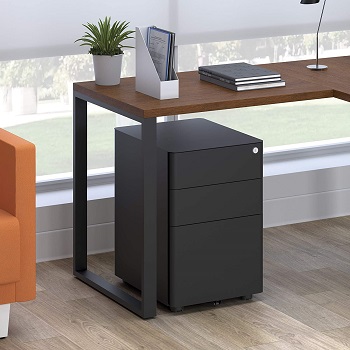 Smooth Performance
The bottom drawer accommodates both legal and letter-size hanging file folders. This painted metal file cabinet has full-extension ball-bearing slides for smooth performance. A lock system secures all three drawers at the same time and provides complete security.
Highlighted Points:
high-quality commercial-grade file cabinet
available in two sizes and two colors
made of cold-rolled steel material
four rolling casters with small anti-tip caster
small drawers are intended for office and personal things
the large drawer holds hanging file folders
Best 2-drawer Pedestal File Cabinet
Bush Furniture File Cabinet
Reclaimed Wood Construction
The Bush Furniture made this Key West file cabinet. It combines modern functionality and efficiency. It is constructed with reclaimed wood with a unique cherry finish. This is a tested file cabinet and it meets ANSI/Soho standards for safety and quality.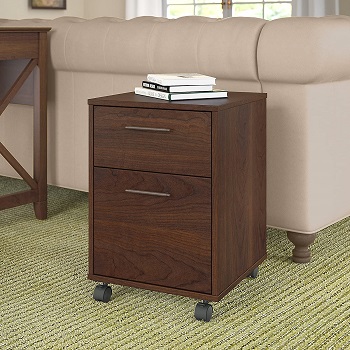 Surface Weight Capacity
You can place some office device on its top, like scanner, printer, etc. The top bears up to 50 pounds. This pedestal file cabinet is great for small offices or home offices. The Key West is 22.3 inches high, 15.7 inches deep and 15.5 inches wide. It weighs 44 pounds.
Full-extension Drawer
There are more colors you can choose from – washed grey, pure white and cherry. There is a box drawer for small office supplies and a file drawer. The file drawer holds standard file folders, that is 8.5 x 11 inches. The full-extension ball-bearing slides provide easy access.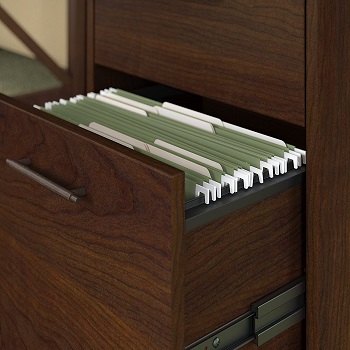 Bronze Handles
This small wood file cabinet has aged bronze hardware on each drawer. The Key West file cabinet comes with sturdy casters, two front casters are lockable for secure placement. You can check the full Key West collection if you want to combine other items. The warranty lasts 1 year.
Highlighted Points:
small file cabinet made of reclaimed wood
three colors are available
box drawer holds small private things and accessories
file drawer glide on full-extension ball-bearing slides
each drawer is fitted with bronze handles
four lockable casters for secure placement
Best Locked Pedestal File Cabinet
Devaise Filing Cabinet
Elegant Item
The Devaise file cabinet will perfectly fit in any modern office. It is available in black and white color. Its construction is reinforced with sturdy steel material. The overall load capacity is up to 330 pounds. Use its top as extra storage space for some office devices.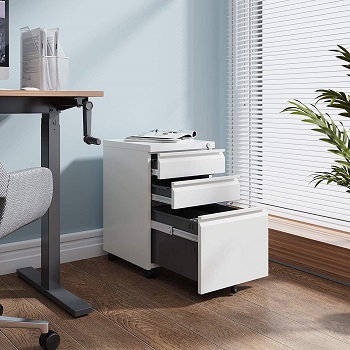 Lock Casters
This pedestal file cabinet measures 24.4 inches in height, including casters, 15.4 inches in width and 18.9 inches in depth. it weighs 40 pounds. The product comes assembled, but you need to attach the casters, there are four lockable casters and a small caster that prevents tipping.
Office Accessories
The two small drawers are equipped with a pencil tray, you can easily organize small office accessories. Below these drawers is a filing drawer intended for hanging file folders. It holds letter and legal-size documents. You don't have to buy any extra hardware.
Ball-bearing Slides
File drawer runs smoothly on high-quality ball-bearing slides. There is a lock above the top drawer, it allows you to lock all three drawers with one key. This modern locking file cabinet fits under any office desk, and if you want, you can move it easily on a wooden floor or carpet.
Highlighted Points:
modern file cabinet available in black and white color
reinforced structure with quality steel
the overall load capacity – 330 pounds
four wheels with brake function
small caster prevents tipping over
all three drawers are lockable
Best With Seat Cushion Pedestal File Cabinet
Vert File Cabinet
Multifunctional File Cabinet
The Vert is a multifunctional file cabinet, you can use it as a storage space, seat, footrest, etc. It features sturdy steel construction and a modern black design. The overall dimensions are 22.5 inches in height, 14.5 inches in width and 16.75 inches in depth. Its price is high.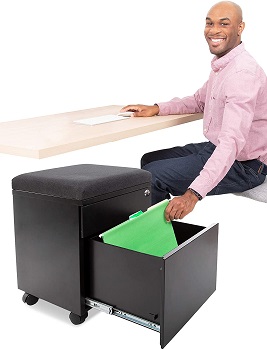 Plush Cushion Seat
This pedestal file cabinet comes with a plush cushion seat, it is comfortable and perfect for your co-workers who comes by. it is 2.5 inches thick. The file cabinet's durable base supports up to 200 pounds. This rolling file cabinet with seat features two drawers.
Two Roomy Drawers
The compact small drawer is designed for small desk supplies, like post-it notes, pencils, pens, notebooks, etc. The bottom drawer is bigger and it holds hanging file folders. The full-extension drawers provide easy access to all your items and documents.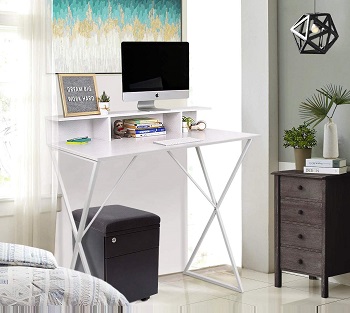 Easy-rolling Wheels
The top drawer is fitted with a lock system, with a single key you can lock both drawers and keep your files private. Two keys are included in the package. The Vert file cabinet comes with rolling wheels, you can easily move it wherever you want. Two casters are lockable.
Highlighted Points:
multifunctional file cabinet with a high price
modern design with sturdy steel construction
comfortable plush cushion for sitting
the small drawer holds office supplies
file drawer is designed for hanging file folders
built-in lock and swivel wheels
Best Home Office Pedestal File Cabinet
Stockpile File Cabinet
Cold-rolled Steel
The Stockpile file cabinet is a small item that fits in any home office. You can place it under your home office desk or next to it. The construction is made of cold-rolled steel that is 20% stronger than regular steel. Stockpile features modern style with rounded edges and a smooth surface.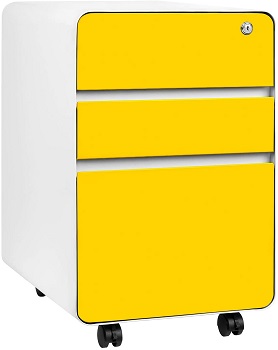 Multiple Colors
This pedestal file cabinet comes fully assembled, you don't have to spend your time on mounting. Its price is high and the warranty lasts two years. There are multiple colors available, like yellow, black, blue, green, grey, red and white. Each model looks modern and attractive.
Three Drawers
The unit size is 26 inches in height, 19.75 inches in depth and 15.75 inches in width. The Stockpile features three drawers divided into two small drawers for office supplies, like post-it notes, pencils, etc. The third drawer supports both legal and letter-size hanging file folders.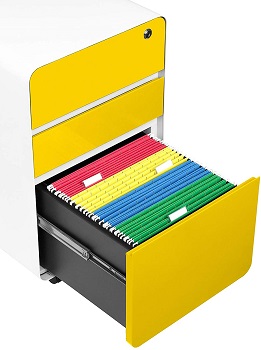 Lockable Drawers
The small drawers come with a pencil tray and the file drawer has a drawer divider for better organization. This yellow filing cabinet has a built-in lock on the upper drawer. You can secure all three drawers at the same time and protect your documents from loss and damage. The wheels are included.
Highlighted Points:
cold-rolled steel construction with matte powder coat
two small drawers hold office accessories
file drawer accommodates letter and legal hanging files
the warranty lasts two years
pencil tray and drawer divider included
Things To Know About Pedestal File Cabinets
These file cabinets are usually equipped with small drawers and one file drawer. To learn what file cabinet model you should incorporate into your office, read our buying guide, it will explain some terms for you, so you can easily decide.
Mobile File Cabinet Size – These file cabinets are vertical items. They usually fit under the standard office desk. That means they aren't higher than 28 inches. Moreover, they are deeper than wider and don't have heavyweight. This lightweight file cabinet can be made from steel, wood or plastic.
Pencil Tray – The small drawers or box drawers are designed for personal things or office supplies storing. That includes post-it notes, tapes, pencils, notebooks, etc. Some file cabinets come with a removable pencil tray, it will keep your small things organized.
Ball-bearing Slides – The ball bearing slides provide the smoothest and quietest file cabinet drawers. The slides ride on ball bearing and improve file cabinet performance. They don't produce any annoying sound when you open or close drawers.
Counterbalance Weights – The counterbalance weights are often made of concrete, lead or other heavy material. They are built into the bottom of the file cabinet.  These weights are very useful because they add stability and prevent tipping. You can find them on vertical file cabinets.
Hanging Files – Mostly, in vertical pedestal file cabinets, you can find hanging folders. This folder type has plastic or metal hooks on each end that are hung from the rail in your file cabinet. This feature makes your files neatly organized and easy to find.