Do you need a home vinyl cutter?
Then you should read this article!
I'll describe the 6 best models available on the market and put them in different categories so you can choose one that suits you the most. Check out the buying guide you need more info about the software, cutting pressure and speed, and other specifications.
Our Top Picks
Best 6 Home Vinyl Cutters
BEST OF BEST HOME VINYL CUTTER
Brother ScanNCut SDX125 Machine
Built-In Scanner
This best vinyl cutter for small businesses has an auto-blade that adjust to different thicknesses. When cutting, pressure and speed are changed according to the material type. The blade can cut up to 0.004" thick material. Another user-friendly feature is a built-in scanner.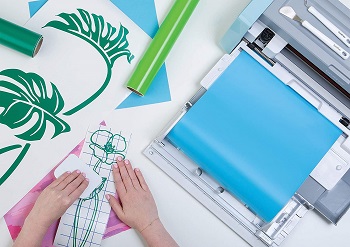 USB And Bluetooth Connection
This is the best home vinyl cutter with a scanner that allows you to use any images and photographs and import them into the machine without needing the computer. If you create designs on the computer, you can connect the Brother Canvas Workspace app to the unit with Bluetooth or USB cable and send them with the software.
Pre-Installed Designs
The software comes with already created 682 design s which include 100 quilt patterns and 9 letter fonts. That's very user-friendly, especially if you're started. The maximum cutting width is 11.7", so this machine is suitable for small projects. Settings can be tracked and adjusted on a 5" LCDA touchscreen control panel.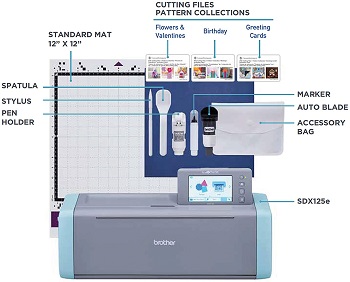 Warranty Included
Because of the wireless connection, you can work from any device- mobile phone, tablet, or PC. The CUT files can be sent directly to the machine, while other files must be converted in the Brother Canvas Workspace app. All parts are covered with a 1-year limited warranty.
Highlighted Points:
scanning, cutting, and plotting
wireless connection
built-in designs, quilt patterns, and fonts
11.7" maximum cutting width
Brother Canvas Workspace app
BEST COMMERCIAL HOME VINYL CUTTER
Cricut Explore Air Cut 2 Machine
Tools And Materials
This home vinyl cutter is very user-friendly because it comes with a full accessories kit. You'll get all tools you need to make fun crafts- blade, pen, spatula, scraper, scissors, tweezers, and weeder. Therefore with this machine, you can do the cutting, writing, and scoring.
Auto Blade
Materials included are 8 sheets of vinyl and two sheets of transfer paper. Both are 9" long and 12" wide. Also, you'll get a digital starting guide. The blade automatically adjusts to a material thickness which is very user-friendly because you don't have to manually adjust pressure and speed.
Fast Switch Between Tools
The software works with many image formats such as SVG, JPG, PNG, BMP, and GIF. The double tool holder allows a fast switch between pen and blade, which is very user-friendly. The machine has a paper feed with a maximum width of 24" so it's great for short to medium projects. It can cut over 100 different materials.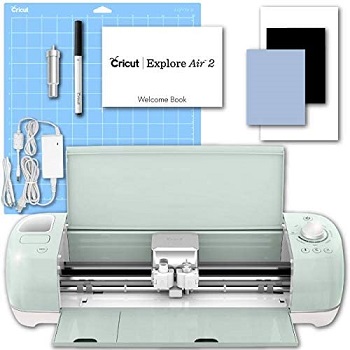 Software With Bluetooth
The included software is Cricut Design Space that's suitable for both Mac and Windows operating system. This 24-inch vinyl cutter has built-in Bluetooth so you can connect easily with your computer. There's also a USB interface for connection with a USB cable.
Highlighted Points:
tools and materials
Cricut Design Space for Mac and Software
suitable for different image formats
24" maximum cutting width
Bluetooth technology
BEST DIGITAL HOME VINYL CUTTER
Silhouette America Portrait 3 Machine
For Small Projects
This home vinyl cutter has a maximum cutting width up to 8" which means it's ideal for small DIY projects and crafts. The machine comes with the matless cutting function and Print and Cut feature. Therefore, the blade can register printed lines and cut around them.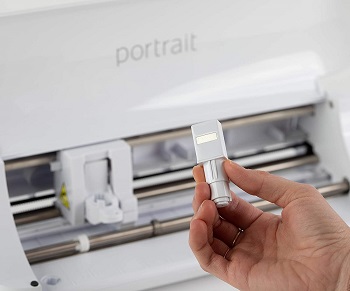 Auto Blade And PixScan Compatible
Also, the auto blade function automatically adjusts the cutting speed and downforce according to the material. The machine is PixScan compatible. The feed has 0.08" clearance for materials that are very thick, so you can cut wood, stencil vinyl, vellum, and other materials such as fabric, cardstock, etc.
Wireless Connection
This digital vinyl printer and software can connect with USB or wireless with Bluetooth. Therefore you can use Silhouette Studio on both iOS and Android phones, Mac and Windows computers. The Package includes an 8" long and 12" wide cutting mat, power cord, and USB cable.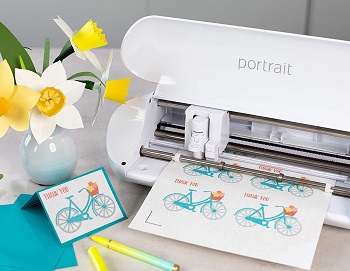 Dual-Tool Carriage
With the software, you'll get 50 designs and a 1-month subscription to the Silhouette Design Store. At the side of the machine, there is a control panel with buttons to adjust speed and pressure. The dual-tool carriage has a blade and pen that are easily switched.
Highlighted Points:
8" maximum cutting width
PixScan compatible
Silhouette Studio for both Mac and Windows
dual-tool carriage
50 pre-installed designs
BEST PLOTTER-CUTTER HOME VINYL CUTTER
Vevor 14" Vinyl Cutting Machine
Stable Feed With Rollers
This home plotter cutter is 9" long, 23" wide, and 9.5" high. Its maximum paper feed is 14.8" and maximum cutting width is 11.2". Therefore it's suitable for creating both medium and small projects. The materials in the feed are stable and straight throughout the cutting because of the double-spring pinch rollers and steel roller.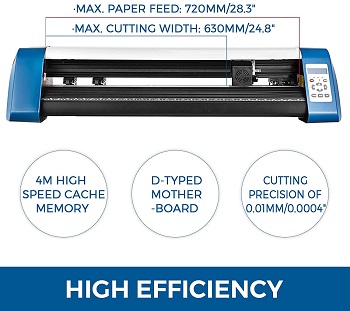 High-Efficient System
Rollers can adjust guide rail to different paper width which is a very user-friendly feature. The home vinyl cutter has both pen and blade so it can perform cutting and sketching. The multifunctional system is highly efficient because of the D-typed motherboard and 1M high-speed cache memory.
High Precision And Force
The cutting precision is 0.0004" repetition accuracy which allows clear and detailed cuts.  The blade has high speed and downforce and can cut thick materials such as fabric, leather, vellum, and stencil vinyl. However, this sign plotter can cut with low speed and force, which is suitable for paper and cardstock.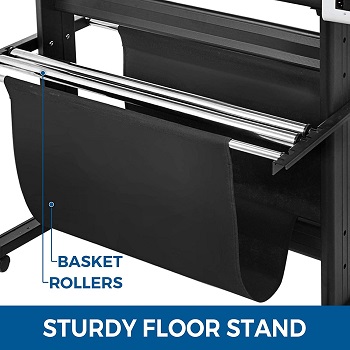 Software And Interface
The cutting speed range is from 0.4 ips up to 31.5 ips, while the cutting downforce range is from 0.4 ounces up to 17.64 ounces. The included software is Signmaster suitable for Windows only. It can work with HP-GL and DM-PL command sets. The machine connects to the computer with COMPIM and USB interface.
Highlighted Points:
the maximum cutting width is 11.2"
double-spring pinch rollers
D-type motherboard and 1M high-speed memory
0.0004" repetition accuracy
Signmaster software for Windows
BEST FOR SMALL BUSINESS HOME VINYL CUTTER
USCutter 14" Vinyl Cutter
Accessories Kit And Automated Feed
This is a compact desktop vinyl cutter for work from home with all high-quality features. It has a superior ball-bearing dual roller system for an automatic feed of vinyl rolls.  Also includes a full set with 12"x3ft medium tack application tape, two 12"x3ft vinyl rolls, 3 blades, a hobby knife, and a squeegee.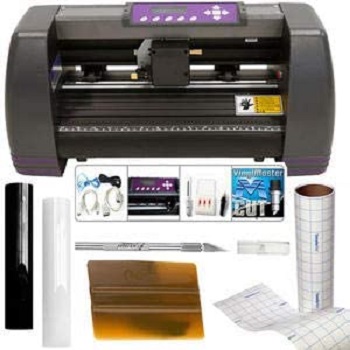 Feed And Cutting Width
This home vinyl cutter has a maximum cutting width of 10" and a maximum paper feed is 14". It's suitable for creating small to medium signs, logos, and other crafts from different materials. The feed features 2 pinch-rollers that maintain the sheets straight and stable.
Fast And Strong Blade
Also, you can adjust the guide rail to the width of the material. The model has a control panel with an LCD that shows you current speed and cutting settings, and buttons to adjust them according to the material. The maximum blade pressure is 12.34 ounces, and the maximum cutting speed is 39 ips.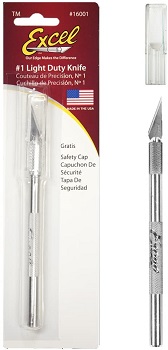 Cuts Different Materials
The system runs on a Stepper motor. With the speed and pressure, the standard blade can cut a variety of materials such as vellum, leather, stencil vinyl, adhesive vinyl, fabric, etc. This is one of the best home vinyl cutting machines that come with the accessories kit.
Highlighted Points:
superior ball-bearing dual roller system
12.34 ounces maximum cutting pressure
the maximum cutting speed is 39 ips
2 adjustable pinch-rollers
stepper motor
BEST FOR CRAFT HOME VINYL CUTTER
PrismCut P20 Cutter Vinyl Cutter
LCD Touchscreen
It's one of the best vinyl cutting machines for home use with a user-friendly and easy-to-use LCD display. The LCD touchscreen is showing current settings and has a panel for adjusting speed and pressure according to the material.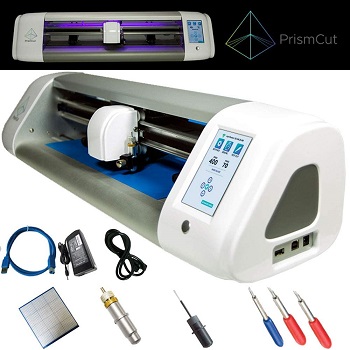 Design And Paper Feed
The exterior design has LED illumination and blades that can cut different materials so it's ideal for doing small to medium crafts. The maximum material feed width is 19.5" and the maximum cutting width is 16". The system runs on a Stepper motor and blades can cut with a maximum pressure of 17.64 ounces.
Bluetooth And Windows Software
The included software is VinylMaster Cut. Therefore, this craft vinyl cutter machine can be used only with Windows operating system. It connects to the computer with Bluetooth. You can use the model to cut printed images because the blade has a Print and Cut function for cutting around printed lines.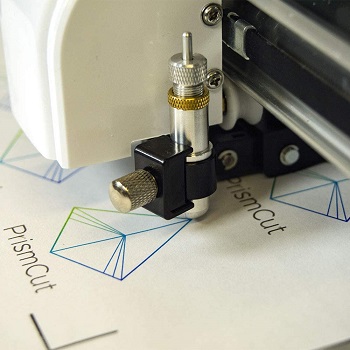 Tools And Materials Set
This offer includes a tool-set with a blade holder, pen and refill, and a blade set that includes two 45-degree blades and a 60-degree blade. Also, the home vinyl cutter comes with a 15" long and wide cutting mat, USB cable, power adapter, and power cable.
Highlighted Points:
LCD touchscreen control panel
LED illuminated exterior
16" maximum cutting width
VinylMaster Cut for Windows
Print And Cut function
Things To Know About Home Vinyl Cutters
The best home vinyl cutter should be space-saving, portable with a user-friendly design. If you want to do crafts with various materials, you need a model with a strong blade. Here I'll give you info on important features in tools, paper feed, additional functions, etc.
Compatible Software – When buying the right model, check out if the software is compatible with OS on your computer. Silhouette Studio, Cricut Design Space, and Graphtec Studio are suitable for both Mac and Windows. Also, the best home vinyl cutting machine will include Software with different cartridges for different images, fonts, designs.
Cutting Speed And Pressure – If you want to cut both thin and thick materials, the model should have a wide speed and pressure range. For example, a vinyl stencil cutter should have a strong and fast blade to cut stencil vinyl, at least above 15 ips and 10 ounces.
Maximum Cutting Width – The material paper feed can be wide and short. The vinyl letter cutting machine can have up to 20" maximum paper feed for creating short to medium projects. However, if you want to make big signs, logos, or images at home, you should consider buying a model with a feed wider than 20".
User-Friendly Functions – When buying a model for your home, you can choose the one with more functions. For example, the built-in scanner is very useful because you can import images and photographs without software. Also, contour cutting allows cutting around pre-printed images. Some models can both sketch and cut because they have a tool carriage with a pen and blade.
Accessories Set – The best vinyl cutting machine for home use will come with an accessories kit that already includes needed tools and materials to immediately start doing your DIY projects and crafts. It's great when the set includes materials such as vinyl rolls, an adhesive mat, magnet sheets, and transfer tape. Tools included could be blade, pen, trimmer, squeegee, etc.