Do you need to buy a digital vinyl printer?
You're at the right place!
I'll describe 6 best digital vinyl printers and put them in specific categories so you can decide which one suits you the most. In the buying guide, I write more about vinyl requirements, dimensions, printing speed, and other specifications.
Our Top Picks
Best 6 Digital Vinyl Printers
BEST OF BEST DIGITAL VINYL PRINTER:
HP DesignJet T530 Wireless Plotter Printer
Suitable Media Size
It's one of the best models that besides using printable vinyl, also prints on HP Universal Adhesive Vinyl (CT2T51A or C2T52A). This digital vinyl printing machine is great for architects, engineering, and construction professionals. It can print sheets with a width between 8.3" and 36", a rolls that are between 11" and 36" wide.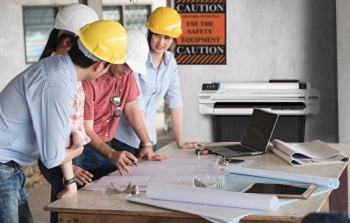 Handles Rolls And Sheets
The media can be handles through sheet feed and roll feed. There's also an input tray, media bin, and automatic feeder function. It's one of the best digital vinyl printers because it can handle large projects and produce a high-quality print resolution. Use it together with the industrial vinyl cutter.
Mobile Printing And Poster Creating
The print speed for the A1 sheet is 30 seconds per page. With this high-quality machine, you'll get an HP smart app so you can print PDF directly from your phone. That's enabled with HP Click printing software. Also, you can create posters and use free graphics and patterns on the HP Poster app and Hp DesignJet Utility.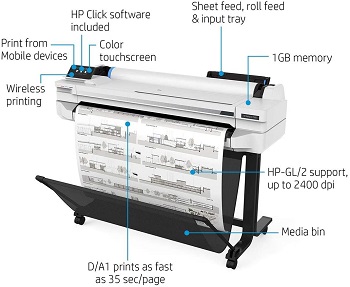 Dimensions And Warranty
Both apps work on Mac And Windows. The mobile printing works on both Android and iOs. This unit can work with HP ink cartridges only. All parts are covered with a 1-year limited warranty. The printer is 50.87" long, 20.87" wide, and 36.68" high. It weighs 67.1 pounds. The stand for the printer is included with the package.
Highlighted Points:
works with two types of adhesive vinyl
sheet and roll feed
30 seconds per page maximum printing speed
software and app for printing from mobile phone
works with HP ink cartridges only
BEST CHEAP DIGITAL VINYL PRINTER
Brother MFC-J895DW Multifunctional Printer
Vinyl And Ink Compatibility
This model can cut vinyl sheets that are up to 20 mils (0.52 mm or 0.02"). The digital vinyl printer can be used only with specific Brother ink cartridges: LC3011BK, LC3011C, LC3011M, LC3011Y, LC3013BK, LC3013C, LC3013M, and LC3013Y. Amazon Dash Replenishment that orders more ink from Amazon when the level is low.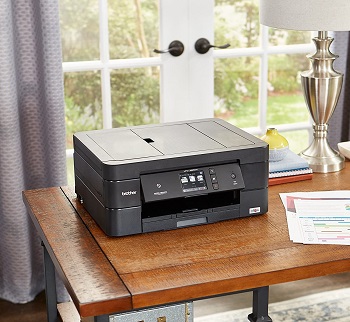 Print From Device Or Cloud
The images can be printed from the phone, tablet, computer, and cloud. The device has a wireless, Ethernet, and USB connection. AirPrint app allows printing directly from the phone.  Other great apps are Google Cloud Print, Mopria, Wi-Fi Direct, and Brother iPrint And Scan. They ensure printing from Dropbox, Onedrive, and Google Drive.
NFC Connection
It also has NFC or Near Field Communication function. It allows the device to print files from any phone, tablet, or computer that's few centimeters away from the printer and has NFC. This model can start printing after one touch with a phone or other device. The printer can also fax, scan, and copy. Combine it with the htv vinyl cutter to make images, designs, and fonts that can transfer to fabric.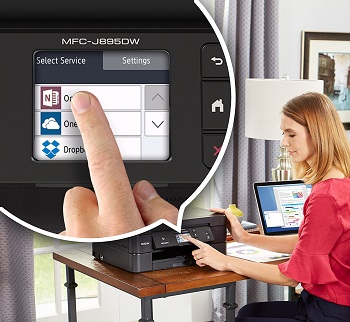 Sheet Capacity And Printing Speed
It features an auto-duplex so you don't have to turn the page manually, an automatic document feeder, and a 150-sheet capacity.  The maximum printing speed is 12 ppm (pages per minute) for black ink and 10 ppm for color ink. An automatic feeder can take up to 20 sheets. In one box you'll get 4 cartridges.
Highlighted Points:
cuts vinyl up to 0.02" thick
AirPrint app for both iOS and Android
NFC connection
black and color printing speed is 12 ppm and 10 ppm
automatic feeder takes 20 sheets
BEST SMALL DIGITAL VINYL PRINTER
Epson Workforce WF-2630 Inkjet Printer
Works With Epson Ink
Cuts printable vinyl. It's one of the digital vinyl printers for sale with ink cartridges that are specific and won't work with any ink brand. Therefore, use only Epson ink and cartridges. The individual cartridges are making it easy to refill ink that you need, without replacing the whole cartridge.
Compact And Mobile Suitable
The machine is multifunction: print, copy, scan, fax, and mobile printing. The printer can connect with the iPad, iPhone, tablet, smartphones, and computer with wireless technology and Wi-Fi direct. Also, it's compact and doesn't take too much space in your office and home. It's 14.8" long, 15.4" wide, and 8.7" high.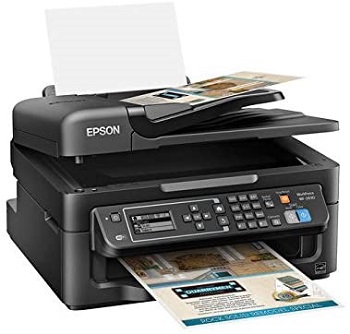 Printing Speed And Sheet Capacity
It weighs 12.8 pounds, so it's lightweight. The maximum printing speed for black ink is 9 ISO ppm and color ink is 4.7 ISO ppm. The maximum printing capacity is 100 sheets, and an automatic feeder can take 30 pages. It has a control panel for adjusting printing speed and other settings. You can combine it with the car wrap machine to make different projects.
Highlighted Points:
works with Epson ink
individual cartridges
multifunctional
9 ISO ppm black ink printing
4.7 ISO ppm color ink printing
BEST FOR SMALL BUSINESS DIGITAL VINYL PRINTER
HP OfficeJet Pro 7740 All-In-One Printer
4in1 Model
This model cuts digital print vinyl. The model is multifunctional so it can copy, scan, fax, and print. The digital vinyl printer connects to other devices such as mobile and laptop with a wireless connection and USB cable. You can scan to email and connect with Ethernet.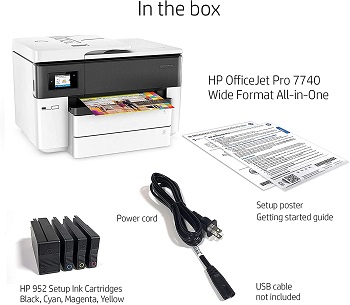 Connects To Cloud Services
You can also scan and print from cloud services such as iCloud, Dropbox, and Google Drive.  The AirPrint mobile app allows you to print directly from the phone. Another user-friendly feature is automatic duplex printing so the device prints on both sides without a manual paper setting.
Speed And Capacity
HP Smart App is a great addition to your phone that allows you to control the print and order more ink. The device also has an automatic feeder which is very user-friendly and great for business. The machine can take up to 500 sheets of paper with two 250-sheet paper trays. The maximum speed for black ink is 22 ppm and for colored ink is 18 ppm.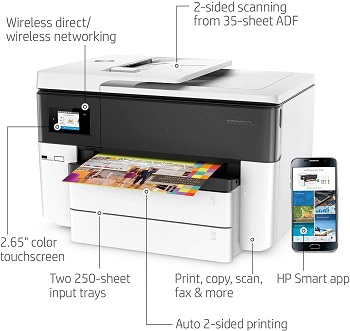 Ink Cartridges And Touchscreen
This model will work with two ink cartridges: HP 952 standard/XL and HP965XL. Both are included in the package. This vinyl stencil printer has a color touchscreen to adjust to different settings. Also, it features an 11" long and 17" wide scanbed. However it can't print MS Office from a USB drive, and it doesn't feature NFC touch-to-print function
Highlighted Points:
wireless, USB cable, Ethernet
cloud services
500 sheets capacity
ink cartridges included
22 ppm (black) and 18 ppm (color) printing speed
BEST COMMERCIAL DIGITAL VINYL PRINTER
Sawgrass Virtuoso SG400 Sublimation Printer
Sublimation Printing
This digital vinyl printer is made for sublimation printing. It uses sublimation paper and it's suitable for printable vinyl. The sublimation ink when heated turns from solid to gas and applies to the surface. When it cools it turns solid and becomes permanent. The printer uses sublimation paper and SUBLIJET-HD inks that are included in the package.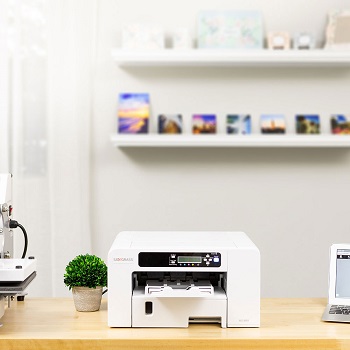 Sheet Capacity And Software
It could be a great addition to a commercial vinyl cutter. The maximum capacity is 110 sheets.  With this model you0'll get the Online Designer Software and Stock Design Library. The machine has a control panel with an LCD that allows easy navigation and settings adjustment.
Media Resolution And Size
The printer works with Windows 7/8 and Mac OSX 10.6 and above. The maximum resolution is 1200 x 1200 dpi and the maximum media size is 8.5" wide and 14" long. Therefore you can use vinyl that's up to 8.5" wide, which is suitable for printing small projects such as stickers or signs.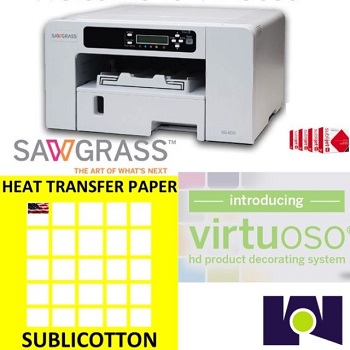 Connectivity And Warranty
The unit is compact. It's 20" long, wide and high and it weighs 40 pounds. You can use it both at home and office. It connects to devices such as computers, tablets, or phones by WiFi or USB cable. It comes with a 2-year limited warranty.
Highlighted Points:
sublimation ink and paper
Online Designer Software
for Windows and Max
maximum media size is 8.5" wide and 14" long
2-year limited warranty
BEST LARGE DIGITAL VINYL PRINTER
Canon iPF770 Large-Format Printer
Fast And Precise printing
This model works with printable vinyl and the large vinyl cutter can be a great combination with it. The printing is very fast so it can produce an A1 print in 25 seconds using economic operating mode. Also, it prints with high precision and shows settings status on the LCD with a control panel.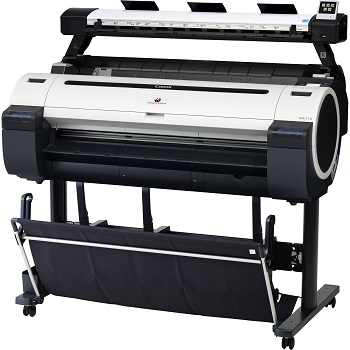 Sub-Ink Tank
A very user-friendly feature is the additional sub-ink tank with the main ink cartridge. It allows you to use all ink in the tank and also you can replace the ink while printing without stopping the process. Also, this digital vinyl printer includes software for additional functions.
Print From Clouds And Phone
So you'll get direct Print and Share that allows you to upload, download, share and print files from any cloud service such as Dropbox, Google Drive, and OneDrive. The Prograf Print Utility is a mobile printing app so you can print PDFs when using Apple iPad.
Software For Large-Format Printing
Accounting Manager software is tracking job costs while the Print plug-in for Microsoft Office enables large-format printing of documents made in Word, Excell, and PowerPoint.  Also, you can use Poster Artist Lite poster creation software to create professional large format prints. The unit is 55.5" long, 43" wide, and 31" high. It weighs 224 pounds.
Highlighted Points:
works with two types of adhesive vinyl
sheet and roll feed
30 seconds per page maximum printing speed
software and app for printing from mobile phone
works with HP ink cartridges only
Things To Know About Digital Vinyl Printers
Digital vinyl printers are a great addition to any desktop vinyl cutter you have, especially for making stickers, signs, logos, and other graphic designs.  To inkjet ink can print on the vinyl. However, only a few printers will work with vinyl which depends on vinyl type and thickness. For more info, read this buying guide.
Vinyl Type – When buying a digital vinyl printing machine, check the type of vinyl you can use. For example, some models can use printable vinyl only, while others can also print on adhesive and heat transfer vinyl. The second option is better if you're in the t-shirt business and owning a vinyl sign cutter.
Vinyl Thickness – Each model has its own recommendations for paper weight and thickness. It's great if the printer can work on paper that's up to 20 mils thick, which is around 0.02". Most vinyl sheets are thicker than 20 mils, so you can mostly use printable and adhesive vinyl that is thin.
Ink Cartridges – Market offers universal digital vinyl printers for sale that can work with any ink and specific ones that work with one type of ink. To print on vinyl, you need an inkjet printer. Most of them work only with specific cartridges. Also, it's great when they have a user-friendly design that allows easy replacement.
Software And Apps – Software makes the machine suitable for printing posters, print pdf from the phone, or share, download, and upload files from any cloud to a printer. Apps are necessary to connect a computer, tablet, or mobile phone with the printer. Also, NFC is a great feature that allows wireless connection to the closest device.
User-Friendly Functions – It's great if digital print vinyl features an automatic feeder so you can print without monitoring the process. Also automatic duplex is another excellent function that allows you to print on both sides of the paper without having to manually turn the paper. Both of these features are desirable to have if you run a business.