Are you looking for a copper table lamp that may help you decorate your room or office?
Then you should check the copper desk lamps reviewed in this article!
There are a lot of models worth considering and buying on the market and you can see the selection of the best lamps in this post. Find the right model quickly checking the summary and learn more in the reviews and guide at the end.
Our Top Picks
Best 6 Copper Desk Lamps
BEST OF BEST COPPER DESK LAMP
Henn&Hart Industrial Lamp
Industrial Style
Henn&Hart is an elegant lamp inspired by industrial and contemporary styles. You can choose between three colors of the lampshade – copper, brass and clear. Also, this lamp is available as a desk or floor lamp. The overall lamp height is 20.5 inches, the lampshade measures 4.5 x 8.5 inches.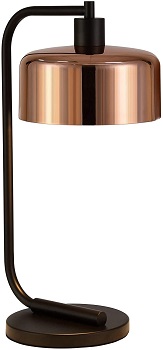 Metal & Steel
Its power cord is 6 feet long. This copper desk lamp is suitable for mid-century, modern, industrial, urban and traditional home or office decors. The manufacturer uses premium materials for making this lamp, metal for shade and steel for the frame and base.
Compatible With LED
Henn&Hart stylish desk lamp has UL-certified wiring components. This lamp is ideal for bedroom, nightstand, living room, dining room, dorm room, office,… It uses an E26 base bulb with a  maximum wattage of 60W. Henn&Hart lamp is compatible with LED bulbs.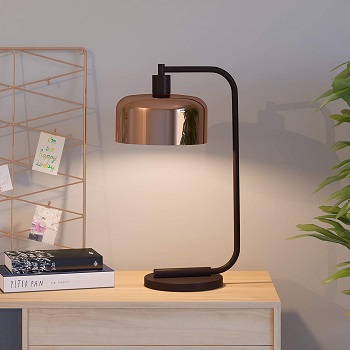 Smart Light Bulbs
Also, this attractive table lamp is compatible with smart light bulbs, which include Philips Hue, LIFX, IOTTY, TP-Link, Texens, Flux, Samsung SmartThings, WiZ and C by GE. None of these bulbs isn't included in the package, you need to buy them separately.
Highlighted Points:
requires E26 base bulb
compatible with LED and smart light bulbs
features UL certified wiring components
made from premium materials
rich copper shade
available in three colors
BEST MODERN COPPER DESK LAMP
Sottae Modern Table Lamp
Rose Gold Lamp
Sottae lamp is inspired by both modern and traditional lamp styles. It is available in rose gold and black color. This is a small-sized lamp, its overall height is 15.7 inches and the lampshade width is 9 inches. It is a bit bigger than the iPad. The price is high.
Geometric Cage Base
This copper desk lamp weighs 2.5 pounds. You can place it in your bedroom, living room, dining room, office. It fits on any nightstand, end table, coffee table or desk. There is a modern cage geometric base made of metal that adds a touch of elegance.
ETL Certified
Sottae small modern desk lamp features a hollow base with a white lampshade, it is a unique item. This lamp is tested and it passes strict requirements which are proven by the ETL certificate. It requires a standard E26 base bulb.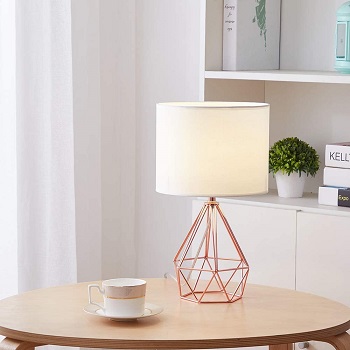 Warm Light
Sottae is compatible with LED, CFL and incandescent bulbs. But you need to buy a bulb separately because it isn't included in the package. The on/off switch knob is located on the cord. This premium white lampshade emits soft and warm light and creates a cozy atmosphere.
Highlighted Points:
small table lamp
suitable for living rooms, bedrooms, dining rooms
elegant rose gold finish
quality white lampshade
compatible with LED, CFL and incandescent bulb
modern cage geometric base
BEST BLACK AND COPPER DESK LAMP
Adesso Black/Copper Desk Lamp
Designer Lamp
Adesso lamp is available in two sizes – as a desk lamp or floor lamp. Also, you can choose between two colors, black and copper and black and grey. This is a designer lamp so its price is very high. Design Team Leko made this Lazzaro collection.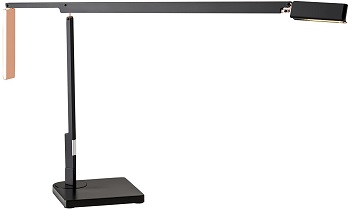 Shiny Copper Accents
It features a modern matte black finish with shiny copper accents. Also, this copper desk lamp has straight lines and sharp edges. A copper counterweight keeps the lamp balanced at whichever angle you set it. Adesso desk lamp is covered with a 1-year warranty.
UL & ETL Certificates
This modern black desk lamp is tested and meets UL and ETL certificates. The lamp dimensions are 18 x 36 x 13 inches and it weighs 10 pounds. It is stable, so it isn't easy to tip it over. Adesso is adjustable at every joint, it reaches from 14.5 to 24 inches of height.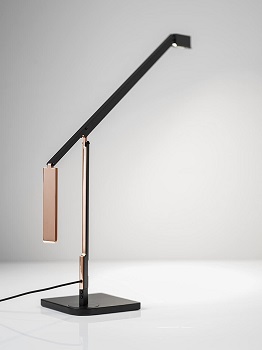 4-way Touch Switch
Also, you can rotate the lamp left and right and adjust the light exactly where needed at the moment. That makes it a perfect lamp for office or other precise tasks – reading crafting, etc. The 6W LED bulb is included and the 4-way touch switch is located on the lamp pole. It is a dimmable lamp.
Highlighted Points:
pricey desk lamp
UL and ETL certificates
6w LED bulb included
4-way touch switch
adjustable base, arm and shade
modern matte black finish with copper accents
BEST TASK COPPER FLOOR DESK LAMP
Jonathan Metal Task Lamp
Floor Desk Lamp
Unlike other lamps on this list, Jonathan is a floor desk, the lamp dimensions are 10 x 12.5 x 57 inches. It weighs 10 pounds, so it's a stable lamp. The manufacturer offers a 30-day warranty for defects only. Contact customer service if you notice any damage.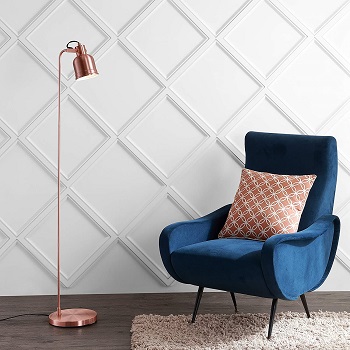 Meets Safety Standards
This floor desk lamp features UL and ETL certificates. It is tested and meets some safety and quality standards. Jonathan has a round base that doesn't take up to much floor space. You can place it next to your desk, reading sofa, behind your couch, office, etc.
Slim Neck
Also, the copper desk lamp has a slim neck and adjustable lampshade. You can move it in different directions and adjust the light depends on your current needs. Jonathan's floor desk lamp is constructed of quality metal and finished with copper that adds warmth to its style.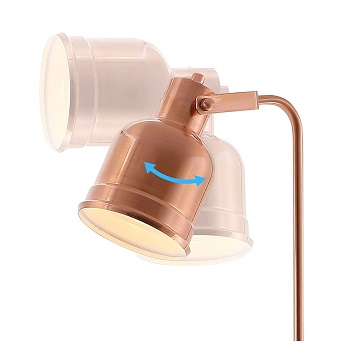 Smart Outlets
It is compatible with Philips Hue and Alexa smart outlets. The included LED bulb has a lifespan of 25,000 hours. Meaning, it could last for 10 years, that depends on usage. It provides soft, flicker-free and glare-free light which isn't harmful to your eyes.
Highlighted Points:
slim and elegant floor desk lamp
compatible with smart outlets
made of metal with copper finish
provides soft and flicker-free light
uses highly efficient LED
BEST BATTERY-OPERATED COPPER DESK LAMP
Wonfast Battery-operated Lamp
Small Lamp
Wonfast lamp is inspired by modern, contemporary and vintage styles. The base diameter is 5.1 inches and the lamp height is 11 inches. This is a small lamp suitable to be placed on any nightstand, end table, coffee table, desk, shelf, office or anywhere else.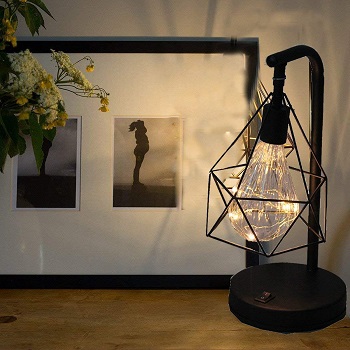 Diamond-shape Shade
This copper desk lamp features a slim and space-saving base, it is made of high-quality iron, so the lamp is solid and resistant to use. It features both purposes, decorative and functional. Wonfast has a hollow diamond shade lampshade which is very attractive.
Small LED
Wonfast battery-operated reading lamp uses a small LED bulb, which is included in the package. It provides a soft and warm white light that creates a cozy ambiance. Use it when relaxing, watching movies, gaming, etc. It isn't designed for task lighting.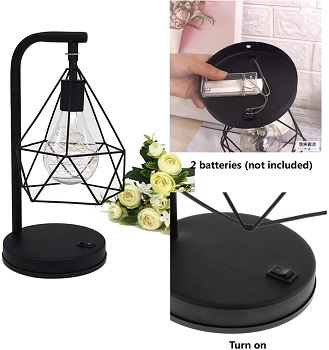 AA Batteries
This elegant table lamp is powered by two AA batteries. Unfortunately, they aren't included in the package. Meaning, you can simply place the lamp anywhere you want. You don't have to worry about the power cord length, Wonfast will run for months on these batteries.
Highlighted Points:
requires 2 AA batteries
uses a small LED bulb
provides soft and warm light
creates relaxing atmosphere
made from high-quality iron
BEST OFFICE COPPER DESK LAMP
NA Fine Copper Desk Lamp
Attractive Design
NA lamp features a modern round lamp body that looks attractive and matches the contemporary room and office interiors. The manufacturer provides a 3-year warranty, so if there is any defect within that time, contact customer service. Its price is high.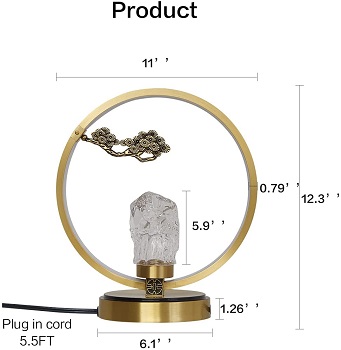 Pure Copper
The overall height of this copper desk lamp is 12.5 inches, the diameter of the lamp is 11 inches and the diameter of the lamp base is 6.1 inches. Its power cord is 5.5 feet long. NA aesthetic desk lamp is made of pure copper and the crystal mountain is made of high-grade crystal glass.
Cultural Connotations
The manufacturing process of this lamp is a bit different. Every copper part is machined manually on a lathe. It is a difficult and demanding process. NA lamp is full of cultural connotations – the round body symbolizes the world, the mountain and pine tree decorations symbolize heaven and earth.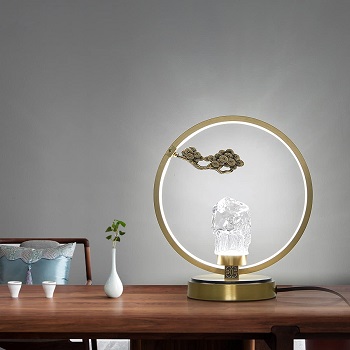 LED Beads
Its design express wishes for health and longevity. NA lamp uses LED beads which are rated for up to 50,000 hours. It provides a color temperature of 4000K, which is bright enough for reading. This lamp can be matched with various decorative styles.
Highlighted Points:
attractive round table lamp
covered with a 3-year warranty
demanding manufacturing process
long-lasting LED beads
full of cultural connotations
color temperature – 4000K
Things To Know About Copper Desk Lamps
Here you can read about top-grade copper desk lamps and their features. In this section, you can learn more about important lamp features you need to take into account before buying. Read about the material, light bulbs, safety standards and other relevant info.
Copper Material – Copper is a metal often used in many manufacturing processes. It features some advantages, that includes high thermal/electrical conductivity, it is soft, ductile and malleable metal versatile for manufacturing, it's resistant to corrosion and recyclable. Also, you can check the bronze desk lamps, bronze is an alloy of copper.
E26 Base Bulb – Different light bulbs are classified according to their shape, there are types A, B, F, TR, G. Many lamps in the list above requires E26 base bulbs. The number following the E indicates the size in mm of the external thread screw. Thus an E26 has a 26mm base diameter.
LED Light – Some lamps still use incandescent, CFL or halogen bulbs. But LED bulbs have so many advantages, that includes low heat production, it is most energy-efficient and has by far the longest lifespan, which is up to 50 times that of an incandescent bulb.
Task Lighting – There is a big difference between whether you need a task lamp or an ambiance lamp. If you need a lamp for work, reading or crafting, choose the lamp with flexible design and dimmable settings with high color temperature (at least 4000K).
Safety Standards – You might notice that some of these copper desk lamps have UL and/or ETL certificates. Both are Nationally recognized testing laboratories (NRTLs). They serve as non-government labs, so operate independently. They help ensure that products are safe.