Do you want to upgrade your modern office with a quality desk lamp and provide perfect illumination?
If you do, then check these modern black desk lamps we've reviewed in this article. But before you buy any of those models, you need to take some factors into account. Therefore, we've prepared a useful buying guide with all the important info.
Our Top Picks
Best 6 Modern Black Desk Lamps
BEST OF BEST MODERN BLACK DESK LAMP
Otus LED Desk Lamp
Aluminum Alloy Lamp
This quality lamp is made of aluminum alloy and silicone, it is sturdy, durable and pleasant to the touch. You can adjust the lamp height from 23 to 27 inches. It features an extra-wide light panel, it is 31.5 inches wide. Designed for larger workbenches.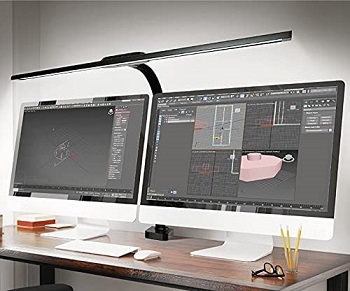 Strong Metal Clamp
Otus modern black desk lamp features a strong metal clamp, you can mount it firmly to any table or office desk which thickness range from 0.6 to 2.9 inches. This clamp will hold the lamp stable in any position. It has anti-scratch pads that protect your desk.
20W LED Panel
This modern task lamp features a flexible silicone gooseneck, you can bend it at any angle and direct the light exactly where needed. There is a 20W ultra-bright LED panel that covers twice a larger desk area than other office desk lamps.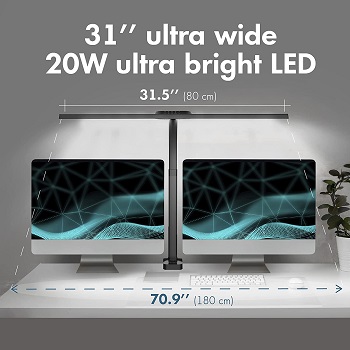 Smart Light Function
You can use it as multi-screen monitor light. The control panel is located on the lamp head. You can choose between five color modes and five brightness levels. Also, there is a memory function, auto-off timer and smart light function. This smart function automatically adjusts the brightness according to the ambient lighting conditions.
Highlighted Points:
ultra-wide LED lamp
mad of aluminum alloy and metal
the strong clamp keeps the lamp stable
flexible silicone neck
multiple color modes
smart light function
BEST CLAMP MODERN BLACK DESK LAMP
AmazLit Adjustable Desk Lamp
Brushed Matte Black Finish
The package includes a desk lamp with clamp, UL power adapter and user manual. AmazLit is made of aviation-grade aluminum alloy with a brushed matte black finish. It is covered with a 24-month warranty and 24/7 available customer service.
Wide Clamp
AmazLit features an extra-wide metal clamp that is equipped with silicone pads. These pads will protect your desk from scratches and damage. This modern black desk lamp will maximize your workspace, so you can use it for large desks. Its cord is 71 inches long.
98 LEDs
This adjustable reading lamp uses high-efficient 98 LEDs that consume less energy than traditional bulbs. Its expected lifetime is 50,000 hours. AmazLit is compatible with smart outlets and wall switches, which means you can control the light via a smart outlet.
Set Color Temperature
There is a wide range of color temperatures, choose from 3000K to 5500K. The low color temperature is suitable for relaxation and the higher color temperature is good for reading and working. Moreover, there is a timing function and memory function.
Highlighted Points:
comes with a UL-listed adapter
extra wide clamp with silicone pads
made of aviation-grade aluminum alloy
efficient 98 LEDs
compatible with smart outlets
wide range of color temperature
BEST WIRELESS MODERN BLACK DESK LAMP
Deke LED Desk Lamp
Elegant Lamp
Deke is an elegant and slim desk lamp available in black, pink and white color. Its overall height is 14.5 inches, the lamp head is 7 inches and the base width is 4.7 inches. Deke lamp features an energy-saving LED that emits soft and flicker-free light.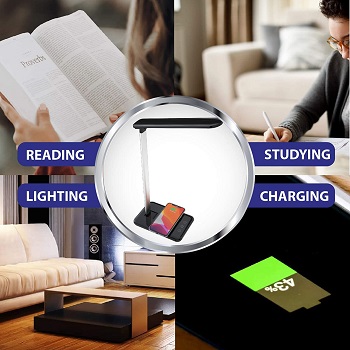 Wireless Charging Base
This modern black desk lamp is equipped with a wireless charging base, it is able to power all Qi-enabled devices. You just need to place your mobile phone on the lamp base and it will start charging automatically. Suitable for Samsung Galaxy and iPhone.
Rotatable Base
Its solid base won't take up too much desk space, also, it is sturdy and stable. This LED lamp with a wireless charger also features a built-in 5V/1A USB output with an extended cord. The lamp base is rotatable and you can adjust the lamp body at different angles.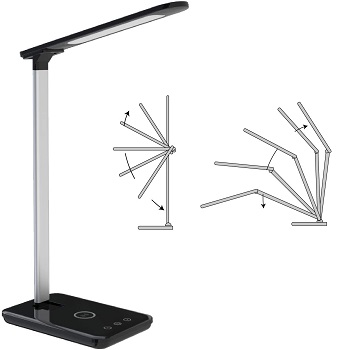 LED Beads
This is touch operated office lamp, there are three buttons – for power, type of lighting and brightness. The high-quality LED beads provide you with a comfortable light, so you can work, read or study for hours without eye strain or fatigue.
Highlighted Points:
small and practical office lamp
wireless charging base for Qi-enabled devices
built-in USB charging port
rotatable base and the adjustable lamp body
touch-operated lamp
LED beads will protect your eyes
BEST SWING ARM MODERN BLACK DESK LAMP
Eurobird Industrial-style Lamp
Lamp With Clamp
Eurobird is an affordable desk lamp that comes in black color only. The package includes a lamp, USB power adapter, user manual and mounting accessories. Eurobird is made from aviation-grade aluminum alloy and silicone. The cord length is 51 inches.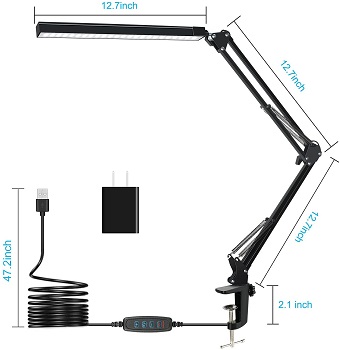 Silicone Pads
It is covered with a 24-month warranty. The modern black desk lamp has a strong metal clamp with silicone, it won't scratch your desk. This clamp supports up to 2.1 inches tabletop and holds the lamp securely in place. It is stable and won't tip over. Eurobird has a swing arm, so adjust the lamp position.
Energy-saving LEDs
Eurobird adjustable arm desk lamp uses energy-saving LED strips, they provide uniform, flicker-free light. It is safe for you and your children. These LED strips have an ultra-long lifespan, they last up to 50,000 hours. You don't have to replace them.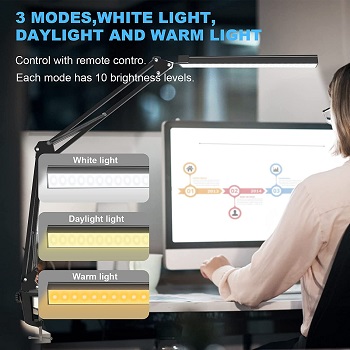 Remote Control
There is a useful touch function, so it is easy to operate, just double click the switch to adjust color temperature (3000K-4000K-6500K). If you hold the button, you will change the brightness level. Eurobird comes with remote control for easier control.
Highlighted Points:
modern desk lamp with clamp
covered with a 2-year warranty
made from aviation-grade aluminum alloy
strong clamp with silicone
energy-saving LED strips
comes with remote control
BEST LED MODERN BLACK DESK LAMP
Himoon Adjustable Desk Lamp
Large Lamp
Himoon is a large desk lamp ideal for big workspaces, it can illuminate a large desk area. The lamp arms measure 15 x 15 inches and the light head has 12.8 inches. The extra-wide clamp is durable, scratch-free and keeps the lamp firmly and stable.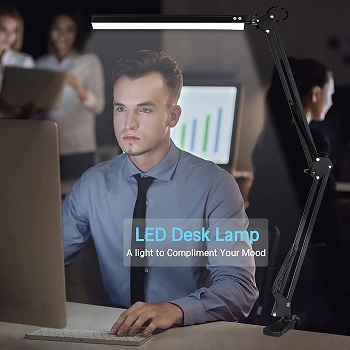 Metal Clamp
This metal clamp supports up to 2 inches tabletop. It is easy to attach it to any horizontal surface. Himoon modern black desk lamp can be used in dorm, office, home, school, it is suitable for working, reading, studying, drawing and crafting.
Long-lasting LED
Himoon modern LED desk lamp uses high-quality LED, it consumes less power than traditional bulbs and lasts up to 50,000 hours. This light doesn't cause eye strain or eye fatigue. Set the different color modes and brightness depends on your current task.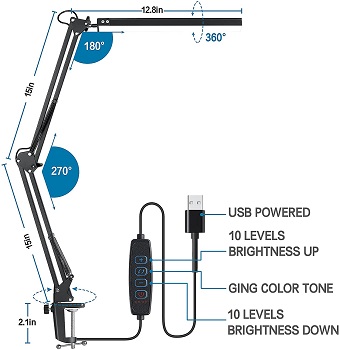 Adjustable Light Modes
You can choose between three light modes and ten brightness levels. There is warm light (3200K), warm white light (4200K) and cool light (5800K). For reading or working, set the cool white light and high brightness. The memory function will remember your last used setting.
Highlighted Points:
tall and big lamp ideal for a large workspace
extra wide clamp
uses high-quality LED
ey-friendly light
three color modes for different occasions
BEST BATTERY-OPERATED MODERN BLACK DESK LAMP
Moico LED Desk Lamp
Space-saving Lamp
Moico is a compact and space-saving desk lamp available in two neutral colors – black and white. It is constructed of high-quality aluminum alloy and ABS material. There is an anti-slip base that keeps the lamp stable, so it doesn't fall over.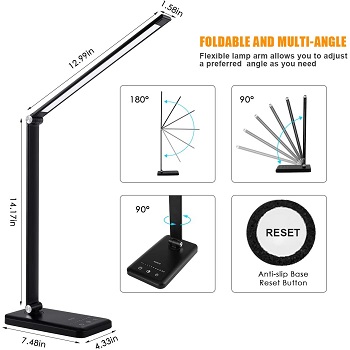 Rechargeable Battery
This modern black desk lamp has a built-in 3000 mAh rechargeable battery. That battery can be quickly charged via USB in four hours. When fully charged, it will last about 48 hours on minimum brightness. At maximum brightness, it will last four hours.
52 Pcs LED
Moico battery operated reading lamp has a built-in 5V/1A USB port, charge your smartphone and keep it in your arm's reach. This lamp is equipped with 52 pcs LED which expected lifespan is up to 50,000 hours. They emit soft light that relieves eye fatigue and eye strain.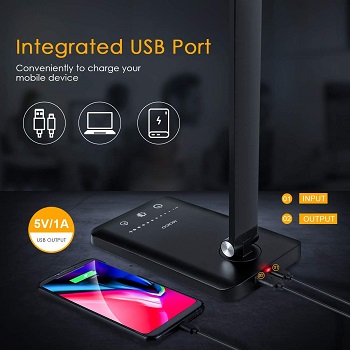 Flexible Lamp Arm
On the lamp base, there is sensitive touch control. You can change color temperature (from 3000K to 6500K) and brightness levels. Moico will meet all your needs on different occasions. The flexible lamp arm allows you to adjust the preferred angle.
Highlighted Points:
compact black desk lamp
made from aluminum alloy and ABS
built-in rechargeable battery
equipped with 52 LEDs
sensitive touch control
flexible lamp arm
Things To Know About Modern Black Desk Lamp
The market is full of modern black desk lamps, so it is a bit tricky to find a perfect model for your office. Here we explain some basic things you need to know before purchase, which include bulb type, color modes, flexible design, etc.
Lamp Size – The size of the lamp is very important, so there are two things you need to consider – the size of the lamp and the size of the footprint. Also, your desk size is very important. If you want to illuminate a large workbench, pick a tall and large lamp.
Clamp Lamp  – These space-saving lamps come with a strong metal clamp that is able to hold a lamp securely in a place. Before installation, read the instruction. There is a small tip – buy a lamp which clamp is equipped with silicone pads, they protect the desk from damage.
Adjustable Design – The adjustable LED desk lamps have many advantages. They allow you to direct the light where need it at the moment. An adjustable modern black desk lamp body provides more flexible lighting and a larger lighting area. Usually, you can rotate the lamp base and adjust the lamp arm.
Light Bulb Type – Even if all light bulb types have their advantages, we think the best choice for office isn't halogen, CFL or incandescent bulbs. LED bulbs are currently the best you can buy, they last longer, they are energy efficient and produce low heat.
Color Modes – Most traditional lamps come with fixed color temperature and brightness levels. But almost all modern lamps offer multiple color modes and brightness levels. Set the cool white light while working and use the warm white light when you want to relax.