Are you interested in a desk lamp that will brighten up your office or home?
There is a wide range of chic desk lamps in the market!
For this article, we found the lamps that are the ultimate blend of form and functions. Find the inspiration in our list, there are best-rated table/desk lamps that bring elegance and a touch of modern style into any room. Also, we prepared a useful buying guide for successful shopping.
Our Top Picks
Best 6 Chic Desk Lamps
BEST OF BEST CHIC DESK LAMP
LMS Dimmable Desk Lamp
Unique Design
LMS is a unique and attractive table lamp that matches modern living rooms, offices, dining rooms, guest rooms. Its overall height is 22.8 inches, the base diameter is 7 inches and the lamp head measures 6.1 x 6 inches. LMS desk lamp has a high price.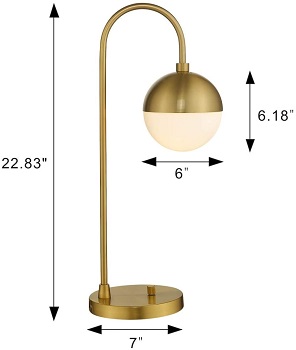 Easy Assembly
It isn't a small pretty desk lamp, it is taller than ordinary lamps. You can place it on your desk, workbench, office desk, table, end table, etc. When the lamp arrives at your address, you need to assemble it. It is simple, just follow the included instruction.
Gold Brass Finish
This aesthetic desk lamp requires a 110V outlet. It is compatible with an E26 LED Edison bulb with a maximum wattage of 40W. The bulb isn't included in the package. LMS lamp is made of metal with brushed gold brass finish and white opal globe shade.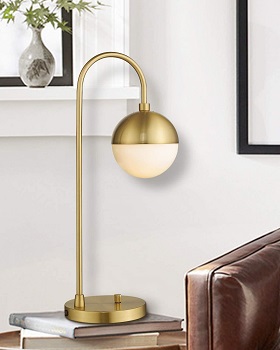 Dimmer Switch
LMS tall and slim lamp stands on a round base, it is stable and won't tip over easily. This white glass shade emits soft and warm light and creates a cozy atmosphere. On the lamp base is a dimmer switch, so you can easily control the light intensity.
Highlighted Points:
metal lamp with brushed brass finish
opal white glass shade
requires assembly
compatible with E26 Edison LED
emits a soft and warm light
dimmer switch on the lamp base
BEST VINTAGE CHIC DESK LAMP
Melunar Brass Desk Lamp
Vintage Inspired Design
Melunar is a really beautiful vintage-inspired lamp suitable for any rustic or industrial-designed interior. The lamp dimensions are 19 inches in height, base diameter is 5.5 inches and lampshade measures 5.5 x 6.5 inches. Its price is acceptable.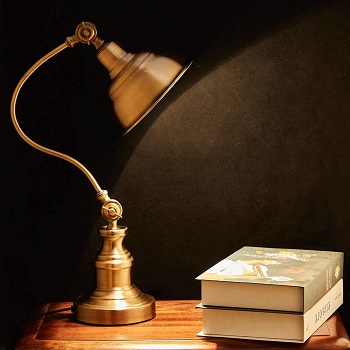 Metal Construction
The on/off switch is located on the power cord. The length of the power cord is 56 inches. Melunar chic desk lamp has both decorative and practical purposes. Construction is made from durable and quality metal with an elegant brass gold finish.
UL-listed Lamp
It will decorate your living room, guest room, dining room, office, library, etc. This vintage reading lamp is a tested and UL-listed lamp, so it is pretty safe for use. Thanks to quality materials, it is a durable lamp and you can use it for years.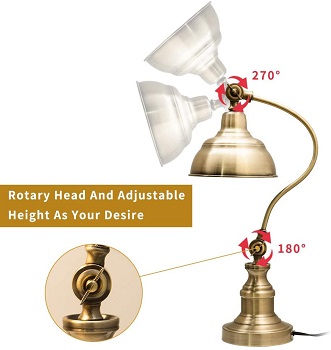 Adjustable Lamp
Suitable for type A base bulbs with a maximum wattage of 40W. The bulb isn't included in the package. You can rotate the lampshade and direct the light where needed. Also, this lamp has adjustable height. Just unscrew the buttons and adjust a lamp as you wish.
Highlighted Points:
vintage-inspired design
it requires a type A base bulb
adjustable lamp height
UL-listed lamp
adjustable lampshade
made from quality and durable metal
BEST LED FANCY DESK LAMP
Miluolan Minimalist Desk Lamp
Spiral Design
Miluolan lamp features a modern and minimalist design. It features a spiral shape which is very attractive and unique. Also, this lamp is available in black and white color. Its overall height is 15.7 inches and its lamp base diameter is 4.7 inches.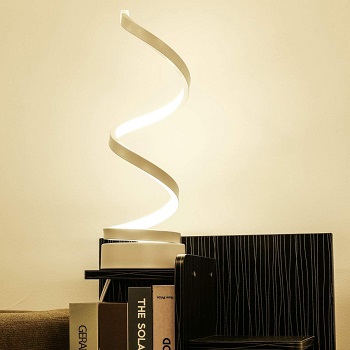 Plug & Play
This fancy desk lamp suits modern and stylish rooms and offices. You can place it on a shelf, dresser, nightstand, table, end table, etc. Miluolan lamp doesn't require assembly, just unpack it and plug the power adapter into an outlet.
Built-in LED
Miluolan cool office lamp features a built-in 24-watt LED fixture which has low energy consumption and doesn't need any replacement. It delivers flicker-free and eye-friendly light. Miluolan table lamp is made of aluminum and silica gel.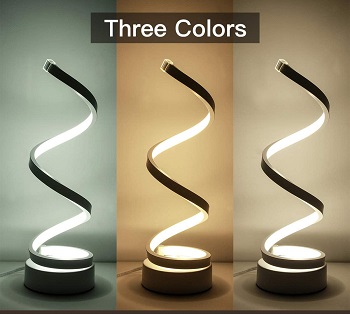 Three Modes
There are three color modes you can choose from. Set the white light, warm white or warm yellow light, depends on your current needs. Use this lamp for reading and set the white light which will boost your energy level and keep you awake.
Highlighted Points:
unique spiral-shaped design
pleasant and soft light
built-in 24W LED
made from aluminum and silica gel
three color modes
low energy consumption
BEST MODERN PRETTY DESK LAMP
Mlambert Touch Control Table Lamp
Eye-catching Lamp
Mlambert lamp is inspired by modern and industrial styles. This eye-catching lamp fits on any desk, table, nightstand or end table. Its height is 16 inches and the round base has 6 inches in diameter. If there is any defect when the lamp arrives, contact customer service.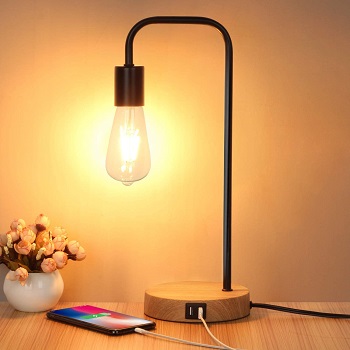 Dimmable LED Bulb
The package includes a lamp, user manual and dimmable LED bulb. You need to install the bulb into the lamp and plug in the power supply. This stylish desk lamp is designed for indoor use only and it isn't waterproof. Mlambert provides a cozy atmosphere.
Two USB Ports
This modern LED desk lamp provides flicker-free and non-glare light, which is safe for your eyes. Also, it is equipped with two USB charging ports, which are located on the lamp base. You can easily charge your mobile phone, tablet, e-reader and other electronic devices.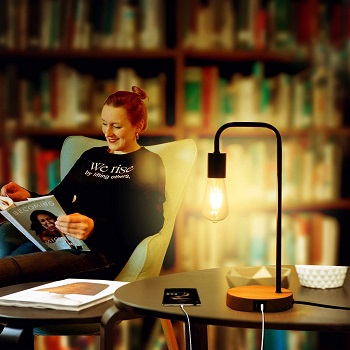 Four Modes
Both USB ports work whether the lamp is on or off. There is a touch-sensitive switch, you can choose between four settings – off, low, medium and high. Low light is ideal as nightstand mode, while high light is suitable for reading. Tap anywhere on the metal base and set the brightness level.
Highlighted Points:
contemporary and industrial desk lamp
dimmable LED bulb included in the box
delivers flicker-free and soft light
two USB charging ports
touch-sensitive switch
four brightness levels
BEST SHABBY CHIC STYLISH DESK LAMP
Regency Hill Shabby Chic Lamp
Beautiful Lamp
Regency Hill is a beautiful table lamp, ideal for romantic souls. The set includes two lamps designed for the bedroom. You can have one lamp on each nightstand. Of course, you can place it in your living room, dining room, guest room,…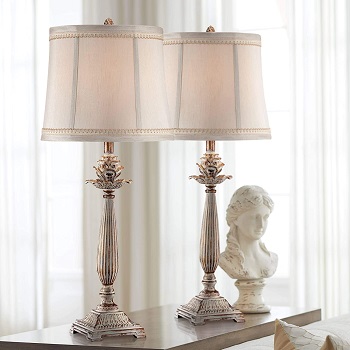 Antique White Finish
The overall lamp height is 28 inches and the lampshade measures 10 x 12 x 10 inches. This pretty desk lamp features polyresin construction with an antique white-washed finish and hand-painted details. Its beige shade is made of durable and quality fabric.
Standard Base Bulb
Regency Hill decorative desk lamps could be shipped in multiple boxes. Each shabby chic desk lamp uses one standard 100-watt base bulb. The package doesn't contain bulbs, you need to buy them separately. The on/off switch is located on the socket for convenient use.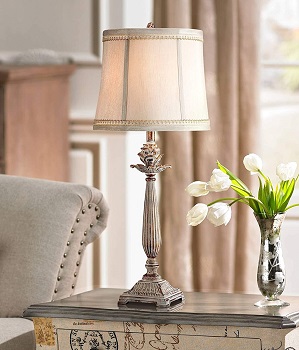 Recommended Bulb Types
The manufacture recommends incandescent, halogen, LED or CFL light bulbs. Buy a standard medium base bulb and if you decide to install halogen bulbs, don't touch them with bare hands when installing. Whichever bulb you install, this lamp will emit soft and cozy light.
Highlighted Points:
beautiful and romantic table lamp
set of two lamps
works as a nightstand lamp or side table lamp
antique white washed finish
polyresin construction
compatible with LED, halogen, CFL, incandescent bulbs
BEST FOR READING CHIC DESK LAMP
Co-Z Industrial Table Lamp
ETL-certified Lamp
This beautiful desk lamp is inspired by rustic, vintage and industrial design. Co-Z desk lamp is backed by a 1-year warranty and has an ETL certificate. It is safe for use, thanks to its outstanding quality and unparalleled safety. Its price is acceptable.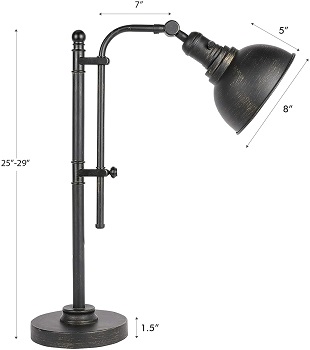 Adjustable Height
This attractive chic desk lamp's round base is 1.5 inches high, the lampshade measures 8 x 5 inches and the height is adjustable. You can extend it from 25 to 29 inches and adjust it to your current needs. Co-Z lamp is suitable for large and small desks and tables.
Compatible With LED
Co-Z adjustable reading lamp comes with 5 feet long power cord. It is compatible with E26 Socket type A bulbs. That includes both CFL or LeD bulbs. The package doesn't include a bulb. You can adjust the lampshade and create custom lighting modes.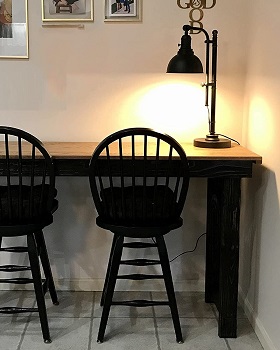 Made From Iron
If you want to complete its industrial look, buy an Edison bulb. The lamppost and lampshade are both made of quality iron and finished in aged bronze with gold highlights. Suitable for modern, industrial, vintage, urban and rustic decored rooms.
Highlighted Points:
inspired by rustic and industrial design
covered with a 1-year warranty
ETL certificate for quality
adjustable height
compatible with LED and CFL bulbs
made from sturdy iron
Things To Know About Chic Desk Lamp
When you buying a suitable stylish desk lamp, you should check its features and specifications, not aesthetic only. So, there are some guidelines that will help you to find the perfect lamp for your needs. Read about lamp purposes, task lamps, light bulbs and other factors.
Lamp Purpose – It is obvious that lamps illuminate your room or desk, but some lamps are designed for decorative purposes only, while others bring more function. If you want a decorative lamp, it shouldn't have all high-tech and modern features.
Task Light – On the opposite side, there are practical task lamps. These lamps provide proper light conditions, light up a specific area, boost your energy level and keep you awake during work or studying. These lamps should have quality features, like color temperature modes and good build quality. Some lamps are both decorative and functional.
Lamp Styles – First, you can find lamps with fixed designs and those with flexible designs. Then there are vintage-inspired lamps, bankers lamps, modern and contemporary lamps, industrial-inspired lamps, buffet, torchiere, piano and many other styles.
Right Lampshade – There are lamps with shade and with exposed bulbs. If you looking for a lamp that provides a lot of ambient light in your room, look for designs in white or light-colored fabric. These ambient desk lightings provide diffused light coming through the sides
Light Bulb – Older chic desk lamps use incandescent light bulbs, they are inexpensive, provide a warm glow and dim settings. Modern lamps use LED light bulbs, that are more energy-efficient, they don't heat that much, use less power and last longer.