Are you looking for a lamp that will add a touch of glamour to your room?
Here is the list of the best-rated crystal desk lamps in the market, so check them and pick the model with shape, size, design and functions you like. We've divided these models into six categories to be easier for you to find the best one.
Our Top Picks
Best 6 Crystal Desk Lamps
BEST OF BEST CRYSTAL DESK LAMP
Tomshine Crystal Table Lamp
Easy Assembly
Tomshine is an elegant table lamp that requires assembly. It is very simple – first, install the E27 bulb base, then fix the lampshade, install the bulb and finally plug the lamp. Its overall height is 12 inches, the lampshade diameter is 4.3 inches and the base is 1 inch tall.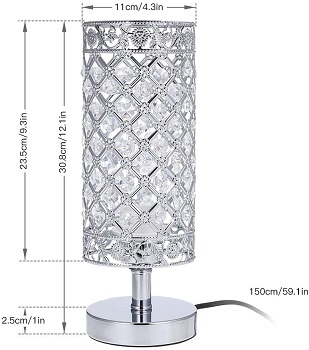 Anti-slip Base
The power plug is 59 inches long. Tomshine crystal desk lamp has 90 pieces of superb crystals, it features a gorgeous and hollow lampshade that will uplift any home decor. The lamp base is made of durable metal and fitted with an anti-slip and protective EVA pad.
UL-listed Lamp
This decorative desk lamp will add a touch of glamour to your room. Tomshine desk lamp is tested and it has a UL certificate, so safe for use. The on/off switch is in the middle of the power cord for convenient use. The lamp is covered with a 1-year warranty.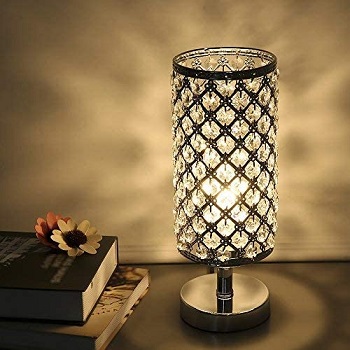 Max 40W
Also, the manufacturer offers a 30-day money-back guarantee if there is any defect. It is important to note that the bulb isn't included in the package. The maximum bulb wattage is 40W. Tomshine round desk lamp isn't dimmable. Its price is affordable.
Highlighted Points:
needs simple installation
UL-listed lamp
covered with a 1-year warranty
metal lamp base with anti-slip pad
90 pieces of crystal
BEST BEDSIDE CRYSTAL DESK LAMP
Popity Decorative Table Lamp
ETL Certificate
Popity is a beautiful home desk lamp that features an affordable price. The lamp height is 18.5 inches and the lampshade is 9.2 inches wide. It requires 120V outlets. Popity lamp has passed the authentication of the ETL safety system.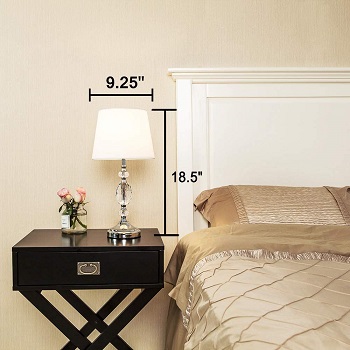 White Drum Shade
Popity crystal desk lamp features a classic white fabric drum shade and crystal base. This lampshade is made of high-quality TC fabric, is very durable. Also, it has insulation to reduce any harmful effects on your eyes and prolongs the lampshade lifespan.
Medium Base Bulb
This modern white desk lamp requires medium base bulbs. It is compatible with LED, CFL and incandescent bulbs. Popity is an elegant and stylish desk lamp perfect for bedroom, living room, dining room or guest room. It is both aesthetic and functional.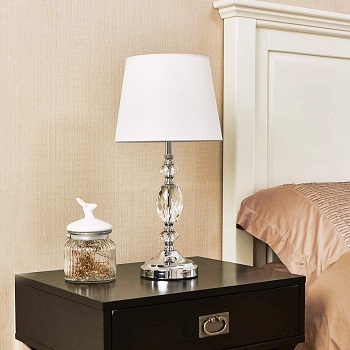 Weighty Lamp
The on/off switch knob is located on the power cord. Also, it is important to mention that the bulb isn't included in the package. The maximum wattage of the bulb is 60W. It is heavy, so Popity desk lamp will stay stable and won't tip over easily.
Highlighted Points:
heavy lamp, won't tip over
affordable price
passed ETL safety system
compatible with LED, CFL and incandescent bulb
maximum 60W bulb
BEST MODERN CRYSTAL DESK LAMP
Grandview Clear Crystal Table Lamp
Two Lamps
The set includes two Grandview desk lamps. There are three models you can choose from – off-white lamp, gold plated lamp and white/pink lamp. Grandview lamp brings simplicity, modernity, classic, sophistication and elegance to your room.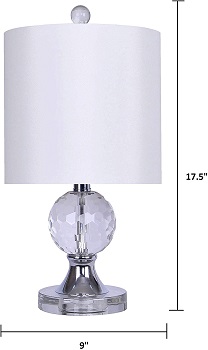 Rotary Switch
Each lamp is 17.5 inches tall, the round base is 5 inches wide and the drum shade measures 9 inches in width and 8.5 inches in height. Each crystal desk lamp requires one 40W type A bulb and it features an E26 socket with a rotary on/off switch.
Silk-like Fabric
These small modern desk lamps have luxurious off-white shades made of silk-like fabric. You can place them in your bedroom, living room, dining room or guest room. They will add class and style to any space. Grandview lamps have an acceptable price.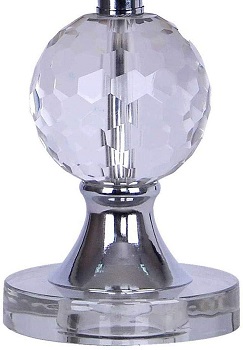 Incandescent Bulb
Also, these lamps are the perfect gift for someone who likes modern and classy styled thins. These lamps will uplift any space and bring elegance to the room. The manufacturer recommends incandescent bulbs, the give warm and cozy light.
Highlighted Points:
set includes two lamps
available in three versions
requires 40W type A bulb
compatible with incandescent bulbs
off-white drum shade
rotary on/off switch
BEST LED CRYSTAL DESK LAMP
Seaside Touch Control Table Lamp
Silver Lamp
Seaside is a very attractive and elegant desk lamp that has an acceptable price. You can choose between a rose gold lamp and a silver lamp. In this short review, we talk about the silver lamp. When the lamp arrives at your address, you need to assemble it.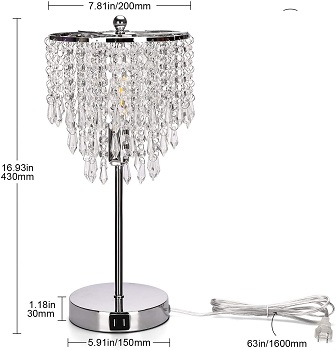 Easy To Install
There are some instructions – first, attach two legs of the lamp harp to the harp saddle, install the bulb, unscrew the metal finial and fix the shade, then screw the metal finial to fix the shade. Very simple. The crystal desk lamp comes with a 63-inch long power cord.
Metal Base
This LED desk lamp with a USB port has a weighted base made of quality metal. It is stable and safe. The box includes 6W LED Candle Bulb, there is no UV or mercury. The manufacture uses high-quality crystal beads, there are 359 pieces.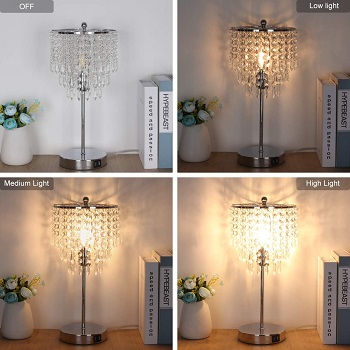 Two USB Ports
The seaside lamp is touch-sensitive, just simply tap anywhere of the lamp to turn on/off the lamp or set the brightness. There are three levels of brightness – low, medium and high. Moreover, Seaside lamp is equipped with two USB ports for your smartphone or tablet charging.
Highlighted Points:
available in two colors
requires simple installation
heavy metal base
included 6W LED Candle Bulb
359 pieces of high-quality crystal beads
three levels of brightness
BEST SMALL CRYSTAL DESK LAMP
Jonathan Crystal LED Lamp
High-end Details
Jonathan lamp is inspired by modern and traditional styles. Its design is modern with high-end details. The lamp dimensions are 9 x 9 x 16 inches. It weighs 9 pounds, so it's very stable. The manufacturer ensures a 30-day warranty for defects.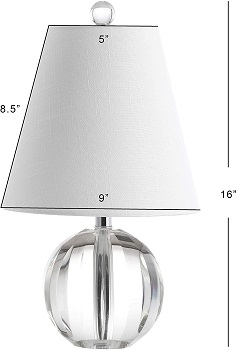 UL-listed Lamp
This crystal desk lamp is ETL-listed and meets UL standards for safety and quality. Jonathan is compatible with Philips Hue and Alexa smart outlets, meaning you can control the lamp with your voice. A high-quality LED bulb is included in the package.
High-efficient LED
Jonathan small desk lamp with shade uses LED bulbs because of their energy efficiency, low heat and long-lasting use. This LED is rated for up to 25,000 hours. The lamp provides soft and flicker-free lighting, which doesn't cause eye strain or fatigue.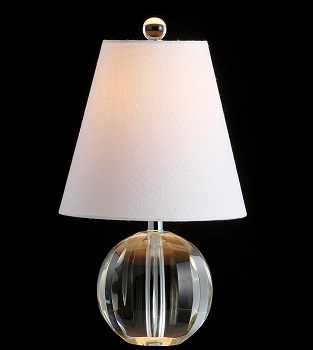 Warm Light
There is a one-way switch so you can conveniently turn the lamp on/off. Jonathan desk lamp creates a cozy atmosphere, you can place it in your bedroom, living room, guest room, dining room, office or somewhere else. Its color temperature is 2700K.
Highlighted Points:
modern desk lamp with high-end details
meets ETL and UL standards
uses high-efficient LED bulb
1-way switch
color temperature  – 2700K
soft and flicker-free light
BEST HOME CRYSTAL DESK LAMP
Acaxin Crystal Table Lamp
Small Lamp
Acaxin is a small table lamp that measures 16.9 inches in height, the lampshade diameter is 5.5 inches and the base is 1.5 inches tall. You can choose between reviewed black table lamp or a gold table lamp. This lamp has an acceptable price.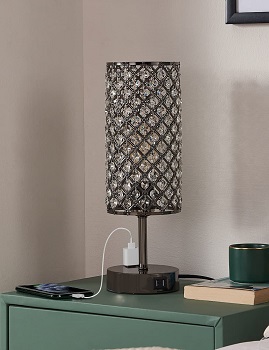 Trendy Lamp
When the crystal desk lamp arrives, you need to assemble it, which takes 3 minutes. The package includes instructions, just follow them. This is a trendy round lamp that doesn't take up much space on your nightstand, end table, coffee table or shelf.
Black Shade
This pretty desk lamp has a black-colored shade that creates a different visual experience. Also, sparkling crystal shimmering and adds a magical touch. It features an additional outlet and two USB ports, allowing you to charge three devices.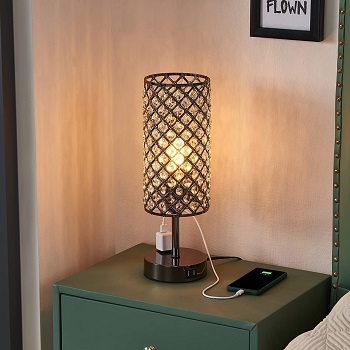 USB Ports
You can use USB ports and the outlet whether the lamp is on or off. This lamp comes with a 4W Edison bulb which delivers a color temperature of 2700K. It requires E26 or E27 base bulbs. It provides soft and flicker-free light that helps you relax.
Highlighted Points:
small round desk lamp
requires assembly
two USB ports and outlet
comes with a 4W Edison bulb
soft and warm light
Things To Know About Crystal Desk Lamps
After reading these reviews on crystal desk lamps, you should check some tips and tricks before your purchase. Here is info about these lamp types, light bulbs, safety standards and other features.
Touch Of Glamour – There is a variety of crystal desk lamps in the market. You can find lamps with crystal lampshades, crystal poles or crystal bases. These lamps bring touch or elegance, glamour and refined style into any room interior.
Safety Standards – You might notice that some of the lamp models meet safety and quality standards. The most popular are ETL and UL standards. They are Nationally Recognized Testing Laboratories (NRTLs), the are non-government labs that help you buy safe products.
LED Vs. Incandescent Bulbs – Older desk lamps use incandescent bulbs while modern lamps use LED bulbs. Both light bulbs have their advantages and disadvantages. Incandescent light bulbs provide warm light and dim settings, while LEDs are more energy-efficient and last longer.
E26/E27 Base Bulbs – Different lamps require different base bulbs. The light bulbs are classified according to their shape. There are many lamps on the list that requires an E26 or E27 base bulb. The number following the E indicates the size in the mm of the external thread screw.
Lampshade Styles – There are a couple of lampshade styles that are very popular. That includes a drum classic desk lamp, shallow drum, classic oval, classic empire, sharp corner rectangle and Pembroke empire. Pick the shade that you like the most.