Are you interested in oil-rubbed bronze lamps that will bring an appealing touch to your home?
Here is the list of the best-rated oil-rubbed bronze desk lamps, so check it and pick the model with the shape and features you like. Various lamps are offered and divided into six different categories to be easier for you to find the best model.
Our Top Picks
Best 6 Oil Rubbed Bronze Desk Lamps
BEST OF BEST OIL RUBBED BRONZE DESK LAMP
Ottlite LED Desk Lamp
Modern Look
Ottlite is a high-quality brand that produces both elegant and durable lamps. This model features a modern industrial look finished in bronze color. This lamp will complement almost any room interior. Ottlite lamp has an acceptable price.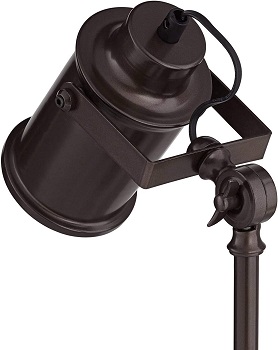 ClearSun Technology
This oil-rubbed bronze desk lamp uses advanced ClearSun LED technology. It is a revolutionary formulation for balanced light. This technology provides natural light, closer to sun's natural spectrum. Most importantly, it reduces eye strain by up to 51%.
Touch Sensitive Switch
Ottlite features an industrial shade with two adjustment points, so you can direct the light where needed. Also, you can adjust the lamp height from 9 to 22 inches. The touch-sensitive switch is placed on the lamp base. This modern task lamp has one switch for all lighting settings.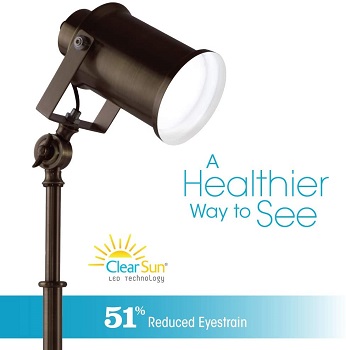 Three Modes
Choose between three color modes – warm white (2700K), bright white (3500K) and natural daylight (5000K). Set the color temperature of 5000K while reading or working. Ottlite features a 5V/2.1A USB charging port for your electronic devices.
Highlighted Points:
elegant and practical desk lamp
adjustable shade
touch-sensitive switch
three color modes
fast-charging USB port
advanced ClearSun LED technology
BEST BANKER OIL RUBBED BRONZE DESK LAMP
Kenroy Home Banker Lamp
Classic Touch
Kenroy lamp is inspired by a vintage bankers lamp, so it provides classic touch into any room. This lamp is 15.5 inches high and 13.2 inches wide. This desk lamp comes with an industry-leading 1-year warranty, contact customer service if there is any problem.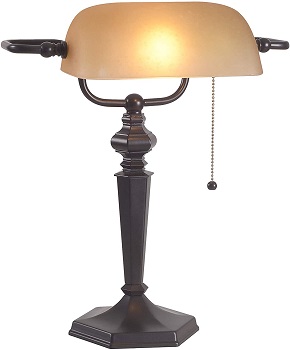 Compatible With Smart Outlets
This antique banker's lamp is compatible with Amazon Alexa or other smart home compatible plugs. Place this oil-rubbed bronze desk lamp on your nightstand, desk, table, end table or coffee table. You can pair it with industrial and vintage accents.
LED Or Incandescent Bulb
Kenroy requires a single 60W bulb, you can buy an incandescent or LED bulb. Its wide amber glass shade diffuses harsh light and creates a warm and cozy atmosphere. Kenloy features a convenient on/off pull chain switch, you can easily control the lamp.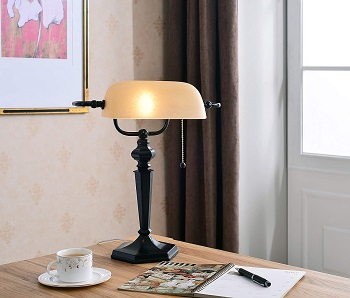 Quality Build
This lamp weighs 5 pounds, it stands stable and won't tip over easily. Kenroy is a traditional banker's lamp with a classic and timeless design, made of high-quality materials. It will transform any living space into elegant and stylish. Its price is high.
Highlighted Points:
requires 60W max bulb
compatible with LED and incandescent bulbs
elegant banker's lamp
wide amber glass
compatible with smart outlets
covered with a 1-year warranty
BEST LED OIL RUBBED BRONZE DESK LAMP
Turnbuckle Industrial Desk Lamp
Dark Brown Color
Turnbuckle is a modern and industrial-style lamp that comes in beautiful dark brown color. It has a high price, but you can use it for decades. Its base is 7 inches wide, lampshade measures 7 x 4 inches. Turnbuckle lamp comes with 8 feet ower cord.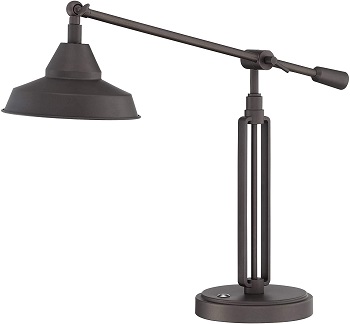 Adjustable Height
You can adjust the lamp height from 16 to 25 inches. This oil-rubbed bronze desk lamp weighs 7 pounds, it is stable. It comes with 7W LED rated at a color temperature of 3000K. That is a warm light that doesn't cause eye fatigue or eye strain.
2.0A USB Port
This adjustable LED desk lamp construction is made of quality and sturdy metal. The on/off switch is located on the lamp base for convenient control. Also, there is a USB port built into the base. There is a 2.0 A USB port for charging mobile phones and other devices.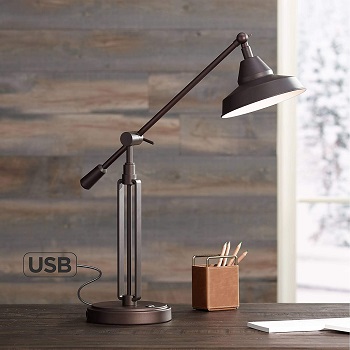 Fits Anywhere
With two adjustable points, you can change the lamp position and direct the light exactly where needed. Use this lamp for casual reading and relaxing. It isn't designed for studying and working. Place it in your bedroom, desk, table, nightstand, etc.
Highlighted Points:
attractive industrial desk lamp
adjustable height and lamp position
fast-charging USB port
on/off switch on the lamp base
comes with a 7W LED bulb
BEST MODERN OIL RUBBED BRONZE DESK LAMP
Kira Home Industrial Lamp
Mid-century Design
Kira Home made this Benson lamp which design is inspired by mid-century, modern and industrial elements. Its base measures 8.5 x 1.2 inches, the lampshade 5.2 x 6 and the lamp arm is 23.5 inches long. This model is available in oil-rubbed bronze and brushed nickel finish.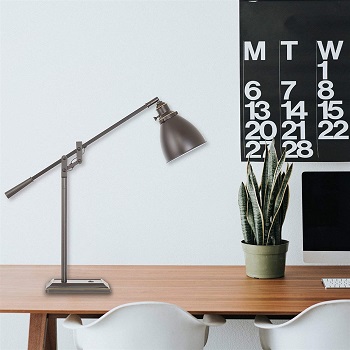 Tested Lamp
Moreover, this lamp is available as a floor lamp and desk lamp. It is a UL-listed lamp, it passes many safety tests. Benson lamp comes with a power cord of 6 feet in length. It is compatible with a smart plug, wall switch and dimmer.
USB Port
The manufacturer provides a 1-year warranty. This oil-rubbed bronze desk lamp comes with one 7W LED bulb, but it is compatible with CFL and traditional incandescent bulbs, too. Benson modern LED desk lamp features 5V/2A USB port on the base.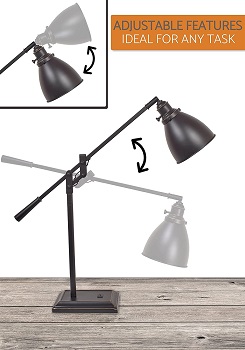 Adjustable Features
You can charge your mobile phone, tablet, e-reader and other electronic devices quickly. Charge your device whether the lamp is on or off. Adjust the light where needed, you can move the lamp pole and lamp head up and down for the best lighting angle.
Highlighted Points:
mid-century and modern desk lamp
compatible with LED, CFL and incandescent bulbs
features 5V/2A USB port
adjustable lamp head and arm
covered with a 1-year warranty
BEST READING OIL RUBBED BRONZE DESK LAMP
HWH Industrial Table Lamp
Elegant Look
This attractive lamp suits modern and stylish living rooms, offices, home offices, dining rooms, guest rooms, etc. HWH lamp is inspired by industrial, modern and vintage design. Except for oil-rubbed bronze, it is available in dark green, blue and orange-pink colors.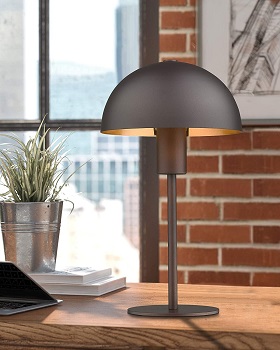 E26 Base Bulbs
Its overall height is 13.8 inches, the lamp base diameter is 5.1 inches and the lampshade measures 7.9 x 3.9 inches. HWH oil rubbed bronze desk lamp is compatible with E26 base bulb with a max of 60W. That includes LED, CFL, incandescent and halogen bulbs.
ETL-listed Lamp
HWH bronze desk lamp is ETL listed lamp, meaning it's tested and safe for use. The manufacture offers 30-day money-back guarantee and a 1-year warranty. If there is any defect within that time, contact customer service. It comes with an on/off switch outlet control.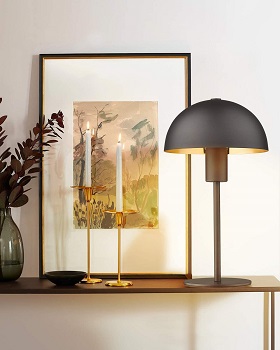 Eye-friendly Light
Constructed of high-quality metal material and finished in dark oil rubbed bronze, this lamp is durable and lasts for years. HWH emits eye-friendly light and creates a perfect and cozy ambiance in any room. Because of soft and warm light, it doesn't cause eye fatigue.
Highlighted Points:
made of quality metal
ETL-listed lamp
compatible with LED, CFL, incandescent bulb
creates cozy atmosphere
inspired by industrial and modern styles
eye-friendly light
BEST INDUSTRIAL OIL RUBBED BRONZE DESK LAMP
Andes Industrial Table Lamp
Farmhouse Style
Andes lamp is a mix of modern, industrial, farmhouse styles. This lamp looks stunning and upgrades any room or office interior. Its overall height is 27.5 inches, the outer shade is 18.3 inches wide and 6 inches high and the inner shade measures 16 x 7.7 inches.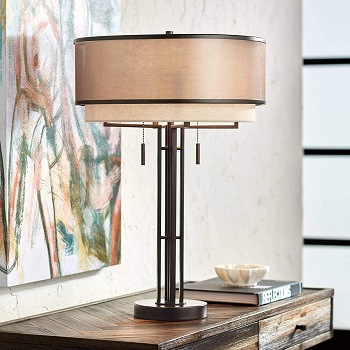 Polyester Fabric Shades
This oil-rubbed bronze desk lamp construction is made of durable and sturdy metal. Both lampshades are made of polyester fabric, not from linen fabric, such as other lamps. Andes aesthetic desk lamp comes with a power cord that is 7 feet long.
Two Bulbs
The lamp construction is finished in oil-rubbed bronze. This dark oil-rubbed bronze complements the lighter neutral double shades. It weighs 10 pounds, the lamp is stable and won't tip over easily. Andes lamp uses two maximum 75W standard medium base bulbs.
Two Pull Chains
Also, there are two pull chains that operate two bulbs independently. Andes desk lamp is compatible with incandescent, LED, CFL or halogen bulbs. The LED bulbs will last longer, use less power and won't produce heat. Moreover, it is compatible with dimmable bulbs.
Highlighted Points:
inspired by the golden age of industrial design
double shade design
polyester shade fabric
made of metal and finished in dark oil rubbed bronze
compatible with LED, CFL, halogen, incandescent bulb
uses two bulbs
Things To Know About Oil Rubbed Bronze Desk Lamp
In this section, you can learn more about these desk lamps. You will find useful info on how to pick the best lamp for your needs, we've covered light bulb types, lamp size, additional features and more.
Oil-rubbed Bronze Lamp – The oil-rubbed bronze finish is a chemically darkened surface designed to simulate aged bronze. This finish is very dark and varies from a deep chocolate brown to a dark grey. Also, it has copper undertones. All that provides an elegant and stylish lamp appearance.
Lamp Size – There aren't some general rules on how to choose the best-sized lamp for your desk. But there is one simple rule – the larger the desk, the larger and taller the lamp. Otherwise, you can buy a lamp with adjustable height and change its height as you desired.
Flexible Design – If you looking for an ambient lamp, you don't have to buy a lamp with an adjustable design. But if you want to use a lamp for different purposes, such as reading, working, crafting or studying, you should check the brass task lamp with a flexible gooseneck or swing arm.
Light Bulb – While some lamps are still compatible with incandescent light bulbs only, there are many models compatible with various bulb types. That includes CFL, LED and halogen. We recommend the LED bulbs, they are energy efficient, produce low heat and last much longer.
Additional Features – Some oil-rubbed bronze desk lamps don't just illuminate your office or home, but come with more useful features. For example, some models in the list above have a built-in USB port. You can charge your mobile phone, tablet and e-reader quickly.