Are you looking for an attractive desk lamp that will complement a modern decor aesthetic?
Here you can find durable, versatile and small modern desk lamps that will brighten your home or office. There is a list of six attractive and unique lamps, so pick the model that is suitable for your space. Also, you can check our quick tips and tricks for a successful purchase.
Our Top Picks
Best 6 Small Modern Desk Lamps
BEST OF BEST SMALL MODERN DESK LAMP
Albrillo Spiral Table Lamp
Spiral Design
Albrillo is an elegant lamp with an attractive spiral design. Its overall height is 16.3 inches and the base diameter is 5.1 inches. Thanks to its small dimensions, it fits on the smallest table, end table or coffee table. The power cord is 59 inches long.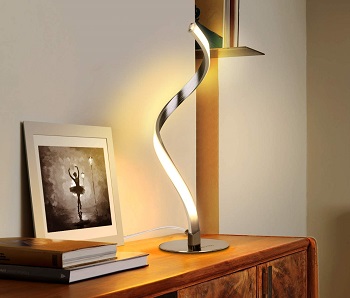 Non-slip Material
The manufacturer applies non-slip material to the small modern desk lamp base. That protects the lamp from falling. Albrillo is covered with a 24-month warranty. If there is any defect or damage within that time, call its customer service and they will solve the problem.
Warm White Light
This portable desk lamp is made of quality aluminum and iron. Albrillo uses SMD LEDs that don't produce stroboscopic. Meaning you can use this lamp for hours, there is no eye fatigue. It provides warm white light with a color temperature of 3000K.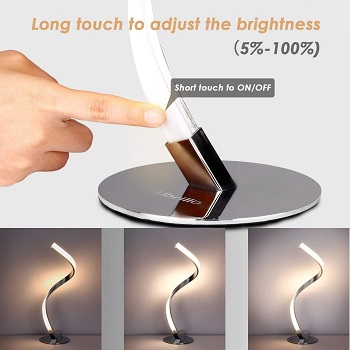 Touch Control
Albrillo will meet your different light needs. With a simple touch, you can change the brightness level and adjust it to the level you want. Change it from dim to white light in few seconds. This lamp fits perfectly in any living room or bedroom.
Highlighted Points:
the elegant spiral design fits anywhere
control it with touch
adjust the brightness level
the color temperature of 3000K
uses SMD LED – don't cause eye fatigue
BEST LED SMALL MODERN DESK LAMP
Nuur C-shape Table Lamp
C-shape Design
Nuur lamp is a very unique product, it features a C-shape design. This manufacturer produces lamps in many other shapes, that includes spiral and similar designs. So, if you want to uplift your space with some unusual detail, choose this lamp.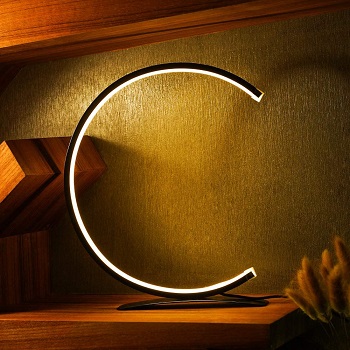 Solid Iron Material
This is a lightweight lamp that is 12.6 inches tall and 10.4 inches wide. It is constructed from solid iron material, so it's durable and you can use it for many years. The small modern desk lamp adds an artistic aesthetic into any living room, guest room or office.
Non-replaceable Lights
There is a non-slip material applied to the lamp base, that protects the lamp from falling and adds extra stability. This modern LED desk lamp is equipped with 7.1-watt LED lights that consume less energy and don't require replacement.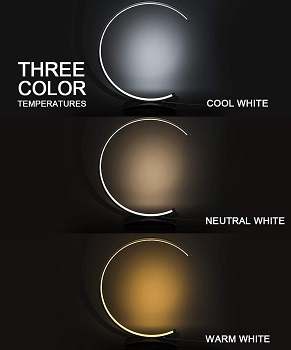 One-touch Control
It comes with a one-touch control function. Just tap the switch once and the lamp will turn on. If you hold it down, you'll adjust the lamp brightness level. When you want to turn it off, just tap the switch again. Very simple for use. Choose between neutral, cool white and warm white light.
Highlighted Points:
unique C-shape lamp
lightweight lamp made of solid iron material
non-slip base material
built-in 7.1-watt LED light
one-touch control
adjustable brightness levels
BEST METAL SMALL MODERN DESK LAMP
Elephant Lighting Table Lamp
Modern & Vintage Elements
This is a contemporary lamp with vintage elements. It matches industrial, modern and farmhouse decors. Ideal for offices, living room, guest room, bedroom,… It comes with a metal cage and frame and features a black finish. The package includes a lamp, user guide and installation accessories.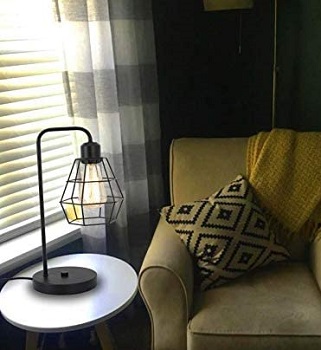 Metal Cage Lampshade
Its metal cage lampshade provides a unique look. On the bottom of the base is a non-slip mat that prevents the lamp from falling. Elephant Lighting lamp is suitable as a reading lamp, bedside lamp or decorative lamp in your stylish office.
UL-listed Components
This small modern desk lamp has an overall height of 16 inches, its base diameter is 5.9 inches and the lampshade measures 6.3" x 4". The cord and the plug are UL-listed, they are safe for use. Elephant requires a standard E26 bulb of max 60W. It isn't included in the package.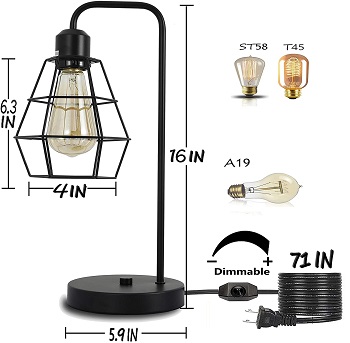 Dimmable Settings
Elephant is compatible with a variety of bulbs, that includes LED bulbs, halogen, incandescent and CFL bulbs. This cool office lamp has an on/off toggle switch on the cord. There are dimmable options, just rotate the dimmer to adjust the brightness level.
Highlighted Points:
contemporary lamp with vintage elements
metal frame and cage
non-slip mat bottom
UL-listed plug and cord
compatible with LED, halogen, CFL bulbs
BEST BEDROOM SMALL MODERN DESK LAMP
Haitral Bedroom Table Lamp
Variety Of Colors
Haitral is a very quality and popular brand thanks to its well-made design and good performance. This lamp comes with a classic lampshade. You can choose the color of the lampshade – there are white, blue, grey colors. Also, its base is available in black, gold and rose gold colors.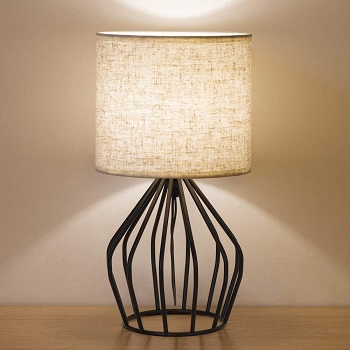 Standard Base Bulb
The overall height is 13.6 inches, the lampshade width is 7 inches and its height is 6.4 inches. It fits any size table, end table, nightstand, dresser, etc. Haitral supports E29 sized standard bulb. The manufacturer suggests using LED, energy-saving bulbs or incandescent bulbs.
Attractive Base
There are few installation tips – first, you need to unscrew the fixing ring, then fix the lampshade from the lamp holder, tighten the fixing ring and finally, install the bulb. This small modern desk lamp has a metal basket cage base style, it's very attractive.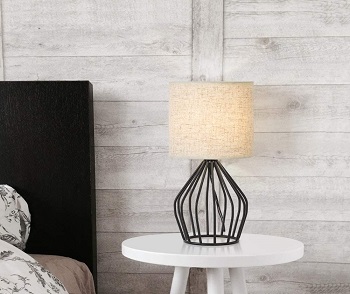 UL-listed Cord And Plug
The frame base design is combined with spray paint and high-temperature fixation technology. It is very durable, not easy to damage. This small desk lamp with shade uses UL listed cord and plug, they are safe for use. It's a lightweight lamp, easy to move wherever you need.
Highlighted Points:
lamp with classic lampshade
available in multiple colors
uses standard E26 base bulbs
compatible with LED bulb
UL-approved cord and plug
BEST OFFICE SMALL MODERN DESK LAMP
Leniver Dimmable Desk Lamp
Classy Lamp
There is another attractive and interesting lamp on this list. Leniver is available in black and white color. Its height is 19.3 inches and its width is 9.8 inches. This product comes with a 12-month warranty, it is quality and durable. Its price is high.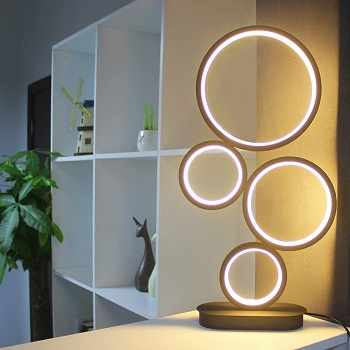 Flawless Artwork
The assembly isn't needed, just unpack it and it's ready for use. Leniver is made of aluminum, iron and silica gel. The cable length is 76 inches and it requires 110-240v outlets. This bright desk light brings a good mood and this is fashionable and flawless artwork that fits modern spaces.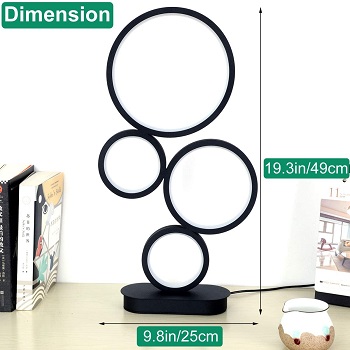 Three Color Modes
This small modern desk lamp offers three color modes – warm light, natural light and white light. Its color temperatures range from 3000 to 6500K. Also, you can adjust the brightness, there are 10 brightness levels. Adjust the light setting according to your mood or tasks.
Highlighted Points:
made from aluminum, iron and silica gel
requires 110-240v outlets
very attractive design
three color temperatures
10 brightness levels
covered with a 1-year warranty
BEST READING SMALL MODERN DESK LAMP
BenQ LED Desk Lamp
E-reading Lamp
BenQ is a modern and world's first desk lamp designed for monitors and e-reading. So, it's perfect for studying, reading, designers, architects, artists, etc. It is useful for all people who spend a lot of time in front of the computer. Available in blue, gold and silver colors.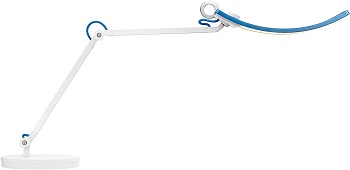 Wider Lighting Area
This small modern desk lamp has a 150% wider lighting coverage than traditional lamps. BenQ illuminates a large work area. Constructed of high-quality aluminum alloy and zinc alloy. That material dissipates the heat generated by the LED panel.
Ambient Sensor
BenQ meets the rigid EU directives. It is a highly flexible lamp thanks to its ball joint, so you can easily adjust the light to the angles that you need. The small reading lamp features a built-in ambient sensor that automatically detects the light level in the room and adjusts brightness.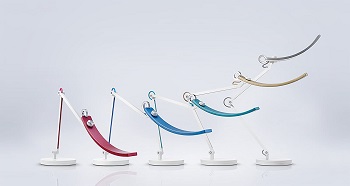 Zero-flicker Technology
Its LED panel has a life expectancy of up to 50,000 hours. You can use this lamp for decades. BenQ constantly uses flicker-free light which protects your eyes from strain and fatigue. It will help you to maintain a clear and healthy vision. Set the dimmable cool light or warm white by turning the rotary knob.
Highlighted Points:
world's first e-reading desk lamp
available in three colors
covers wider work area
made of quality aluminum alloy
adjustable design
long-lasting LED panel
Things To Know About Small Modern Desk Lamp
After you check these reviews, we suggest checking some factors before you buy any small modern desk lamp. Follow these guidelines and pick the suitable model for your office, living room or guest room.
Light Bulb – Many of these modern lamps are compatible with a variety of bulbs – halogen, incandescent, CFL, LED and others.  Incandescent light bulbs are affordable, they have a warm light but they don't last long. LED bulbs are very popular because of their energy efficiency and long lifespan.
Modern Design – As you might see on our list, the modern lamps are available in different sizes, shapes and with different features. There are spiral, C-shape, vintage-inspired and other styles that perfectly fit contemporary rooms. Match the lamp with your room decor.
Flexible Items – If you don't want to use your lamp just as a decorative item, but for reading studying, working or crafting, it is a good idea to buy a lamp with a flexible design. Lamps with a flexible head or arm will allow you to move the light source wherever needed.
Eye-caring Light – Whichever bulb type you choose, there is something that you need to consider. Before buying check if the light is gentle for your eyes. You should look for non-flickering, non-glare light which doesn't cause eye strain or eye fatigue.
Color Temperature – Some models come with a single color temperature while some come with many color modes. It is better to have more options, so you can adjust the small modern desk lamp from warm white to cold white light, according to your needs.