Do you want to bring an elegant bronze desk lamp into your room interior?
Then this article about modern and antique bronze models is perfect for you!
Here you can find all the relevant information you need to take into account before your next purchase. We checked many lamp models and choose the 6 best lamps that provide an elegant appearance, quality design and great features.
Our Top Picks
Best 6 Bronze Desk Lamps
BEST OF BEST BRONZE DESK LAMP
Possini Euro Bentley Desk Lamp
Pricey Item
Possini Bentley desk lamp features a unique minimalist design that fits anywhere. Its overall height at 90 degrees is 21 inches, base dimensions are 8 x 5.5 inches. You can extend the lamp height according to your lighting needs. It covers a large workbench area.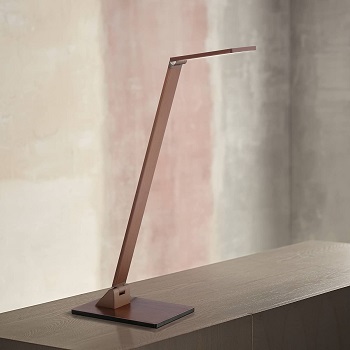 Aluminum & Metal
Constructed of durable and sturdy aluminum and metal, this bronze desk lamp will last for a long time. It is a lightweight but stable desk lamp. Bentley comes in an elegant French bronze finish that will accent your modern living space.
Flexible Head
This minimalist light has a flexible head, so you can direct the light exactly where needed. Its lamp arm is also adjustable. Bentley comes with innovative touch control, it's easy to turn the lamp on/off. You don't have to search for it on the power cord.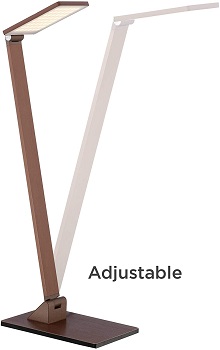 Long-lasting LED
There is a 10-watt built-in LED that delivers 750 lumens. This powerful light has a color temperature of 3000K. Built-in LED bulb will last for a long time. With regular use, you can have this bulb for up to 10 years. It emits flicker-free light.
Highlighted Points:
attractive desk lamp with minimalist design
flexible lamp head and arm
made of metal and aluminum
touch control button
built-in 10W LED
the color temperature of 3000K
BEST OIL RUBBED BRONZE DESK LAMP
Kira Home Benson Table Lamp
Oil-rubbed Lamp
Kira Home Benson lamp is an oil-rubbed lamp that suits modern and industrial room interiors. Its lamp base measures 8.5 x 1.2 inches, the lampshade has 6 x 5.25 inches and the lamp arm is 23 inches long. This lamp has a high price.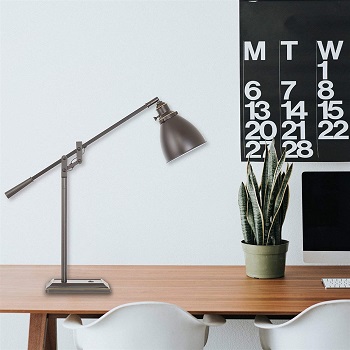 Compatible With LED
Also, you can choose between two sizes – 29" and 61". It is compatible with the E26 base bulb. The LED bulb is included in the package, but you can use CFL and incandescent bulbs if you want. Benson desk lamp features modern and mid-century design.
USB Port
This oil-rubbed bronze desk lamp features a 5V/2.0 USB port, charge your mobile phone and tablet quickly. You can charge your mobile phone whether the lamp is on/off. You can place this lamp on your workbench, desk, table, nightstand or end table.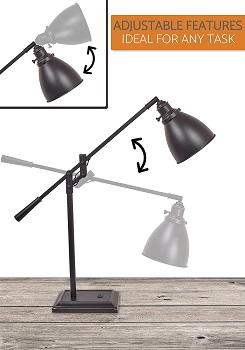 Movable Arm & Head
Benson desk lamp emits soft and non-glaring light, it delivers a color temperature of 3000K. It features a movable arm and head which is perfect for reading, studying and other precise tasks. The construction is made of high-quality metal.
Highlighted Points:
stylish oil rubbed desk lamp
made of quality metal
emits soft light with a color temperature of 3000K
equipped with a 5V/2.0 USB port
compatible with LED, CFL and incandescent bulbs
adjustable arm and head
BEST ANTIQUE BRONZE DESK LAMP
Melunar Vintage Desk Lamp
Attractive Lamp
This beautiful vintage lamp will upgrade any room or office. First, the lamp dimensions are 19 inches in height, the lamp's base diameter is 5.5 inches and the lampshade measures 6.5 x 5.5 inches. It comes with a power cord of 56 inches in length.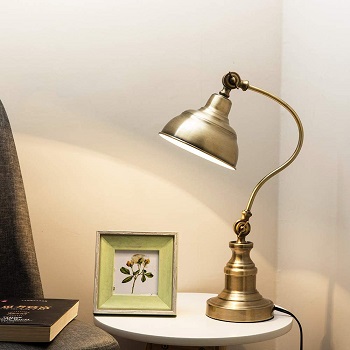 Vintage Elements
Construction is made of durable metal and finished in matte bronze color. It is equipped with vintage and elegant elements, so Melunar has a decorative purpose, too. Thanks to its small footprint, it suits any desk, table, end table, coffee table or shelf.
40W Bulbs
This vintage reading lamp is a UL-listed lamp, meaning it is tested and safe for use. Melunar's on/off switch is located on the power cord. Melunar is suitable for type A 40W bulbs, so you can choose the bulb base. But the bulb isn't included in the package.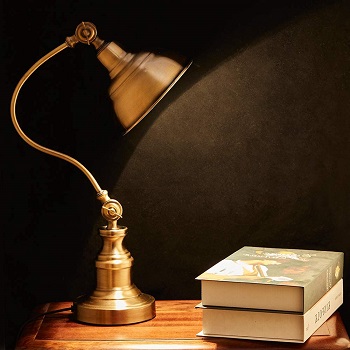 Adjustable Design
Melunar bronze desk lamp has a 270-degree rotatable lampshade, move it up and down, according to your needs. Also, you can adjust the lamp height. Just unscrew the button above the lamp base and extend the lamp to the desired height.
Highlighted Points:
attractive vintage lamp
UL-listed desk lamp
made of quality metal material
rotatable lampshade
adjustable height
suitable for 40W bulbs
BEST LED BRONZE DESK LAMP
Deacon Modern Desk Lamp
Another Possini Model
There are two Possini models on this list. This is Deacon modern table lamp that suits industrial and modern interiors. Its overall height is 26 inches, the base is 8 inches wide and 5.5 inches deep. The shade is 10 inches wide. Its price is high.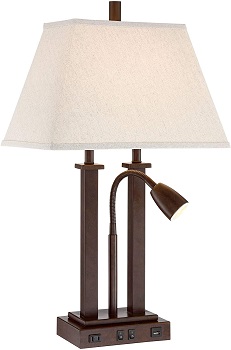 Linen Fabric Shade
Its construction is made of sturdy metal with a bronze finish. The lampshade is made of durable linen fabric. It comes with a brown 8-feet long cord and plug. Perfect for the office, living room, dining room or dorm, this bronze desk lamp is compatible with an LED bulbs.
Power Outlet
This modern LED desk lamp uses two 60W medium base bulbs. Also, there is a small lamp that comes with 5W LED bulb. Deacon is equipped with a power outlet and USB port. You can charge your mobile phone, tablet, e-reader and keep them in arm's reach.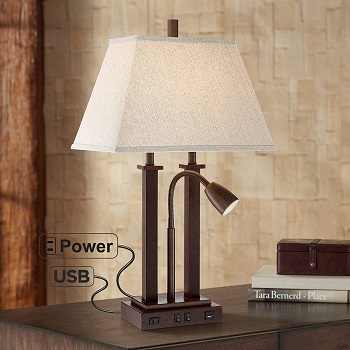 Two Rocker Switches
The adjustable gooseneck arm allows you to direct the light where needed. The lamp base is equipped with two rocker switches for the main lamp and a small gooseneck lamp. Deacon weighs 10 pounds, so it stands stable and won't fall down easily.
Highlighted Points:
contemporary desk lamp
linen fabric lampshade and metal construction
added small lamp with flexible gooseneck
equipped with power outlet and USB port
stable lamp base
BEST FOR READING BRONZE DESK LAMP
Lepower Adjustable Desk Lamp
Multiple Colors
Lepower is a popular lamp brand on the market. This model features a low price and it's available in multiple colors. Except for the bronze, there are black, gold, green, sand black, white and silver colors. Match the lamp color with your room decor.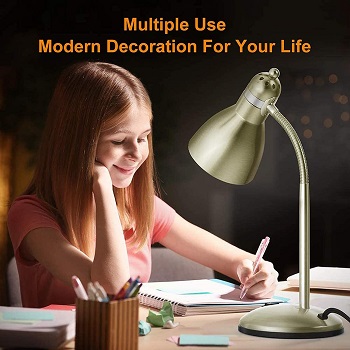 Classic Shade Design
This bronze desk lamp is made of quality and sturdy metal, you can use it for many years. There is a simple classic shade design that looks elegant in bronze color. It is worth mention, the package doesn't include a bulb and this lamp requires E26 sized screw base.
LED Bulb
To avoid overheating, the manufacturer suggests an LED bulb (4W-6W), energy-saving bulb (8W-16W) or incandescent bulb (20W-40W). This LED reading lamp will meet your basic light needs, it is suitable for reading studying.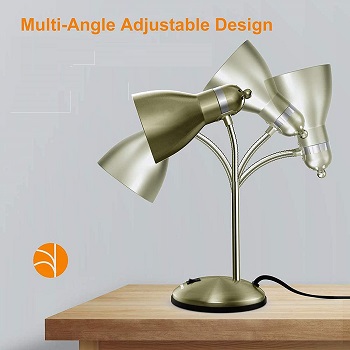 Flexible Gooseneck
The lamp dimensions are 8.4 x 5.5 x 13.2 inches, it suits any desk, table or workbench. The on/off switch is located on the lamp base. Lepower has a flexible gooseneck, meaning it's easy to find a perfect lighting angle. A lamp is covered with a 12-month warranty.
Highlighted Points:
space-saving desk lamp
available in multiple colors
flexible gooseneck for different lighting needs
mad of durable metal
a simple and classic shade
compatible with LED, energy-saving and incandescent bulb
BEST TASK BRONZE DESK LAMP
Ottlite Bronze Desk Lamp
Dark Bronze
Ottlite lamp is a high-quality desk lamp ideal for task lighting. It is available in dark bronze color and made of durable and sturdy metal material. You can use it for years. Its price is affordable so everybody can afford this bronze desk lamp.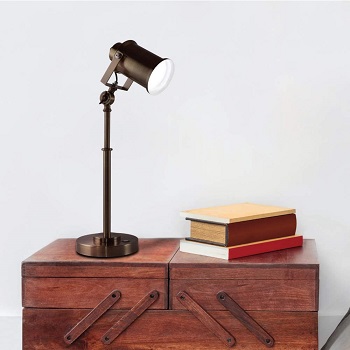 Industrial Style
It features a modern industrial look that will complement the decor in any room. Ottlite features adjustable height, you can adjust it from 9 to 22 inches. Extend the lamp if it needs to cover a large workbench surface. It stands on a stable 6-inch base.
ClearSun Technology
Ottlite uses advanced ClearSun technology, this is a gold standard for balanced light. So this adjustable reading lamp provides unparalleled light output. It effectively reduces eye strain and ensures advanced color rendering. You will see accurate colors.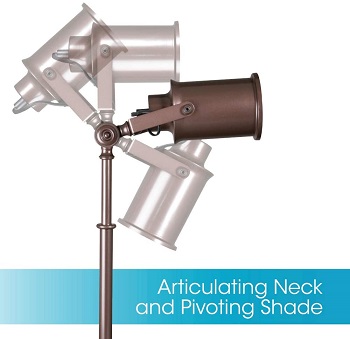 Adjustable Shade
Ottlite offers three color modes, there are warm white, bright white and ClearSun natural daylight (5000K). This last mode is perfect for reading, studying and working. Adjust the shade and direct light where needed. Also, you can charge your mobile phone via a powerful 5V/2.1A USB port.
Highlighted Points:
sturdy and durable metal construction
dark bronze finish
advanced ClearSun technology
reduces eye strain
three color modes
fast-charging USB port
Things To Know About Bronze Desk Lamp
There aren't so many bronze desk lamps in the market, we've checked all available models and then prepared this buying guide. Read about the most important factors you need to consider, like lamp purpose, material, light bulb, etc.
Lamp Purpose – There is a big difference if you want to buy a decorative desk lamp or task lamp. The main advantage of decorative lamps is their beautiful aesthetic, but you can use them for reading. Task lamps are designed for studying, reading and working, they are more powerful.
Material – You can find different lamp sizes, styles and build quality. These bronze desk lamps are usually made of high-quality metal and some models are made of aluminum. Both materials are sturdy, durable and quality. Don't buy the cheapest lamp on the market.
Bronze Color – Lamps with bronze colors are timeless, they are always attractive and interesting. The bronze color is composed of red, green and blue. Meaning, you can find a bronze lamp with an almost brown color, light brown and dark brown color.
Light Bulb – If you are looking for ambient desk lighting, a good solution is a lamp with an incandescent light bulb. It provides soft and warm light. But you can buy a LED bulb which features even more advantages – it lasts longer doesn't produce heat and provides eye-friendly light.
Color Temperature – Color temperature measures in Kelvin (K). Choose and set the color temperature according to your lighting needs. For precise tasks choose higher color temperatures, at least 4000K. For ambient lighting, 3000K is enough.