Are you looking for a sturdy and durable desk lamp that lasts for many years, so you don't have to buy a new lamp each year?
Then the black metal desk lamps are the ideal solution for your requirements. We will be categorizing the models according to their functions and most typical features. To help you with some basic info, we've prepared a useful buying guide.
Our Top Picks
Best 6 Black Metal Desk Lamps
BEST OF BEST BLACK METAL DESK LAMP
Otus Architect Desk Lamp
Timeless Design
Otus is a quality and popular desk lamp suitable for any workbench, desk, table, etc. It features a timeless contemporary/retro/vintage design, so fits perfectly into any home or office decor. There are durable metal joints, metal arms and metal lampshade.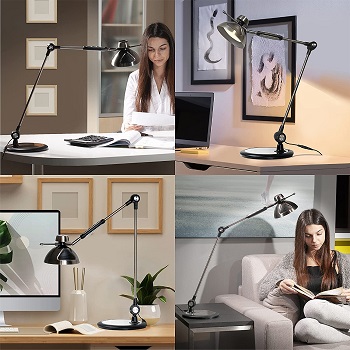 Vintage Round Lampshade
Its heavy-duty base provides a stable position, it isn't easy to tip it over. The vintage round lampshade is equipped with high-quality LED light, it emits soft and flicker-free light that doesn't cause eye strain and eye fatigue. You can read or work longer than before.
Infrared Sensor
Otus modern task lamp offers three color modes and several brightness levels. There is study mode, reading mode and relax mode. Also, there is an infrared sensor, so you can turn on/off the lamp without touching it. Just wave your hand above the lamp.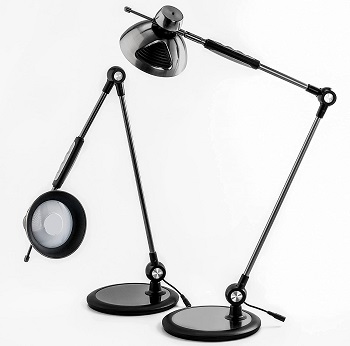 Memory Function
The base can be replaced, so you can have a  lamp with a clamp. Otus is an energy-saving lamp, it uses less power than incandescent lamps. There is a smart feature – memory function – it remembers the light setting of your previous use.
Highlighted Points:
quality and popular desk lamp
sturdy, weighted base
durable metal joints
three color modes
infrared sensor
memory function remembers last used setting
BEST SWING ARM BLACK METAL DESK LAMP
PowerKing Metal Swing Arm Lamp
Affordable Price
PowerKing lamp has an acceptable price and comes in three colors – black, black/rose/gold and rose/gold/white.its construction is made of solid metal and it's covered with a black finish. PowerKing lamp comes with a weighted base and clip.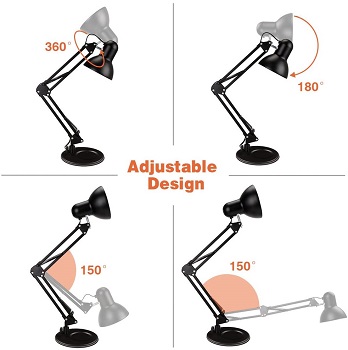 Clip Or Stand
You can use it in two ways. If you want to have a portable lamp, choose the weighted base, then you can easily move it wherever you need. The clamp is made of both metal and plastic and holds the lamp firmly. Both lamp head and arm are also made of sturdy metal.
E26/E27 Base Bulbs
PowerKing black metal desk lamp is durable and safe for use. The lamp base diameter is 5.5 inches, while the lampshade measures 5.9 inches. This adjustable arm desk lamp fits with E26/E27 base bulbs. The manufacture recommend 7W LED bulb or a 60W incandescent bulb.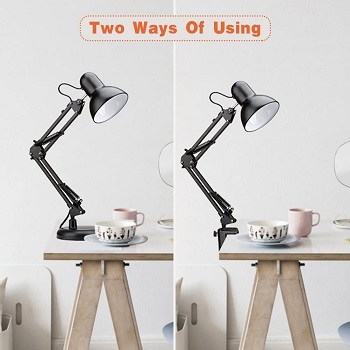 Flexible Design
The lamp adjustable design allows you to adjust the lamp head up and down, also, it can be rotated at the same time. Extend the lamp arm and direct the light exactly where needed. That will make your work, craft or homework much easier.
Highlighted Points:
lamp with affordable price
comes with a sturdy stand and clamp
sturdy metal cosntruction
requires E26/E27 base bulbs
adjustable and flexible design
BEST CLAMP BLACK METAL DESK LAMP
Torchstar Multi-joint Desk Lamp
2-in-1 Lamp
Torchstar is a sturdy architect lamp available in three colors – black, red and white. It comes with a sturdy stand and with adjustable c-clamp. You can clamp it onto any vertical or horizontal surface up to 2 inches wide. The cable length is 51 inches.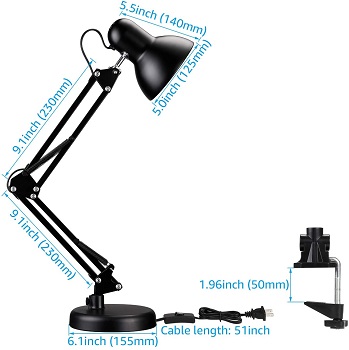 UL-listed Plug
This black metal desk lamp is made from solid metal with a black finish. It is durable and you can use it for many years. It comes with a UL-listed power plug, so it is safe for use. Torchstar is compatible with E26 and E27 base bulbs.
Flexible Arm
It comes with a 12-month warranty. This adjustable desk lamp comes with an anti-scratch solid plastic clip that won't damage your desk. Torchstar is able to illuminate a large workspace, also you can move the lamp, thanks to its flexible spring-balanced arm.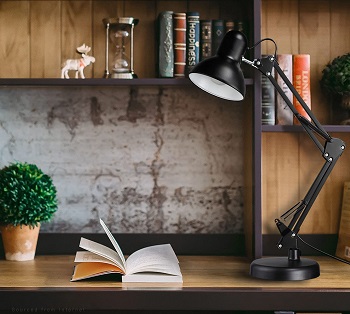 Rotatable Shade
Moreover, it features a rotatable shade and lamp base. You can extend the lamp arm up to 18 inches. control the lamp easily with an on/off switch placed on the power cord. This architecturally styled lamp will add a vintage charm to your space.
Highlighted Points:
made from solid metal with a black finish
covered with a 12-month warranty
available in three colors
comes with a sturdy stand and c-clamp
compatible with E26 and E27 bases
BEST VINTAGE BLACK METAL DESK LAMP
Co-Z Industrial Desk Lamp
Aged Bronze Finish
Co-Z lamp is a beautiful vintage-inspired lamp ideal for industrial and rustic designed rooms. It features a unique look that will upgrade your living room, home office, dining room, guest room. This black metal lamp is finished in aged bronze.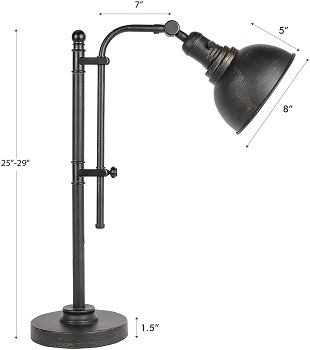 ETL Certificate
The lamppost and the lampshade are made of iron. Co-Z lamp is slightly distressed and finished in aged bronze with gold highlights. The ETL certificate proves the lamp's outstanding quality and safety. It is compatible with E26 socket type A bulbs.
40W Light Bulb
The maximum wattage is 40W, you can install an LED or CFL light bulb. But the bulb isn't included in the package. Co-Z power cord is 5 feet long. This black metal lamp is backed by a 1-year warranty. You can really rely on the lamp qualtiy and durability.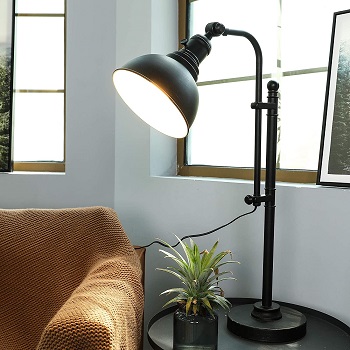 Rustic Rotary Switch
This vintage reading lamp has adjustable height. You can extend the lamp from 25 inches to 29 inches. Also, you can swivel the lamp head 180-degree for uplight and downlight. There is a rustic rotary switch on the lamp head. Its heavy base prevents tipping.
Highlighted Points:
elegant rustic-inspired lamp
made of metal with aged bronze finish
ETL certificated lamp
compatible with LED and CFL light bulb
adjustable height
rustic rotary switch
BEST MODERN BLACK METAL DESK LAMP
LEDFit Desk Lamp With Clamp
Clamp Lamp
LEDFit desk lamp comes with a clamp design. This space-saving lamp is suitable for any workbench, desk, table and other horizontal surfaces. The package includes a desk lamp, metal clip, power adapter and user manual. Also, there is a 30-day money-back guarantee.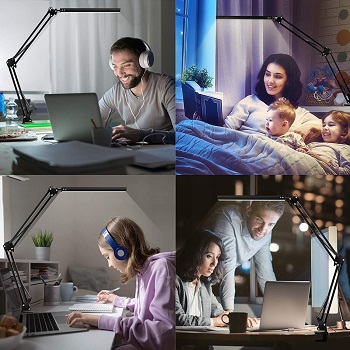 Sturdy Metal Clamp
Its clamp is made of sturdy and durable metal and can support a desk up to 2 inches. It will keep the lamp stable and firm. The clamp is equipped with soft pads, so it won't damage your desk. This black metal desk lamp has an aluminum light bar, it provides great heat dissipation.
USB Port
This modern black desk lamp comes with a USB port, you can use an adapter, power bank, PC or other equipment to power the LEDFit desk lamp. It uses LED light which delivers soft, flicker-free and non-glaring light that protects your eyes.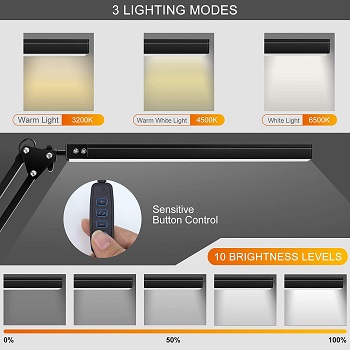 Multi-angle Adjustment
LEDFit features an adjustable design, there is a rotating light bar, rotating base and adjustable metal arm. There is a switch control button, so you can choose between three color modes and ten brightness levels. Moreover, this lamp has a high Color Rendering Index, it's over 80.
Highlighted Points:
sturdy and durable clamp
power adapter included
aluminum light bar
soft and flicker-free light
adjustable lamp arm and rotating base
multiple color modes and brightness levels
BEST FOR STUDYING BLACK METAL DESK LAMP
Lepro LED Desk Lamp
Space-saving Lamp
Lepro lamp is available in two colors – black and white. This is a compact, space-saving lamp that fits any nightstand, end table, coffee table or workbench. It requires 100V – 240V outlets.  This lamp is made of metal and PC, it is sturdy and durable.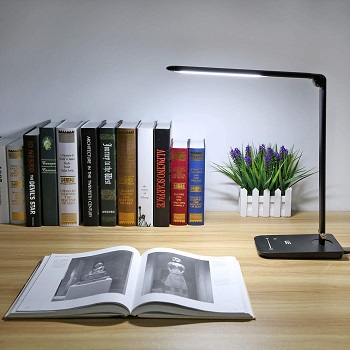 Perfect Task Light
This black metal desk lamp features a minimalist design, it matches modern, urban and traditionally designed offices, home offices or living rooms. Lepro is a perfect task light thanks to its adjustable design. You can rotate the light bar clockwise and counterclockwise.
Touch Control
Lepro adjustable reading lamp allows you to swivel from side to side and tilt the light bar up and down. When not in use, you can tilt the light bar down and save the desk space. There is a touch control on the lamp base, slide your finger side to side and change the light intensity.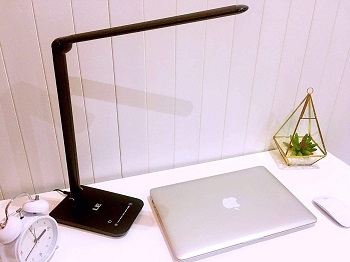 Eye-friendly Light
This desk lamp offers seven dimming levels to meet your lighting requirements. Set the highest brightness and 5000K of color temperature while working, reading or studying. Built-in flicker-free LED light won't cause eye strain and eye fatigue.
Highlighted Points:
available in black and white colors
sturdy and durable metal desk lamp
perfect task light for home office
rotate the light bar clockwise
seven dimming levels
Things To Know About Black Metal Desk Lamp
Finding the best black metal desk lamp can be tricky. There are many desk lamps in the market. So in this section, we will explain some basic features you need to look for – material, lamp base, light bub and others.
Metal Lamps – A metal lamps may be designed for interiors and exteriors. Their main advantage is fire resistance, but they are easy to maintain and come in a wide range of forms. These lamps also offer aesthetic qualities. Some metal lams have reflectors or polished surfaces to increase light intensity.
Clamp Or Sturdy Base – You need to choose between those two ways of using. There are clamp lamps and those with sturdy weighted bases. If you can't decide or want to have both, some models come with a clamp and base. If you don't have a permanent spot, use a weighted base, it allows you to move the lamp with ease.
Light Bulb – Lamps could be compatible with LED, incandescent, CFL, halogen and other light bulb types. We suggest installing a LED bulb, they produce less heat, so it is safe for use. Furthermore, modern LED desk lamps are energy efficient and last much longer than traditional bulbs.
Color Temperature – Most traditional lamps have fixed color temperatures, but modern lamps offer a wide range of color temperatures. Then you can use your lamp for different occasions – reading, relaxing, working, etc. For precise tasks, set the highest brightness and cool white color temperature.
Lamp Size – The size of the lamp is an important factor. There are two aspects to consider – the size of the lamp itself and the size of the footprint. The lamp size will depend on how much area you want the light to cover. Large and tall lamps are perfect for large workbenches.